This post contains affiliate links. Visit our Disclosure page for details.
Getting ready for a trip just got easier with Ciao Bella Travel! Featuring travel clothing, accessories, gadgets, luggage, and more this one stop shop makes it easy to check the items off your packing list. Ciao Bella makes it easy for female travelers to shop conveniently in one location – you can buy anytime, anywhere. They're your one stop shop for travel accessories!
---
Ciao Bella: Your One Stop Shop for Travel
Promotion
---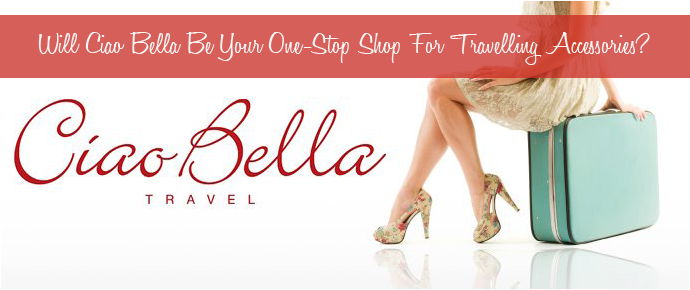 Get to Know Ciao Bella
Ciao Bella simplifies shopping by offering convenient options specifically for a woman's travel needs: 'Travel Wardrobe' makes choosing the clothing for your packing list a breeze; 'Top Flyer' shares their best selling  travel clothes and accessories; while 'For the Plane' features cute travel pillows, sleep masks, and other gadgets. Ciao Bella also features travel wallets and security pouches in different brands, colors and styles which can be helpful in protecting one's belongings during a long journey.
More than just accessories, the website also offers skin, hair and beauty products with their handy bottle sets and in-flight pockets. They have also curated items for travelling men under the 'Gifts for Him' section and children on the journey in 'Travelling with Kids.'
Ciao Bella also offers the 'Travel Essentials Pack' if you don't have time to shop around or if you want a great gift for the traveler in your life. The hard work's done for you! Items include Miss Tidy, Mr. Glamour, Family Travel and Luxury + Comfort Pack.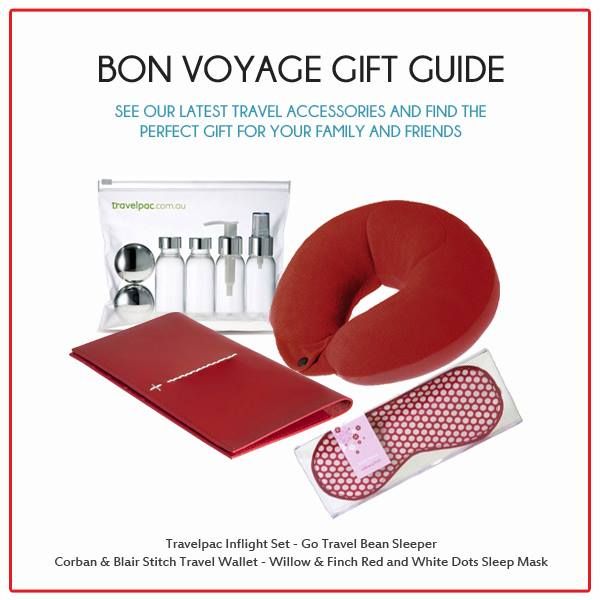 Unique Benefits
This Australian based company turns their service up a notch by offering additional services in line with their travel products:
Ciao Bella Travel Membership. Benefits including a 5% discount on all orders, subscription to their monthly newsletters, member-only promotions and competition, and their Miles Membership.
Remind Me Before I Fly. Using the built-in platform, one can select a date before their trip to receive reminders to stock up on their essential travel items. This is something like a "to-do" list, except that there's someone else reminding you about it.
Departure Lounge. Different travel tips and apps with free tools and resources for your trip.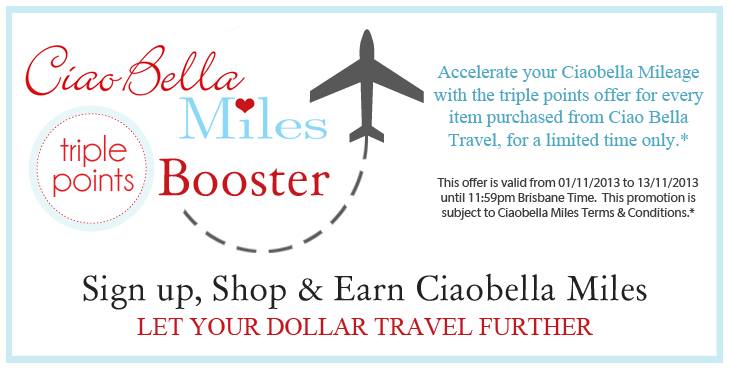 Ciao Bella Miles
Accumulated on every purchase, Ciao Bella Miles is a member-only advantage which rewards you every time you shop on the site. Each $1 spent earns 2 Ciao Bella Miles. Users can earn points to redeem rewards. Ciao Bella miles will not expire and can be used anytime for redeeming various rewards.
They also offer fun ways to earn free miles so monitor their Facebook page for the latest news. The team usually posts promos for double or triple points at a limited time.
Another way to increase these miles is to refer a friend, which credits both the referrer and the new member with a 250 bonus points after the new member buys something on the site. There is no limit when it comes to referrals, which gives each user a chance to earn more points with more friend recommendations.
Learn More About Ciao Bella
Ciao Bella means "Hello, Lady!" in Italian. Established in December 2007, Ciao Bella Travel was created as an answer to the gap in the female travel accessories market. Despite the thousands of items sold daily on the internet, most of the amazing products were hard to track down or not easily available.
Stocked with traveling and complimentary items from different local and international companies, this brand aims to become a travel fashion girl's choice for shopping.
They deliver to the US, UK, Canada, Holland, Singapore, Spain,  Germany and more. Locally based customers (Ciao Bella is in Australia) can benefit from their overnight delivery guarantee. Shipping time is 5-19 business days.
To learn more about Ciao Bella, please visit their website http://www.ciaobellatravel.com.au/.
---
Hope you liked this suitcase post Ciao Bella Travel! Please share it with your friends on Facebook, Twitter, and Pinterest. Thanks for reading!
---
*Advertorial: this post is for promotional purposes and should not be considered an endorsement*
---
Liked this article? Check out similar posts: