This post contains affiliate links. Visit our Disclosure page for details.
For this edition of Locals Approved Packing Lists, Michelle Exarhos from Generator Hostels has helped me to put together an authentically local packing list for the city of Copenhagen, Denmark.
Michelle moved to the beautiful city of Copenhagen around a year ago, an actress and thrill seeker with a vivacious attitude and a passion for travel. Having already lived in 4 countries, you can trust Michelle knows how to ascertain the best travel wardrobes.
---
What to Wear in Copenhagen
edited by Cailyn Cox
---
Copenhagen Clothing Style
To ensure you blend in with the locals during your trip, consider these important tips, Copenhagen is known to be a place that is casual, a city style that is "effortlessly cool". Whilst almost anything goes in terms of fashion, the focus is on neutral colors, avoid bright and neon colors, as you will certainly stand out (whether you want to or not, that is your choice)

Travel Essentials
For the weather in Copenhagen you will find that is it nothing if not unpredictable, when packing for your trip you will have to ensure you are prepared for all elements. Some essentials would include a warm coat, a colorful scarf that is thick to give your neck and chest added warmth and a small fold-up umbrella.
Copenhagen Shopping
If you find you have left behind an item on your holiday or are in need of additions to your travel wardrobe then you will be able to locate stores such as H&M, Gina Tricot and Fotex within the city. These stores all stock a variety of items for whatever your weather needs may be, and even better, they come at a reasonable price tag.
What to pack for Copenhagen in Spring
Cowl Neck Dress | Denim Shirt | Sweater
| Print Top
 | Top | Leather Jacket | Black Pants
 | Jeans
 | Tights
 | Boots | Umbrella
 | Scarf
Weather:
Michelle says: Spring weather can be unpredictable whilst there may be sunshine, you should still come prepared for the cold and the rain.
Start by reading these general tips on packing for spring travel:
Copenhagen Packing List: Spring
Layering is the key for the spring months, during the colder weather you can add layers and remove them for when it's warmer. Bring an umbrella to protect yourself from the rain, and a warm coat and scarf to brighten up your outfit with a subtle hint of color.
Find out why thermals are a must for traveling light (and staying warm) in winter!
A pair of black or navy trousers and dark jeans will work great as your base, team these with t-shirt and jerseys. A dress can always look pretty and feminine, but don't opt light materials, rather pack a dress in a thicker material such as denim for added warmth, you can add a pair of black stockings to your look to warm your legs.
Read these tips on how to avoid a boring all-black wardrobe when you travel!
Lastly footwear, boots are fabulous, not only are they comfortable and waterproof but they are perfect for all elements and all occasions.
These are the best waterproof leather boots recommended by our readers!
What to pack for Copenhagen in Summer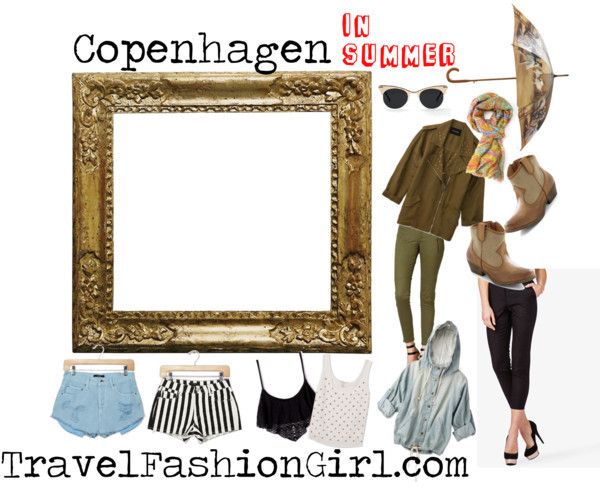 Studded top | Crop shirt | Jacket | Long jacket | Pants | Woven shorts | Striped Shorts | Jeans | Boots | Umbrella
 | Scarf | Glasses
Weather:
Michelle says: during the summer there are wonderful long days of daylight, you can expect a backdrop of blue skies and a sunset as late as 11pm, what could be better than enjoying hours of glorious light on your holiday.
Start by reading these general tips on packing for summer travel:
Copenhagen Packing List: Summer
A pair of sunglasses to protect your eyes during the long days of sunlight are your first essential, your wardrobe can reflect the warmer weather with a selection of tops and blouses, ensure these are mainly in neutral colors to mix and match with a variety of items, however since it is summer, one or two pastel colors will undoubtedly brighten your wardrobe.
For added versatility, these are popular convertible travel dress styles!
Team your vests with denim shorts, jeans, leggings and a cute pair of capris pants. During the cooler days you can still wear your favorite shorts, just add a pair of black stockings to wear underneath, these will give you added warmth.
Lastly comfortable walking shoes are important as there are many cobblestone streets; however, since the summer seasons reflect warmer temperatures you do not want to wear heavy duty footwear, opt for something cooler yet still comfortable like a good pair of brogues or flats. If you need your trusty boots on your trip, then opt for an ankle length pair.
These are the most cute and comfortable ballet flats for travel!
Accessorize your outfit with a cute scarf in a pattern or color of your choice, this will add a touch of color and sophistication to your looks, and add an umbrella, for the occasional rain shower!

What to pack for Copenhagen in Autumn
Black Dress
 | Detailed Dress | 3/4 Sleeve Top
| Sweater
| Leggings
| Tights | Boots
| Handbag
 | Umbrella
 | Scarf | Chiffon Scarf
Weather:
Michelle says: Autumn is a rainy season, so come prepared with waterproof gear. The autumn days grow shorter and darker, and the darkness brings with it the colder temperature. However on the plus side the autumn leaves fill the city with "beautiful" "warm" colors.
Start by reading these general tips on packing for autumn travel:
Copenhagen Packing List: Autumn
Autumn seasons become colder and wetter, and you need to pack accordingly to ensure that you are kept both warm and dry on your holiday, just because it is colder does not mean you have to forgo your sense of style.
Sweater dresses and long sleeve dresses can look very chic when teamed with stockings or leggings for extra warmth, you can wear a warm autumn jacket over them, or a jersey for added warmth. Layering is always essential for colder weather, so pack a selection of long sleeve tops to wear underneath your jackets.
Find out why thermals are a must for traveling light (and staying warm) in winter!
Again as in summer your perfect autumn accessories are a scarf and an umbrella, the only difference is during autumn your scarf should provide you with added warmth, woolen scarves are both pretty and warm. Combine your outfit with a good pair of waterproof boots to protect you from the elements and that will keep your feet dry, there is nothing worse than wandering the city with cold, damp feet.
These are the best waterproof leather boots recommended by our readers!
What to pack for Copenhagen in Winter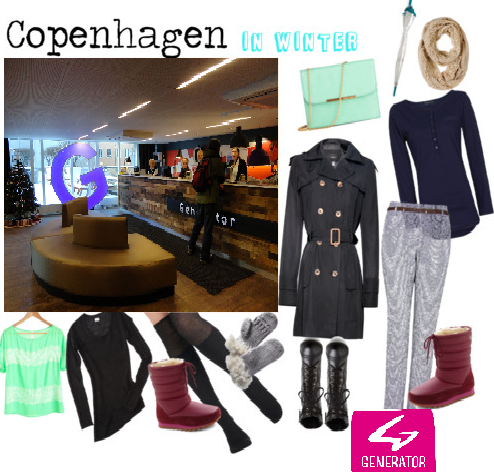 Button Top
 | Long sleeve | Printed Top
| Trench Coat | Trousers
|Thigh Highs
 | Boots
 | Lace Up Boots | Bag | Umbrella
|Scarf | Gloves
Weather:
Michelle says: winter is the time to wrap up and ensure you are kept warm, think big, warm winter jackets, thick scarves, warm sweaters and trousers and possibly even thermal underwear for the extra warmth. And don't forget warm footwear, heavy duty boots.
Start by reading these general tips on packing for winter travel:
Copenhagen Packing List: Winter
Winter in Copenhagen is the time to dress up warm, whilst you will always want to remain stylish, warmth should be on the top of your agenda for the winter seasons.
Layering is vital; pack woolen jerseys, long sleeve tops, thick socks and even thermal underwear for the bitterly cold days. Make sure you have a big, thick and warm coat to protect you from the outdoors and thick trousers for your bottom half, winter is not about color so stick to the darker shades, black, navy, grey and military green all work nicely to create a stylish yet simple winter wardrobe.
Read these tips on how to avoid a boring all-black wardrobe when you travel!
Heavy duty boots with an inside lining will provide you with added warmth, and accessorize your outfits with gloves, a woollen scarf, and an umbrella. A little cross-body bag is also the ideal accessories for winter, as you will want somewhere to store your compact umbrella, gloves and other winter basics when you enter the heated indoor areas.
Still looking for the perfect autumn winter boots for women? Read this!
Extra Tips: Whilst a hat is perfect for keeping you warm or protecting you from the sun, they are not recommended for Copenhagen as the city experiences strong winds, and this will result in the loss of your favorite hat. Compact, fold-up umbrellas are the best type of umbrella to bring with you to the city as they are small and convenient to travel with, allowing you to have one at your side during all times.
Copenhagen Travel Tips
Bicycles are a popular form of transport within the city, and a great way of getting around and sightseeing, however you should make sure that you dress appropriately, (shoes, pants, and a cross body bag or something that will not interfere with your bicycle riding abilities)
If you're looking to travel Europe on a budget, save money and stay at a hostel. Check out Generator Hostels for a fun place to stay in the heart of Copenhagen or like them on Facebook to stay up to date with special offers and giveaways.
You can learn more in this travel guide to Copenhagen!

---
The Danes are some of the friendliest and happy people you will encounter, and the vibrant metropolis has a reputation for entertainment and an energetic nightlife, regardless of the weather, you'll have a great night out. Pack an item that is slightly dressier for your partying exploits! Have a great time in Copenhagen. 
What are your tips for what to wear in Copenhagen?
---
Please note: Most of Europe's Budget Airlines have this Carryon Bag Allowance: 55cm x 40cm x 20cm. Always check your airlines individual baggage rules and regulations in advance.
---
LIKED THIS POST? PIN THIS PIC TO SAVE IT!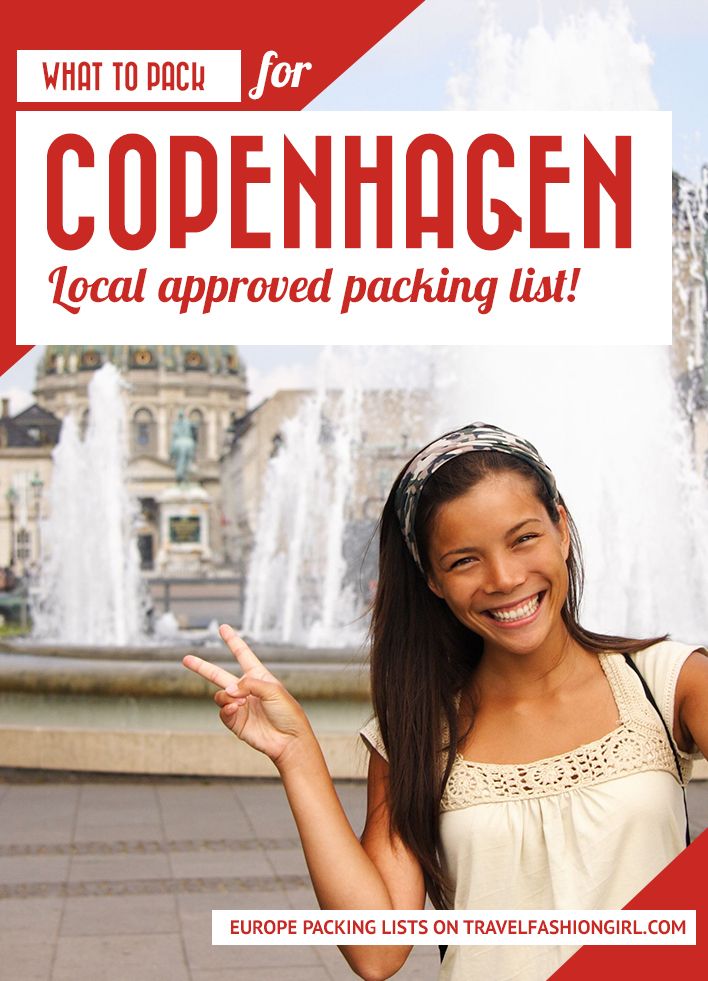 ---
For more tips, please read these Europe packing lists:
Suggested travel resources:
Please read our Ultimate Packing List for Europe featuring stylish outfits and travel tips for 9 countries.
---
Hope this packing list helps you plan what to wear to pack for Europe: Copenhagen so you can dress like a local. Don't forget to share the love on Facebook, Twitter and Pinterest. Thanks for reading!
---
Liked this article? Check out similar posts: