This post contains affiliate links. Visit our Disclosure page for details.
Travel Fashion Sales Alert! Mountain Hardwear is having a massive Memorial Day sale! They're offering 25% off their ENTIRE site! If you're looking to add a few new pieces to your travel wardrobe – now's the chance!
When it comes to long term or adventure travel I like to plan a wardrobe that's built on reliable basics and enhanced with seasonal fashion pieces. If you're planning a multi-day overland trip in Africa, backpacking through South America, or exploring Southeast Asia a balance is absolutely necessary!
With Mountain Hardwear's super discounted sale I thought I'd go through their entire collection and add a few items to my wishlist. Keep reading below to find out which items I'd want to add to my travel wardrobe and don't forget: their sale's happening from May 19th – 25th so shop now!
---
Top 5 Mountain Hardwear Travel Essentials
Promotional
---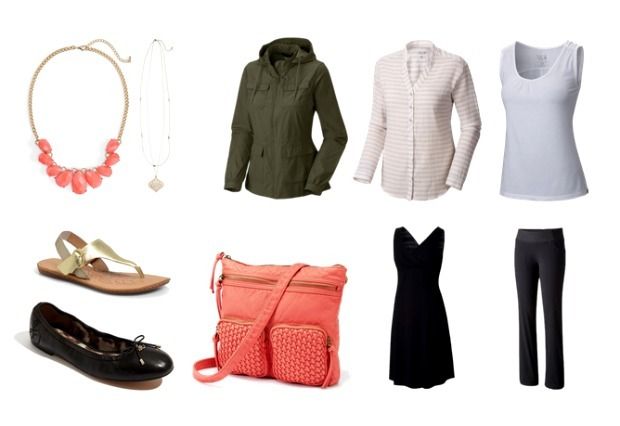 5 Travel Essentials from Mountain Hardwear shown with Fashion Accessories
 Travel Jacket / Long Sleeve Button Up / Travel Tee / Travel Pants / Travel Dress / Pink Necklace / Layered Necklace / Sandals / Flats / Crossbody Bag
➊
Travel Pants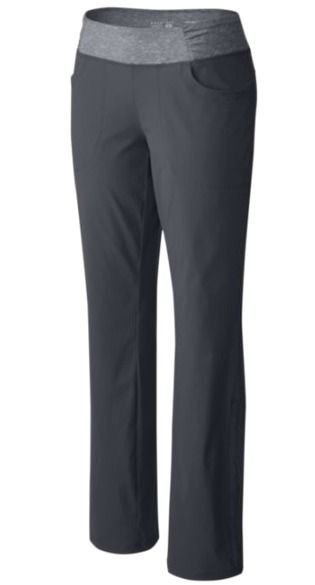 I'm constantly on the look out for the next best travel pants and the Dynama Pant definitely caught my eye. I always recommend versatile clothing especially if you have a trip with multiple activities planned. The ideal pair of travel pants can take you from city to mountain and these look like they might fit the bill.
Choose a pair of travel pants like these as the core of your wardrobe then add other pieces like jeans (when appropriate), printed trousers, cute shorts, or a skirt based on your destination and personal preferences.
➋
Travel Tee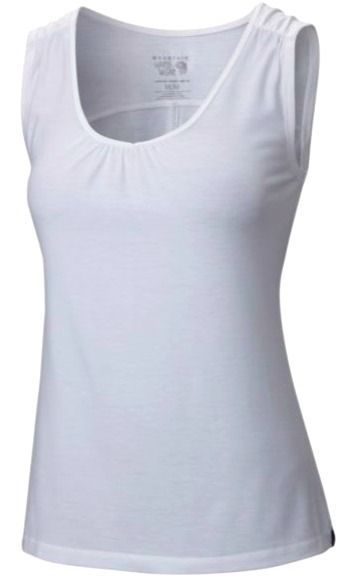 Another essential in my list of core clothing is a good basic top. This should also have similar features as the pants with the ability to be worn in various settings. I like the DrySpun Sleeveless T particularly because of its fabric features and a quick dry top is always a must. This is a piece that can be worn as an under layer in a city or on a hillside walk.
Quick dry fabrics also provide the additional benefits of acting as an emergency washable piece when you forget to do laundry (mostly relevant to trips longer than 2 weeks).
➌
Long Sleeve Button Up
Even when you travel to hot climates, at least one long sleeve top is always a must! They can act as extra coverage when visiting conservative areas and religious sites or they can shield you from the hot sun.
The DaraLake Long Sleeve Shirt seems perfect in this type of scenario because the fabric is 100% cotton gauze, which should be incredibly light and breathable. I searched high and low for a shirt like this for India and Egypt without the best of luck. Now I know where to find one!
➍
Travel Jacket
"Just in case" items are always a no-no but one of the areas that perplexes travelers the most is when visiting destinations with different weather or in between seasons. Should you take a "just in case it's cold" jacket or coat?
First thing's first: make sure you've checked the weather. Once you've confirmed a light jacket will probably or possibly be necessary plan on using layers and choose something that's easy to pack like the Urbanite Travel Jacket – don't take a heavy coat! Stow it away, wear it on the plane, and wear as needed with multiple layers underneath if it gets cold and just with one top if the weather is cool. Don't forget to pack a stylish scarf!
➎
Travel Dress
Many jetsetters agree – dresses are one of the easiest pieces to travel with and every woman should have one basic option that can be paired with nice flats for a city stroll or matched with sandals beachside. Stick to a solid color of your choice and change the look with more or less accessories including belts, scarves, and necklaces. Alternatively, pair them with leggings or tights if the temperature drops!
I like the Tonga dress, a classic travel LBD by Mountain Hardwear. It looks easy to dress up or down as needed and you should always pack one of these types of dresses for every trip. Remember that your version of an LBD can be any color that makes you feel great! Just make sure it's versatile!
Alternatively, for a casual option perfect for summer, their quick dry Batika Dress also looks like a good choice!
---
Hope you liked my top five travel essentials from Mountain Hardwear's collection. Don't forget the sale starts today and ends May 25th. Shop the sale now and get 25% off the entire website!
What are your essential travel pieces?
---
Please share with your friends on Facebook, Twitter, or Pinterest. Thanks for reading!
---
This has been a promotional post on behalf of Mountain Hardwear. Please note that the items featured are those I would like to add to my personal travel wardrobe but I don't currently own them. The items are meant to inspire you!
Liked this article? Check out similar posts: