This post contains affiliate links. Visit our Disclosure page for details.
When you dream of the perfect European vacation, what type of hotels do you imagine? What's on your wish list?
After I signed up for the Visa Signature program a couple of months ago I thought it would be fun to find out exactly what hotels participated. Where in the world could I upgrade my stay and take advantage of their free VIP hotel perks?
One thing led to another and I found myself indulging in wanderlust as I fantasized about a decadent vacation including the most swoonworthy luxury hotels in Europe. This would have to be a special treat that I'd perhaps save for a special occasion such as a honeymoon, big birthday, or anniversary. A girl can always dream, right?
In today's post, join me as I share my ultimate European finds from Visa Signature's Luxury Hotel Collection. Which destination tops your wish list?
---
10 Swoonworthy Luxury Hotels in Europe
---
Shangri-La Hotel in Paris
FRANCE
Ah, Paris! One of the most romantic cities in the world deserves an enchanting room to complete the total Parisian experience and it doesn't get any better than a royal palace! The Shangri-La was originally the home to Napolean's grandnephew, Prince Roland Bonaparte and is located just steps away from the Louvre, Montmartre, and Les Invalides. Did I happen to mention it has the BEST view of the Eiffel tower? Talk about the photo opp of a lifetime!
Gran Melia in Rome
ITALY
The view, the balcony seating, and the Roman décor – what's not to love? This hotel just screams romance! It's walking distance from Rome's best ancient sites and even offers a complimentary shuttle if you'd rather rest your toes. The pool is a must after a long hot sightseeing day in the summer. The Gran Melia is located in the iconic Trestavere neighborhood, which just happens to be the perfect place for a local food tour like this one.
The Connaught in London
ENGLAND
London is best explored by foot and location is everything. The Connaught boasts contemporary yet regal rooms at the foot of designer flagship stores in one of the most fashionable cities in the world. Plus, even if it were raining the indoor pools would make up for a gloomy cloudy sky. I can't think of a more perfect refuge.
Relais San Maurizio in Piedmont
ITALY
I know this is the second Italian hotel on my list but the reality is that there are so many places to choose from in this one country alone. The traditional country setting among the rural Piedmont vineyards make the Relais San Maurizio a destination in itself. Enchantingly elegant yet cool and contemporary, this seems to be the idyllic hideaway when venturing to Turin.
Park Hyatt in Vienna
AUSTRIA
Opulence at its finest. Can you say room fit for a queen? This hotel is 100% palatial and decadent from top to finish. If you're a traveler that wants the best in luxury, Austria is known to have some of the top luxury hotels in Europe. The Park Hyatt in Vienna would definitely be my first stop.
Hotel Villa Honegg in Ennetbuergen
SWITZERLAND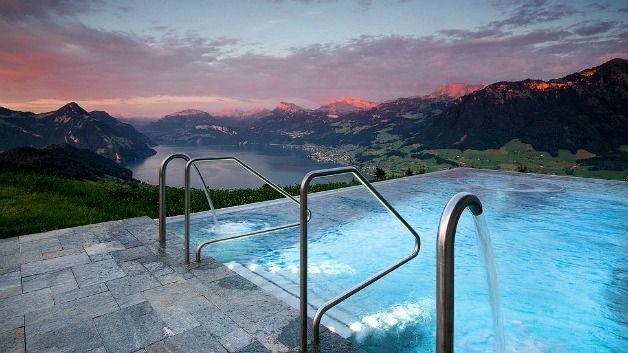 I'm a sucker for elaborate views and this hotel seems to have it all: majestic snowcapped mountains, an awe-inspiring lake, and countryside old world charm. While the rooms in the Hotel Villa Honegg look soft and plush the natural scenery is truly one of a kind. It's lavish and I love it!
Canaves Oia Hotel in Santorini
GREECE
In my humble opinion, this hotel is absolutely the most swoonworthy of the luxury hotels in Europe, and it makes me want to rush to the altar just so I can have a honeymoon in Greece. WOW. The epic views, private pools, and crisp white Mediterranean décor have me wanderlusting for a Santorini trip! This perfect setting makes the Canaves Oia Hotel the number one on my fantasy European vacation wishlist!
The Westbury in Dublin
IRELAND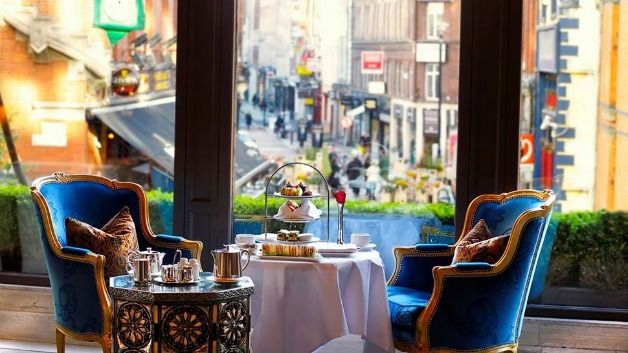 Walking distance to just about everywhere in Dublin, The Westbury hotel is not only centrally located but it looks absolutely gorgeous and dare I say it, girly? I like the look of the neutral colored rooms with just a hint of floral accent that makes it look like "home". The Shelbourne Hotel is also worth considering for rooms with more historical charm.
Georges Hotel in Istanbul
TURKEY
Georges Hotel has received numerous awards, global press, and it's grabbed my attention now, too! This French-style designer boutique hotel is located in the trendy Galata neighborhood just across the water from the main tourist attractions. The décor is seemingly unpretentious with an effortless flair that makes this one of the more unique and modern hotels on my list.
El Palauet Living in Barcelona
SPAIN
I love hotel rooms that are spacious and apartment-like so this luxury hotel in Europe was a no-brainer. Located in the Gracia area, El Palauet is right next to some of the best designer shops in Barcelona and looks like it's the perfect place for the traveling fashionista! Chic and stylish, the décor looks positively luxe. Did someone say epic photo shoot?
---
For the best availability, I searched for hotels mid-week in September as I imagine summer rooms are booking up rather quickly! For a full listing of accommodation options available through Visa Signature's VIP program, please visit their Luxury Hotel Collection website.
Also, don't forget to read about my VIP Visa Signature upgrades in Asia! Which of these destinations top your wishlist for luxury hotels in Europe?
---
For more travel tips, please
---
Hope you enjoyed this post on the most swoonworthy luxury hotels in Europe. Please share it with your friends on Facebook, Twitter and Pinterest. Thanks for reading!
---
Liked this article? Check out similar posts: