This post contains affiliate links. Visit our Disclosure page for details.
Vicky is a long time foodie and travel enthusiast that has ditched cubicle corporate America for 2 years backpacking through Europe and Asia.
She and her partner Dave are the authors of Travel and Food blogs A Couple Travelers, Traveling Through Food, and Avocado Pesto. Having spent 2 years in the working world, they exchanged their briefcases for backpacks, dress shoes for sandals, and beds for sleeping bags. In September 2012 they embarked on a 2 year journey across Asia and Europe. Follow them and their adventures on Twitter and Facebook.
Vicky shares tips on how she travels carryon only and maximizes her belongings during her exciting trip!
---
Interview with Foodie Blogger Vicky from A Couple of Travelers
---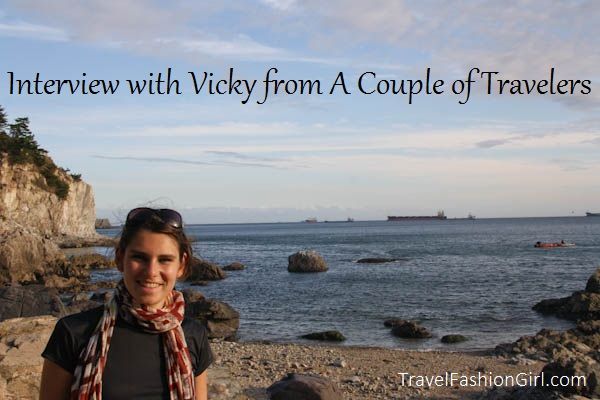 Q: Describe your travel style?
I like to have a mix of sporty clothes and more casual nicer looking clothes so that I can pull off both looks. I have a couple dresses that I can wear with leggings for a nicer dinner or an evening out. Of course I've invested in the convertible pants which though I despise have proven themselves useful!
Q: Do you travel carryon or prefer to check in your bags?
Definitely carry on. When flying it is so much easier to just carry on; no need to wait in line to check your bag, or then have to wait to pick it up, or have to worry about it getting lost. I travel with a 38L Osprey bag and love it. It's big enough to fit everything I need but small enough to still be an airplane carry on!
Q: Are you an overpacker or underpacker?
I used to be a huge overpacker but once I realized that I would literally have to carry everything on my back this drastically cut down on the clothes I wanted to bring.
Q: Is it possible to create a variety of travel outfits without packing your entire closet?
I use different things in multiple ways. Sunglasses can be good to protect you from the sun, or could just be a headband for your hair. A sarong can be made into a dress, or scarf to jazz up an outfit. Leggings can be added to a summer dress to make it more appropriate for evening wear.
Q: What are your must have travel essentials?
Flip flops, sunglasses and a sarong.
Q: What destination was the most fun to dress for?
Last year Dave and I went to Greece for a week and since we were bringing a full 50 pound suitcase with us I was able to bring everything I wanted with me! I brought enough clothes to change outfits 3 times a day and because of that had fun with different clothes and having a new look for every meal!
Q: What destination was the most surprising with regards to local dress?
Thailand. After travelling to some more conservative countries (Burma, for example) I was surprised by the incredibly short skirts, tank tops, and excessive make up that seems to be prevalent in the city of Bangkok. Check out TFG's South East Asia Packing List
Q: What's your preferred travel outfit for a flight?
Shorts or pants and a t-shirt, with either a sarong or sweatshirt handy in case it gets cold or I want to use it as a pillow.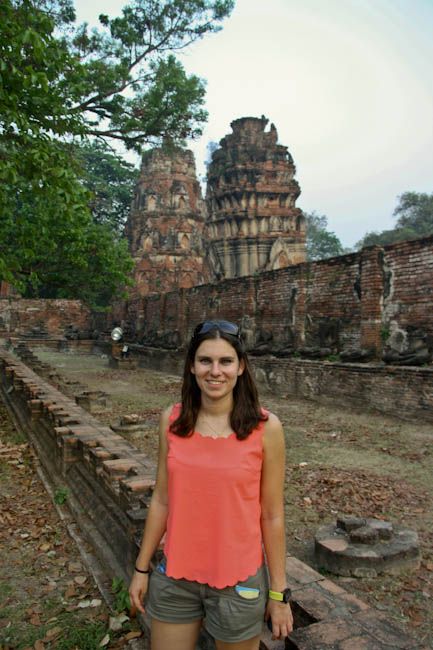 Q: What are your favorite travel accessories?
Definitely sunglasses, a watch and a sarong. I was never big on jewelry and only wear a simple gold necklace my mom got me, but I can't go anywhere without my travel watch. It's has a bright yellow band with a large black face and it's all I need to dress up an outfit. The sarong is great to throw around my neck as a scarf and the sunglasses are equally as useful as a headband as they are as eye protection!
Q: What are your favorite beauty essentials for travel?
I love my Clarins face creams that I have brought with me. Buying beauty products abroad can be so difficult when the labels are in a different language and especially in Asia it can be difficult to find a lotion that is not whitening.
I have a small travel size hairbrush that is light and doesn't take up much space and the only make up I use is eyeliner and mascara. These two barely take up any space and are easy to apply.
Q: How many pairs of travel shoes do you prefer?
I started out with 4 pairs of shoes but after losing my flats I'm now lefts with flip flops, teva sandals and sneakers.
I love my flip flops and think they are more comfortable and look better than teva style sporty sandals. Depending on where you are travelling flats could be great, as long as it's not too hot or cold out!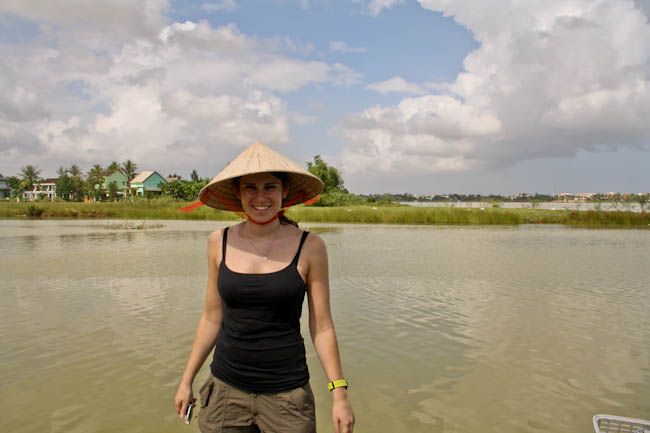 Q: What was your biggest travel fashion mistake?
I bought one of those infinity dress on Amazon which you are supposed to be able to convert into 20 different dresses. In reality it was practically impossible for me to assemble the dress to look nice and it turns out that it's partially see-through! The material it is made of isn't very nice but heavier than a simple dress so after dragging around the dress for months but only wearing it twice I finally got rid of it!
Q: Any last travel tips for new travelers?
Bring lots of ziplock bags! They are great for storing toiletries, beauty products, or even under wear. In terms of clothing make sure to bring a sarong – it has so many different uses and has come in handy many times!
---
If you'd like to be interviewed on Travel Fashion Girl, please submit your details here.
---
For more traveler interviews, please read:
---
Hope you liked this interview with Vicky. Please share this post with your friends on Facebook, Twitter and Pinterest. Thanks for reading!
---
Liked this article? Check out similar posts: