This post contains affiliate links. Visit our Disclosure page for details.
Tired of paying baggage fees? Read these tips to help avoid common mistakes. And if you want even more help, master the art of packing light with our Stop Overpacking course!
---
How to Avoid Baggage Fees
Written by Elizabeth Georgian
---
Airlines made close to $11 billion in excess luggage fees (as well as seat fees) in 2015. 
I don't feel the need to spend my hard-earned cash to add to that amount, so I've made it my goal to always stay within the free luggage restrictions. This includes budget airlines like Ryanair and Wizz Air, which have strict guidelines and high fees. 
This is exactly how to pack for a strict 7kg baggage limit!

So you don't have to pay more when traveling, I've compiled some tips to help you save your cash for your next flight, rather than paying for luggage fees.
➊

Carefully check the luggage allowance
Checking the luggage allowance is something that many travelers forget about–at least they must, as I often see people repacking in airports! Do not make this common mistake! Easily avoid luggage fees by knowing the rules before you even book your flight. 
For example, if you're flying economy with Wizz Air, you're only allowed one small cabin bag size 42 x 32 x 25 cm or smaller and no personal item (i.e., no purse or bag).
Knowing your luggage allowance is the first step for successfully avoiding baggage fees, because you certainly don't want to show up to the airport with an additional purse or backpack that doesn't fit into your already overly-full luggage. 

Anti-Theft Slim Bag / Wristlet Crossbody / Rebecca Minkoff Clutch
Speaking of your purse: what should you do with your cash, tickets, phone, and passport? This is where planning ahead comes in.
For flights where a personal item is not free, I take a smaller purse to carry my essentials through the airport and then pack it away before getting on the plane. I plan ahead and reserve space in my luggage to pack my purse away.
Not sure what's a personal item? Find out.
➋
Pack only what you need

Icebreaker Scoop Top / Minus33 Midweight Crew / Ibex Base Layer
Avoiding excess packing is a challenge for us all, but if you want to consistently avoid luggage fees, you need to find a light packing system that works for you. This is your ultimate guide on how to pack for cold weather.
If you are traveling to a cold destination, for example, pack light by bringing warm layers rather than large, bulky sweaters. 
Find out how to choose the best layers!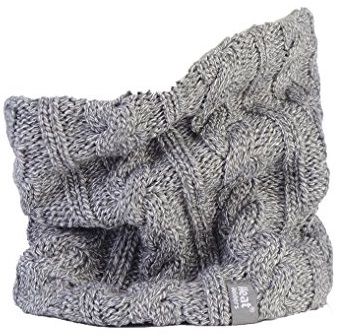 Additionally, instead of packing a scarf, which takes up a surprising amount of luggage space, I always keep mine handy during the flight in case the air conditioning is too severe. This saves both space in my luggage and keeps me comfortable inflight.
Alternatively, bring a warm neck gaitor like the one above that takes up minimal space with full functionality.
Here's a variety of stylish winter scarves to choose from!
➌

 
Organize your luggage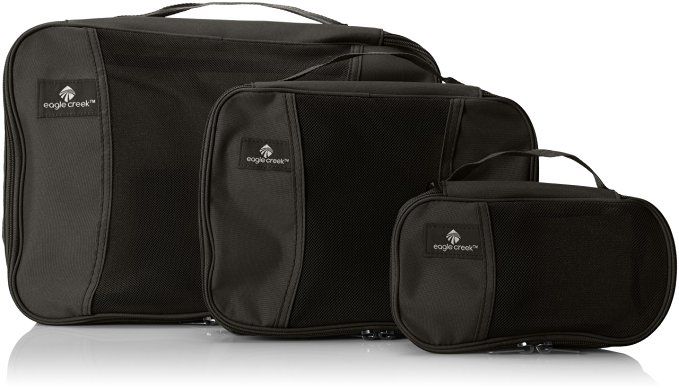 I love packing cubes and envelopes to keep my clothes neat and organized during a trip, like these by Eagle Creek. 
Though the cubes and envelopes add a small bit of weight to my luggage, I find them necessary to keep my items organized and to only pack what fits. The packing envelope and cubes fit perfectly into my luggage, so I know when those are full, I can't pack any more.
Confused about the best luggage organizer? Here's how to choose!
➍
Purchase appropriately-sized luggage
Delsey Luggage Helium / it Luggage Amsterdam III
If you have a large suitcase, you (and me, too) will always be tempted to pack more than what's needed. 
However, if you purchase a suitcase that easily fits in the overhead compartment or under your seat, then you'll be forced to pack lightly and stay within the baggage allowance set by airlines.
If you know you'll be flying a specific airline frequently, I even recommend purchasing luggage that fits the exact dimensions, because then there will be no question of it fitting size requirements.
Can't choose the right travel luggage? Read these awesome tips!

---
Save more, avoid paying excess luggage fees. To stay within the luggage allowance, preparation is key!
Do you have any other tips on how to avoid baggage fees? Share in the comments below!
---
LIKED THIS POST? PIN THIS PIC TO SAVE IT!
---
For more airport travel tips, please read:
---
I hope you liked this post on how to avoid baggage fees. Please share with your friends on Facebook, Twitter, and Pinterest.  Thanks for reading!
---
Author Bio: Elizabeth Georgian is a travel writer and expat currently based in Vilnius, Lithuania. Follow her local and international travels on In Search Of or on Facebook and Instagram.
---
Liked this article? Check out similar posts: