This post contains affiliate links. Visit our Disclosure page for details.
I'm not sure if it's a traveler thing or it's because I write a blog about travel gear for women but I LOVE looking at luggage and accessories.
I find myself oohing and aaahing over sexy leather weekender bags, sweet and pretty cosmetic bags, and just about any leopard print travel accessory.
What can I say? I lust for luggage! (Let's hashtag that, shall we? #LustforLuggage)
---
Travel Accessories to Add to Your Wishlist
Advertorial
---
Check out my top luggage picks from Mark and Graham. They offer beautiful travel accessories that you can personalize and monogram ensuring a personal touch. Plus, it's a great way to identify your belongings abroad too . Whether for you or another traveler in your life, you'll want to add these to your wishlist!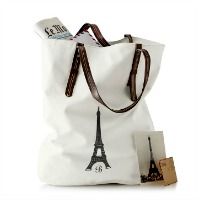 Eiffel Tower
Sure it's a big cotton canvas tote with stitched leather straps and contrast stitching but what makes this the ultimate traveler tote is the Eiffel Tower of course!
Use it as an every day tote, beach essential, or as your personal item on a flight – keep your Parisian dreams close with this versatile bag.
Travel Jewelry
 ——Vegan Product——
I'm infatuated with cute little cases and this circular zippered case not only looks stylish but it helps keep your jewelry safe.
It features multiple layers to hold earrings, bracelets, necklaces and other jewels, keeping them safe and contained while traveling.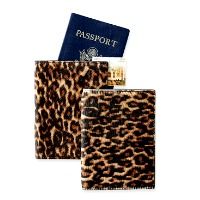 Leopard Passport
——This tops my wish list——
It's leopard print and an item I have the excuse to travel with. I'm sold!
Plus, it's roomy enough to fit a passport as well as travel documents and other important items.
Suede Boho
The soft, relaxed feel of this suede weekender is perfect for a rustic getaway or stylish escape. Great for an autumn or winter mini-vacay just add some cute booties and a chic scarf and you're good to go.
Don't forget some dark sunglasses for a bit of mystery!
 Typographer's
Wouldn't this be a super cute gift for a destination wedding bridal party or the bride? This dreamy little jewelry roll is made from natural linen and has space for rings, necklaces, bracelets and more.
Help your best gal pals keep their gems, jewels, baubles and bangles nice and safe on their trip abroad.
Voyage Seersucker
Whether you're heading out for a daytrip or a round-the-world adventure, this little zippered pouch will help you organize your purse, suitcase or beauty products.
The cotton seersucker fabric reminds of a cruise or sailing trip. Von voyage!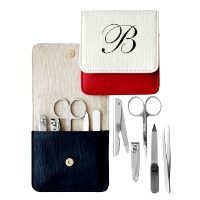 Colorfield
——Not for carry-on luggage——
Traveling the world with perfect nails and a manicure set is a must in my book. This handy pouch reveals everything you need for a meticulous manicure: scissors, two files (one folded, one flat), tweezers and nail clippers.
The one with the red color gets my vote!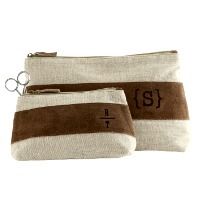 South Cosmetic
Bag – $20-$28
Stash small electronics, cosmetics or other personal items in these handy zippered cases that are sure to keep your suitcase more organized.
The suede/chambray design and warm and rustic feel makes me want to take this set on a spa or wellness getaway!
  FOR HIM⇓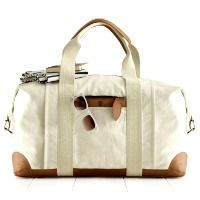 Canvas with Leather
Pack your bags and get ready to roll with this cotton canvas carryall. It's roomy and unisex so even if you decide to get it as a gift for your hubby, it's nice to know you could always borrow it.
Love it for a weekend getaway!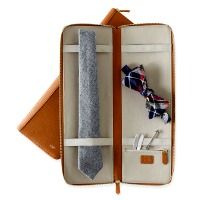 Graham Tie
The exquisitely crafted Graham Tie Case embodies classic sophistication for the distinguished traveler – perfect for a businessman or first class jetsetter.
Made from a supple yet durable leather it will keep his ties wrinkle-free, protected, and well organized.
 Everyday Leather
Toiletry bags are the one travel accessory that always look better for men. I'm always envious of my guy's dopp bag.
Whether for you or for him, I always appreciate the minimalist, sophisticated designs of a nice leather toiletry bag.
Sleepy Travel
And if the other man in your life has a waggy tail and droopy ears, I LOVE this super cute and fluffy travel dog bed.
Made in Germany, it folds easily and has handles for simple transport plus it's made from recycled hemp, organic cotton canvas, and lined in natural sheep's wool.
Talk about letting your furry friend lounge in the lap of luxury, even on the go!
---
Not only are all the above travel accessories super cute but the best part is that you can get them personalized. Now that's a sweet gift for the favorite traveler in your life or you! For more info, please visit Mark and Graham.
---
To learn more about our suggested travel accessories , please read the following:
---
Hope you liked this post on gorgeous travel accessories. Please share it with your friends on Facebook, Twitter, or Pinterest. Thanks for reading!
---
Liked this article? Check out similar posts: