This post contains affiliate links. Visit our Disclosure page for details.
On the lookout for cute and original travel accessories? From passport covers to protect your most important travel document to luggage tags to easily identify your bags on the carousel, BarrisTourista offers a line of fun products with the traveler in mind. Keep reading to learn more!
---
BarrisTourista Travel Accessories
ADVERTORIAL
---
Who is the BarrisTourista?
BarrisTourista started as a travel and foodie blog focusing on experiencing various worldwide destinations from the eyes of a local. The website offers in-depth exploration of various cultures, foodie recommendations, photo gallery, tips for saving money on travel, and more. You can read the blog here!
The traveler behind the blog is Tyra, a lawyer with a passion for writing, journalism, and photography. The inspiration for the line came from difficulty in finding products that Tyra wanted to use [in her travels]. Her goal was to create a fashionable and functional line of products that all travelers could love.
BarrisTourista evolved to include a travel store to give her readers the fashionable and creative travel accessories they wanted. And now, we're sharing them with you!
BarrisTourista offers various products, including passport holders, luggage tags, tote bags, and budgeting workbooks (shown above) catering to both the frequent flyer and the leisure traveler.
The unique and colorful designs are meant to add a touch of fashion to functional items every traveler needs. The tote bags have strong handles and a black interior so as to avoid staining. The luggage tags are a durable—yet lightweight—plastic, and make it easy to identify your bag at baggage claim.
Mix and match or choose all items in a set! Most designs are available in all styles. Take a look!

Explore more / Have Passport Will Travel / Pack Light / Live Love Travel
Tote Bags
Tote bags are one of the most versatile travel accessories for women. You can use them as a personal item, beach bag, shopping tote, purse, laundry holder, and more! Wear your love for travel proudly at home or abroad with one of these fun designs!
BarrisTourista tote bags sport weather-resistant vinyl material with strong handles for the traveler on the go.
TFG's Top Pick: Explore More Tote Bag

Explore more / Have Passport Will Travel / Pack Light / Live Love Travel
Passport Covers
Protect your most important travel document and showcase your style while waiting in line at immigration! Choose one of these unique covers that fit most passport dimensions, including the U.S.
BarrisTourista passport cover designs are slim and lightweight, so as to not take up a lot of space in your bag. They're handmade from a durable, water-resistant, eco-friendly material and sealed with vinyl.
TFG's Top Pick: Have Passport Will Travel

Explore more / Have Passport Will Travel / Pack Light / Live Love Travel
Luggage Tags
Losing your luggage is a nightmare. Always make sure your contact information is easy to find by using a luggage tag. Plus, why not accessorize your suitcase and make it easier to spot in the baggage claim, too!
BarrisTourista luggage tags are lightweight, made of thick durable plastic, and include a loop attachment to secure the tag to your bag. They include a compartment in the back where you can insert the removable contact slip or one of your own business cards.
TFG's Top Pick: Pack Light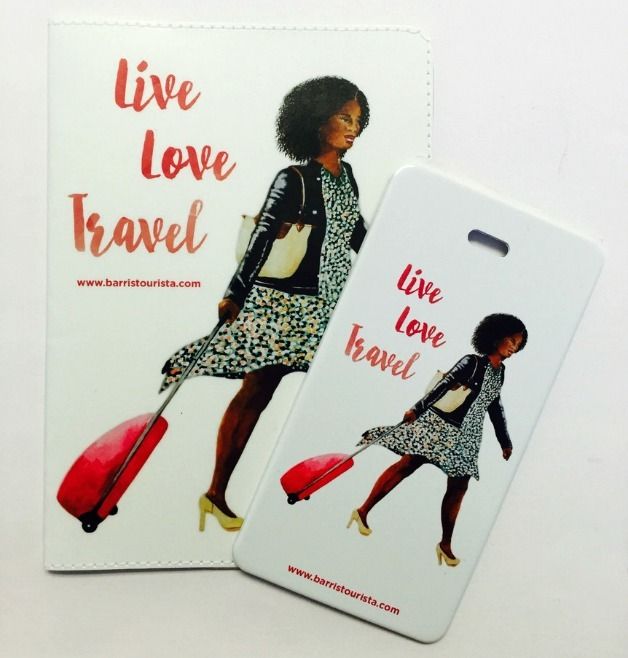 Live Love Travel product bundle
Product Bundles
As an added bonus, BarrisTourista also offers product bundles on some of their most popular designs. Save money and get yourself a set or keep one and share the other with a friend!
TFG's Top Pick: Live Love Travel
---
For a limited time, Travel Fashion Girl readers get 10% off their first purchase with the code TRAVELFASHION. Shop now at BarrisTourista's Travel Store!
---
For more packing tips, please read:
---
 Hope you liked this post on BarrisTourista travel accessories. Please share with your friends on Facebook, Twitter and Pinterest. Thanks for reading!
---
*Advertorial: this post is for promotional purposes and should not be considered an endorsement*
---
Liked this article? Check out similar posts: