Support TFG by using the links in our articles to shop. We receive a small commission (at no extra cost to you) so we can continue to create helpful free content. As an Amazon Associate, we earn from qualifying purchases made on Amazon in addition to other retailers featured on the blog. Thank you, we appreciate your support!
Wondering what to wear in Guatemala? It's one of my top five countries in the whole world! I spent a couple of months traveling here and highly recommend it. Here's everything you need to know!
---
What to Wear in Guatemala
---
Guatemala is one of my favorite countries! So many travelers miss out on seeing this incredible country even though it's very accessible for the rest of North America.
One of the things that makes Guatemala so amazing is its natural beauty, from the stunning Lake Atitlan to the breathtaking mountains of Xela. It's incredible!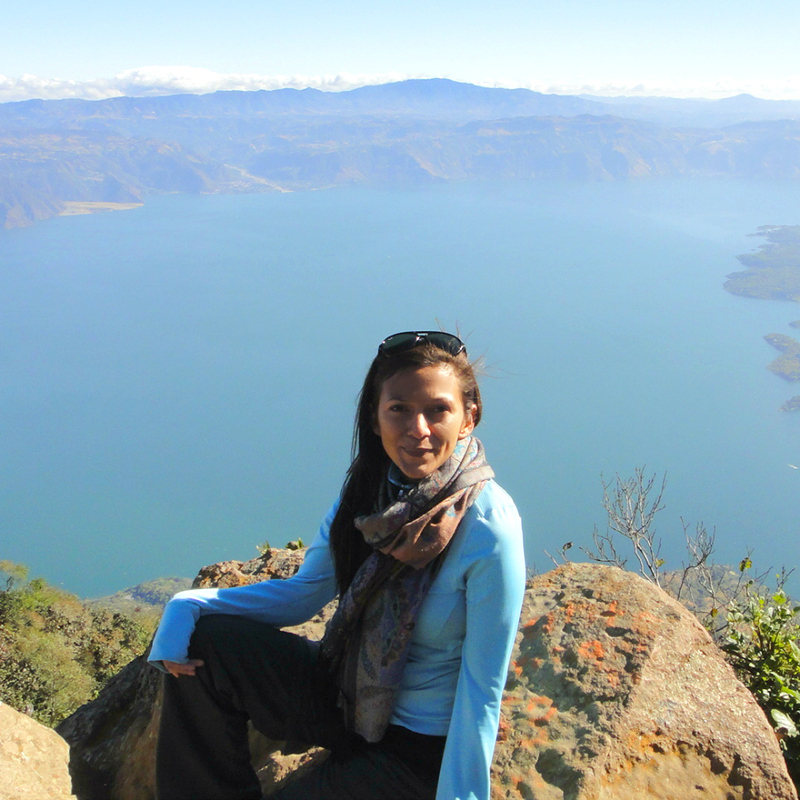 overlooking Lake Atitlan from Volcán San Pedro
This is a pic of the awe-inspiring Lake Atitlan – a peaceful lake surrounded by various small towns, each with their own unique characters.
One of my favorite views is from the top of the San Pedro volcano. The hike up to the top was intense with our guide hiking briskly uphill but in the end it was well worth it to enjoy this moment of serenity.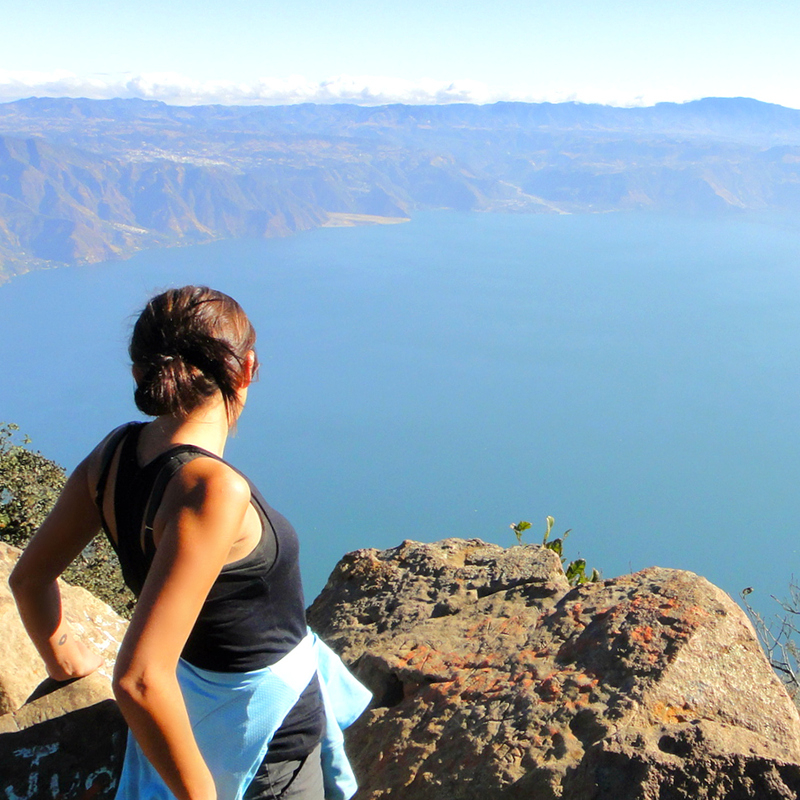 Lake Atitlan 
I visited Guatemala from December to March when the weather was nice and mild. This is considered the winter, so I made sure to pack according to the climate.
Check out the places I visited and these tips on what to wear in Guatemala:
Antigua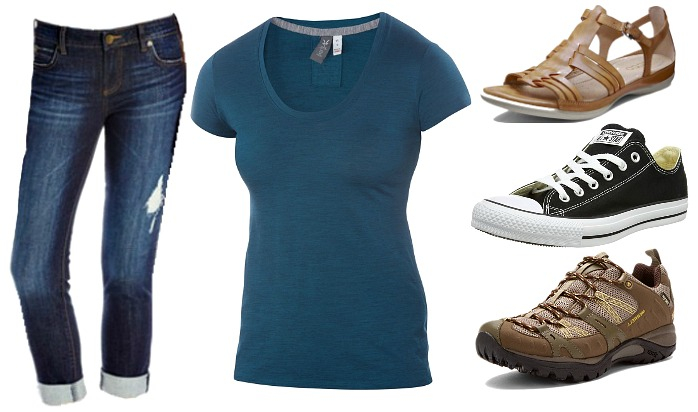 Jeans | Merino Wool Tee | Sandals | Sneakers | Hiking Shoes
Antigua is a small, colonial city in the South of Guatemala, surrounded by breathtaking volcanoes. Filled with Spanish-style buildings, Antigua is a truly vibrant and exciting place to visit.
As a traditional city, it's important to dress modestly, as the locals tend to wear modest clothing. You'll fit in the most with jeans and a tee. A casual dress will also be comfortable on sunny days. Add a cardigan, hoodie, or sweater at night.
Within the city, the streets are paved similarly to Europe, which means it's cobblestones galore! Be sure to pack sturdy sneakers or cute walking sandals so you can explore the streets pain free.
Read these tips on how to choose the best shoes for cobblestone streets!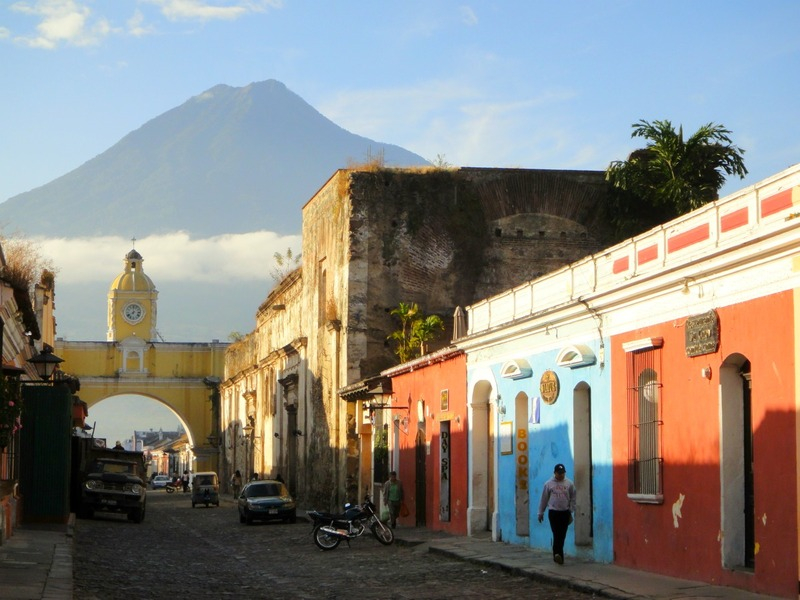 Antigua
Some of the biggest attractions are the surrounding volcanoes. You can do various hikes, so take a decent pair of sneakers or hiking shoes depending on how much you plan to do.
For a general sightseeing day or two on a volcano, trail shoes would be perfect. For strenuous multi-day hikes, pack something sturdier, like Merrell Siren 2.
I was cold and the only warm shoes I had were my hiking shoes. I wished I would've brought these these ankle boots as my third pair of shoes. Instead of boots you may prefer sneakers like Converse it just depends on what you like to wear casually in cooler weather.
Read this guide on how to choose the best shoes for travel!
Lake Atitlan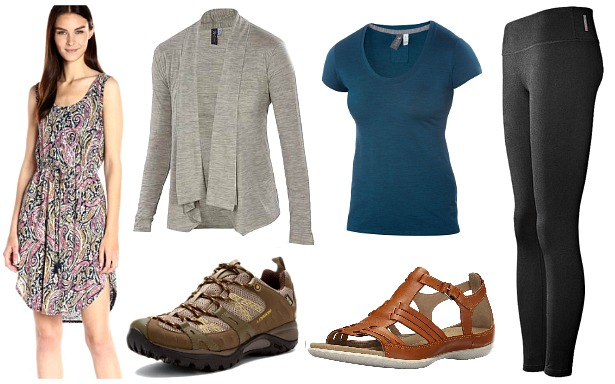 Sundress | Cardigan | Merino Tee | Leggings | Sandals | Hiking Shoes
One of the most incredible places I have visited is Lake Atitlan in the highlands of Guatemala. This place is stunning and you can lose yourself in the serenity of the lake.
Since the lake is at a higher altitude than other areas of Guatemala, I'd recommend packing warm clothes for the winter climate, including a sweater or hoodie for the evenings. In the daytime, temperatures can get pretty high, so don't forget a summer dress that can be layered.
Here are some tips on how to stay warm in cold weather!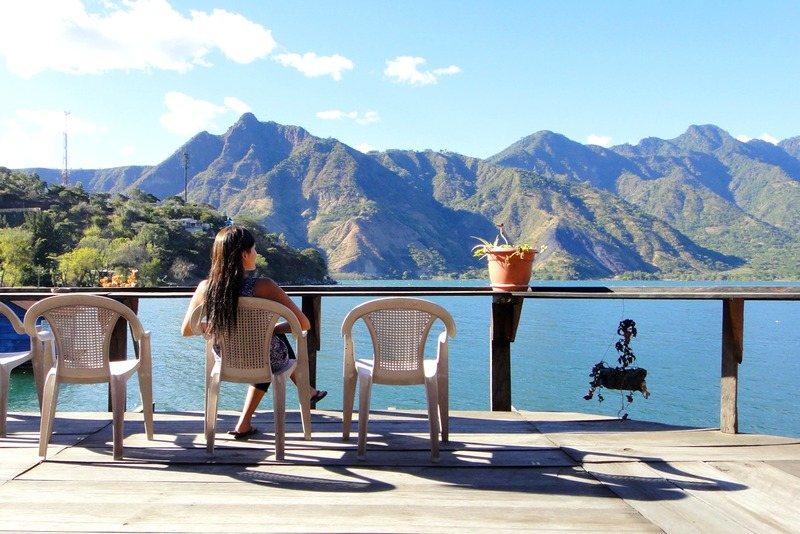 San Pedro
The main town and tourist hub for Lake Atitlan is San Pedro. This town is perfect for travelers wanting to learn Spanish and is a great base for trekking up the San Pedro Volcano. It's full of dirt roads and cobblestone streets, so I recommend packing sturdy sandals or hiking boots that have a good amount of tread.
San Marcos, another town surrounding the lake, has a strong yoga community. I took a pair of leggings and a t-shirt so I could join the yoga classes while I was there.
These are the best leggings for women that travel!
Xela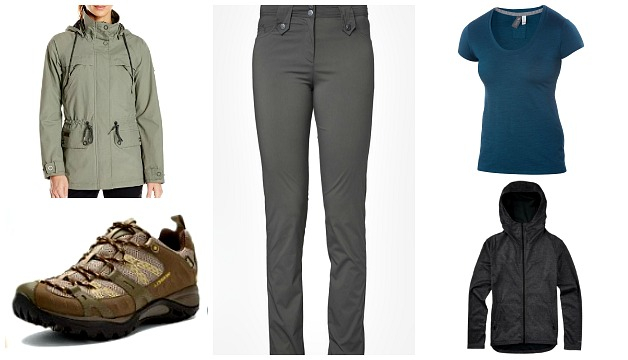 Waterproof Jacket | Hiking Shoes | Travel Pants | Merino T | Hoodie
Xela (or Quetzaltenango) is the second largest city in Guatemala and is great for learning Spanish, volunteering, or doing a three-day trek to the surrounding areas.
Pack layers and clothes suitable for hiking in the cold climate. I recommend packing a fleece to keep you warm, a waterproof jacket, and hiking pants to make the experience more comfortable.
I wish I would've had these merino wool thermals for the cold and recommend you bring them if you plan to spend extended periods of time in Xela and for multi-day treks, too!
Lanquin and Semuc Champey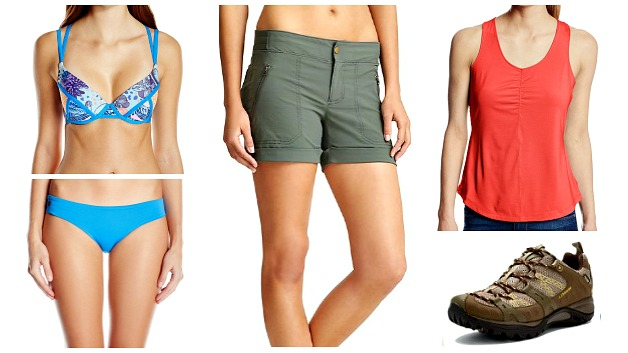 Underwire Bikini | Reversible Bikini Bottom | Short | Tank | Hiking Shoes
Lanquin is the jumping off point for the lesser known Semuc Champey, which is a beautiful area covered in jade green natural pools where tourists and locals swim.
If you're heading here, don't forget your bathing suit as you will not want to miss out on this incredible experience!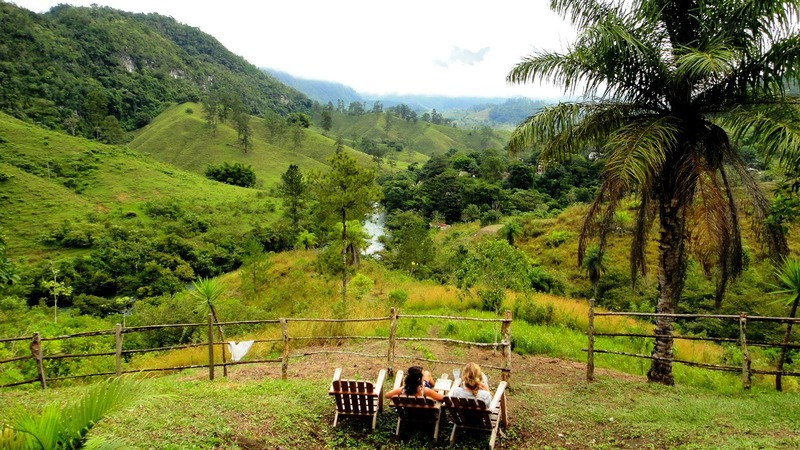 Lanquin
You can also hike up the mountain to get a view of the pools and the local area, so bring hiking shoes or sturdy sneakers. Since it's hot and humid, you can wear your bathing suit underneath comfortable shorts and a breathable top while you're climbing.
I did a day trip that included a candle lit walk in the caves as part of the Semuc Champey visit and that was a spectacular experience! I highly recommend it! See the pics at the end of the post.
A fast drying towel was convenient to dry off after a dip in the pools!
Tikal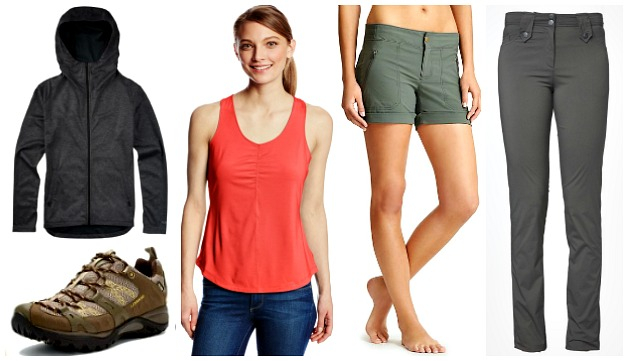 Hoodie | Hiking Shoes | Tank Top | Trekkie Short | Trekking Pants
Most travelers visit Tikal to see the famous Mayan ruins that are based in the rainforest. These are situated in a lovely, quiet town Flores, where modest clothing is encouraged. I'd recommend a pair of comfortable (but not too revealing) shorts as well as sneakers.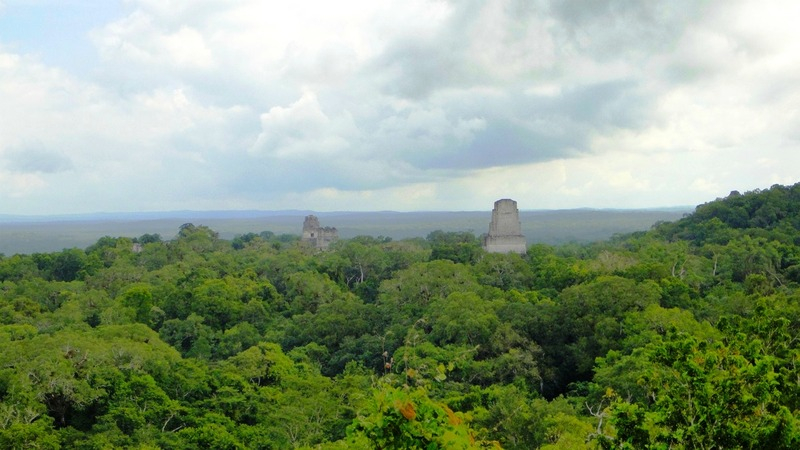 Tikal Ruins
The day tends to start out chilly but gets hot by the afternoon, so pack layers that you can peel off and a small backpack to carry them.
Rio Dulce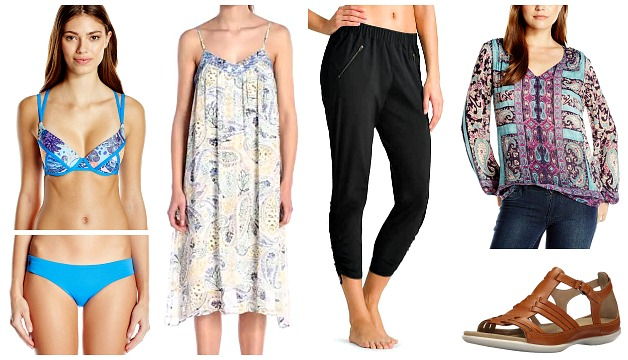 Underwire Bikini Top | Reversible Bikini Bottom | Dress | Ankle Pant | Blouse | Sandals
The Dulce River was one of my favorite places to visit in Guatemala. It's a gem!
I recommend you stay in one of the magical eco lodges such as Hotelito Perdido – a fantastic destination in itself. It's the perfect place for a quiet retreat, daily yoga practice, and a dip in the river. Relax on the hammocks and allow yourself to just disconnect. I spent five weeks here and loved it!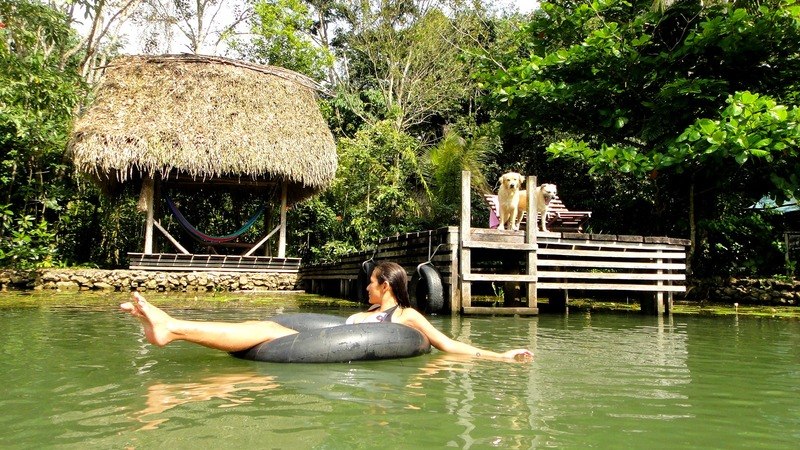 Hotelito Perdido in Rio Dulce
The weather is unbelievably humid, which makes it difficult to dry anything at all, so only pack quick-dry or moisture wicking clothing when coming here.
I took a bathing suit, summer dress, and a warm layer for the crisp early morning sunrise and evenings under the stars. A rayon maxi dress would be great as it is breathable and dries super quickly.
Don't forget your insect repellent, a long sleeve top, and lightweight pants to avoid nasty insect bites. Here are more essentials for remote locations.
TRAVEL TIPS: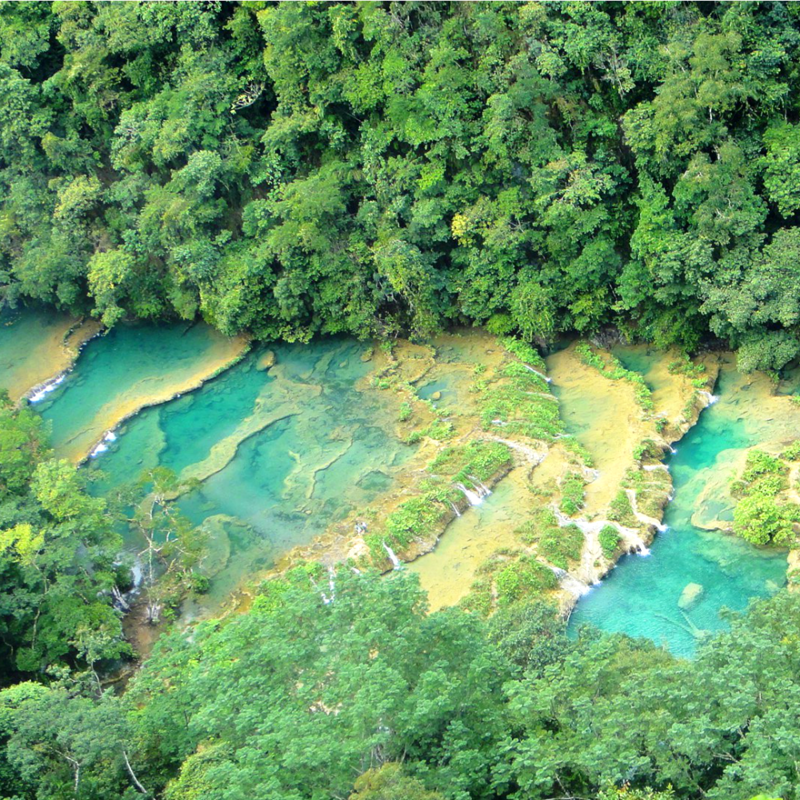 view of Semuc Champey
It's hard to choose just one of Guatemala's gems as the most beautiful, but Semuc Champey takes the prize.
In late 2011 I was on an indefinite journey that started in Cancun and was to take me to South America. As I met travelers on the road everyone kept talking about two must-see destinations. One of them was Semuc Champey – natural turquoise limestone pools with waterfalls and a short hike to view them from above.
I never expected to see something so wondrous so close to home. I always imagined I had to travel half way around the world to find treasures like this but just a 5-6 hour flight from the US and you have a world of beauty at your fingertips.
Have you been to Semuc Champey? If not, you have to add it to your list!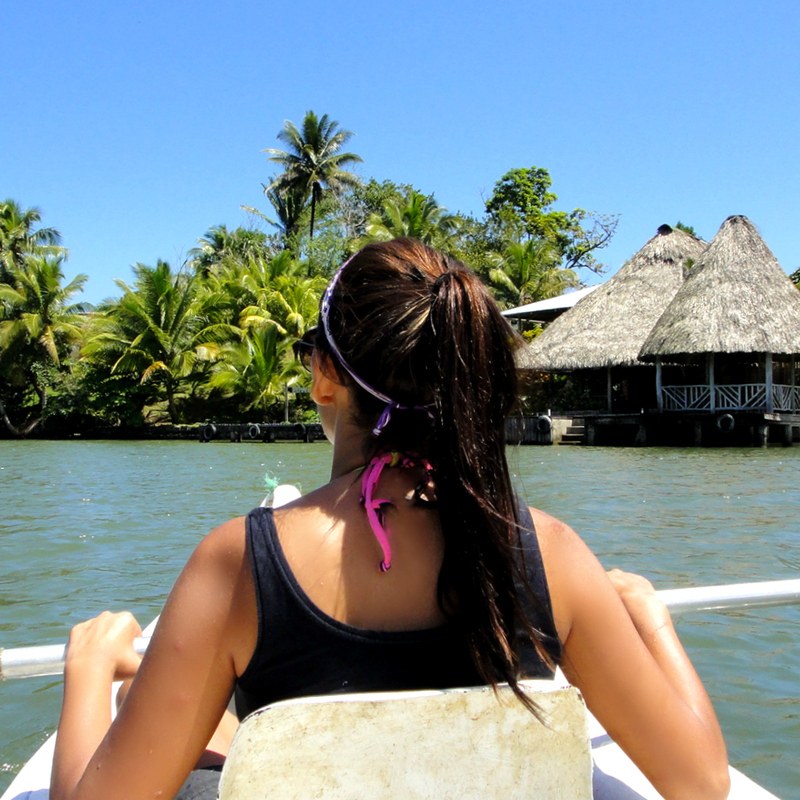 Kayaking on the Rio Dulce
If you've ever wanted to travel but have limited cash, consider doing a "working holiday" where you work about 20 hours a week in exchange for room and board. You don't make money but you don't spend money either. And if you find the right place you just might have treasured memories along with unique new life experiences, too.
My first time doing a work exchange took me to the Rio Dulce – a magical place that (in 2012) was still lost in time.
There was no wifi, electricity, and no roads. We were in the middle of the jungle for five weeks volunteering at an eco lodge on this peaceful Rio Dulce ("Sweet River"). The only way on and off the hotel property was on a boat or kayak.
Have you ever been in a place this remote or inaccessible? The first night I was terrified of the jungle sounds and and by the end of my time there I didn't want to leave.
These are some of the most cherished moments in my travels. The times when I've put my fears to the test. The most challenging times are the ones were I truly got to know myself. They've made me the person who I am today.
And that's when traveling is real. When it's raw, when it's just for you, when you're fully in the moment. That's when it's life changing.
---
What are your tips on what to wear in Guatemala? Share in the comments!
---
For more Central America packing tips, please read:
Suggested travel resources:
---
LIKE THIS POST? PIN THIS PIC TO SAVE IT!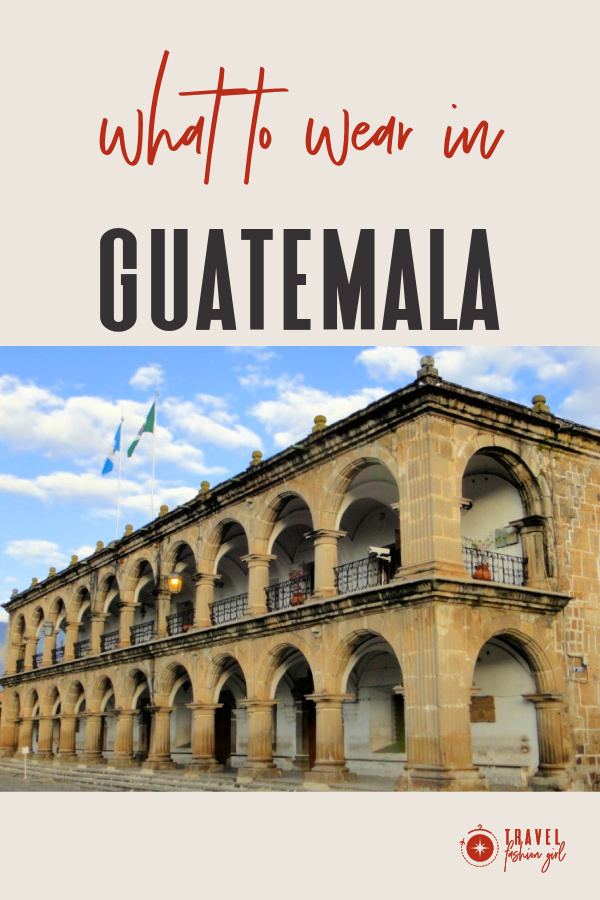 ---
I hope you liked this post on what to wear in Guatemala. Please share with your friends on Facebook, Twitter, and Pinterest. Thanks for reading!
---