Support TFG by using the links in our articles to shop. We receive a small commission (at no extra cost to you) so we can continue to create helpful free content. Thank you, we appreciate it!
---
UNIQLO: Winter Sports Holiday
Advertorial
---
If you are going on a winter sports holiday your priorities are relatively simple: warmth and comfort. However, with inspiration from UNIQLO you will have warmth, comfort and style by including essentials from the brand's innovative Ultra Light Down collection.
Our UNIQLO winter sports holiday packing list provides you with the perfect 12-piece wardrobe and includes travel essentials from the UNIQLO Ultra Light Down collection–  which packs away lightly yet keeps you warm when you need it.
If Ultra Light Down is an essential part of your travel wardrobe, you could stand the chance to win £300 to spend at UNIQLO by entering their current social styling competition. Simply upload an image or video of yourself wearing any piece from past or current Ultra Light Down collections on Twitter or Instagram, using the hashtag #ULD. The best images will then be showcased on UNIQLO social channels and one winner will be picked for the UK and one for France.
The competition will run for two weeks, from October 7th – October 20th, so don't miss out on this amazing opportunity! Check out the website for full details: UNIQLO #ULD Contest Page.
Women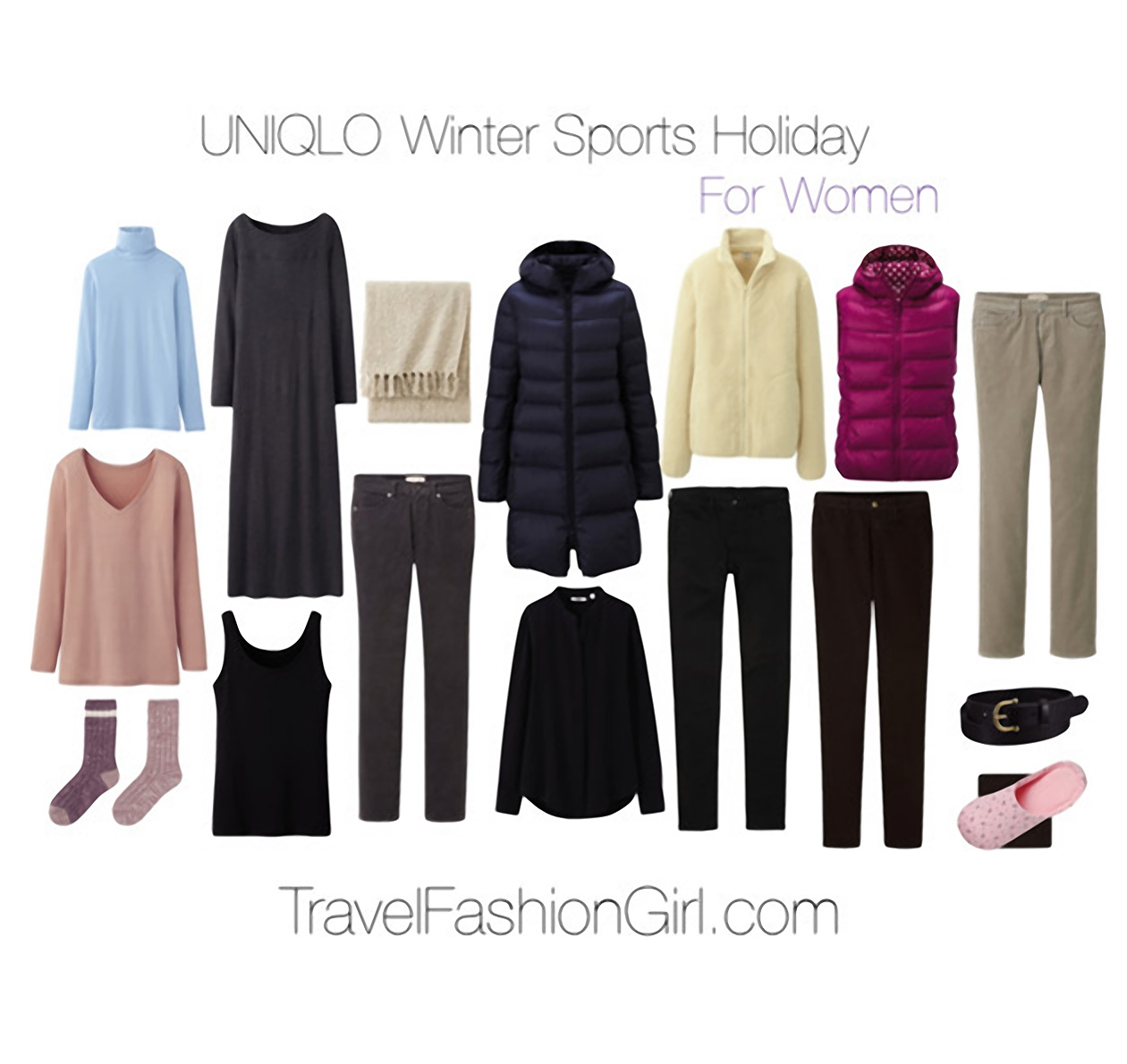 Tops
Tops from UNIQLO's innovative HeatTech thermal range are the perfect base for winter sports outfits. Our favourites are the HeatTech turtle neck and HeatTech T-Shirts – perfect for layering your winter wardrobe. For a more sophisticated look for dinners out, pack a simple collared blouse which you can accessorise with a statement necklace.
Trousers and jeans
Jeans and UNIQLO HeatTech Corduroy trousers are great to use as your base and provide a comfortable and stylish addition to any packing list. Although if you're planning a lot of sporty activities then the UNIQLO HeatTech lounge pants and leggings will guarantee comfort and warmth.
Dresses
A dress may seem impractical for a winter sports holiday, but there may be a day or even a night when you tire from your sporting activity and just want to relax and feel girly.
Outerwear
UNIQLO's UltraLight Down hooded coat will be your go-to piece for your winter sports holiday! Keeping you warm and the wind-chill at bay with high-collar design, we also love the UltraLight Downhooded vest, which won't restrict your arms. Layer on top of a cosy fleece jacket for ultimate comfort.
Accessories
Scarves can bring a touch of much-needed colour and femininity to an otherwise neutral wardrobe. Choose from UNIQLO's range of bright colour and print pieces from various big-name designers. And for those evenings off, cosy slippers and socks can be a life-saver.
Why not add a few extras such as UNIQLO Women's Knee High Socks, which are perfect to wear either under your pants for added warmth or with your dress for a stylish and girly look. UNIQLO Sweat Room Shoes (Flower), these room shoes are not only comfortable and warm but they are also very cute.
Remember that scarves bring a touch of much needed color to an otherwise neutral wardrobe and they always bring a feminine flair, try out UNIQLO Women's Ivana Helsinki Stole if you are after a little creative inspiration!
Men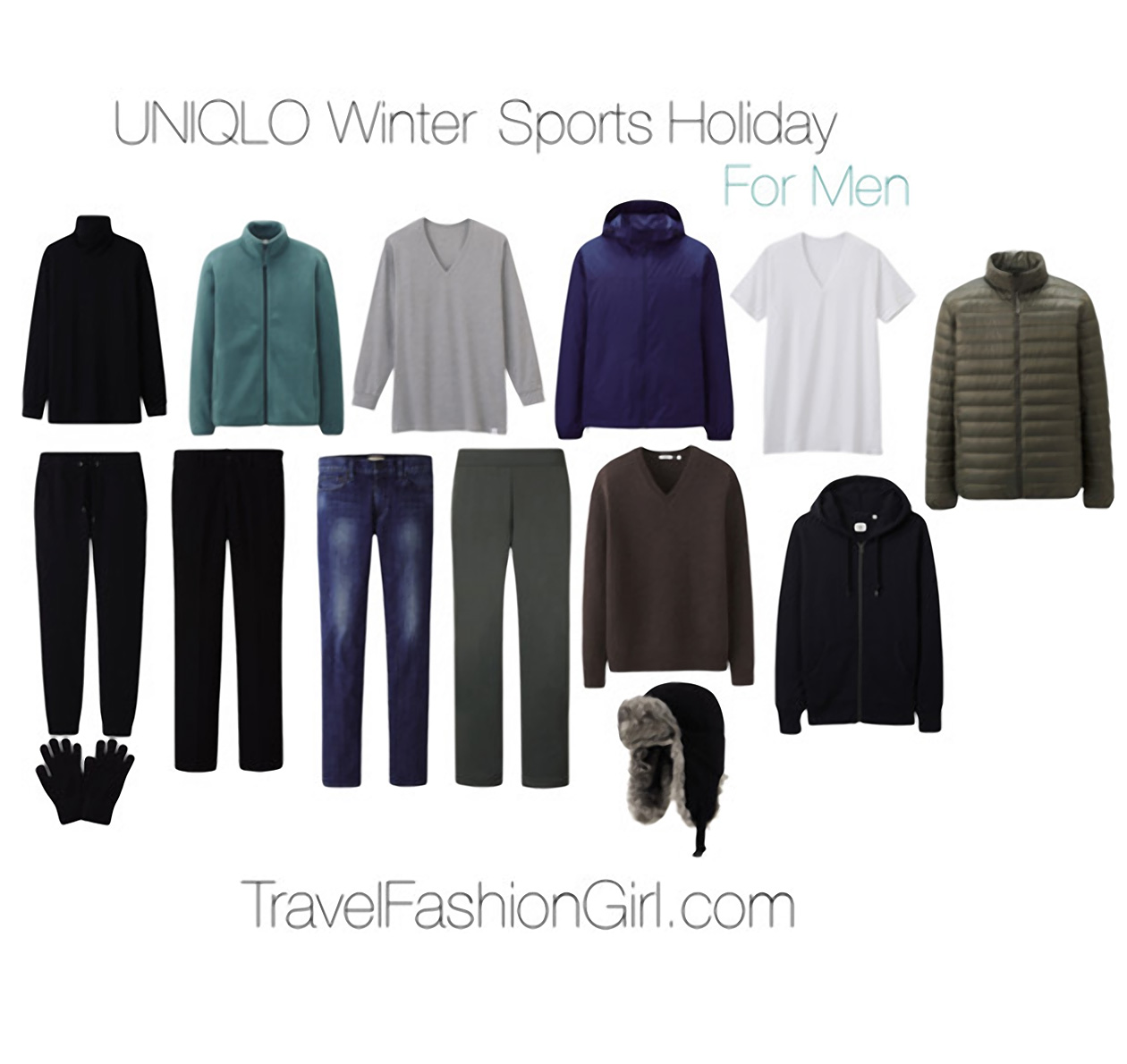 Tops
UNIQLO's innovative HeatTech thermal rangeis your one-stop shop for practical, light-weight and stylish layering essentials. The turtle necks will keep the wind from biting around this often-exposed area.
Hoodies will keep you cosy and cool by day; in the evenings, throw on a thick knit sweater to show off your more sophisticated style.
Trousers and jeans
UNIQLO's sweat pants and men's track pants are ideal for working out as they are soft, durable and what every man wants… practical!
UNIQLO stretch flat front pants, made with a combination of cotton and spandex, will allow freedom of movement during all your activities. And for the evening it's got to be jeans – stylish with a shirt or even a simple tee.
Outerwear
If you want to be warm during your travels, but also don't want to lug around a heavy jacket, then again, it's UltraLight Down all the way. The clever technology traps warm air against your body to ensure that you're kept toasty.
A lightweight, water-resistant parka is another clever addition to your winter sports wardrobe, packing neatly away when not needed.
Accessories
If you are after a little extra, the UNIQLO Aviator Cap+ is the perfect accessory for you! Not only is it very stylish and masculine, but the design complete with faux fur trim will keep your head and ears very warm.
Don't forget to keep your hands toasty with UNIQLO's innovative Heattech knit gloves.
---
For more details about the items featured or to learn about international retail store locations, please visit UNIQLO.com.
---
Hope you liked this post! Please share it with your friends on Facebook, Twitter, and Pinterest. Thanks for reading!
---
 ***Advertorial note: this post is for promotional purposes and should not be considered an endorsement***
---