Support TFG by using the links in our articles to shop. We receive a small commission (at no extra cost to you) so we can continue to create helpful free content. We earn from qualifying purchases made to the featured retailers. Thank you, we appreciate your support!
Want travel, packing, and life inspiration? Meet Agni who has a goal of walking 10,000km for freedom. Learn about her inspirational story and her ultralight backpacking gear guide for this type of walking trip!
---
Ultralight Backpacking Gear Guide
Written By: Agni Kelt
---
I'm Agni and I walked 10,000 km for freedom with my friend George. Freedom from fears people have between each other, and freedom to be who we really are and live the way we want to live. Our mission is called Walk Fearless.
This ultralight backpacking gear guide is meant for minimalist adventurers who like to go into the wild. Enjoy!
I began a 10,000 km walk for freedom in Marseille, France on November 9th, 2015 with my buddy George.So far, we've walked 3,300 km (2,050 miles) in 10 months.
Our goal is to walk without spending money on food or accommodation (unless we have no other option). My small, 32-liter backpack has changed a bit since we began this journey; I realized I need even less clothes than what I once thought was the minimum.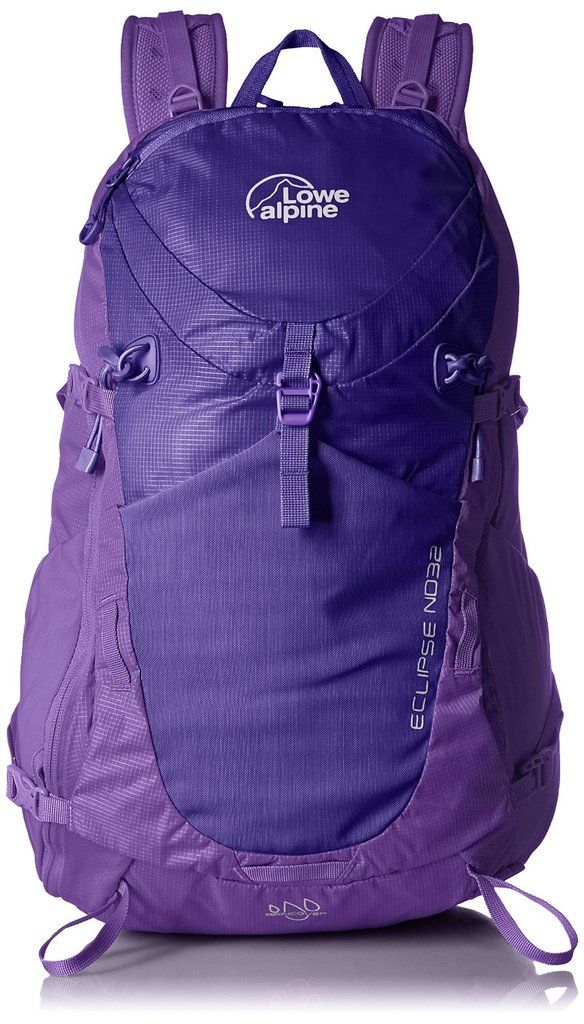 The backpack I'm using is a 90€/$125 Lowe Alpine with a breathable back rack. It has been the best investment I've made for this trip so far. It fits my back perfectly and the quality is excellent; the stitching is still impeccable after almost a year.
Why am I so happy with this backpack? It has literally everything I need (and since I'm a nomad, it is my mini portable home!)
It has many pockets, so I always feel well organized and I know where everything is
It has 2 side pockets for water bottles that are easy to access while walking
It has a breathable back rack, so I don't sweat that much. The air keeps me cool and fresh!
It has a hip-belt pocket where I have my phone. It's easily accessible whenever I want to take a photo or look at a map app
It also has a rain-cover to cover the bag when it rains
I actually made a mistake before this journey and bought (online) another backpack that didn't fit my back. So, I suggest trying on packs and don't look at the price–it must feel perfect on your body or it's not worth buying.
Read this post on how to choose the best travel backpack!
Below I've shared my ultralight backpacking gear guide featuring everything I take with me. But the most important ingredient comes at the end: it is something you carry around all the time and may forget that this might be the most important thing you're taking with you.
On this walking mission, I realized my life purpose: to free myself and others from our past, enabling us to become who we really are. I believe that everyone should be allowed to be their natural, fully expressed self.
George and I share our peaceful way to freedom through our "Become Fearless" free workshops and individual transformation sessions.
My philosophy: Enjoy! Go for what brings you joy and happiness.
Do you wonder what that is? Start reading, darling! You'll get to it!
Sleeping bag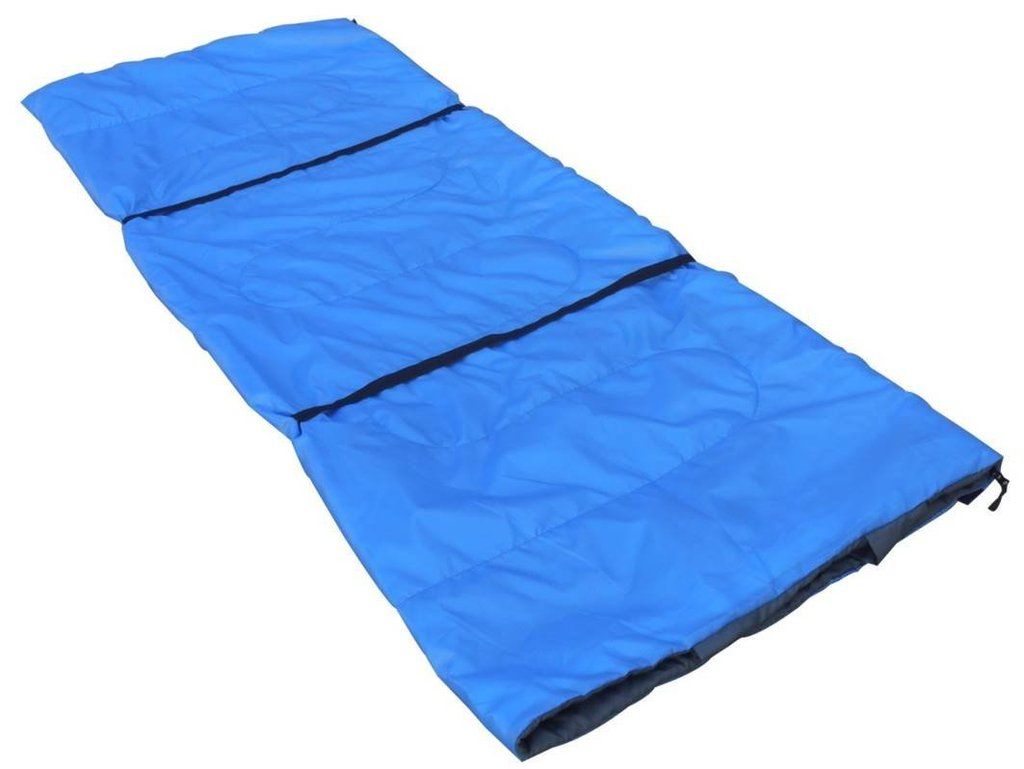 In the beginning, I knew I didn't want to spend 200€ for a big, ultra-light winter sleeping bag, or have to lug it around. I got myself a small summer sleeping bag that is suitable for 20ºC/68ºF, even though it says "comfort at 13ºC".
Maybe a bear wouldn't complain, but for me it definitely doesn't do the trick when it gets to those temperatures. I managed to sleep in 10ºC/50ºF, but I was wearing all the clothes I had and woke up shivering.
A sleeping bag liner is a great way to add warmth to your sleeping bag and can also be used as an alternative to a sleeping bag for budget trips. Find out more!
This means that in the summer, I can easily sleep outside wherever I want. In the winter and in cold autumn/spring days, I sleep in people's homes. I use almost no money on my pilgrimage, which means I am not paying for hotels or hostels.
How do I find people to host me? I use Couchsurfing or I talk to people on the street about what I do and ask them if I can stay in their house for the night. People are often not afraid to take you in if you dress decently enough and take showers!
I also get the majority of my food for free–it's food that has been/was supposed to be thrown away.
Right now, I'm planning to walk through the mountains and sleep outside, which means my summer sleeping bag will no longer suffice. I'll be updating this ultralight backpacking gear guide as I'm currently looking to get one for 0-5ºC/32-41ºF that is still in the price range of 30-50€.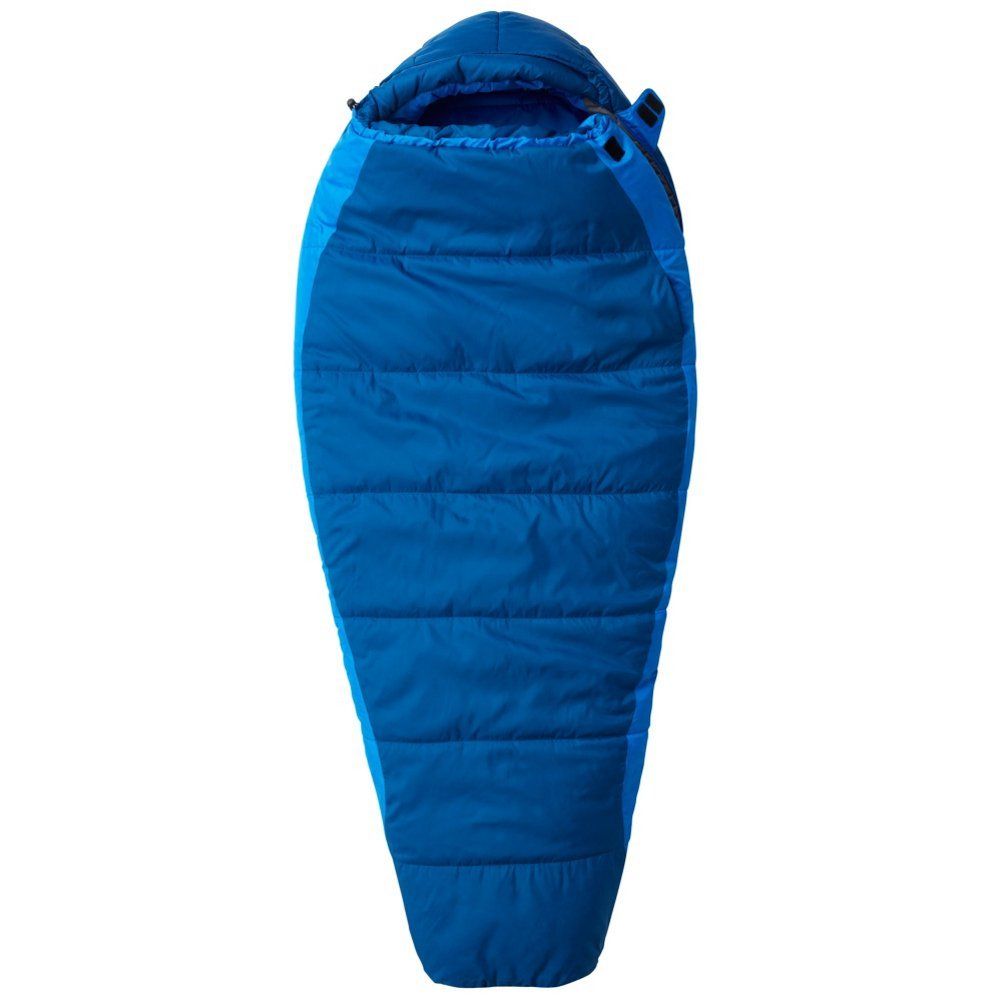 Mountain Hardwear Youth Mountain Goat 20F Sleeping Bag
Since I'm only 5'2″ tall, I can get a youth sleeping bag which is almost half the price of the one for adults! Plus, because it's smaller, it will occupy less space in my bag!
In my opinion, if you plan to sleep outside, buy yourself a quality sleeping bag that can be used even in slightly cooler places. Otherwise you'll be like me, needing to buy two and paying twice!
Also note that the majority of "comfort limit temperatures" are a bit exaggerated, as I already said. They must be testing sleeping bags on bears; I have my suspicions that the companies are not truly honest.
Another important thing is that the sleeping bag's storage sack should have strong stitching. I paid 5€ to a shoemaker to make super strong stitches for me, so I can strap and squeeze the sleeping bag to the minimum size, without worrying that the stitches will break.
Sleeping mat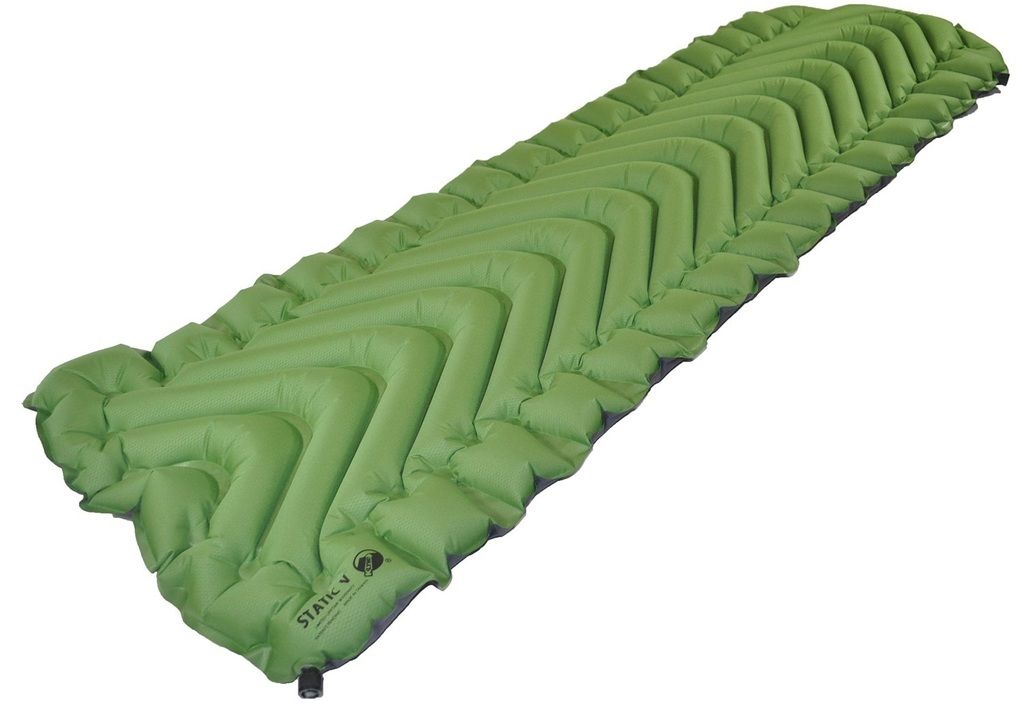 Klymit Static V Lightweight Sleeping Pad
At first, my obsession with simplicity resulted in my ultralight backpacking gear guide not including a mat, which meant that when we slept outside, I had a gravel massage for my body all night. So yes, a sleeping mat is definitely a plus, even though I can't put it inside my backpack. Mine is a simple foam mat, 0.5 cm thick.
If you want more comfort, get an inflatable pad; it's very light and takes up little space. There is a possibility of getting holes, though. In that case, just patch it up. A friend of mine says he sleeps as comfortably on his pad as in his own bed.
Useful accessories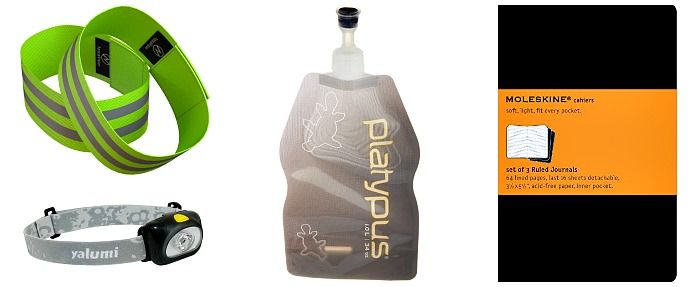 Reflective Ankle Bands / LED Headlamp / Soft Bottle / Journal
A reflective band

for walking at night. I wrap the strip around my leg.

A torch

for places that are not illuminated, like tunnels, caves, or forests at night.

2 one-liter bottles

. I refill water in village fountains, or sometimes in restaurants.

Notebook and a pen

. While I could take notes on my phone, it's important for me to handwrite my ideas, insights, and sketches. My self-expression is caught there!
Learn more about the benefits of packing a travel headlamp for various trips!
Personal hygiene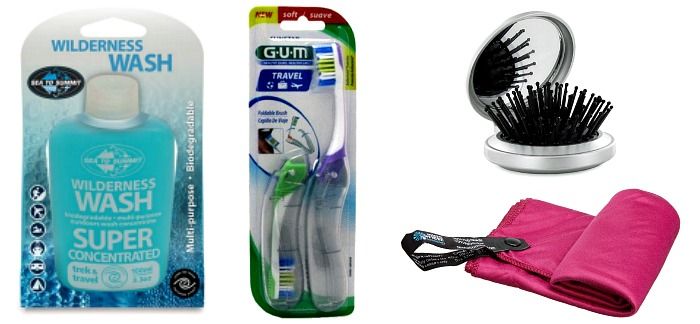 Wilderness Wash / Travel Toothbrush / Compact Folding Brush / Pocket Towel
Natural soap

for washing my body, hair, and clothes.

Toothpaste and toothbrush

.

Shaving razor blade

. Although I'm a wild girl I'm still shaving. It just makes me feel good–nice and clean! 

Hair brush

with a tiny mirror.

Toilet paper

. Some of you ultra adventurers might prefer to use tree leaves!

Microfiber towel,

size 40 x 50 cm. Just enough to get myself dry after taking a shower or swimming in the sea. It's great because it dries fast and doesn't occupy much space (it's the size of a tennis ball).

Menstrual Cup. I no longer use tampons or sanitary pads. A menstrual cup is simple to use, lasts for years, is a healthier option for our bodies, and doesn't create waste. Learn about menstrual cup pros and cons!
Microfiber towels are handy even if you're not backpacking. Find out why we love fast drying towels like these for travel!
Clothes

Leggings / Venture Jacket  / Fleece /  Boyshorts / Non-Wired Sports Bra / Ultra Light Sock
Rain jacket.
2 underpants: I wash them every day and they dry quickly. I just tie them on my backpack and let them dry. I even use them for swimming in the sea.
1 sports bra: I use it every day, except when I wash it. I could swim in it, but usually I go without at the beach.
3 socks: I could have just two pairs, but when I bought them there were 3 in a package.
2 tunics for the summer (short sleeve and sleeveless). I don't need more than 2 tops that look and feel great! And since I travel quickly, people don't even realize I have only two tunics, because we usually don't spend more than a week in one place.
1 shorts to wear under tunics. They are perfect for most activities: walking, dancing, sports, relaxing, hanging out with people, and so on.
2 long, all-season tunics for the winter (or colder summer nights).
1 leggings for the winter (or colder summer nights).
1 fleece jacket for cold nights.
1 comfortable jogging pant. I also wear them as pajamas on cold nights.
A sun hat is super important when walking in the summer; it especially comes in handy in the desert. The best material is fabric, not straw, so I can stuff it into my backpack.
A scarf. Oh, I just love it! I use it as an accessory. I wrap it around me when it's cold, I put it around my head on a hot day, or when I go to an Indian temple. I also use it for the beach or the park, since I don't have a big towel.
Read more about the best travel underwear for women!
Quality trekking shoes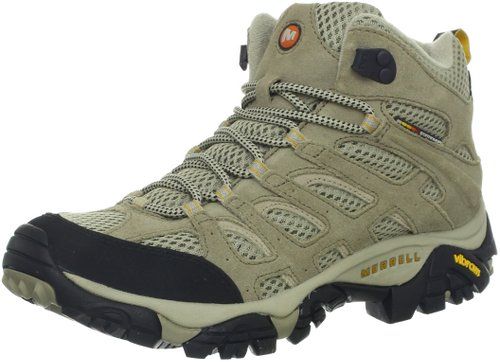 Moab Ventilator Mid Hiking Boot
I made sure that price wasn't a factor when I was buying this important footwear. When planning your own ultralight backpacking gear guide, this is one item you don't want to skimp out on with a trip like this!
I find Merrell trekking shoes to be comfortable, and they actually lasted for 3,300 km (2,050 miles)! They are now starting to fall apart. My buddy George has Salomon trekking shoes and they are much better quality, if you compare stitching and material.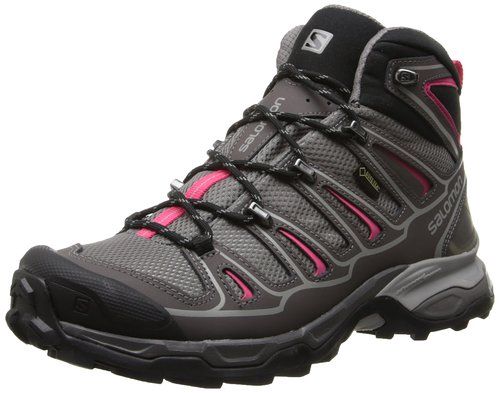 When looking for trekking shoes, try to imagine if the material, stitches, and soles are good enough for a long walk. Some of the cheap shoes have a harder and more plastic rubber sole; look for a good quality rubber sole.
Also look at where the shoes bend on the side–it's where the toes meet the rest of the foot. Select a shoe that looks strong in that area and can handle all that intensive bending. A few weak points are all it takes for your shoe to fall apart.
Sometimes I walk barefoot. It connects me with nature and feels good for my body.
Technology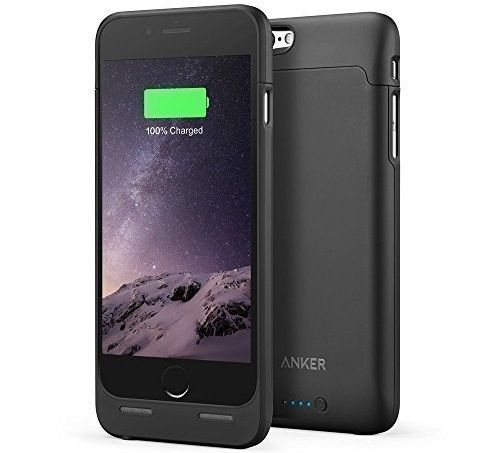 Ultra Slim Extended Battery Case
A smart phone: a 

camera, internet, phone, and books all in one small item.

Charger for the phone + additional battery: 

to charge when I walk and sleep outside.
I realized that feeling beautiful as a woman while traveling doesn't have anything to do with the amount of clothes I am taking with me. That's why you won't really see certain items on this ultralight backpacking gear guide.
So here comes the most important thing that I am (and you are, too!) always taking with me, even if I don't have a backpack:
My self and my body
The most important thing for me is feeling good in my own skin, that I feel sexy in my own naked body, that I feel my female energy embracing me fully and I feel complete with myself, proud of myself and of every step I take.
Because if I don't feel good in my own skin, not even two backpacks of gorgeous clothes will make me feel good.
Read more about the #1 packing tip for women – it's not what you think!
Here are a few pics from her trip!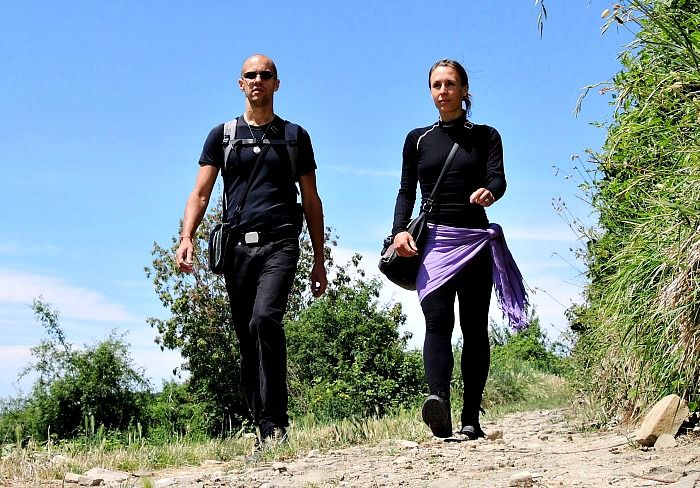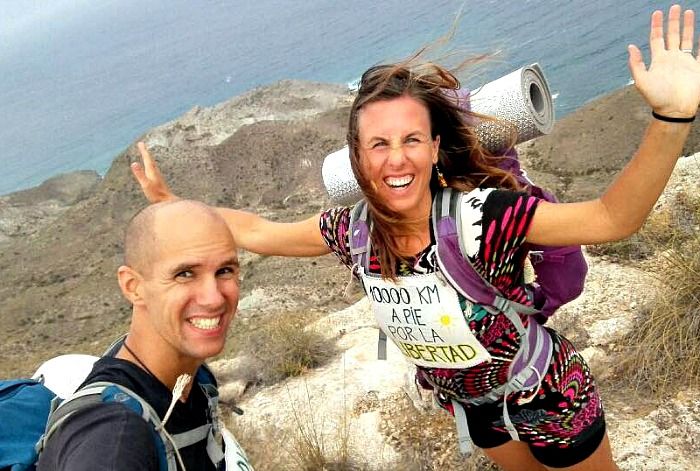 ---
I wish you a daring, fearless adventure! Go take on the world! Share yourself fully and love yourself my dear. <3
What would you add to this ultralight backpacking gear guide? Share and comment below!
---
For more packing tips, please read:
---
LIKED THIS POST? PIN THIS PIC TO SAVE IT!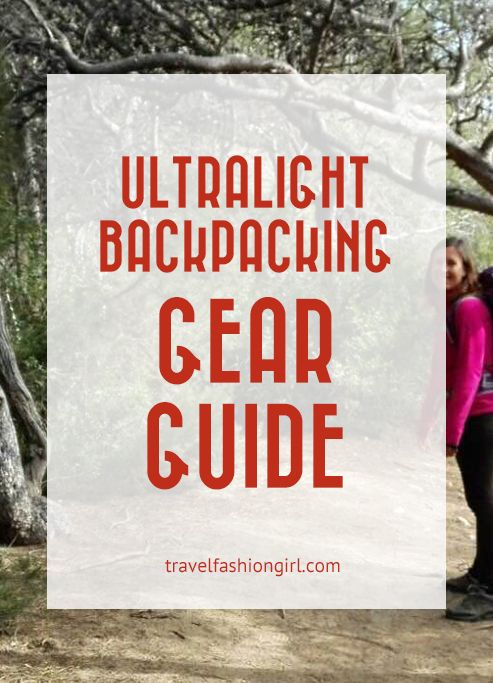 ---
I hope you liked this post on Angi's ultralight backpacking gear guide. Please share with your friends on Facebook, Twitter, and Pinterest. Thanks for reading!
---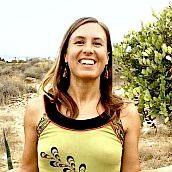 Author Bio: I'm Agni and I am walking 10,000 km with my friend George for freedom–freedom from fears we people have between each other, being who we really are, and living the way we want to live. Our mission is called Walk Fearless.
---