Support TFG by using the links in our articles to shop. We receive a small commission (at no extra cost to you) so we can continue to create helpful free content. Thank you, we appreciate it!
Looking for stocking stuffers and travel gift ideas? Read on to find out our top picks for this holiday season.
Want more? Check out all our Holiday Gift Guides and Editor's Top Picks!
---
Travel Gift Ideas Under $30
---
Travelon Anti-Theft Classic Mini Shoulder Bag, $25.00, Amazon
Mini Shoulder Bag
Looking for a mini shoulder bag? This bag has the same protection benefits of some of the larger bags. This smaller slash-proof bag offers a locking main compartment, RFID card slots, adjustable shoulder straps which can be attached to a chair or post and an LED light.
Travel Flat Iron 2-in-1 Mini Hair Straightener Curling Iron, $26.99, Amazon
Travel Flat Iron
If you're looking for an easy-to-carry, 2-in-1 travel flat iron, the Mini Hair Straightener includes a curling iron and a flat iron in one! The 1-inch tourmaline plate will give your locks a glossy, healthy look.
Itraveller Dark Blue Flower Toiletry Bag
Toiletry Bag
The Itraveller toiletry bag is perfect for short-term or carryon travel, as it's lightweight and more compact than many other options available.
Secret Bra Wallet Travel Money Pouch, $14.99, Amazon
Anti-theft RFID Secret Bra Wallet
The Compass Rose Secret Bra Wallet with RFID is an anti-theft device that you can use as a second, hidden money stash to store excess cash and cards so you only need to keep the essentials in your wallet. Should your purse get stolen or lost, you will have the bulk of your cash and cards securely stored underneath your clothing so you're never left unprepared.
This is the ONLY bra stash made with an extra long strap to fit DD+cup sizes and a range of bra band widths. PLUS, it's also the only bra stash with RFID protection.
Goldie CableKeep, $10.00, Amazon
CableKeep Charger
This charger eliminates tangled cables in bags and purses, tidies up messy wires coming out of the wall, and keeps your device clean. Goldie can act as a charging pedestal, keeping your device off dirty counters and floors when charging.
TFG says: What's not to love about being an organized traveler?
Humangear GoToob, $22.81, Amazon
Travel Containers
This helps customize your toiletry kits with your personal essentials, while also ensuring you don't waste products that may come in too big of a container.
Violife Slim Sonic Toothbrush, $5.49, Amazon
Slim Sonic Toothbrush
Perfect for any traveler, this sonic-powered, portable toothbrush delivers a sparking smile with 22,000 brush strokes per minute. The slim, mascara-style, vented cap design is ideal for your handbag or suitcase.
TFG says: So much better than lugging around the regular size! It's perfectly compact and comes in cute prints!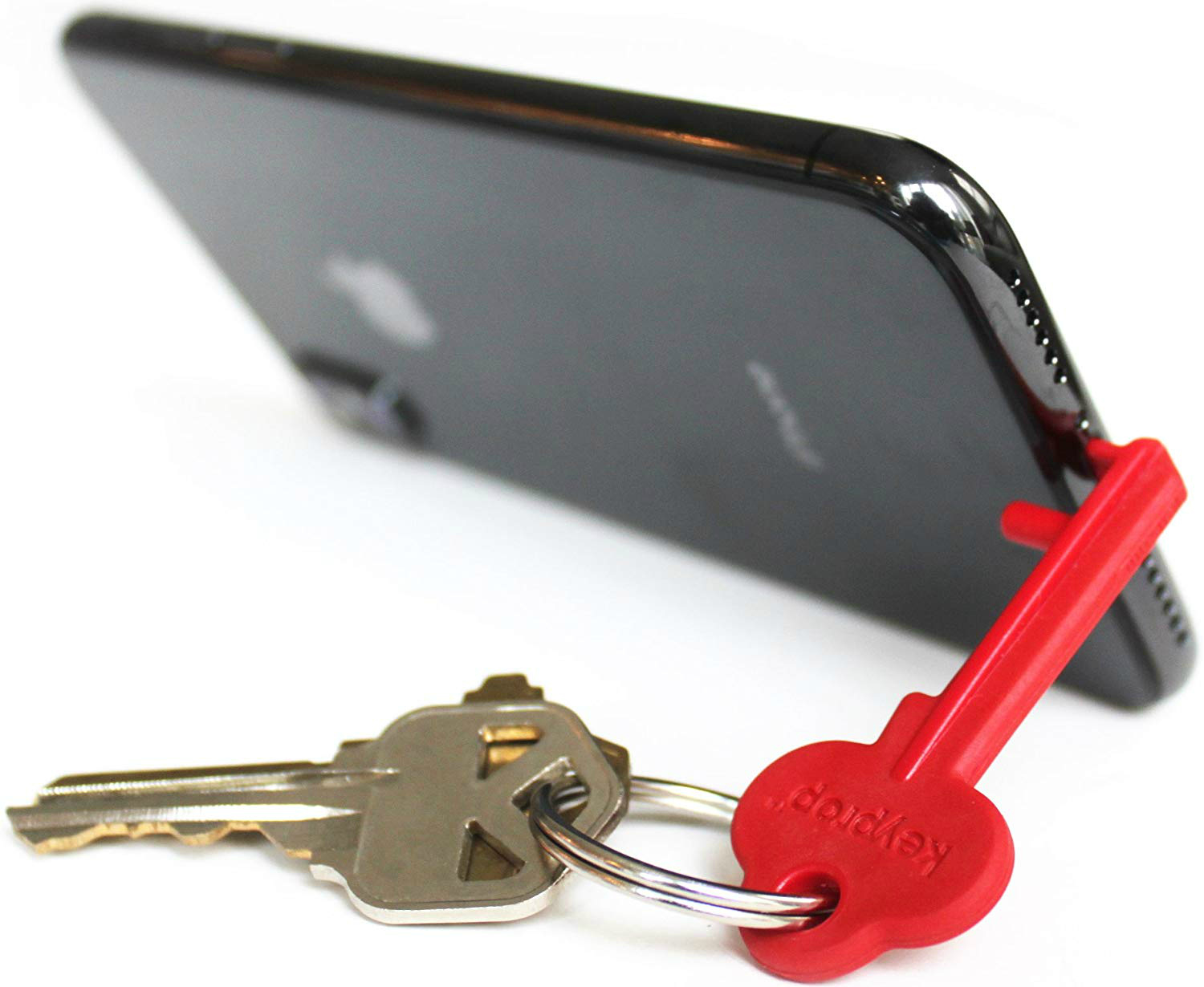 Keyprop Keychain Tripod, $5.49, Amazon
Keychain Tripod
This unique key literally props your smartphone up for selfies, hands-free reading, Skype or video chatting, catching up on emails, or watching movies! Slip it on your keychain and always have it at your fingertips for any occasion.
TFG says: This is a tiny little tool that allows you to enjoy your phone hands free!

YETI Rambler Water Bottle, $29.99, Amazon
Water Bottle
With its easy-access wide mouth, the sleek design holds the same volume of liquid as other leading water bottle brands. Also, safety is top-of-mind, as the bottles are made out of non-toxic BPA-free plastics & 18/8 food-grade stainless steel.
Trtl Pillow, $29.99, Amazon
Neck Pillow
The Trtl Pillow has been strategically designed to prevent a stiff neck while trying to sleep when travelling. Perfect for travel, the Trtl Pillow stops the need for you to lean against the airplane for head support, during rest.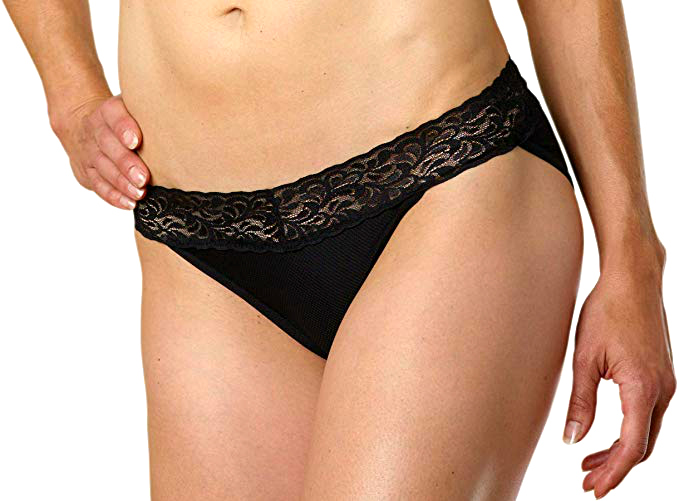 Low Rise Bikini, $20.00, Amazon
Undercover Undies
ExOfficio are not only extremely comfortable but because of the patented design allowing them to roll into themselves (thus disguising them as underwear) they revolutionize the idea of basic underwear.
TFG says: Love them! They're cute, comfortable, and the lace is super pretty!
Tarriss Jetsetter Digital Luggage Scale, $14.47, Amazon
Luggage Scale
This luggage scale is everything you want in a travel accessory: it works, it will last for years, and it's easy to store in your bags. The Tarriss has a 110 lb / 50 kg capacity with a precision accuracy of 0.2 lb / 0.1 kg, which is incredible.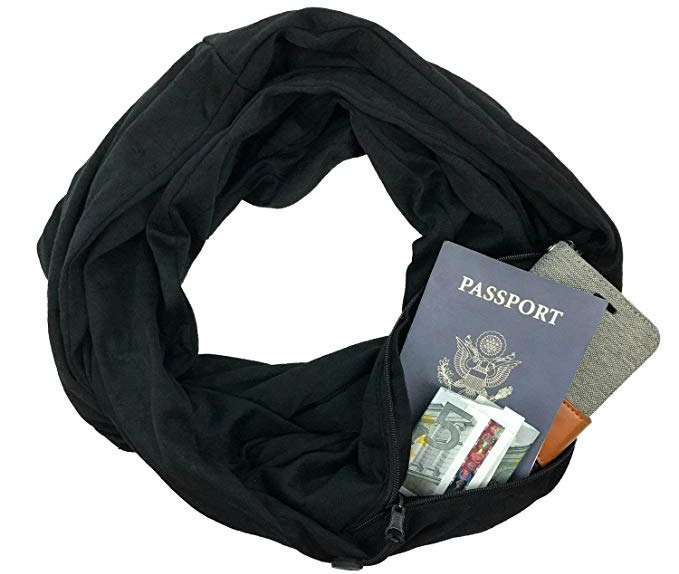 Infinity Scarf w/Secret Hidden Zipper Pocket, $12.99, Amazon
Theft Proof Scarf
This Infinity scarf is one of the best sellers on this list. At under $30, it is a unique travel gift that will help you enjoy a safer and more stylish experience.
Mario Badescu Facial Spray, $14.00, Amazon
Facial Mist
A refreshing, hydrating mist to use anywhere anytime. Simply formulated with fragrant herbal extracts and rosewater for a pleasant, pick me up for dehydrated, tight and uncomfortable skin.
Moji Mini Massager, $14.99, Amazon
Mini Massager
This relieves achy muscles, improves circulation, and allows for instant pain-relief in hard to reach areas, including the back, neck, shoulders, IT bands, and calf muscles.
TFG says: Where has this been all my life? There were so many times were I would have died for a portable foot massager!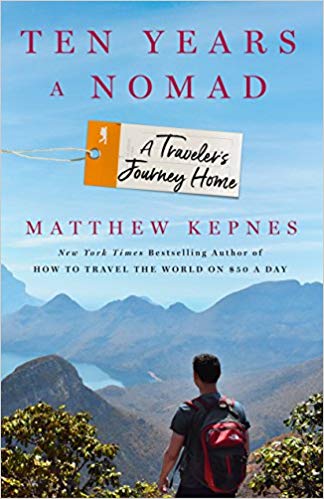 A Traveler's Journey Home, $18.19, Amazon
Travel Memoir
Travel blogger and writer Nomadic Matt shares 10 years' worth of stories in his memoir, A Traveler's Journey Home, which will certainly inspire wanderlust in anyone who dreams of traveling for a short time, or indefinitely. A must-read!
Wireless RF Item Locator, $18.05, Amazon
Bluetooth Finder
This remote key finder can help you to find the lost keys, remotes, purses, glasses, canes, and other easily lost novelties quickly. With just one press on the color-coded button, the beep sounds and flashes will lead you to find the lost stuff.
TFG says: Worried about losing your luggage? This seems to be the answer!
International Travel Adapter, $13.99, Amazon
Travel Adapter
If you're looking for gifts for a traveler that loves to travel to multiple countries in Europe or around the world, an international travel adapter is the perfect gift that they can use for their electronics. This lets you plug a device into the outlet in another country.
The Compass Rose Travel Adapter featured above is a budget-friendly stocking stuffer for frequent flyers. You can charge 3 devices at once and use it in over 150+ countries. Plus, it's red so you won't leave it behind on a white hotel room wall.
---
What's on your wish list this holiday season? Share and comment below!
---
For more travel gift ideas, please read:
---
PIN THIS GIFT GUIDE TO SAVE IT!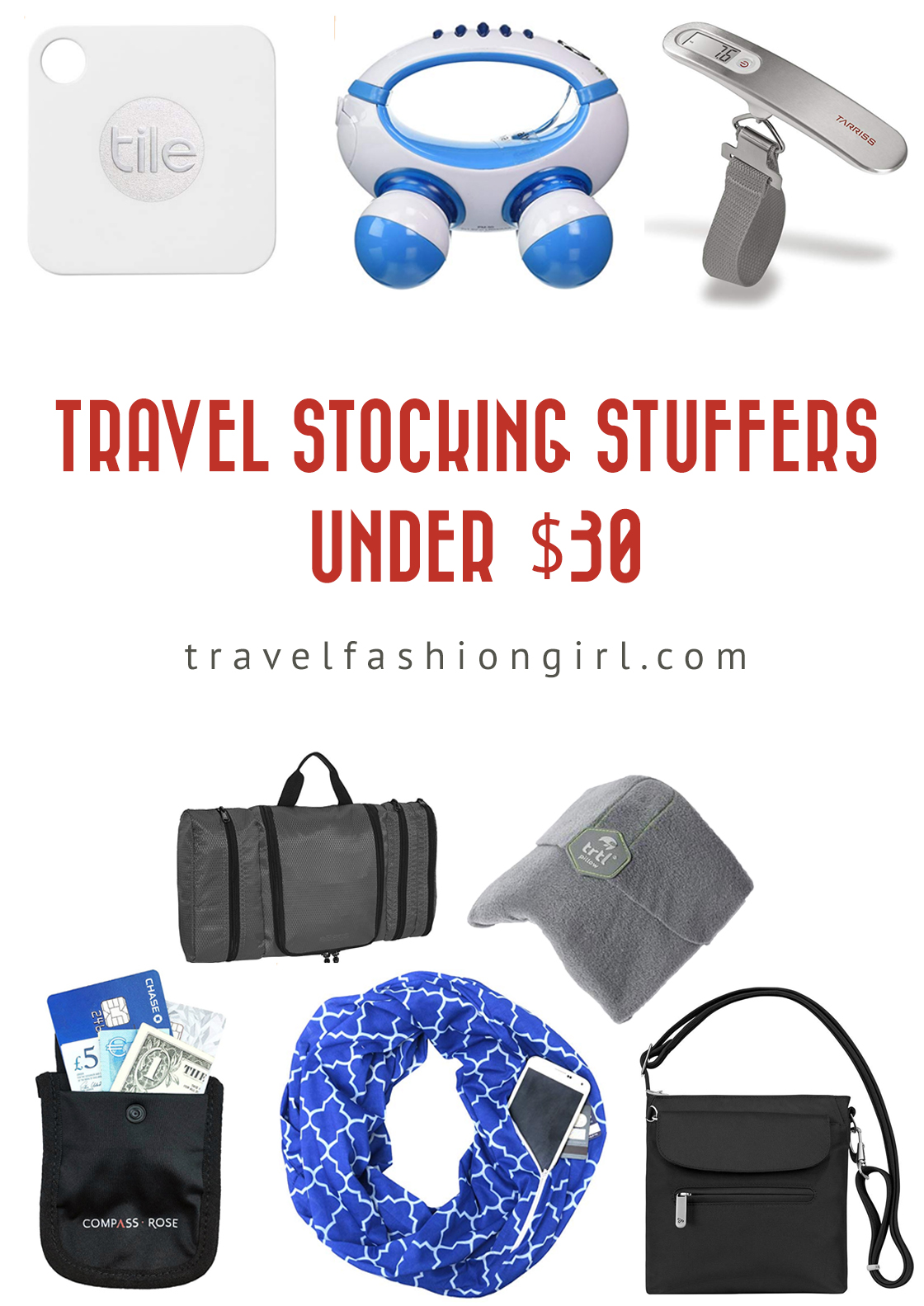 ---
We hope you liked this post on travel gift ideas. Please share with your friends on Facebook, Twitter, or Pinterest. Thanks for reading!
---