Support TFG by using the links in our articles to shop. We receive a small commission (at no extra cost to you) so we can continue to create helpful free content. Thank you, we appreciate it!
There are certain things you need for camping but other items may be completely unexpected. When I plan an overnight hiking and camping trip, I try to pack as little as possible but there are a few unexpected items that always make it in my bag. Find out what they are and if you already have them on your list!
---
Things You Need for Camping
Written by: Nina Thomas
---
Unscented baby wipes
These can be used for when you're going to the bathroom, or are a great option for cleaning off dishes, pans and plates. The cleanup is way easier than getting a tub of water and watching them by hand. Simply use the wipes and either pack them out with you or toss in the fire.
Tea Bags
Not only can you make and drink hot tea, but you can put a few bags in a Nalgene bottle to make sun tea. These can also come in handy if you're filtering your own water and the water may have a distinct taste you'd like to mask.
Although they sell powdered drink mixes you can use in your water, most of them are full of sugar and other chemicals. Tea is a cleaner way to add a flavor to the water. These can also be used for sunburns. If sunburned, simply immerse the bags in water and dab onto the burn.
Flip flops
Surprised that this is one of the things you need for camping? Once you're at the campsite, you'll want to take off your dirty, muddy hiking boots and sweaty socks. Then you can put on a pair of flip flops to walk around the campsite and air your feet out. These are also handy at night if you need to go to the bathroom and don't want to have to lace up the boots.
For a stylish choice, take a look at these versatile women's flip flops!
Headlamp
A flashlight is useful, but if you're a woman needing to go to the bathroom at night, you'll need both hands free.  A headlamp frees up both your hands, and it's also helpful inside the tent if you don't want to pack tent lights. If you're making tea at night or stirring up the fire, a headlamp is also much easier than a flashlight. Find out why.
Read the top reasons why a travel headlamp is one of our top five travel essentials!
Fold-up lightweight hammock
Hammocks are great for sleeping in if the weather is suitable. However, even if you're bringing a tent to sleep in, you can still pack a lightweight hammock as an option for afternoon naps or relaxing by the campfire. They can also stretch your back out if sleeping on the ground is getting to you.
Always use a sleeping bag liner to keep your sleeping bag clean and help you stay warm!
A bandana
A wrap bandanna is one of the most versatile things you need for camping. They make the perfect headband, sweatband, or when it's chilly a little neck scarf. They can also be used to wipe off dishes after you've wet them, or dry off pieces of your water filter.
Some women also use bandanas as an alternative to using toilet paper when having to pack it out of leave-no-trace camp sites. There are many uses for a bandana.
For more camping tips for women, check out these tips for making the most of of a camping trip, and other helpful tips on what products to bring.
.
---
What are things you need for camping? Please share in the comments below!
---
For more road trip and camping tips, please read:
---
LIKED THIS POST? PIN THIS PIC TO SAVE IT!
---
Hope you liked this post on unexpected things you need for camping. Please share with your friends on Facebook, Twitter and Pinterest. Thanks for reading!
---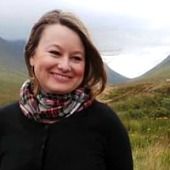 Author Bio: Nina Thomas is constantly looking for a beautiful view and a good adventure. Her travel highlights include horseback riding in the Ecuadorian Andes, hiking on top of Mount Etna in Sicily, and sheep-gazing in the Cotswolds. For more practical travel tips and ideas from a Central Ohio Girl, check out  Traveling with Nina or follow her on Twitter.
---