Support TFG by using the links in our articles to shop. We receive a small commission (at no extra cost to you) so we can continue to create helpful free content. Thank you, we appreciate it!
The snow is falling and all you can think about is getting to sunshine! Somehow the stars align – you find an amazing deal to the perfect tropical destination and you have the vacation time to go. How do you pack one week before a much-needed romp in the sun?
---
Last-Minute Packing for Spring Break
---
Generally, packing can be stressful. If you add a last-minute deadline to do it, it can become excruciating. Here are a few ways to make the process easier and possibly more fun!
Determine your packing style
Check out the TFG 10 Step Packing Guides to determine how to pack for your trip. There is no right or wrong packing style! If you want something custom-tailored to your packing style, visit TFG's Universal Packing Lists. If you like to pack ultralight, the Minimialist Packing List is for you! Head to the Maximista Packing List if you like having everything you possibly need. For everyone in between, the Travel Essentials and the Classic Packing Lists give a wealth of advice on what to pack when you're in a hurry. Why do extra work when it's already done for you?
Choose your bag
After you figure out your packing style, figure out what kind of bag you want to bring. If you're leaving for a weekend trip and you're a Minimalist, all you need is a large tote to carry all your things. If you've booked a weeklong trip as a Maximista, this is a good time to take that large piece of luggage out of storage. When you have your bag, you can start putting things inside to see if you've either packed too much or need a larger bag.
Think about your destination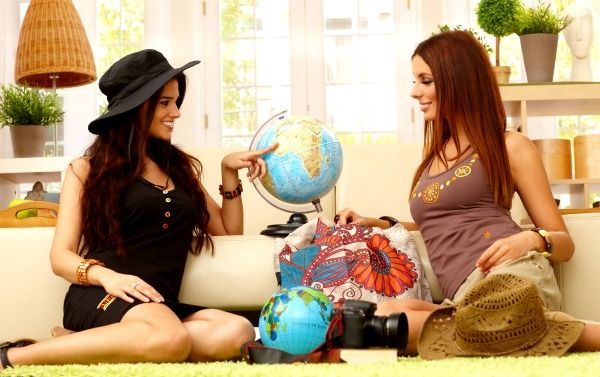 It's easy to think about how cold you are at home when you're packing for sunnier shores. When its snowing outside, I make sure to turn up the heater so I know what I want to wear when its warm. I put on a little music (that reminds me of the place I'm traveling to) to get my mind set on my vacation so that I remember to pack the little things, like bug spray and sunscreen. Thinking about your trip also makes the whole process a lot less stressful because you're excited instead of annoyed.
Hit up the store (or a friend's house)
Figure out what you need to buy or borrow and make time to do it. The last thing you want to worry about on a trip is buying something that you should've packed. I like to visit a big box store to get anything clothing and toiletries I need in one trip. I also stock up on a few snacks on my shopping run so that I don't have to worry about getting hungry during the car ride or the plane trip. If you need something more expensive and don't want to shell out the bucks for it, visit a friend who has it and is willing to let you borrow it.
Treat yourself
After you've finished packing for your trip, treat yourself to some pre-trip beauty treatments. Get your nails and hair done so that you can relax after packing and look good in all those outfits you've planned. It's also a nice way to ease yourself into a vacation frame of mind.
---
Last-minute packing doesn't have to be stressful if you make it fun!
 How do you pack for a last minute Spring Break trip? Share down below!
---
For more travel packing tips,please read:
---
Hope you liked these spring break tips for last-minute packing. Please share with your friends on Facebook, Twitter, and Pinterest. Thanks for reading!

---