Support TFG by using the links in our articles to shop. We receive a small commission (at no extra cost to you) so we can continue to create helpful free content. As an Amazon Associate, we earn from qualifying purchases made on Amazon in addition to other retailers featured on the blog. Thank you, we appreciate your support!
If you're an avid diver like me, you might be excited to learn about Aqua Lung's women's line Details, made specifically for female divers, water enthusiasts and active individuals who are driven by their passion for the sport of diving and who understand that performance, quality and style are all about details. "From ergonomic and fashionable designs to the fit and comfort of our products, no detail has been overlooked in our new line, and we are proud to share it with women everywhere who love—and live—to dive, " says Olivier Laguette, director of marketing for Aqua Lung International.
The collection features a wide range of products developed specifically to meet the needs of women, with shapes, sizes, color and fit designed exclusively to meet the preferences of female divers. Aqua Lung's Details line offers regulators, Buoyancy Control Devices, gloves, snorkels, masks, fins, wetsuits, rash guards, boots, gloves, bags and more to revolutionize the scuba diving experience for women while setting industry standards in technology, comfort, safety, and design.
Below are three Aqua Lung Detail's travel diving accessories that I'll be testing out on my underwater adventures!
---
Travel Diving Accessories By Aqualung
---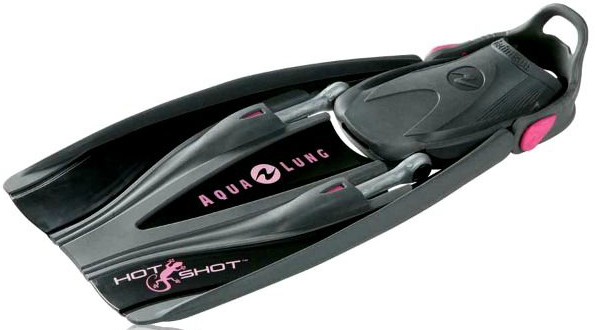 HotShot Fin
A part of Aqua Lung's travel line, the Hotshot fin is made for travel and the foot pocket is designed to be worn with bare feet, so you can leave the booties at home. Small and lightweight this amazing fin packs power and comfort in a small package.
TFG says: My boyfriend has the men's HotShot fins and loves them saying they offer excellent propulsion with minimal effort so I was extra excited when I received my own pair. At 3.5lb / 1.5kg they're not as light as snorkel type fins but their length allows you to pack them in carry-on size luggage.
Colors in the women's Details collection: Pink, Blue, and White Arctic $130 on Aqualung.com!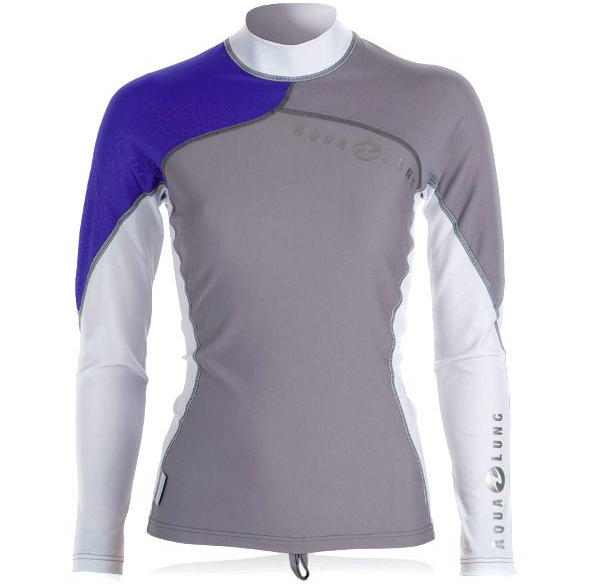 Rashguard
Aqua Lung Rashguards are designed to be worn in and out of the water for protection against the sun's UV rays, as a layer to guard against possible critters that will sting or scratch you or as an additional layer under your wetsuit. This rashguard is made from Lycra, stretching to one's most comfortable fit. The fabric allows the skin to breathe and also dries with ease. It also boasts an SPF50 rating which is a major bonus.
TFG says: Even when I'm not diving I'm in the water swimming or snorkeling so I love having a light layer of protection from the sun. Plus, I can stay in the sea for hours at a time so it's nice to stay warm as well when my body temperature drops.
You can choose from long sleeve or short sleeve options and they both come in white and gray. Pricing ranges between $39-44 on Aqualung.com!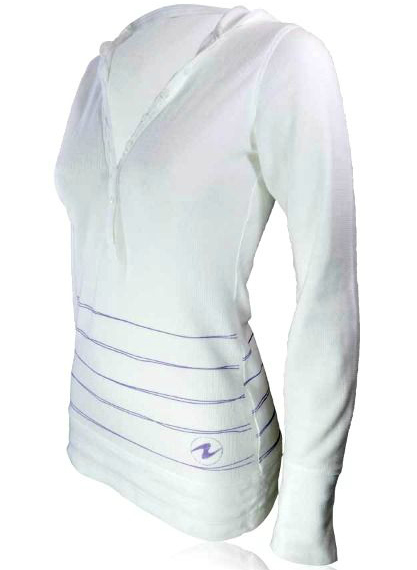 Thermal Shirt
This lightweight hooded long sleeve top will keep you warm and stylish before and after your dives. It's available in white for $48 on Aqualung.com.
TFG says: this is a nice lightweight hoodie perfect to wear on boats to shield yourself from the sun and wind. I also like it to wear on cooler evenings in the tropics (and to keep mosquitos for nibbling at me).
Please read this post for more scuba diving liveaboard travel essentials!
---
Do you have any favorite scuba gear products for women?
---
If you liked this post on cute scuba gear diving accessories, please share it with your friends on Facebook, Twitter, and Pinterest. Thanks for reading!
---