Support TFG by using the links in our articles to shop. We receive a small commission (at no extra cost to you) so we can continue to create helpful free content. As an Amazon Associate, we earn from qualifying purchases made on Amazon in addition to other retailers featured on the blog. Thank you, we appreciate your support!
The purpose of clothing for domestic and overseas adventure travel is to keep you warm (or cool) and protected while enjoying outdoor activities. Quality items made with manmade fabrics not only stand up to the elements, they can also be stylish.
Many products made by REI
, Patagonia
, Icebreaker, ExOfficio
, and Merrell
fit a wide range of body types and can handle rain, snow and mud and still look good on city streets or while out to dinner.
As a minimalist traveler who has been to over 25 countries and 15 U.S. states, my favorite travels turn out to be the adventure trips. After several years of traveling around the world seeking out various types of adventure like hang gliding and hiking in the Sierra Nevada, whitewater rafting in Ecuador, snorkeling in Belize and the Galapagos Islands, and (coming up this year) camel trekking in Morocco, there are five articles of clothing I will always pack in my carry on bag.
---
5 Items You Need to Pack for Domestic and Overseas Adventure Travel
Written by: Christina Nellemann
---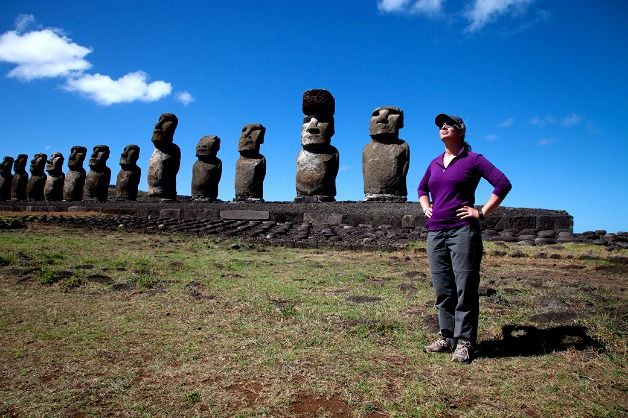 Photo is copyrighted to Christina Nellemann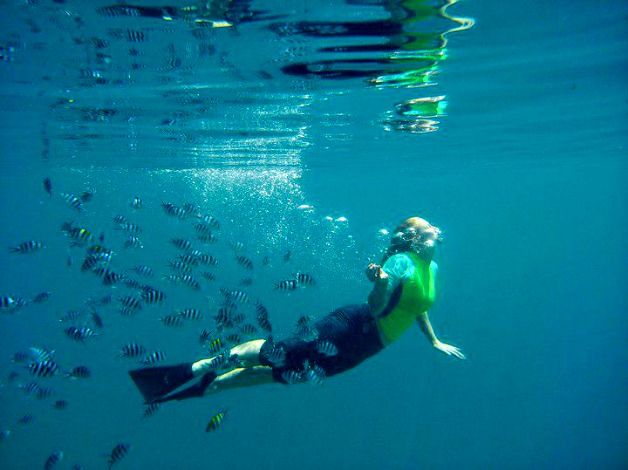 Photo is copyrighted to Christina Nellemann
Travel Shoes and Socks
Starting from the bottom, I can't go on an adventure trip without my Rykä walking shoes in gray and a pair of gray SmartWool socks. The colors go with everything and don't show dirt. The walking shoes have traversed the rocky shores of Chile and the muddy trails of Hawai'i and Fiji, and the socks keep my feet warm and dry while still wicking away moisture and letting in air. They also look nice when I take my shoes off during a long flight to Japan.
TFG recommends: for versatile, non-trekking shoes, try these top 20 walking shoes for travel.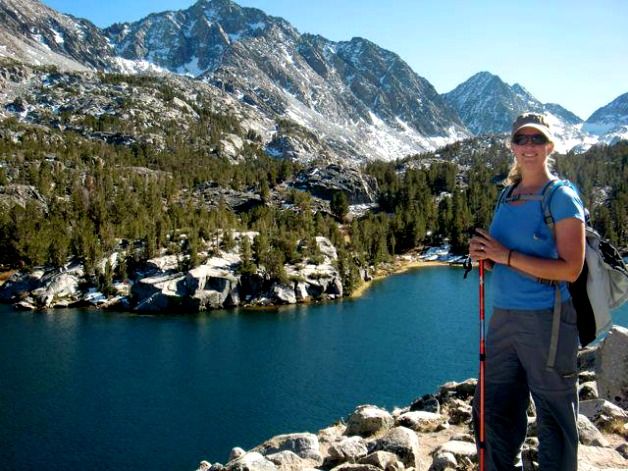 Photo is copyrighted to Christina Nellemann
Travel Pants
Next is a pair of either Merrell Lenaia convertible pants or Patagonia Solimar pants (similar item). The Lenaia pants also come with a wrap skirt that turns these pants/shorts into seven bottoms in one. While on an overseas adventure travel excursion around Easter Island on an ATV, I was pelted with rain and the pants dried in the island breeze in about 20 minutes. The Patagonia Solimar pants are cool and light and are stylish enough for dinner or a first-class flight (purchased with airline miles, of course).
TFG recommends: these are my ultimate travel pants for women!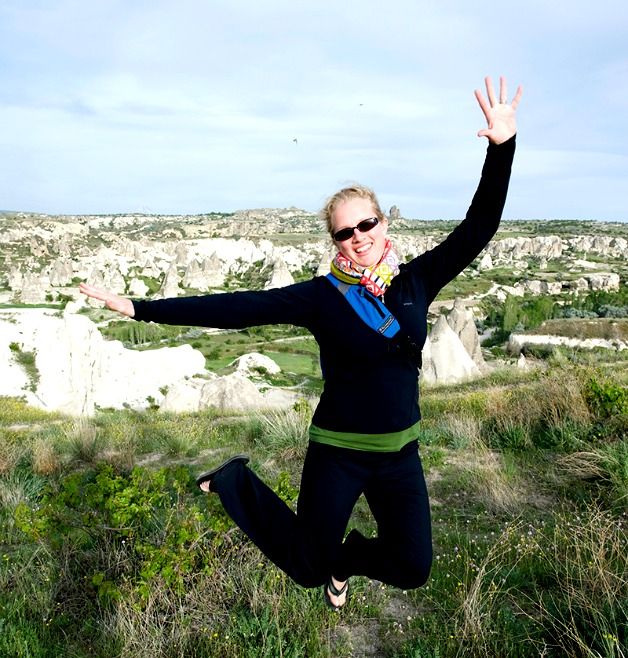 Photo is copyrighted to Christina Nellemann
Travel Shirts
For the top, I can't forget my Patagonia merino wool baselayer in black (similar item). This midweight layer wicks away moisture and keeps me warm, and is a well-made top that can easily be layered with T-shirts and tanks. The base layer kept me warm in Iceland in January and still looked nice enough for going out to dinner at the Blue Lagoon. I've also used this baselayer to sleep in.
TFG recommends: this merino wool top by Icebreaker is also amazing – wore it every day for a week for light trekking and to sleep too – didn't smell.
Outerwear
Last, but not least, is my trusty Patagonia Torrentshell rain jacket. It recently sheltered me from monsoon rains while biking the streets of Portland, OR. The unsung hero of both domestic and overseas adventure travel, this jacket is totally waterproof. Even items inside the pockets stay dry and the hood shields your face from that annoying sideways rain.
TFG recommends: as long as you have two quality outerwear items in your bag, you're always covered – make the investent on these items.
Shop The Post
---

---
A recent study by George Washington University and the Adventure Travel Trade Association (ATTA) found out that domestic and overseas adventure travel has increased in popularity by 65 percent since 2009. Because of the wider accessibility of wild areas, adventure trips are easier to experience than ever. My best memories have come from trips that include swimming with sea lions and dolphins in Mexico and the Galapagos, mountain biking in the Andes, hiking in Yellowstone National Park, and exploring ancient ruins in Turkey. For your own adventure, dress the part and don't be afraid to get a little muddy.
---
For more travel clothing ideas, please read: 
---
Hope you found these 5 items you need to pack for domestic and overseas adventure travel useful. Please share with your friends on Facebook, Twitter, and Pinterest. Thanks for reading!
---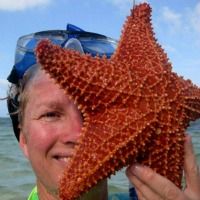 Author Bio: Christina is a freelance graphic/web designer and writer who lives near Lake Tahoe. Her upcoming adventures include camel trekking in Morocco, drinking wine in Spain, and hiking Mount Whitney, the tallest mountain in the contiguous U.S. Her next adventure clothing purchase is the world's perfect puffer jacket.
---