Support TFG by using the links in our articles to shop. We receive a small commission (at no extra cost to you) so we can continue to create helpful free content. As an Amazon Associate, we earn from qualifying purchases made on Amazon in addition to other retailers featured on the blog. Thank you, we appreciate your support!
Today's Travel Fashion Girl is Erica from OverYonderlust. She and her husband Shaun spent the past year traveling from their home in Texas down to Mexico and all the way through Central and South America. Now, they're on their way to Europe!
As an Essentials Style Packer, Erica only traveled throughout South America with 10 clothing items in total including her fleece. Talk about a light packer! She only carries a 40L backpack and still manages to make room for her trusty hula-hoop which she did admit could prove to be a bit tricky on the Central American chicken buses.
Prior to leaving on their big trip, Erica mentioned that she spent months planning what to pack. Check out her original packing list here. She seemed to have it down to a science!
---
So how did Travel Fashion Girl Erica from OverYonderlust feel about her South American Packing List?
---
Q: What is your personal clothing style like at home and how does that differ from the clothing you use to travel?
A lot of my clothing is rockabilly influence which can cost a lot of money. One of my favourite accessories is a beautiful set of pearls. I'm not going to take those types of clothes and accessories with me on my trip and risk damaging timeless pieces.
Travel comes at a cost and I'm more than willing to do it. I always pack things that are cute but I don't mind burning at the end.
Q: Did you need to replace any clothing?
I originally packed two pairs of shorts and one of them fell apart. This became standard so I just bought new clothes as I went along. I did get tired with what I was wearing but had enough space in my bag to replace something when it was time.
I can only carry a 40L bag because I'm 5'3" and can't handle anything more than that. I avoid carrying anything I don't need.
Q: Convertible dresses can be a huge space saver when traveling. What did you think of the infinity dress?
In the beginning I loved the infinity dress but didn't really use it as much as I thought I would. I eventually I got tired of it just like with all my other clothes. Another thing to consider about the Infinity Dress is that some designs don't work for everyone's body type and can look frumpy. Plus, the fabric is way delicate in salt water which isn't the best when you're traveling.
Now, I'm planning to pack a plain simple dress that I can dress up with accessories.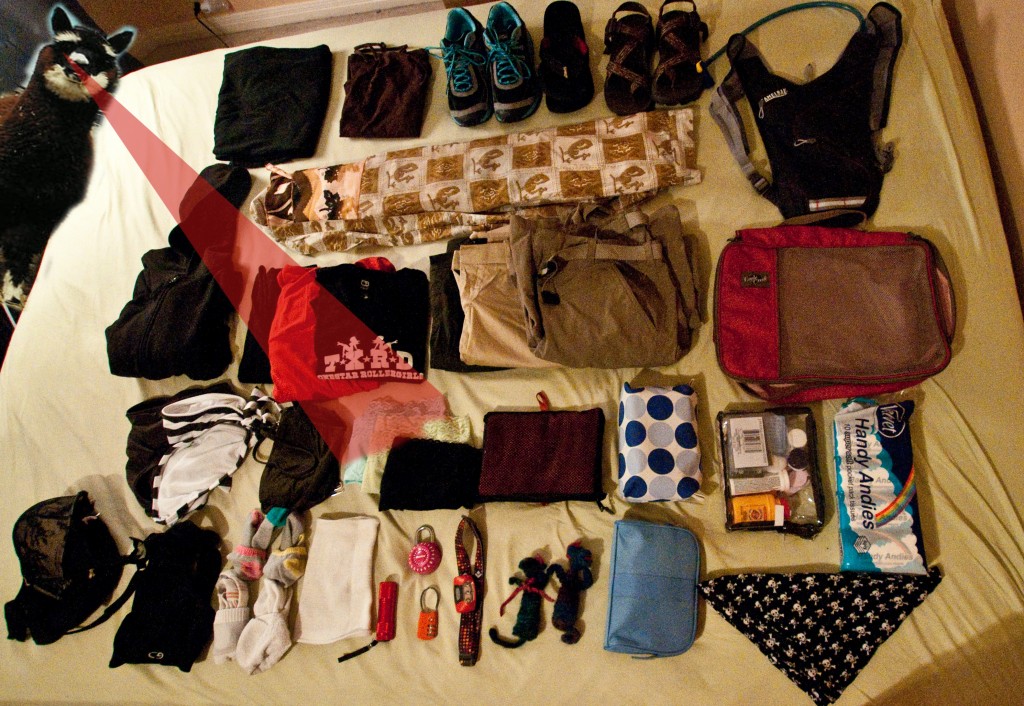 Q: How much underwear did you pack? Was it enough?
I tried the exxoficio underwear system and packed the suggested three. Lace underwear is not meant to last for a year's worth of traveling on a 3 underwear rotation. It fell apart like regular underwear. From now on, I'm packing 10 pairs.
Something to keep in mind is that you gain a whole different relationship with your clothes when you're traveling. It's nice to have a fresh set of underwear to change into. In rainy season, this underwear never dried.
Q: I noticed you didn't pack a rain jacket. Did you find that you needed it considering you were traveling alongside the rainy season?
In San Cristobal, Mexico it rained so hard and we were completely unprepared. We didn't have backpack covers, jackets, or umbrellas. Although, I did find that it was easier to stay dry under an umbrella.
Q: You're now on your way to Europe and just released your new packing list, last week. What did you change this time?
Bought dresses for Europe even though its winter. Stepping up a notch. Now I know what I wear and don't wear. Its only 2 months I can get away with a little more.
This time I'm taking earrings I didn't before. 2 pairs of jeans a pea coat and a scarf
Q: What are your travel packing tips for newbie travelers?
Less is more! You can always pick up stuff along the way. Nobody realizes that you can buy anything on the road even razors.
Have a quarantine bag for your really dirty clothes.
Sunscreen is really expensive in Mexico!
Check out Erica's new European Packing list and follow her and Shaun travel musings as they begin the next segment of their journey in beautiful Alaska! Thank you for the interview Erica!
Did you find this interview helpful? What other questions would you like to see in future Travel Fashion Girl Interviews?
---
If you are interested in sharing your packing tips on TFG, you can download the interview questions and submission guidelines here.
---
Hope you liked this interview with Erica. Please share this post with your friends on Facebook, Twitter and Pinterest. Thanks for reading!
---