Support TFG by using the links in our articles to shop. We receive a small commission (at no extra cost to you) so we can continue to create helpful free content. As an Amazon Associate, we earn from qualifying purchases made on Amazon in addition to other retailers featured on the blog. Thank you, we appreciate your support!
Chambray is in all the stores right now and we're loving it! Find out how to wear chambray clothing for your next trip and stock up on our favorite pieces!
---
How to Wear Chambray Clothing
Written By: Niki Landry
---
Think of chambray as your "summer-weight denim". It has the benefits of a versatile denim piece in your travel wardrobe:
you can wear it repeatedly without washing
you can dress it up or down
it works in a variety of destinations
Unlike denim, chambray is quite thin, which has the added benefit of taking up less space AND weight in your suitcase. Anything that helps us pack lighter is always better!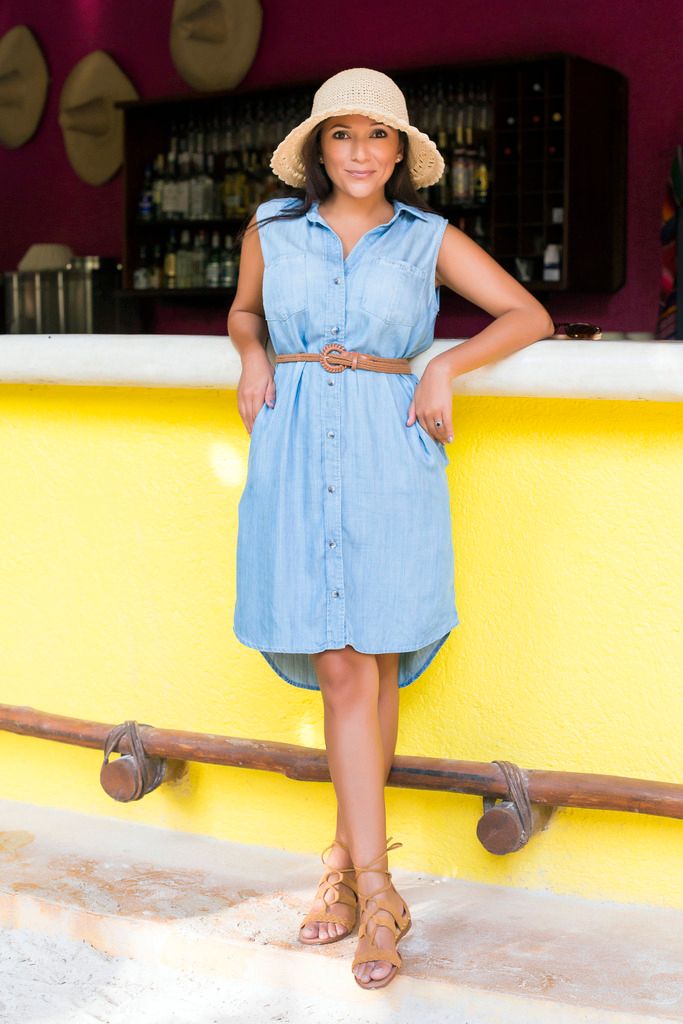 Chambray fabric is typically woven of natural cotton or linen fibers, and sometimes offered with a small percentage of synthetic materials. I typically look for items with a blend of fibers for the best of both worlds.
Chambray is woven with both blue (in varying shades and sometimes gray/black) and white fibers, and the weave gives the garment a mottled effect that's perfect for layering onto casual outfits.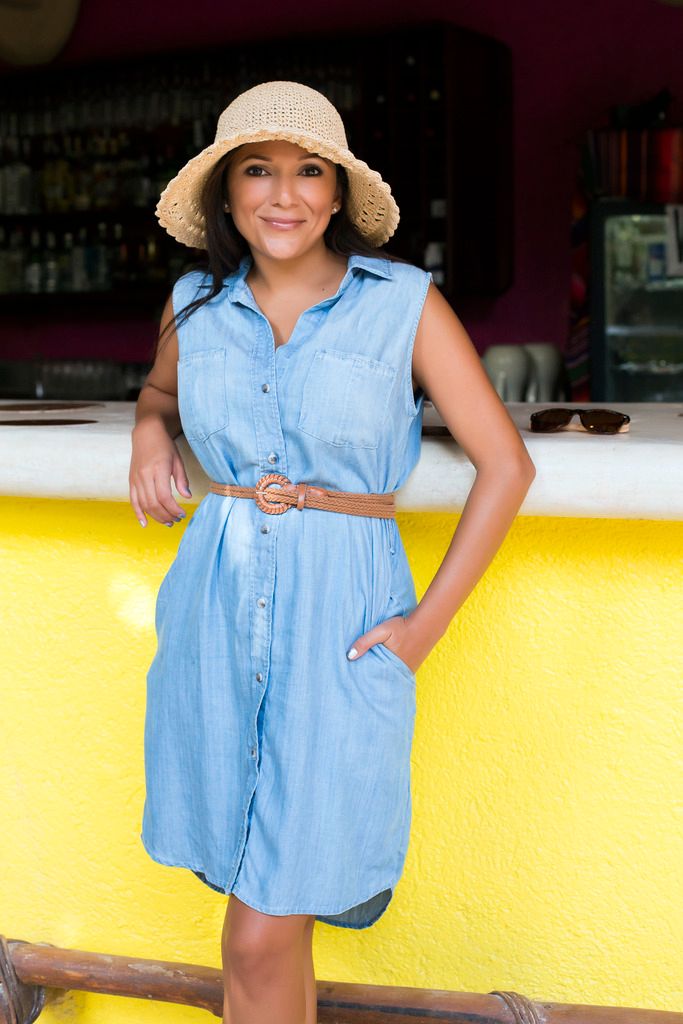 Some of the most versatile pieces are button down shirts and dresses. They're best fit for two types of trips: when you're traveling to warm or hot climates, or when you're traveling to different climates on the same trip. Chambray clothing  is easy to layer when the temperature drops (without adding unnecessary bulk)!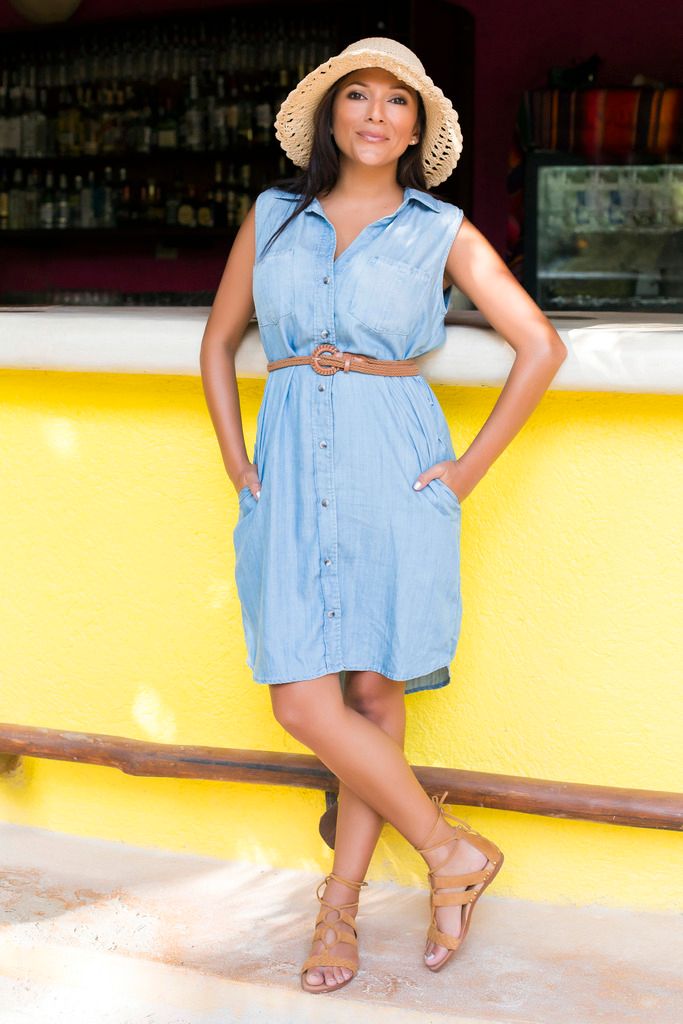 The dress Alex is wearing in these images is the "Discover Jean Classic Dress" found on Soul Escape. Read this review to find out why Soul Escape has become one of our favorite destinations to buy cute summer clothes and vacation clothing!
Travel Fashion Girl is always on the hunt for the pieces that give you the maximum options in one garment, and chambray seems to fit the bill. With a casual look reminiscent of denim, but lightweight and breathable, chambray is popular among travelers for its versatility and laid-back style.
You can also try this similar dress from Forever 21!
Here, I've picked some of my favorite items and offered some ideas on how to wear chambray clothing in your travel wardrobe:
Bottom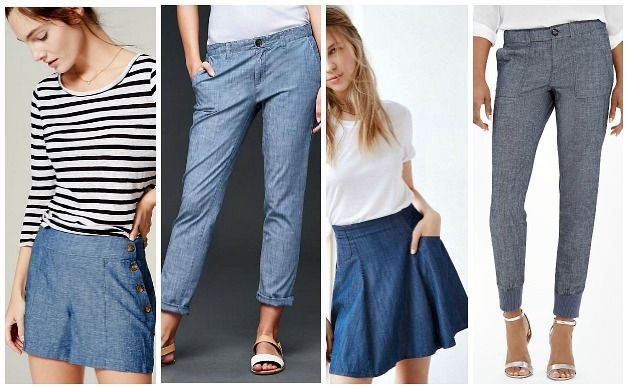 Shorts | Chino | Skirt | Joggers
Heading to a hot and humid destination, but still want to look pulled together?
Chambray is a perfect denim alternative for those trips where heavy jeans aren't suitable for the weather.
These bottoms coordinate with every color and have an airy quality similar to linen–great for beach resorts and tropical destinations. Chambray does tend to wrinkle, but I've found options with blended fabrics that hold its shape a little better than 100% cotton.
Chambray skirts are especially popular this spring and summer season.
Outerwear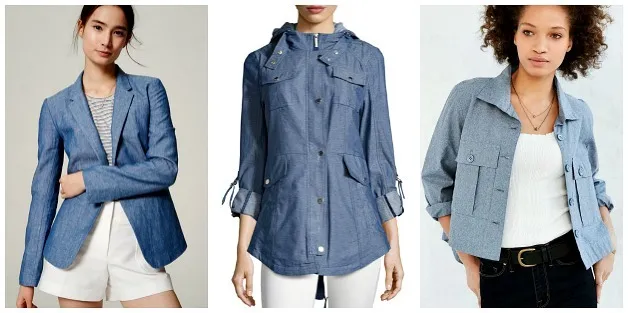 Destinations with ideal temperatures during the day can sometimes leave you chilly at night or in shady areas.
Instead of packing a few jackets to coordinate with all of your outfits, choose one that works with everything in your bag. One chambray jacket is all you need.
I like the casual material in a classic blazer cut or a utility style for the most flexibility. They aren't too heavy to wear during the day and provide a little shelter and warmth on cold breezy nights.
Dress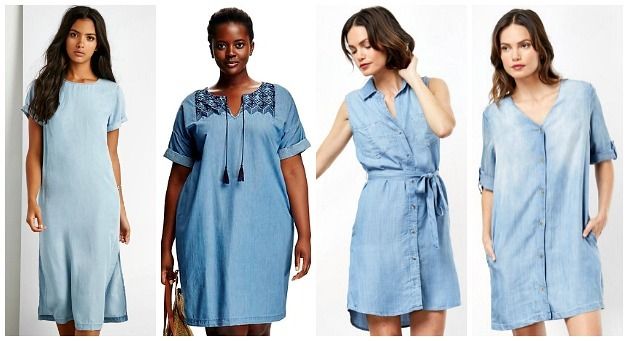 Side-Slit | Embroidered Yoke |  Classic | Quarter Sleeve
The chambray shirtdress seems to be the outfit of the season, with styles popping up in every clothing store. It is such an easy shape to wear on many body types, and is super comfortable for a day out sightseeing. Pair it with a scarf and tan sandals for a perfect travel outfit.
Another flattering style is tunic style dresses, which can be worn poolside, shopping, or café-hopping around town. Chambray dresses make great transitional pieces to add to your packing list.
Top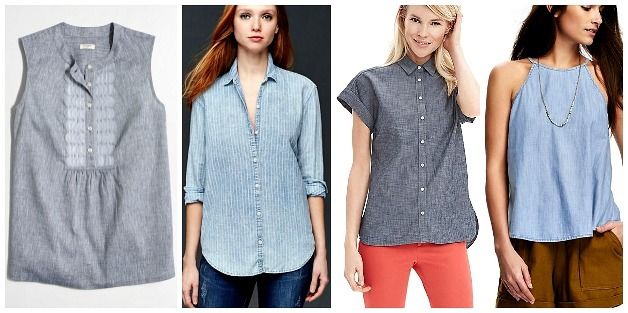 Tank | Boyfriend | Shirt | Sleeveless
I normally like to select clothing items in chambray where they will get the most use, like a bottom or coat. For instance, if I were bringing along chambray shorts I wouldn't necessarily pack a shirt in the same fabric. If it works with your capsule wardrobe, chambray can be a great option for a top as well.
One of the easiest tips on how to wear chambray clothing on your travels is to choose collared, button-down shirts. These are a favorite because they are easy to keep clean and are very comfy and can be worn as a lightweight jacket if needed.
The railroad detail adds a subtle stripe to this classic style shirt. Also, I like the pin tuck addition on the back of the short sleeve version. It gives some shape to avoid an overly boxy look.
---
Chambray is one of the most versatile clothing fabrics you can bring on a trip. The great news is that it's very popular right now, which means you can find it in every cut, shape, and price point. So stock up on one or two pieces that you can wear on your next trip (and many more to come).
Do you have any other tips on how to wear chambray clothing on a trip? Comment below!
---
For more tips on travel fashion, please read this post:
---
LIKED THIS POST? PIN THIS PIC TO SAVE IT!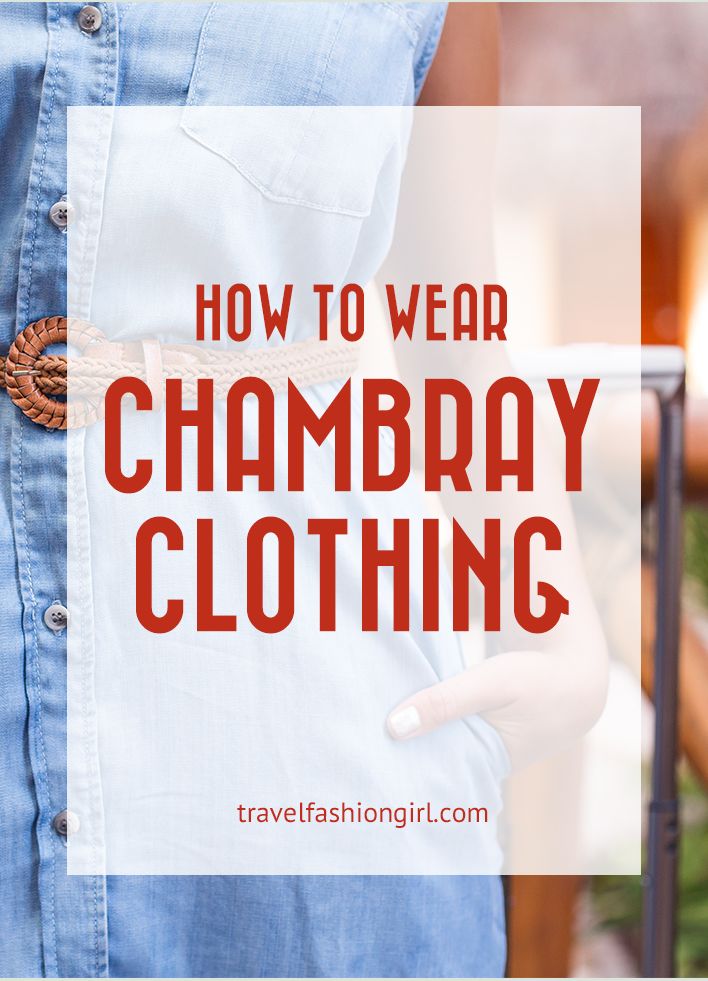 ---
Hope you liked this post on how to wear chambray clothing for travel. Please share with your friends on Facebook, Twitter, and Pinterest. Thanks for reading!
---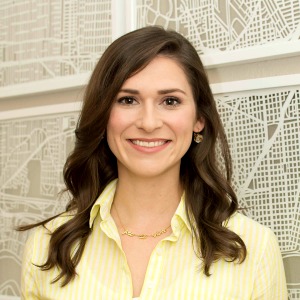 Author Bio: Niki is an interior designer and artist from Louisiana. In addition to her design work, she writes for local and online publications sharing her experiences and passion for travel. Niki is currently adding stamps to her passport while building her design practice, Niki Landry Designs. nikilandry.com nikilandrydesigns niki-landry-designs-llc
---