Support TFG by using the links in our articles to shop. We receive a small commission (at no extra cost to you) so we can continue to create helpful free content. We earn from qualifying purchases made to the featured retailers. Thank you, we appreciate your support!
One of my readers recently asked me where I keep my laptop. Do I pack it in my carry-on bag or use a separate bag?
---
How Do I Protect My Laptop?
---
I always use carry two luggage items when I travel:
1 Carry-on size luggage (Delsey suitcase, Meridian Wheeled Bag, or Farpoint Backpack) PLUS 1 "daypack".
My daypack houses my most valuable items, mostly electronics. Now that I've become a digital nomad and need to have cool technology to help create TFG, my daypack has gotten quite full and heavy.
However, if I want to keep this site going, I need to travel with certain products that I wouldn't normally carry if I was not working on the road.
Read this post to learn about daypacks and why you might need to travel with one!
The items that I always carry in my daypack include:
Chargers
Notebook (to write down cool TFG ideas on the go)
Makeup (I don't want it to break in my regular bag)
Prescription Medication
Daily necessities (tissue packs, emergency tampons, pain killers, allergy pills, mints, travel size hair brush, chapstick, etc)
Passport
Wallet
So basically if this bag got stolen my life would be over right? Read my full strategy on how I prevent my most valuable possessions from theft.
What Laptop I Use?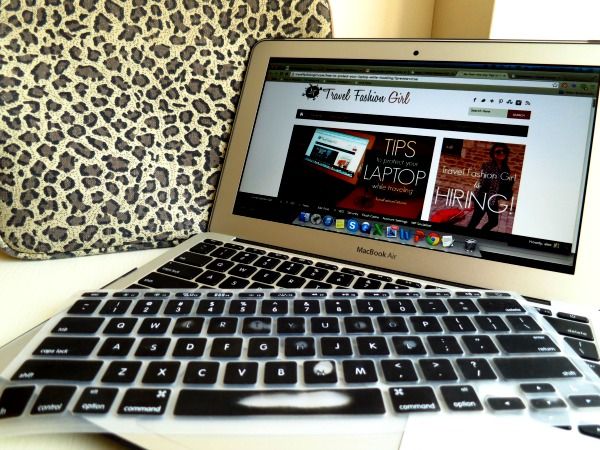 Earlier this year I traded in my trusty little Acer Netbook for a sleek and slim MacBook Air 11.6" and it was a GREAT decision. Lighter and faster plus it's stylish too!
Read this post to learn more about my digital nomad packing list.
Where Do I Pack It?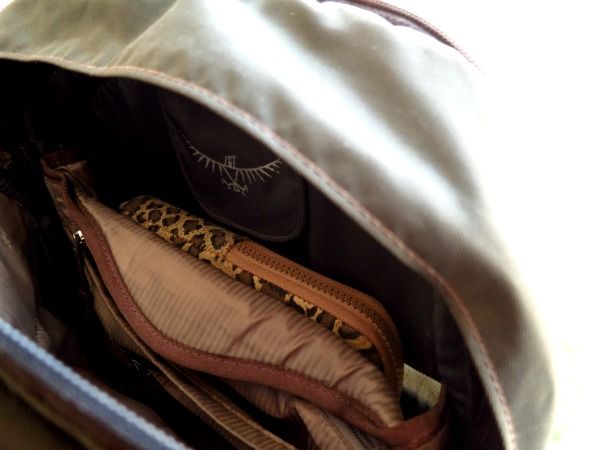 The daypack I use to house the above items is a 20L backpack similar to this one that detaches from my Osprey Meridian wheeled bag.
It has a laptop compartment and other handy organizing features so it works well for my type of travel. (I am planning on getting a new bag for 2015 and have my eye on something like this. Surprised?)
To determine what day pack or day bag is best for your travels, please read this post on how to choose one and also to find out if you need one.
How Do I Pack It?
Because the laptop rests in between the day pack's well padded back and the rest of my belongings it ensures adequate protection. Plus, I also use additional accessories to care for it on the road.
How Do I Protect It?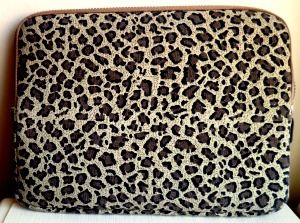 To protect my laptop, I use this super cute leopard print case. I got it on Amazon for a great price and it has a soft fuzzy fabric inside so my laptop is cocooned with incredible padding. It was even better than I imagined!
Because my laptop is what keeps TFG going,
I also use several other accessories to care for it including:
 I chose this black plastic cover because my goal is not only to protect the exterior of the laptop but also to not draw attention to it. Even though the "Apple" logo still shines through at first glance people may not notice it's a MacBook making it slightly less appealing to thieves.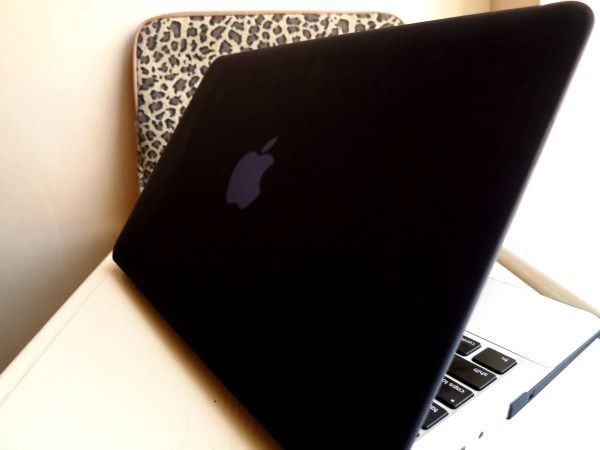 Because all my travel gear gets a beating I wanted to keep the screen from getting scratched or greasy. If I'm working all day that means I'll be eating with my laptop and touching it with grubby fingers. This screen protector's been a life saver!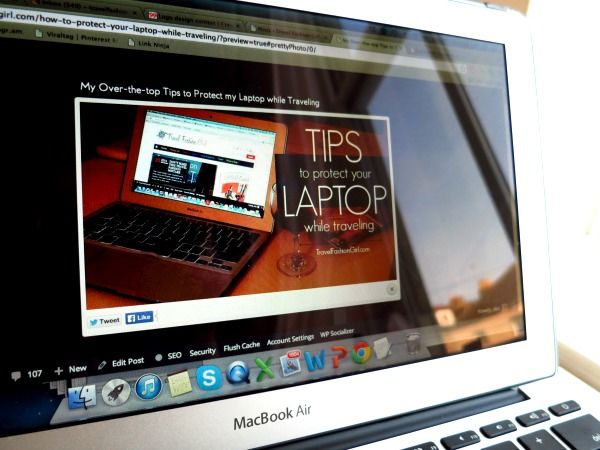 For the same reasons as the screen cover, I also use a keyboard cover to avoid getting food, dirt, and dust inside the keys. The one I bought was cheap and I don't recommend it if you can dish out for a nicer one but I still use it because it does the job.
The last laptop I was using was a small Acer Netbook and it looked so old and beaten up just after one year of traveling with it I decided to go the extra mile and fully protect my new MacBook Air from as much damage as possible so I also got this wrist pad. PLUS, it feels better on my skin than the scratchy texture of the laptop.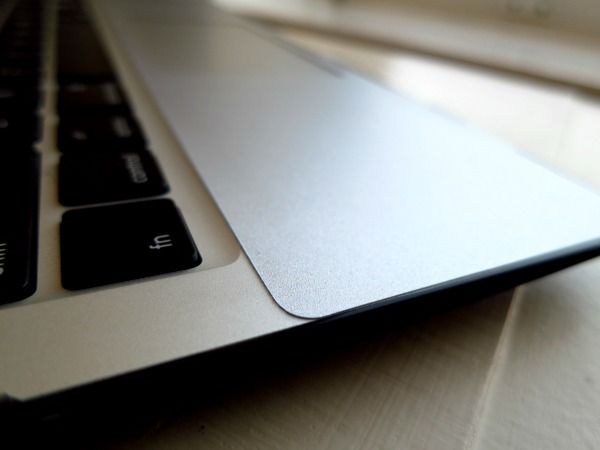 My electronics bag houses some of the most important items I own PLUS my chargers. I use this cute, durable, and functional case by Built. I'm also looking to get these handy charger organizers to keep my cables organized.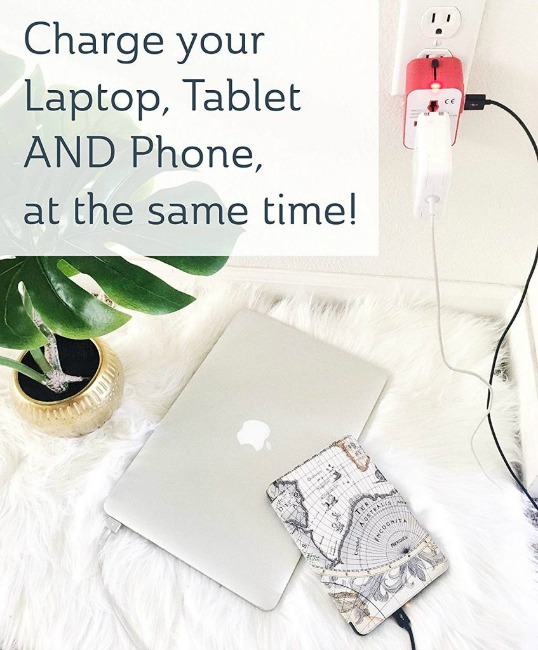 International Travel Adapter with Two USB Posts
Choose a travel adapter like this one, which allows you to charge your laptop, tablet, and phone all at once!
---
If you travel with a laptop, how do you pack it?
---
For more ideas on other travel essentials, please read the following:
---
Hope you found these tips on how I protect my laptop while traveling useful. Please share it with your friends on Facebook, Twitter, or Pinterest. Thanks for reading!
---