Support TFG by using the links in our articles to shop. We receive a small commission (at no extra cost to you) so we can continue to create helpful free content. As an Amazon Associate, we earn from qualifying purchases made on Amazon in addition to other retailers featured on the blog. Thank you, we appreciate your support!
Your smartphone is essential to having a successful vacation, whether you use it for travel pics or to navigate on Google Maps, which is why it's so important that you keep it secure and know where it is at all times. Find out how to keep your precious travel buddy safe on your next trip!
---
Phone Safety Tips for Travel
---
Table Of Contents
A lot of our readers face the challenge of how to keep their phones safe when traveling. It's important to plan ahead and figure out the best way to protect your device in an unfamiliar (though exciting!) place. That way, you can have the utmost peace of mind knowing that your valuables are tucked away safe and sound while you enjoy your trip.
One essential thing to do is research your destination in order to gauge the safety and risks of theft so you'll know how careful you need to be. But, no matter where you're headed on your next adventure, it's always better to be safe than sorry, especially when it comes to something as important as your phone. 
If you want more tips on keeping your belongings safe, these resources may be helpful:
Read on to find our readers' top tips for keeping their phones safe while traveling!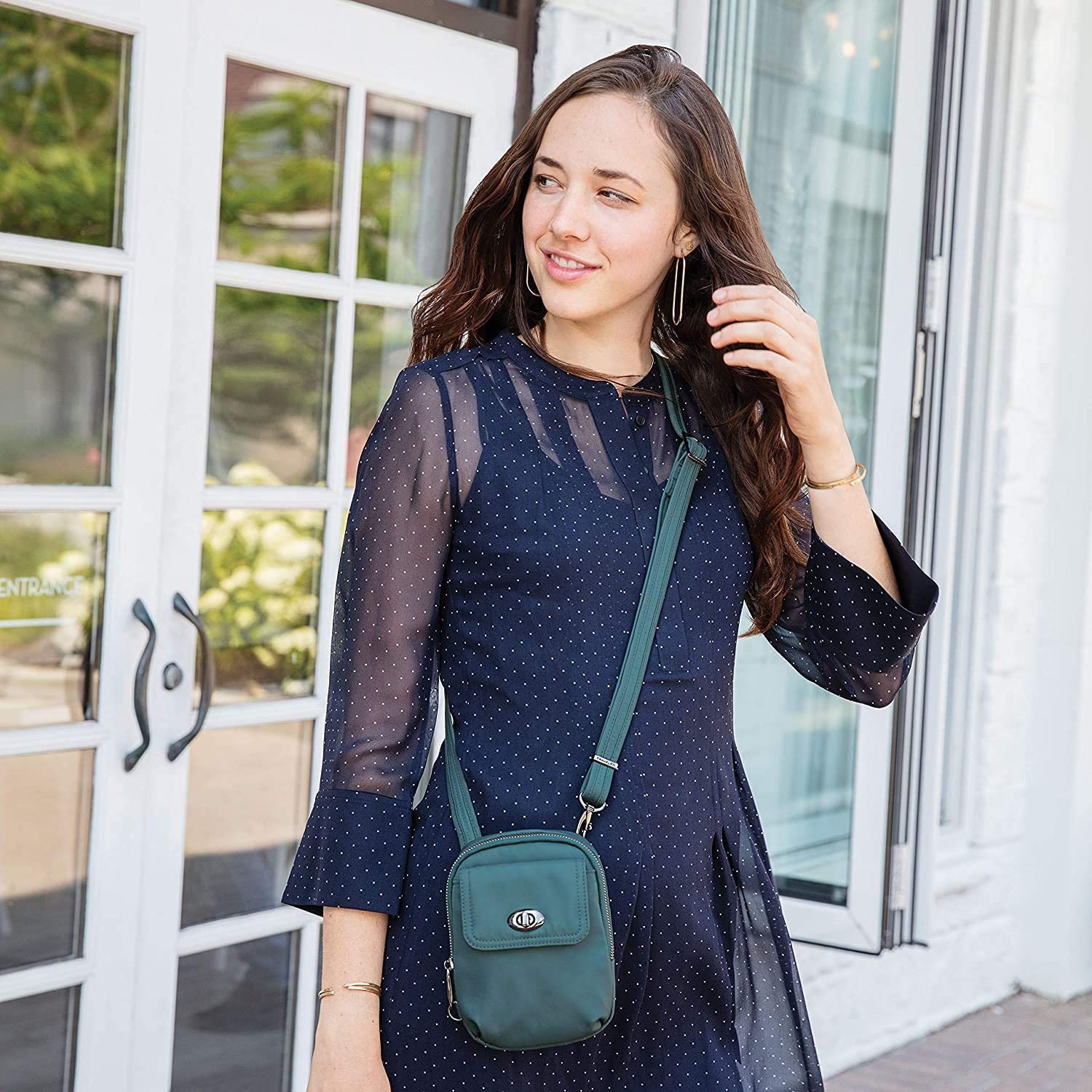 An anti-theft phone pouch can store your cell phone in a secure location!
Use a Specific Pouch for Your Phone
Using a phone pouch is one of the best ways to keep your cellphone safe when traveling. They come highly recommended by our readers! With a phone pouch, you'll know exactly where your cell is at all times–no more digging through a large bag in a panic, thinking it's gone! Your device will be safe from pickpockets or from falling out of a bag on accident. 
Travelon makes amazing anti-theft bags of all shapes and sizes that our readers adore, and their crossbody phone pouch is a TFG reader fave. It's made of anti-slash material and has locking compartments, so there's no way anyone will be able to get in there but you! This is ideal for high crime destinations or places where you know you'll need to really keep your things secure.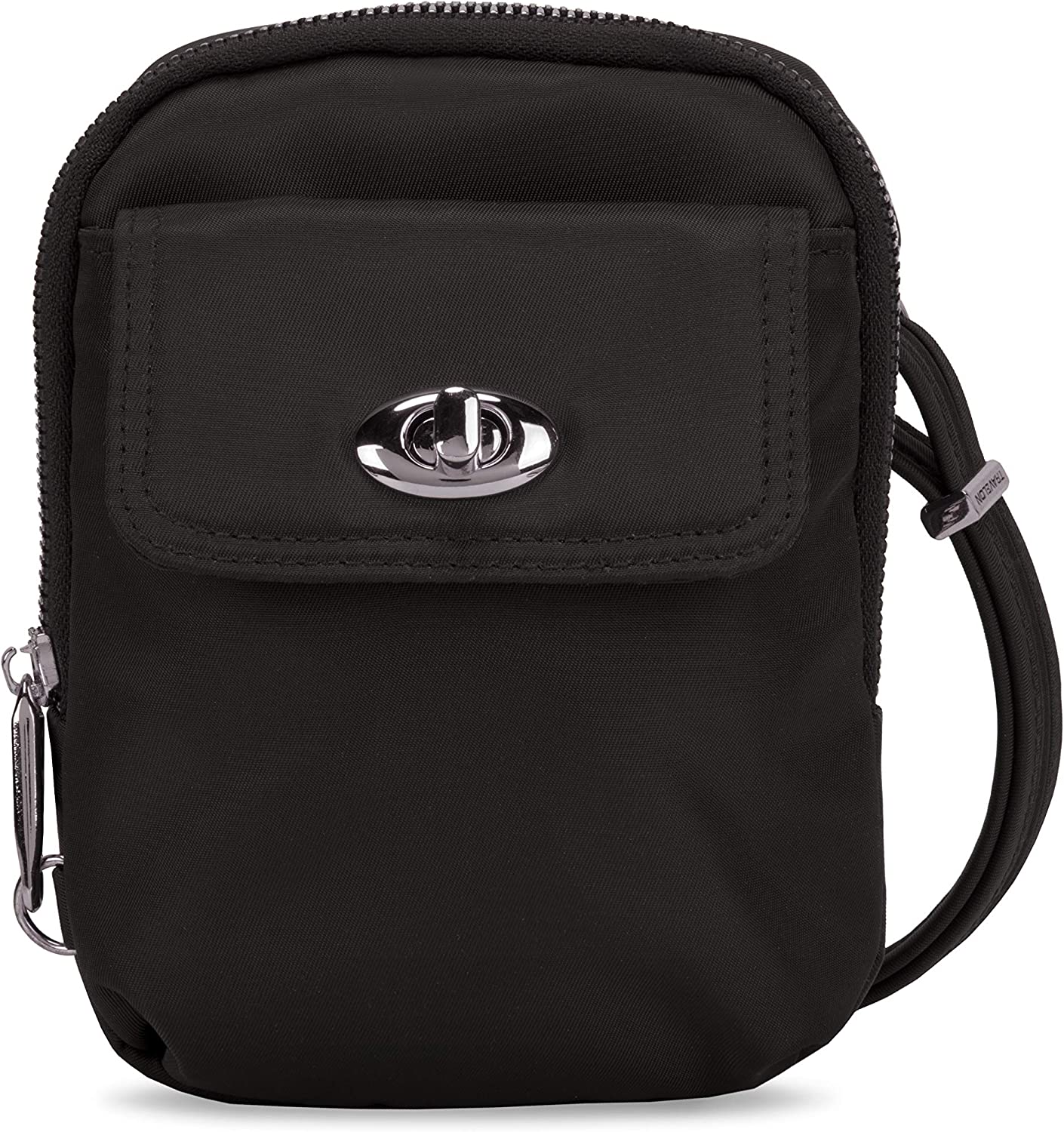 Travelon Anti-Theft Crossbody Phone Pouch
One of our readers shares about her Travelon crossbody: "I love this little guy! You can easily throw it inside of another bag for travel. It's big enough to hold all of your essentials but it's still light and easy to carry, and the RFID blockers and secure clasps are a plus. I've really enjoyed mine and have used it frequently as a small, on-the-go-minimalist bag, both in town and on the road!"
Check out our full review of this amazing Travelon phone pouch here!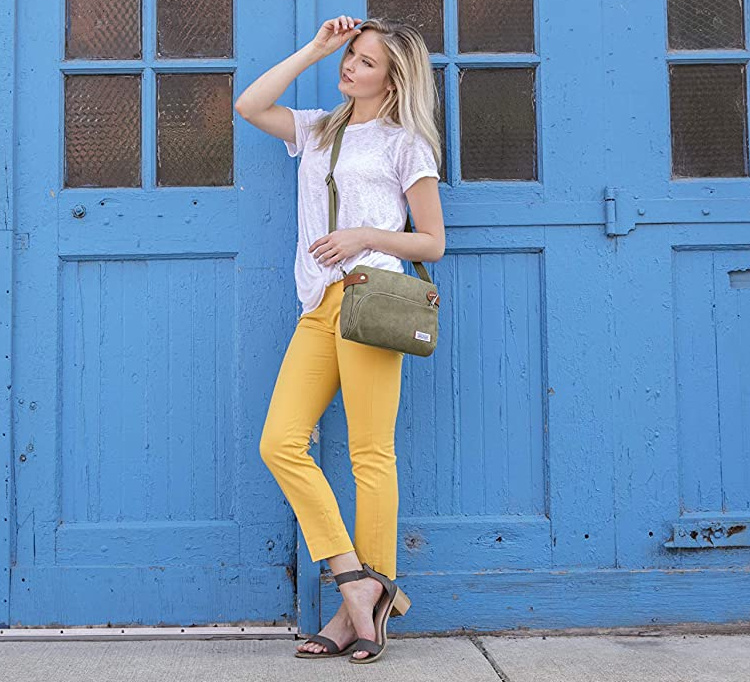 A small crossbody purse with anti-theft features can hold your phone and essentials!
Keep Your Phone in a Crossbody Purse
A crossbody purse is another go-to for our readers when they travel because it's not only secure but also really convenient for storing other small essentials. Similar to a phone pouch, a crossbody purse keeps everything right where you can see it, but safe from theft or accidents. 
When you only need to bring a few essentials, such as your phone, passport, and some cash, this Travelon anti-theft crossbody is excellent. It's made from trusty anti-slash material, and all of the zippered compartments have locking features for ultimate protection. It's small, unassuming, and chic, so it's truly the ideal travel buddy for keeping your phone and other valuables safe as can be.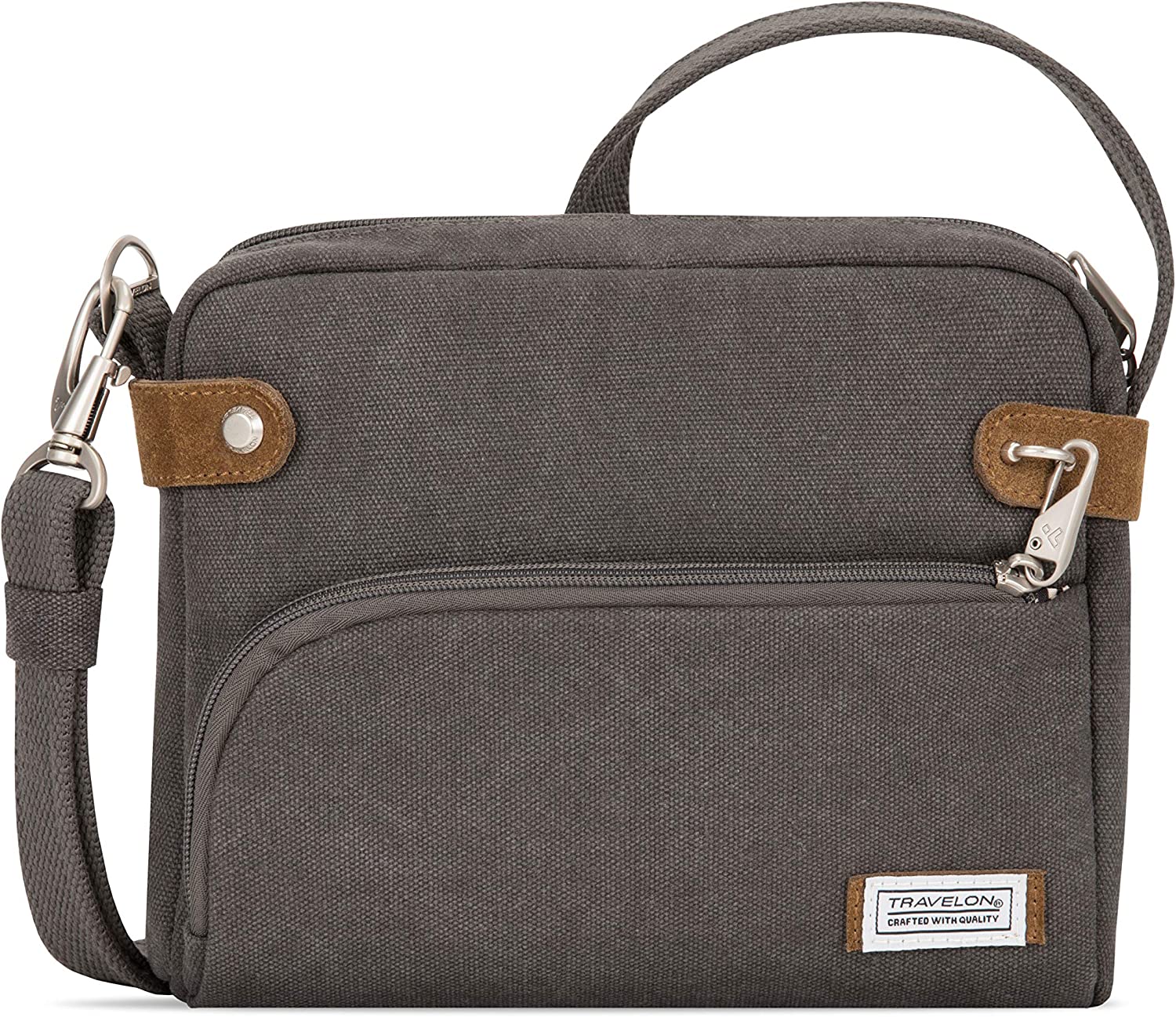 Travelon Anti-Theft Heritage Crossbody Bag
TFGs rave about this Travelon style, and constantly recommend it. A reader shares, "Love all the safety features, and it's stylish too."  The whole line of Travelon anti-theft purses are highly popular, check out their page on Amazon!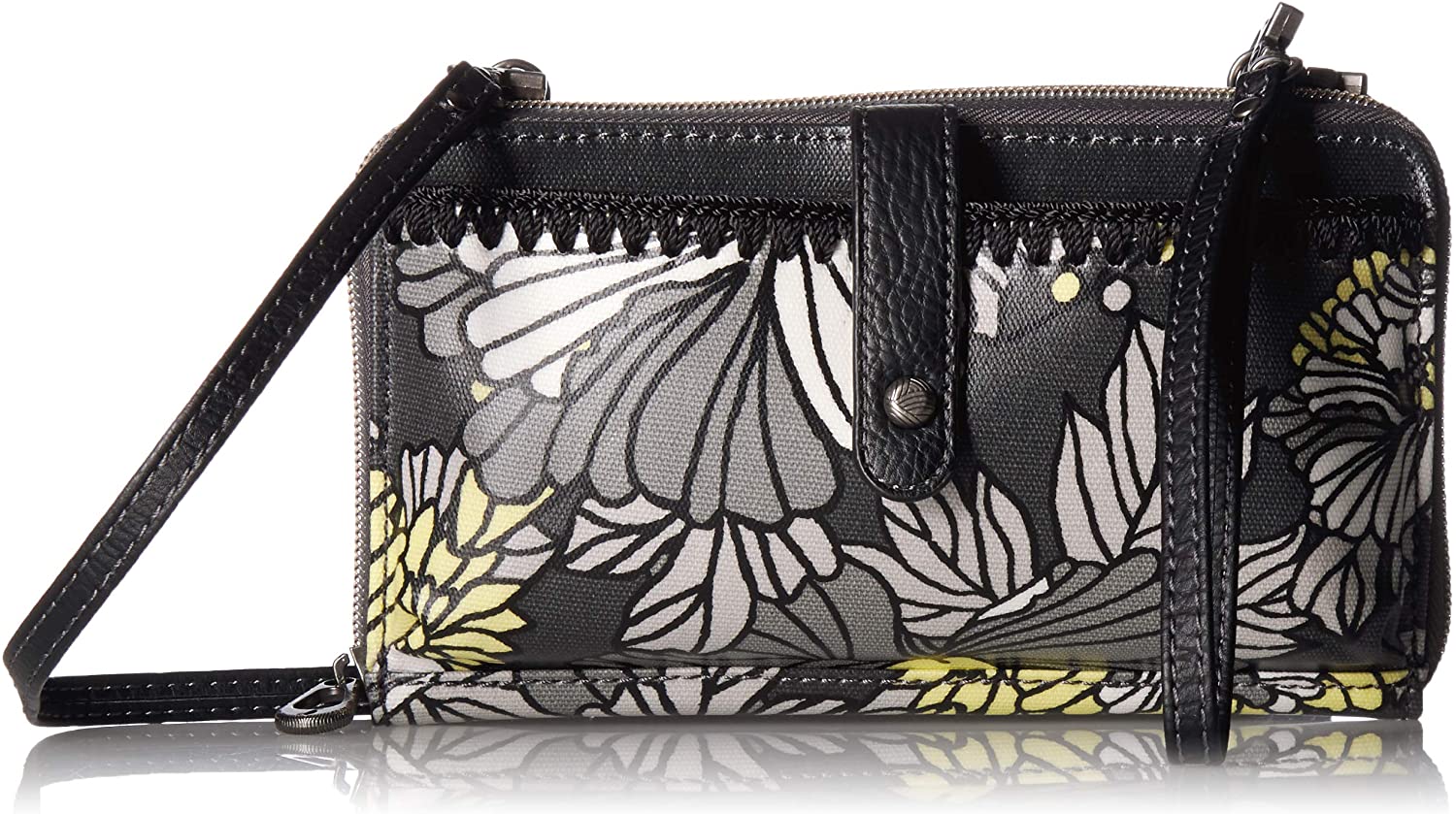 Sakroots Large Smartphone Crossbody Purse
Another choice that our readers have highly recommended is the Sakroots smartphone crossbody. Many of our readers have used this during their travels and report that it's functional, keeps everything organized, looks cute, and most importantly, keeps their phone super safe! 
One reader says, "I use a Sakroots phone wallet. It has a wrist strap and a crossbody strap. I've been using it for years and it's wonderful." This style comes in a variety of cute and colorful patterns to pick from, too.
Planning to clean and disinfect your phones after traveling? Here's how to clean your cell phone!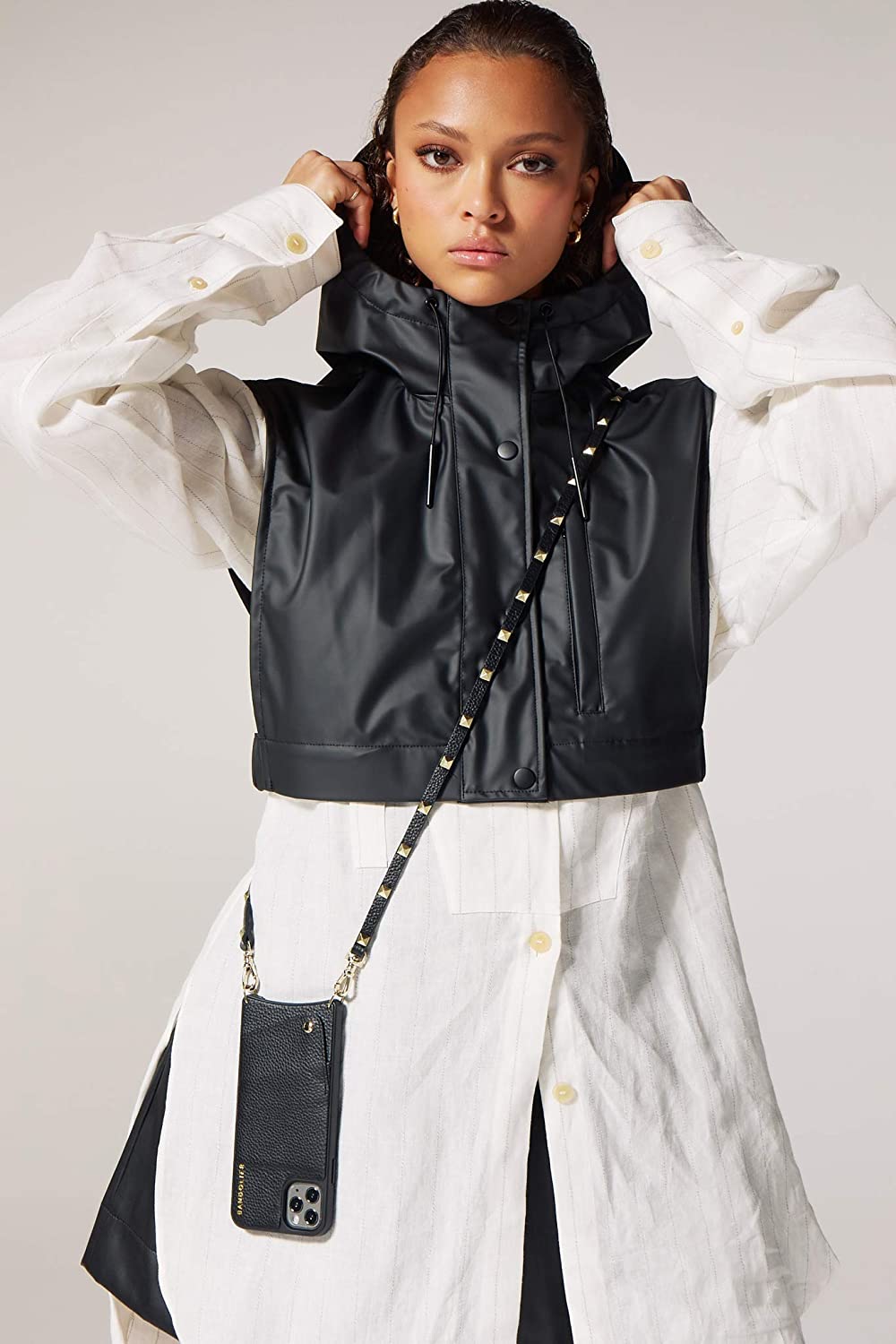 Increasingly popular is using a crossbody phone wallet while traveling
Wear a Crossbody Phone Wallet
A crossbody phone wallet is a super convenient choice if you want to keep your phone safe, while still having easy access to it. For those of you who know you'll be snapping pictures all day long, this is a nice choice!
One of our readers makes an excellent point in saying that your phone can't be snatched out of your bag if it IS your bag! With a phone wallet, you'll see and feel your device at all times, so it'll be nearly impossible for it to be stolen! It hangs around your shoulders just like a crossbody bag, so you can quickly grab your phone to snap a quick pic. Overall, it's a safe and convenient option.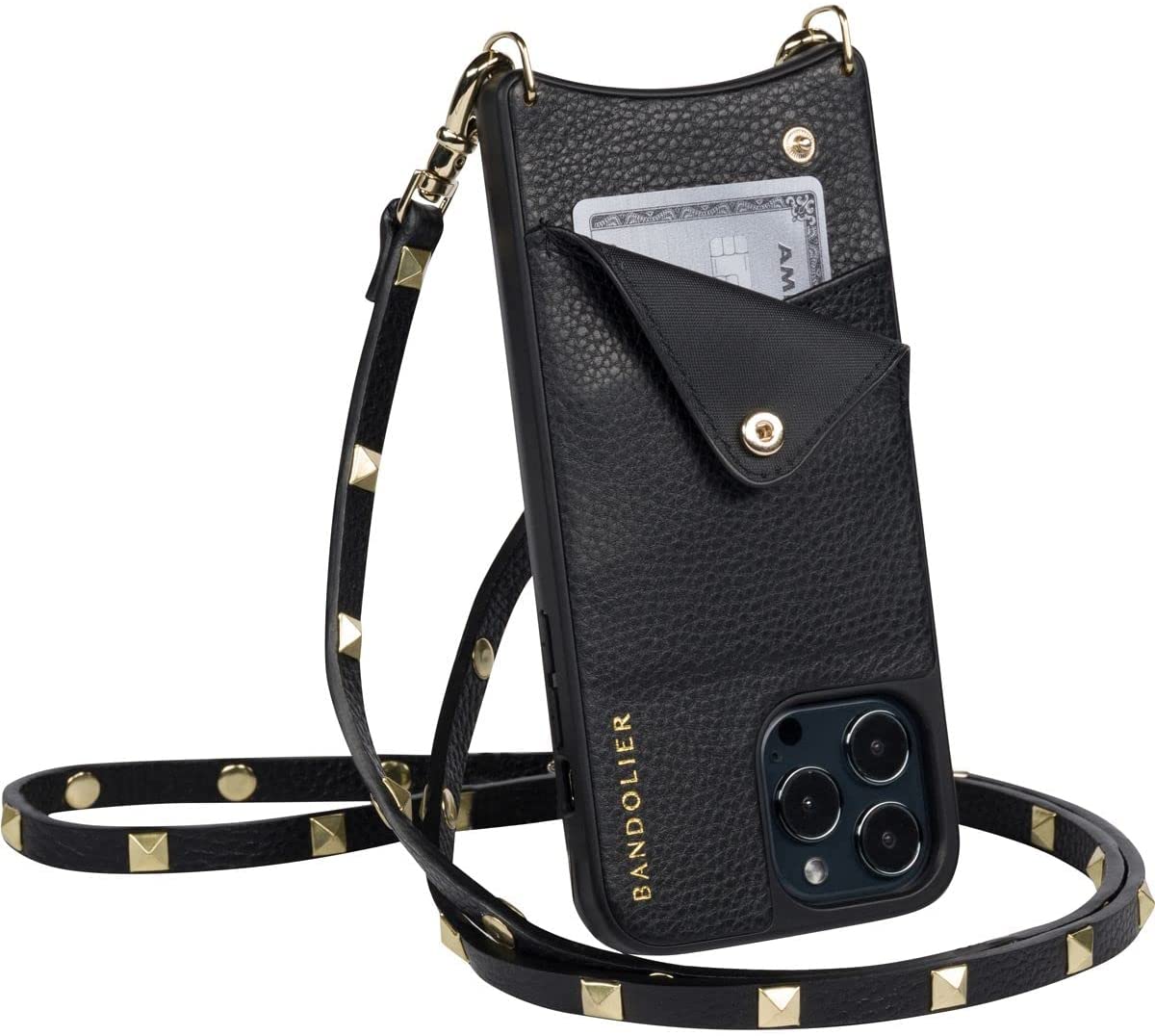 Bandolier Sarah Crossbody Phone Wallet
Bandolier's Sarah crossbody wallet is VERY popular with our readers. It's their most highly recommended pick, and for good reason! Not only is it super cute, but the quality is fantastic. While it's a bit of an investment, fans say it's more than worth it for the stylish look and the peace of mind. 
One reader says, "I bought a Bandolier a couple of months ago before my Alaska trip, and it was terrific. My phone was easily available, and I could just drop it in a second if I needed to. One of my best purchases."
Another TFGer reports, "I highly recommend the Bandolier. I took 4,000 photos on my last trip while using this case and it works perfectly. It keeps my phone secure but handy, so I didn't miss any shots."
Our readers love these crossbody phone purses for keeping their device handy!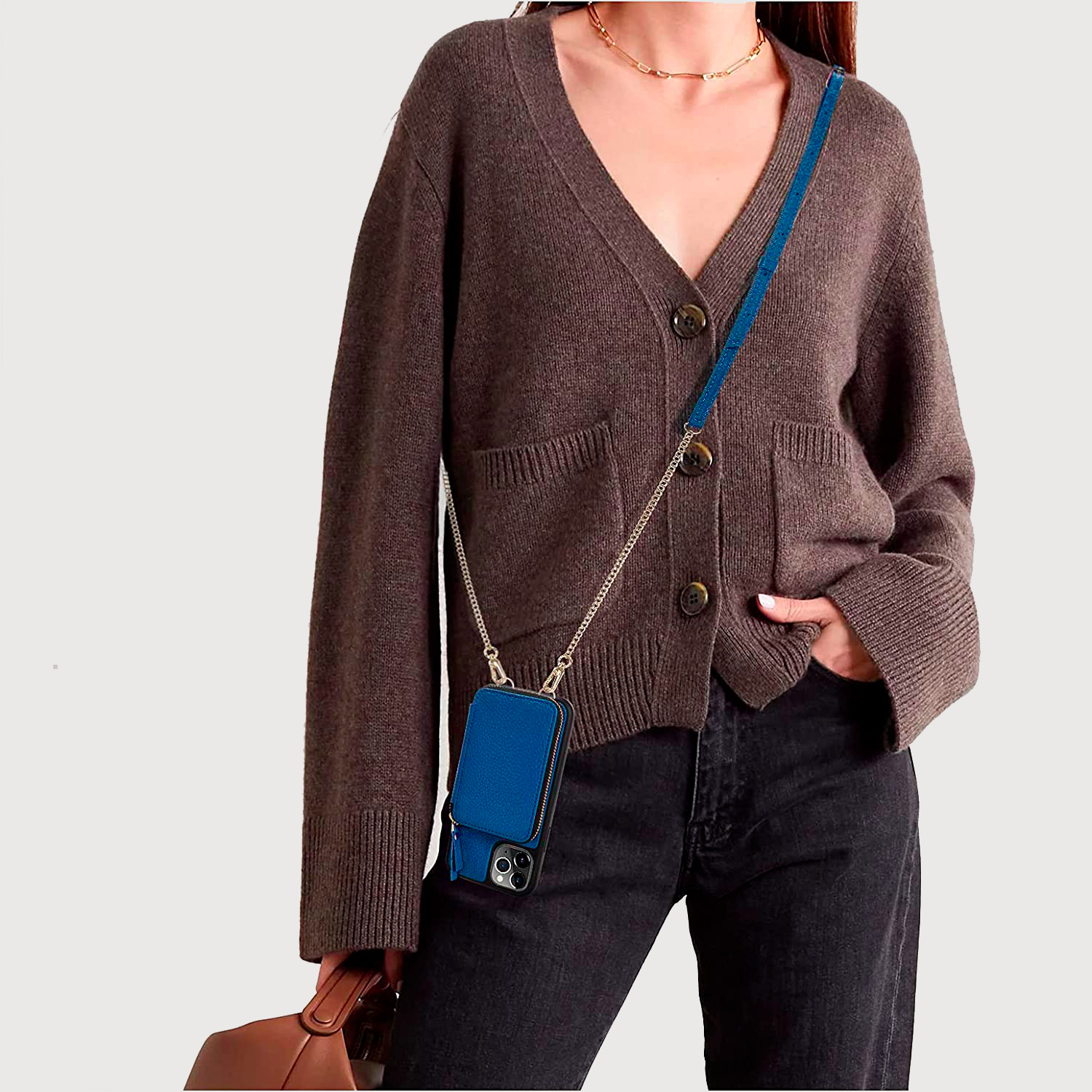 ZVE iPhone Crossbody Wallet Case
For a budget option that's still totally cute and will keep your phone equally protected, opt for this ZVE iPhone crossbody wallet. This piece has a small zippered wallet attached to the case, and the crossbody strap features a stylish gold chain. It comes in a variety of fun colors, too!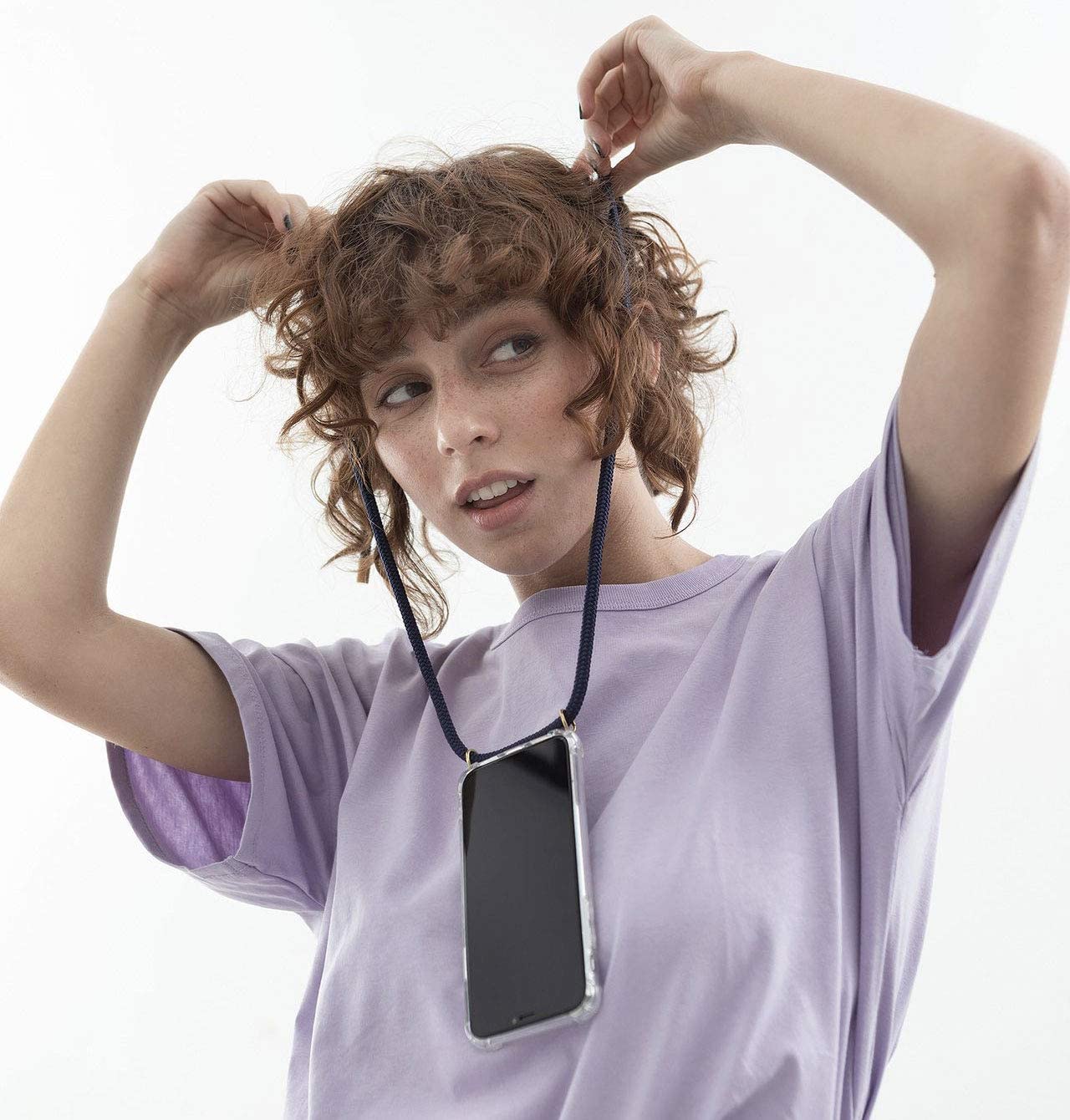 A lanyard that attaches to your phone is highly recommended by readers!
Use a Lanyard to Secure a Phone Around Your Neck
Using a lanyard on your phone is an awesome, super secure option. Lanyards are handy because there are so many ways you can wear them and use them. You can hang your phone around your neck or secure the lanyard around the inner zipper of your purse–the possibilities are endless! 
One of our readers gives an amazing tip: "In Italy in September I attached my phone to a lanyard and used a carabiner clip to attach it to the belt loops on my pants. When wearing a dress I attached the lanyard to my small crossbody bag. It felt secure the whole time."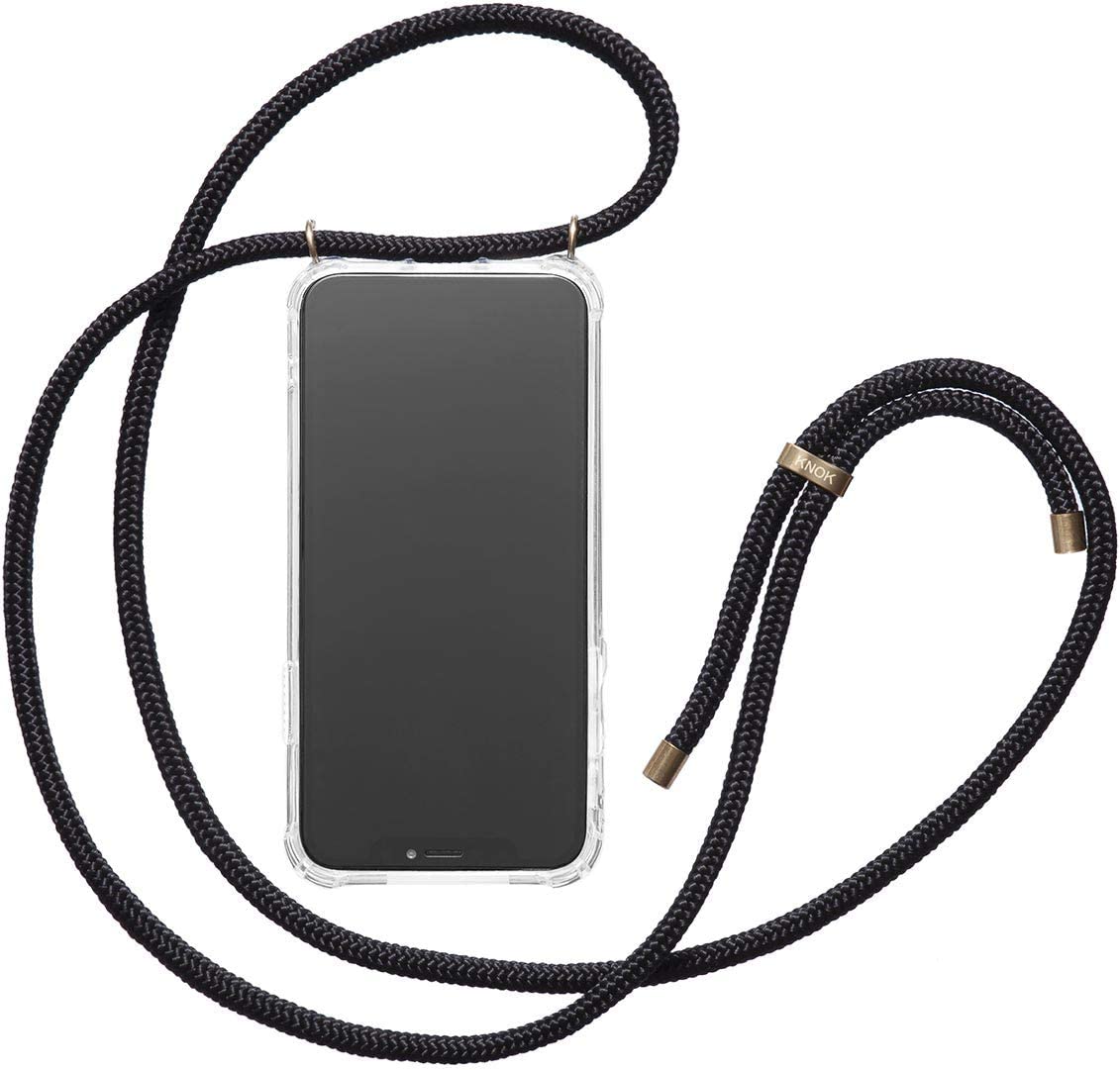 KNOX Crossbxody Phone Case Lanyard
Many phone lanyards come as part of a phone case, while others can simply be added to your phone. Attached to a lanyard, your phone will always be in sight and accessible in an instant, which is also super convenient for capturing that perfect photo just in time! Plus, you won't run the risk of dropping your cell and damaging or even losing it! 
The reader-recommended KNOX crossbody phone lanyard is a phone case and lanyard in one. It's minimal and affordable, and gets the job done perfectly! The cord is strong and durable, and the case is shockproof.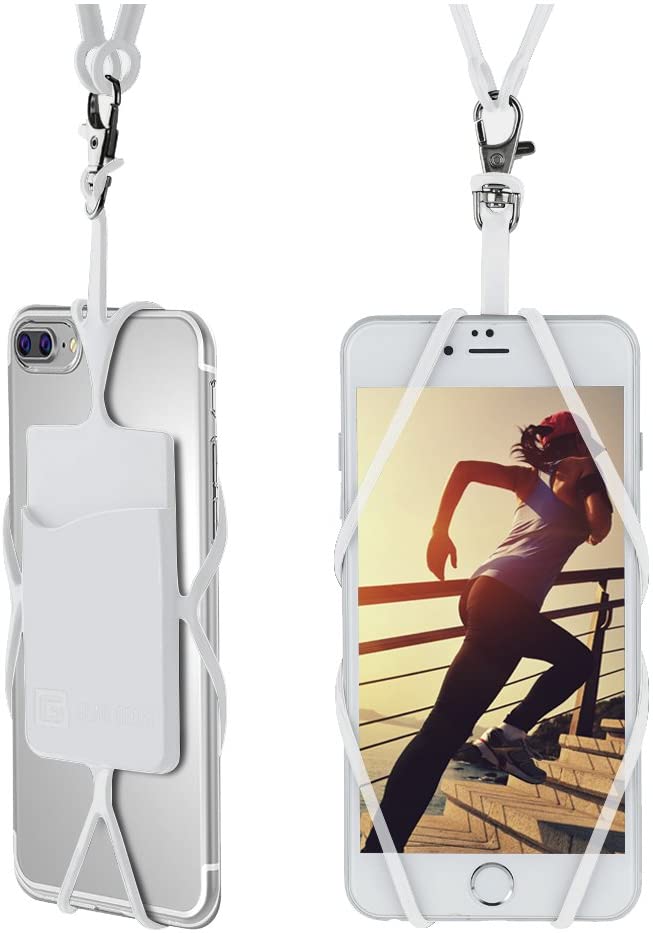 Another recommendation is this Gear Beast phone lanyard which is compatible with any phone. It's made of extra-strong silicone that wraps around your device. As an added bonus, there's a little pocket to store cards or cash. A TFGer shares, "I can attach it to my belt, waist, or bag so that I don't drop or lose it."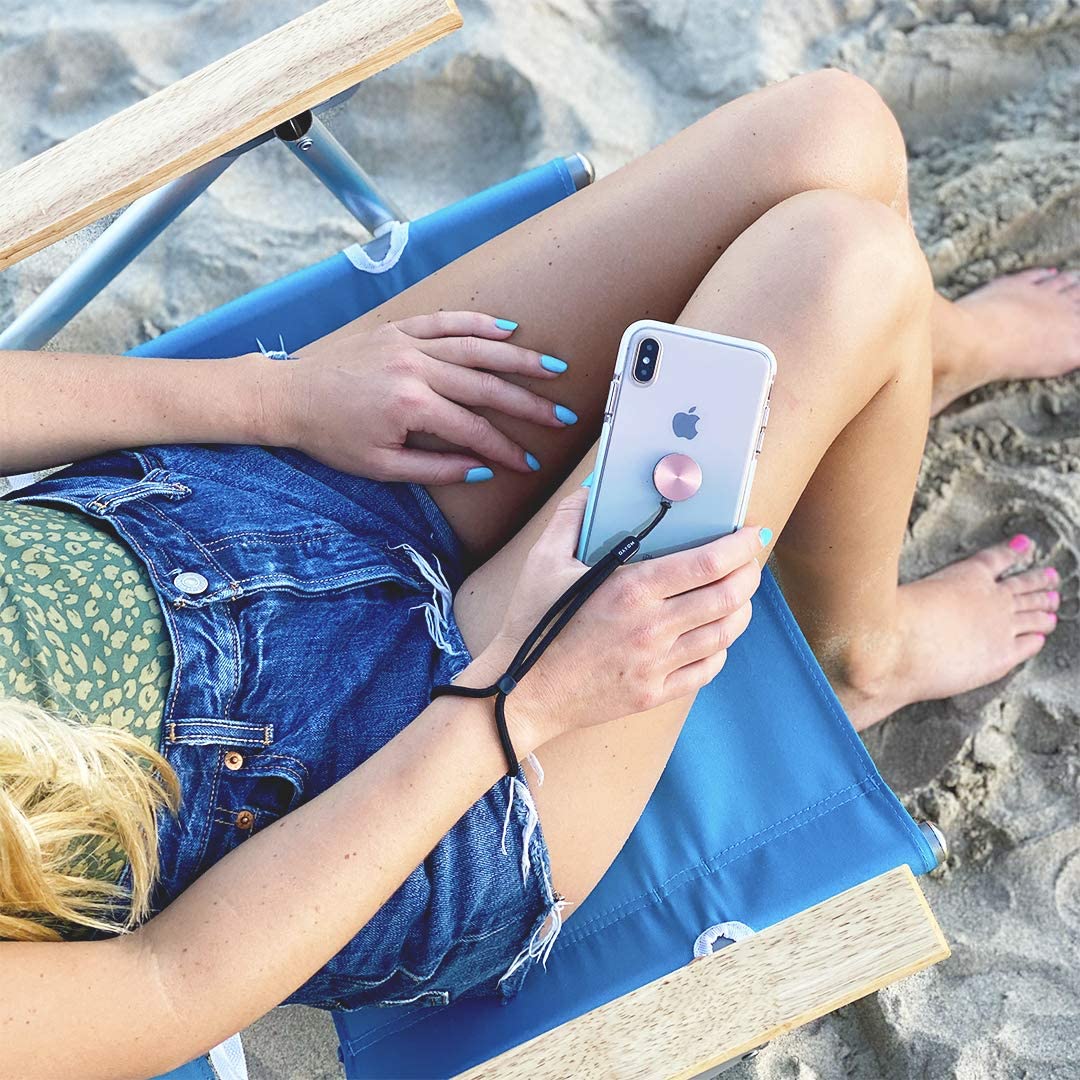 If you need your phone at the ready but want peace of mind, consider a wrist strap!
Attach a Phone Strap to Your Wrist
For travelers who prefer a more minimalistic and cost-effective option, try a phone leash, also called a wrist strap. One of our readers vouches for this method, saying, "I use a wrist strap. The phone stays in my bag until I'm ready to take photos then I hook it on my wrist. That strap has saved me many times from dropping the phone while taking photos."
A phone leash keeps your cell close by at all times, so you don't have to worry about losing it. You can secure it snug against your wrist, so even if you drop your phone, it won't go anywhere. This will also prevent anyone from grabbing it out of your hand. And if you want to store your phone in your bag, simply secure the phone leash to an inner zipper or keychain for security. This option is ideal if you know there isn't a major risk of theft, but you still want to make sure your device is safe and secure at all times.
Traveling to Europe soon? Here's how to get phone service when traveling to Europe and other destinations.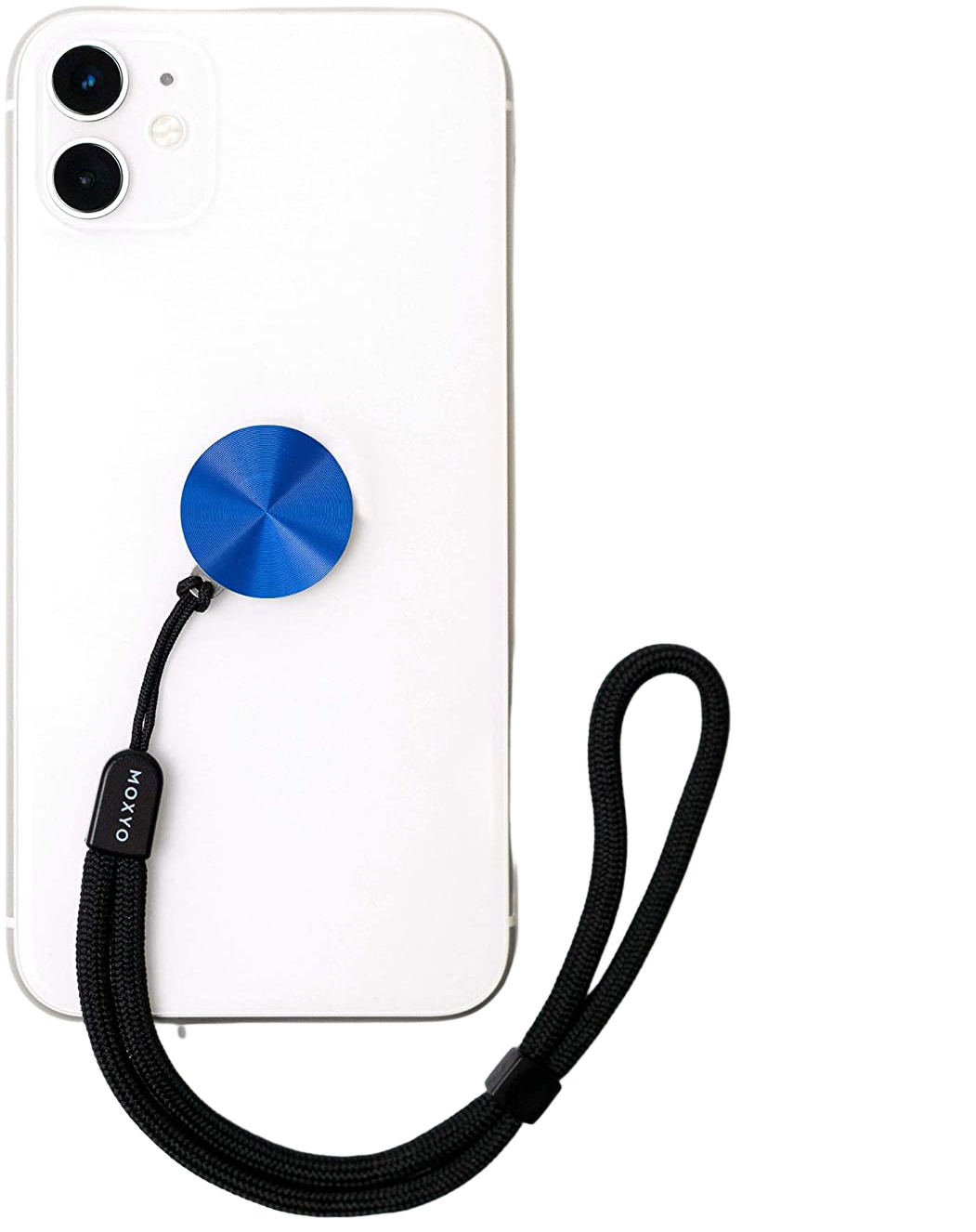 MOXYO Universal Phone Wrist Strap
Readers recommend the MOXYO wrist strap, which attaches to the back of your phone with a small but strong adhesive. The wrist strap is strong and dependable, and you can adjust how tight it is on your wrist. Whether you want to take a selfie or wander around new places without worrying about dropping or losing your phone, this is an amazing option. 
A reader says, "I had a phone taken last month. To stop that happening again, I decided that as ridiculous as it might look, I'm hanging it on my wrist."
Another TFG reader mentions, "I always travel with a wrist strap. It gives peace of mind for security, and I also never drop it! I just attach it to one of the holes of an existing case."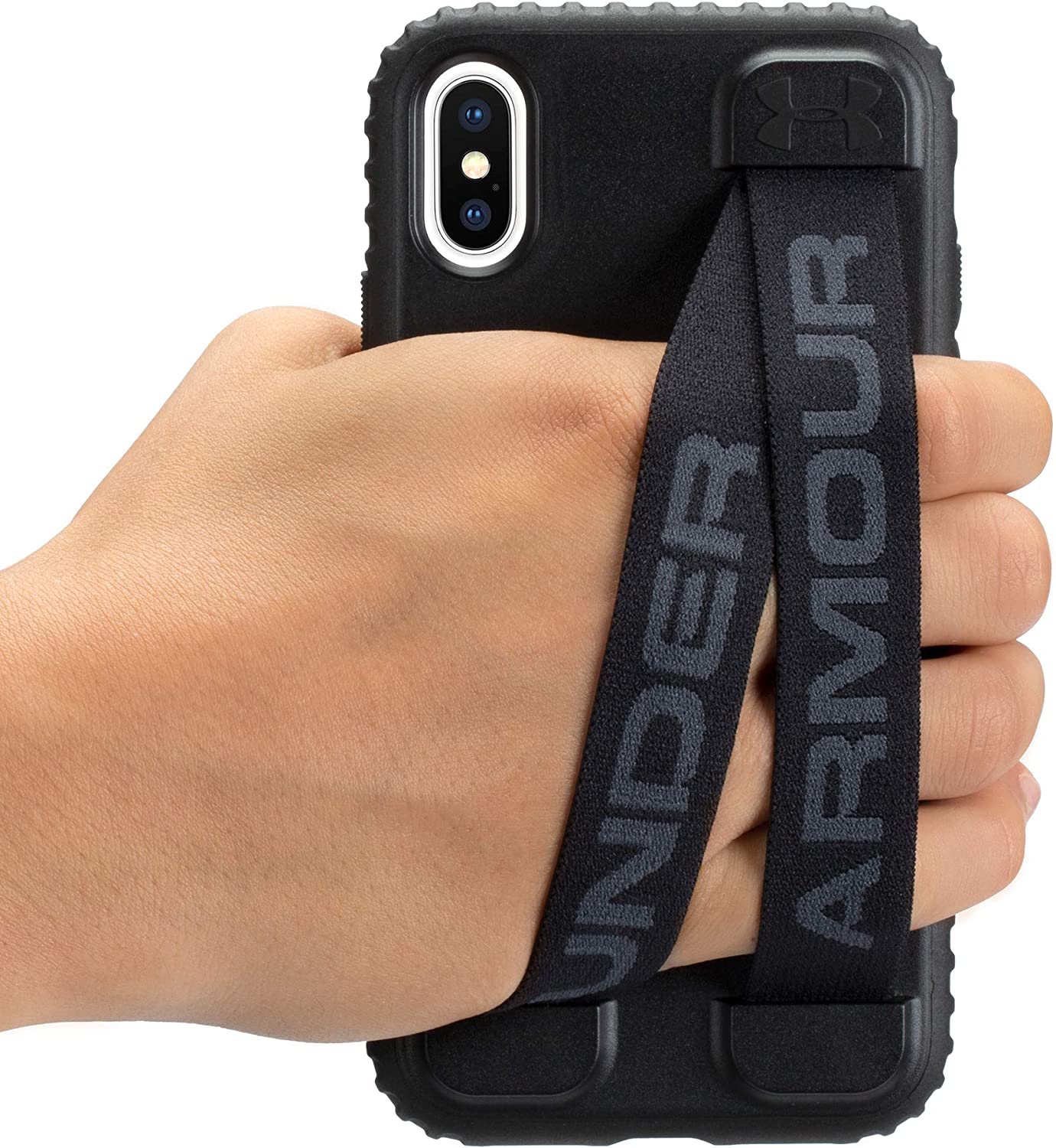 Under Armour Drop Resistant Phone Case
Protect Your Phone With a Drop Resistance Case
Protecting your cell from damage is crucial while you're on a trip as well, as you may not have access to a phone repair service. Readers recommend using a screen protector, as well as a sturdy case. 
This Under Armour phone case is shock resistant, and has an elastic hand strap, so it's ideal for taking photos or in situations where you may drop it. 
A reader says, "I have this case for my iPhone. The handstrap is great for feeling secure while shooting pictures in places where you might drop your phone. I keep it on my non-dominant hand and can tuck it in a small bug or hide it in my sleeve in a crowd."
Other Strategies for Keeping Your Phone Safe
While these are some of the best tools for keeping your phone safe during your travels, there are a few other strategies to keep in mind! Here are some fab tips readers have recommended. 
Turn on "Find My iPhone"

–

If you have an iPhone, one of the most important things you should do before a trip is to make sure "Find My iPhone" is turned on. Or, the app "Life360" works for both iPhone and Android devices. That way, if you accidentally leave your cell somewhere or think someone may have snatched it, you can use another phone to track and hopefully recover it. 
Back Up Your Phone (Before and During Your Trip)

– Many of our readers recommend backing up your phone before you leave, and also turning on an automatic photo backup during your trip, either on iCloud or another software. That way, you can still keep your precious photos and information safe, even if the unthinkable happens. 
One reader says, "I'm a big believer in backing up to a cloud storage. My phone does it automatically by changing some settings. Look into what type and carrier you have and how backups work in case your phone gets lost or crashes." 
Change Your Lock Screen

– One last tip is to put emergency contact info on your lock screen, so if a good samaritan finds it, they have a number or email to contact to return it to you. 
---
What do you think is the best way to keep your phone safe while traveling? Share with us in the comments!
---
For more anti-theft products or ideas, please read:
---
LIKE THIS POST? PIN THIS PIC TO SAVE IT!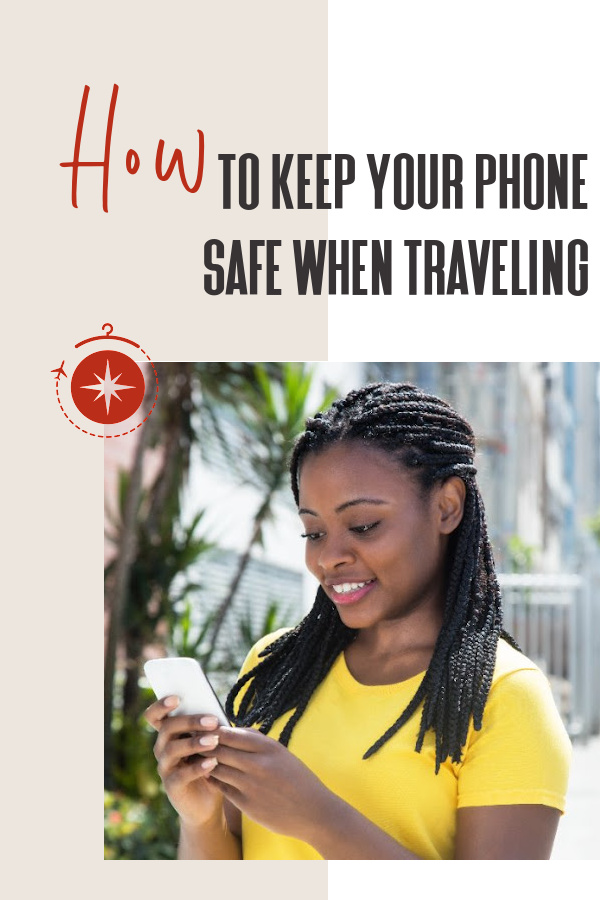 ---
We hope you liked this post on the best ways to keep your phone safe while you travel. Please share with your friends on Facebook, Twitter, and Pinterest. Thanks for reading!
---