Support TFG by using the links in our articles to shop. We receive a small commission (at no extra cost to you) so we can continue to create helpful free content. As an Amazon Associate, we earn from qualifying purchases made on Amazon in addition to other retailers featured on the blog. Thank you, we appreciate your support!
If you're traveling with a pair of jeans that you no longer need due to bulk or weather, transform them! Follow this easy to use guide to create your own budget and travel friendly DIY denim shorts for women!
---
Get Creative! DIY Jean Shorts
Written By: Chantelle Mallin
---
Adapt with the seasons and style your denims to match the growing temps! Bring out the crafter in you and transform your jeans into a new pair of cut off denim shorts for women, a definite summer staple and certain to go with most things in your travelling wardrobe. This is a great technique to turn winter into summer, leaving you with a new travelling wardrobe without spending any money and the bonus of no sewing required!
How to DIY Denim Shorts:
What you need:
Your pair of unwanted jeans
A pair of shorts you like the fit of (optional as a template)
Scissors
Chalk or Pen
Ruler or something with a straight edge
A scourer/sandpaper/razor/cheese grater (who knew) – to give that distressed look
Step 1 – To start place your chosen shorts onto of the old jeans, or measure and mark your desired length, thinking mini, midi or Bermuda, the choice is yours.
Steps 2 – Using a ruler and the chalk draw in place a cutting line, angle the ruler diagonal for a more flattering cut.
Step 3 – Cut slightly below the cutting line, leaving room for fraying, or even longer still if you plan to roll up.
Step 4 – Fold the shorts over and using the cut side as a template mark the opposite leg with chalk, this will ensure the legs are even.
Now it's time for the fun part, customising your shorts, this is where you can allow your imagination to run wild, going for a 90's grunge feel with a ripped and distressed look or maybe a fresh and floral style with girly lace inserts,let your personality show. I decided to opt for the distressed look –
Step 5 – Mark lines where you want you slits to appear in the shorts, remember your modesty when marking the back!
Step 6 – Make a hole with your scissors at the beginning of the slit, start to tear and pull along the marked line to create a distressed looking slash.
Step 7 – Carefully cut along the outside of the pockets, fly and waistband.
Step 8 – Using a razor, sandpaper, cheese grater or steel wool (I went for a scourer) rub away at the all the newly cut areas to allow maximum fraying, the more you scrub, the better the distressed effect will be – pulling at the loose threads will add to the 'destroyed' look.
Step 9 – Throw in the wash to complete your new distressed look denims.
Step 10 – A cool additional step would be to embellish your shorts, this could be with anything you have lying about, such as studs, safety pin, a souvenir travel patch or something you've sourced from the place where you're travelling, such as traditional beads or ribbon, creating not only a fashion statement but a memory you can wear.
Travel tip: If you don't have all the tools you need, don't worry. Borrow a pair of scissors from the hotel or hostels reception, use a pen to draw the line, and use a book to create a straight edge.
I thought it was only fair I attempt the DIY jean shorts myself; up cycling an unwanted pair of jeans. Below is my result, for a project that took barely ten minutes I'm really happy with the results, a brand spanking new pair of denim shorts from a pair of jeans I was ready to sling in the recycling pile.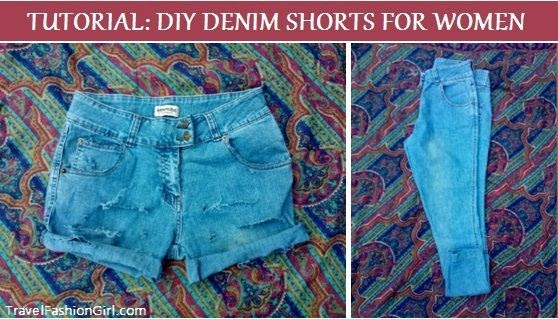 I found a cool tutorial from Leaf TV showing two different styles of denim shorts for women. This video last just over a minute, showing how simple yet effective the tutorial can be.
To add a girly feel to your DIY denim shorts I found a cute tutorial from The Fashion Citizen showing how to add adorable lace inserts, revamping old and tired denims.
---
Do you have any DIY travel tips? Share them on TFG! Email me to contribute your own DIY tutorial: alex@travelfashiongirl.com. 
---
Hope you liked this post on DIY denim shorts for women. Please share with your friends on Facebook, Twitter, and Pinterest. Thanks for reading!
---