Support TFG by using the links in our articles to shop. We receive a small commission (at no extra cost to you) so we can continue to create helpful free content. As an Amazon Associate, we earn from qualifying purchases made on Amazon in addition to other retailers featured on the blog. Thank you, we appreciate your support!
Before I discovered the pleasure of traveling with a backpack I used to be one of those women unable to pack all my belongings into one bag. No more luggage size drama, extra kilo nightmares or vacuum bags. Only the essentials to enjoy every minute of my trip.
Read on to learn my top packing backpacking tips for female travelers!
---
Packing Essentials for Female Backpackers
---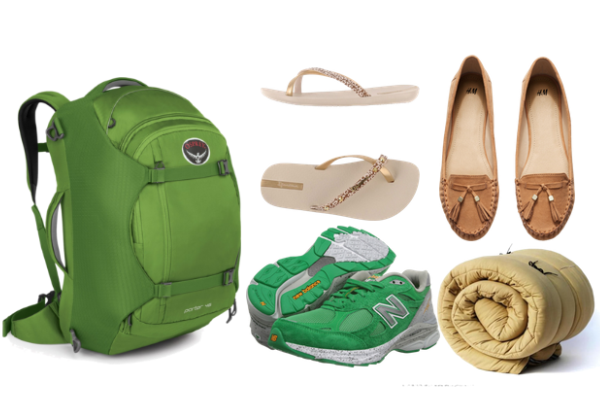 Osprey Pack | Thong Sandal | Loafers | Running Shoe | Sleeping Bag
First of all, you should choose the right backpack.
Do not forget that size matters! Mine is 40 liters and it is enough to carry the essentials on my shoulders. Read these tips for choosing the best travel backpack.
Never forget your sleeping bag.
Whatever your accommodation is – hostel, couch surfing or a friend house.
Always bring two pairs of shoes.
A comfortable, waterproof one for your daily walks, and another you can use for all ocassions. Include a pair of flips flops, they're indispensable for hostel and budget guesthouse showers.
Leave high heels at home. Enjoy nightlife on your travels with simplicity.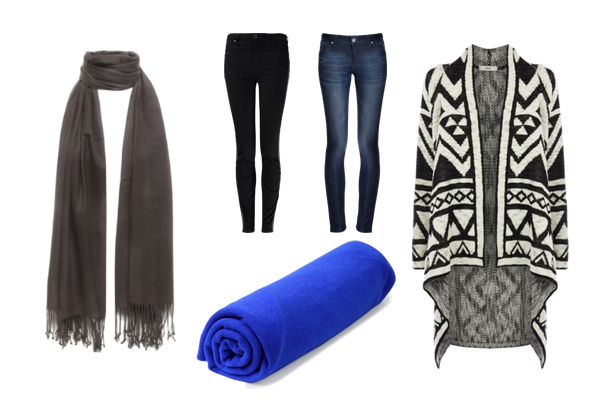 Pashmina | Leggings | Jeans |  Travel Towel | Aztec Cardigan
Save space for a large scarf or pashmina.
You may need it if you would like to lay down in a park or the beach. If you are traveling in conservative countries, you can use it to cover your head and shoulders. If you are traveling in summertime, it can protect you from the sun and it will take up less space than a hat.
Take a travel towel.
You never know if you'll find a swimming pool or a thermal bath or are in the mood for an unplanned moment of relaxaion. Take a look at the best travel towel styles.
And what about clothes?
This can be the hardest part, what to bring, what to leave behind, should I take it or not? Be smart and remember that you will carry the backpack on your shoulders. Personally, I always bring leggings, a pair of jeans, a sweater and a rain jacket.
If you are worried that you are not bringing enough clothes, remember that you can do your laundry whenever you like, wherever you are in the world.
Hostels sometimes have a washer and a dryer and for a small fee you can easily have fresh clothes. Personally, I always bring a little bit of detergent to wash my underwear and to avoid to running out of clean socks.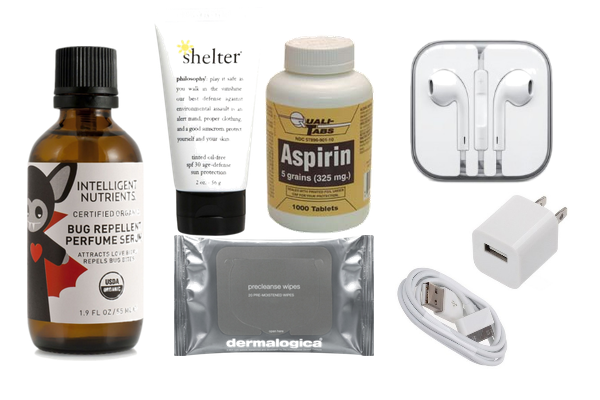 Bug Repellent |  Sun Protection | Aspirin | Earphones | Power Adapter | USB Cable
You should always bring a small first aid kit.
Pack aspirin, re-hydration salts, diarrhea relief and lactic acid bacteria, especially if you are traveling in an exotic country and your stomach is not used to curries and spicy sauces. I always bring insect repellant, a hand sanitizer, wet wipes, toilet paper and sun cream.
Last but not least. Never forget:
A travel guide, a small dictionary or phrase book, earplugs (if you are sleeping in an hostel and you're sharing the room), earphones, chargers and adapters for all your electronic belongings, camera, good music and neck pillow for long journeys on buses or trains.
---
Do you have any backpacking tips for packing? Share in the comments!
---
For more backpacking tips, please read:
---
Hope you liked these backpacking tips for packing. Please share this post with your friends on Facebook, Twitter, or Pinterest. Thanks for reading!
---