Support TFG by using the links in our articles to shop. We receive a small commission (at no extra cost to you) so we can continue to create helpful free content. We earn from qualifying purchases made to the featured retailers. Thank you, we appreciate your support!
South America is an incredible continent with so much to offer the adventurous traveler. I originally visited in 2008 with G Adventures and did a Brazil/Argentina tour followed by a separate tour to Peru – a fantastic trip!
In today's post, TFG's backpacking guru is sharing her tips from living in and backpacking South America. Read on for her packing list and tips!
---
Packing list for Backpacking South America
Written by: Tammy Lowe
---
Backpacking South America is hugely popular with travelers due to its sheer diversity in landscapes. From gorgeous beaches at the Caribbean Sea to the Andes mountain range, the Amazon jungle or gorgeous colonial cities; South America has got it all.
In some countries you can find all of those different climates and vegetation's though, which makes packing a little bit more complicated than backpacking South East Asia for example, where each country has the same climate. The following list should help you consider what types of clothes are needed.
In the Andes
If you are going to Colombia, Venezuela, Ecuador, Peru, Bolivia or Chile and are planning on visiting higher altitude cities along the Andes mountain range such as Cuzco, La Paz or Quito, then you need to be prepared for cold nights, when backpacking South America especially between June and August.
Most hostels don't have a heating in the rooms (only more expensive hotels tend to), so I found it really handy to bring some merino wool base layers with me to sleep in. Depending on the time of year it can get so cold though that I often had to wear fleece pants and a fleece jacket on top of the base layers. This does depend on how much you feel the cold though.
When I go out at night I tend to wear a fleece and an ultra down jacket on top of my normal clothes. I bought my ultra down jacket from UNIQLO in London, which was much cheaper than the ultra down jackets for sale in outdoor shops, but just as warm and good quality. It folds up incredibly small and is really light, so it is perfect for long-term travelers who don't want to carry around heavy items.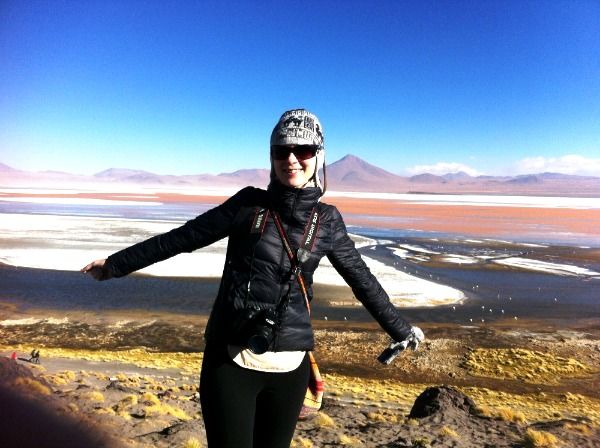 Tammy in ultra down jacket and with a typical Bolivian hat bought locally
I also recommend bringing a wooly hat and gloves. You can also buy Incan-style wooly hats or gloves all over South America though, which supports the local economy and is also a nice souvenir.
During the day it actually tends to be fairly warm in the Andes, as the sun there is very strong due to the high altitude, so T-Shirts, shorts or dresses can all be worn during the day. Because the sun is so strong I would also recommend bringing a hat, sunglasses and sun cream as well.
If you are planning on doing a lot of hiking in the Andes when backpacking South America then I'd recommend bringing your own hiking boots with you, especially for the Inca Trail. Normal trainers just don't give you as much support, and they are also not waterproof. You can usually rent all other hiking material in outdoor shops or at travel agents, but I wouldn't recommend renting boots, as they usually need to be worn-in for a few weeks so that your feet can get used to them.
If you would like to have a more detailed list on what to pack for trekking holidays you may want to refer to my ultimate packing list for trekking and TFG's Inca Trail Machu Picchu Packing List.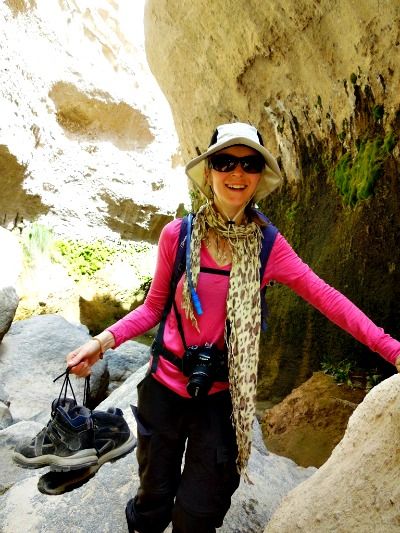 Tammy in her trekking outfit, including a merino wool top that could be worn just as well for any other occasion
On the Beach
If you are visiting Colombia, Ecuador, the Galapagos Islands, Venezuela, Peru, Chile or Brazil when backpacking South America then you'll be in for a treat as they have some really gorgeous beaches.
Obviously the weather by the seaside is going to be much hotter and humid than in the Andes, so if you are planning on hitting the beach at some stage during your holiday, bring a bikini, some beach dresses, flip flops, shorts, a sarong and tank tops with you. Also don't forget a sunhat and plenty of sun cream.
South Americans find it hilarious when they see sun-burned gringas and they to refer to them as raw chickens. You don't want to be one of them, do you? 🙂
In the Jungle
The Amazon stretches throughout South America and so you can visit the jungle in pretty much every country in South America.
Generally speaking it is advisable to wear decent trekking boots, long sleeves and long trousers to protect yourself from insect bites, and also to wear some high wicking clothes that dry easily as jungles are very hot, rainy and humid.
For a detailed list on what to wear in the jungles please also refer to my ultimate packing list for jungles.
In the City
South America has some incredibly beautiful cities, such as Buenos Aires, Medellin, Rio or Arequipa. South Americans who live in cities tend to dress fairly smartly, especially when they go out at night.
To blend in more bring a couple of smart looking clothes with you, such as girly tops or blouses. I also love the new dress range from Icebreaker. They look polished, and if combined with tights and a cardigan they are warm enough for colder climates, and they also cool you down in hotter climates.
I also recommend taking some chiffon-type tops and blouses with you, as they don't crease and fold up really small too. Combined with a pair of jeans (I know, I know-a controversial one) and some nice sandals or ballet flats, those type of clothes will be a nice change to the typical backpacking South America travel outfits.
And let's be honest Ladies, who doesn't like to dress up occasionally?
Please visit TFG's South America Packing Lists for more clothing ideas.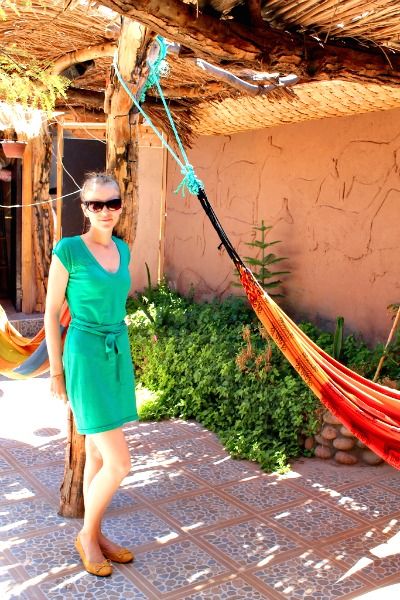 Tammy in her cute and functional Icebreaker merino wool dress
Toiletries
Apart from the usual, such as toothpaste, shampoo and your make-up kit, I'd also bring some body lotion, hand cream and lip balm with you, should you visit cities in the Andean region.
The air is often so cold and dry that your skin will get very dry too. If you are over 30 you may also want to consider bringing your trusted anti-wrinkle cream with you. The strong Andean sun can be very damaging to your skin and I definitely noticed my wrinkles developing much quicker over here than in Europe.
If you are a contact lens wearer also bring some . The dry air can be a killer on the eyes otherwise.
Read these posts for more travel beauty tips.
Other Gear
A few things that have come in really handy while backpacking South America stay are my silk sleeping bag liner (there are some really gross hostel beds in South America, plus it adds an extra layer of warmth should you need it), music and a good book for those long bus journeys, a deck of cards (came in handy in remote places without wifi such as Uyuni), and a money belt (I put my credit cards, iPhone and spare cash in it during bus journeys or if I go out at night).
I wouldn't bother bringing any jewelry. You can buy the most gorgeous, hand-made jewelry all over South America, and if you are anything like me, you will probably buy loads too, as I just can't say no to sparkly things.
As you can see, you will probably need to bring a few more items of clothing to a trip to South America because of the many different climates, but that doesn't mean that you need to carry an 80l backpack with you. If you take a few selective items of clothes with you that can be combined well and can be worn as layers you should be able to fit everything into a 50-65L backpack easily.
Shop The Post
---

---
So now I want to hear from you ladies, what is your must-have item for a trip backpacking South America?
---
For more packing tips on Backpacking South America, please read:
Suggested Travel Resources:
---
Hope you enjoyed these packing tips for backpacking South America. If you found them useful, please share it with your friends on Facebook, Twitter, or Pinterest. Thanks for reading!
---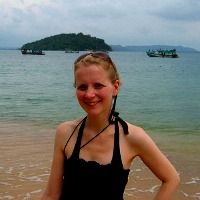 Author Bio: Tammy is a travel blogger and adventure junkie. She has endured the Everest Base Camp trek, abseiled down a skyscraper, cycled down the world's most dangerous road, and trekked through the mosquito infested Amazon jungle. You can follow her adventures on her blog Tammy & Chris on the move or on Facebook, Twitter, Instagram or Pinterest.
---