Support TFG by using the links in our articles to shop. We receive a small commission (at no extra cost to you) so we can continue to create helpful free content. As an Amazon Associate, we earn from qualifying purchases made on Amazon in addition to other retailers featured on the blog. Thank you, we appreciate your support!
After reading about Adea's line of travel friendly basics in Eternal Wandering, I was eager to check out their products for myself and was excited when they offered to send me a sample of their Bra Friendly Camisole tops for review.
Adea is known for their "everyday luxury" wardrobe basics that provide simplicity in style and function. Learn more about their clothing my visiting their website: My Adea
Since I spend the majority of my travels in destinations of over 85F / 30C it is crucial to have stylishly comfortable clothing. Adea's line is known for its lightweight, breathable, moisture-wicking, and pilling, fade resistant fabric. With the promise that the clothing dries in less than one hour and is durable enough to withstand long term use, this brand sounds perfect to me!
But does it pass our test? Keep reading to find out if it's TFG Approved!
---
Bra Friendly Camisole Tops By Adea 
---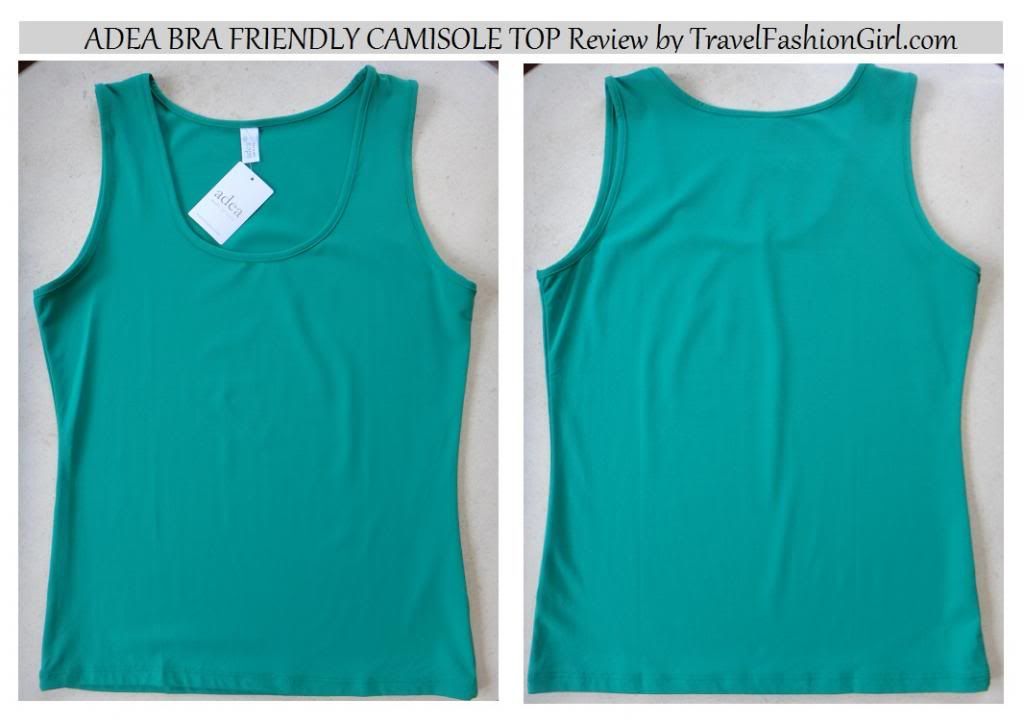 Fabric
Upon receipt I instantly noticed the softness of the fabric. It felt luxurious to the touch which Italian fabrics are known for. It was incredibly lightweight and is constructed to use minimal space.
To put the camisole to the ultimate test, I wore it to the gym the day I received it and put it through a 2 hour sweaty workout through my Zumba and Step classes. Although it was moist to the touch it didn't show my sweat at all and even maintained its shape after all the moving and shaking I was doing and didn't stretch out like some cotton tops.
After the workout, it was dry within the hour as promised. Its moisture-wicking quality fabric proved itself to be top of the line – important for both hot climates and to air dry quickly.
While the fabric isn't sheer it is thin so a plain t-shirt bra would be the right undergarment to pair with the camisole. When I wore it to the gym with my sports bra, it revealed a bit more than I wanted to show as I walked into the air conditioned facilities.
As promised, after machine washing the top I air dried it outdoors on a sunny afternoon and it was dry in less than one hour. Major plus!
Details: Adea uses high-end Italian fabrics to create pieces that reflect fine quality, expert tailoring, and impeccable fit. It is said to be wrinkle-free and have UV protected material of 50+ which surpasses that of regular cotton. Consumers can easily care for the items because they can be machine washed and air dried in under an hour.
Fit
I ordered the size 3 and 4 because the reviews made it seem as if the line runs small. I usually wear a size small in tops or a USA size 4 / Europe size 8 and the Adea size 3 fit me best. I prefer a more fitted look. With my petite frame – anything too loose overpowers my stature and isn't flattering. With that being said, I do like the overall fit of the camisole and I'd wear it alone paired with shorts, jeans, and skirts.
The only issue with the top is the same issue I experience with most European brands so it has nothing to do with Adea. I have a short back so tank tops tend to bulge out near my underarm as you can see in my pic below.
2015 UPDATE: Adea has now updated the design of their cami and it is now a perfect fit! I also went down a size to two.
Details: Adea's layering garments and intimate apparel feature a European fit and high-end Italian, "intelligent", all-direction stretch fabric. Each item is designed to enhance and smooth a woman's silhouette while contouring her curves. Sizes available are 2-7. Review their sizing guidelines here.
Style 
One of the things I like most about this top is the coverage it provides. These camisole tops have a sleeveless cut but still offers a modest look that can take you from cities to beaches and small towns. Most notably, the back is fully covered which I LOVE! It's very hard to find a tank top nowadays that doesn't show your bra or bra straps.
I also like the front cut of the camisole as well. It's not a boat neck; it's a rounded neck – low enough to let you breathe but high enough that your cleavage isn't hanging out (at least in my case with a size 3).
The classic style and cut gets high marks in my book!
Details: Adea's long lasting layering tops consist of high end basics that are designed to withstand the test of time, and in many cases outlast a woman's taste.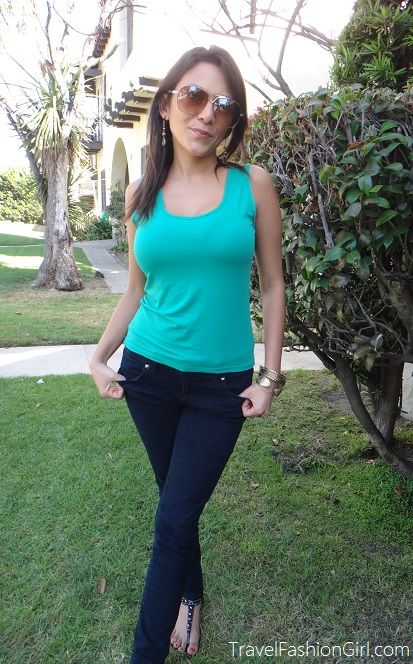 Colors
In an attempt to expand my mostly black and blue wardrobe, I ordered the Emerald green from their new Spring/Summer 2013 collection which is absolutely stunning. Fortunately, the color shown online is the same as the actual piece which I was relieved to see because I really liked this vibrant green shade. From what I can tell, Adea's buttery soft fabrics will look good in any color you choose so even if you choose a bright or pastel it can still act as a basic due to it's classic cut and fabric.
Details: The Bra Friendly Camisole is available in Black, Off White, Nude, Navy Blue, Pewter, Lilac, Tortoise Shell, Dark Navy, Sky Blue, Chiffon, Carnation Pink, Espresso, Sherbet, Seafoam, and their Spring/Summer '13: Emerald, Linen, Coral.
The Verdict
If you're a woman that likes investing in classic, long lasting pieces, these camisole tops are definitely worth considering. As a traveler, there's nothing more important than having pieces that are durable, provide functionality through lightweight, quick dry fabrics and also make you feel good when you wear them.
September 2015 Update: I've been traveling with Adea tops for two years now and they are amazing! Read about why I love their clothing in my most recent review!
To shop or learn more about this top, please go toAdea.comand follow them onPinterest,Facebook, andTwitter. Adea has a range of luxurious basics that can work as well at home as on a trip.
---
Hope you've enjoyed this review. Please share with your friends on Facebook, Twitter and Pinterest. Thanks for reading!
---
This review is on behalf of Adea however, all my opinions are my own.