This post contains affiliate links. Visit our Disclosure page for details.
Travel Fashion Girl promise: we only work with companies we know you'll love so you can rest assured, when we say we like a brand, we mean it! "Winter Shopping" is brought to you by CJ Affiliate's VIP Content Service. Thank you Sierra Trading Post for sponsoring this post. While this was a sponsored opportunity from Sierra Trading Post, all content and opinions expressed here are my own.
Traveling this winter? Not only is it a great time to travel with prices cheaper than in the summer but it's also a fantastic time to enjoy the dreamy winter scenery.
While you might save money on your flight and hotel, the one thing that may worry you is the price of cold weather gear but not to worry! I've found the perfect place to find the best travel and outdoor brands at prices you'll love.
Take a look at my budget-friendly winter shopping!
---
Winter Shopping on a Budget
ADVERTORIAL
---
Ever shopped at Sierra Trading Post? I hadn't until recently and I couldn't believe how affordable winter travel clothing could be.
Popular Icebreaker thermals for half the price, stylish waterproof jackets under $100, packable down jackets for around $50, and the list goes on and on.
Usually you have to wait for these deals until winter's over but this online retailer has saving year round.
My Winter Shopping Haul
With thousands of adventurous finds for less, I thought I'd challenge myself to try to find everything I needed to survive the cold UK winter for under $150. And I did!
Here's how:
Timberland Mount Madison shown with Ibex Woolies Top
➊

Warm Outerwear
My first priority was trying to find a cute but warm down jacket. I've been struggling to stay warm here in England the past couple of weeks. I've realized that I not only wanted a practical jacket but I wanted something that I could wear in the city not just a mountain.
Surprisingly, Sierra Trading Post had a wide variety of clothing lines, in addition to traditional "travel" brands.
I was also impressed at how easy it was to navigate their options and find exactly what I was looking for. They offered a nice range of sizes including petite and plus size, too.
Having clothes that fit you properly is one of the most important aspects of dressing stylishly. If you're buying a jacket and it's too big for you, it will look frumpy and that's not the look you want.
In my case, at 5'2", I try to shop in the petite section whenever possible so I can find items that fit my arms and back. The other option, no matter what your size, is to find a good tailor. (That's the key to a "European" look!)
I used Sierra Trading Post's ultra-mobile friendly website to shop. Loved how easy it was so I took some screenshots to share with you (shown above).
I found two red jackets I fell in love with and they were both by Timberland:
Plus, they BOTH had an awesome price tag!
I really wanted a colorful jacket to infuse life into my neutral travel wardrobe and had my heart set on red to easily blend in with my palette of white, heather grey, and black.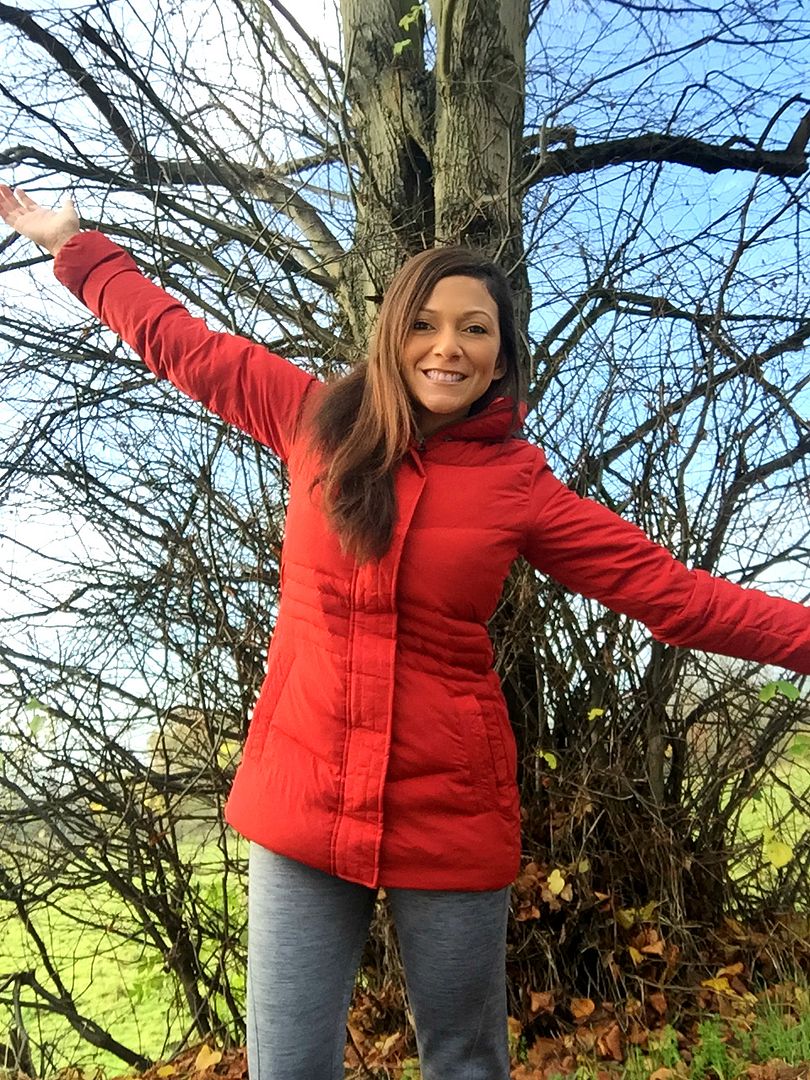 Mount Madison Jacket shown without belt
After obsessing over my decision, I finally went for the Mount Madison Down Jacket because it was something I could wear every single day whereas a rain jacket I would only need if I was planning to spend an extended amount of time outside in the rain.
I opted to have the down jacket in red and knew that I could throw on a waterproof coat (in a neutral color) on it if I needed it.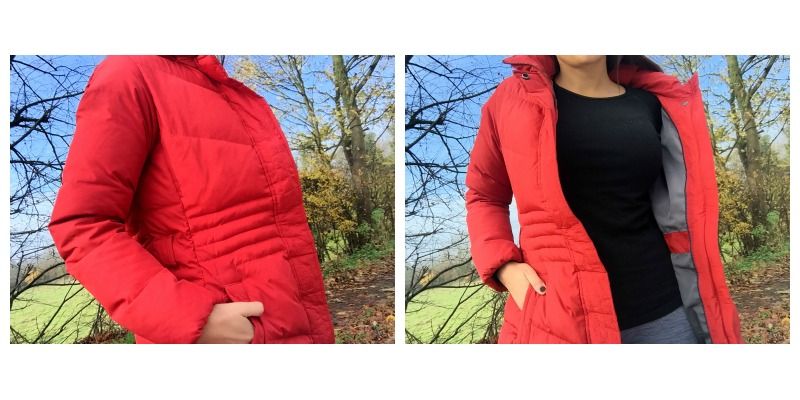 It was amazing! The jacket was so beautiful and feminine plus it keeps me so warm, too. I couldn't be happier with my decision! I've gotten many compliments.
The red is the perfect accent color for my neutral capsule wardrobe.
Next I went for the second most important item for cold weather travel: thermals!
➋

 Thermals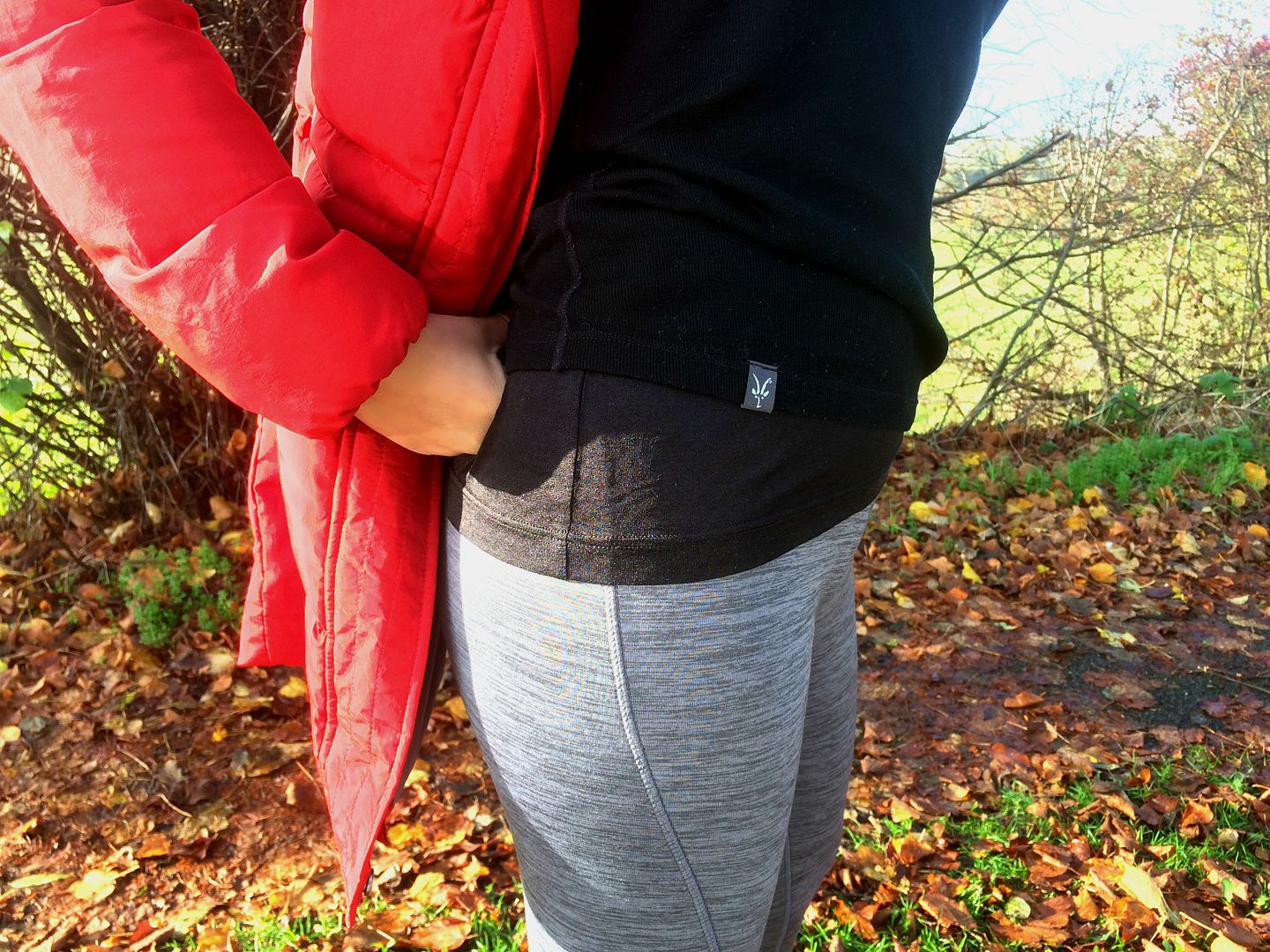 Did you know that thermals are the smart traveler's secret to packing light in cold weather travel?
By wearing them underneath all your clothing it ensures that the layer closest to your skin works hard to help you stay warm while the jacket you wear on the outside prevents the cold from coming in.
Everyone raves about merino wool thermals and they have truly saved me on the coldest of days in England.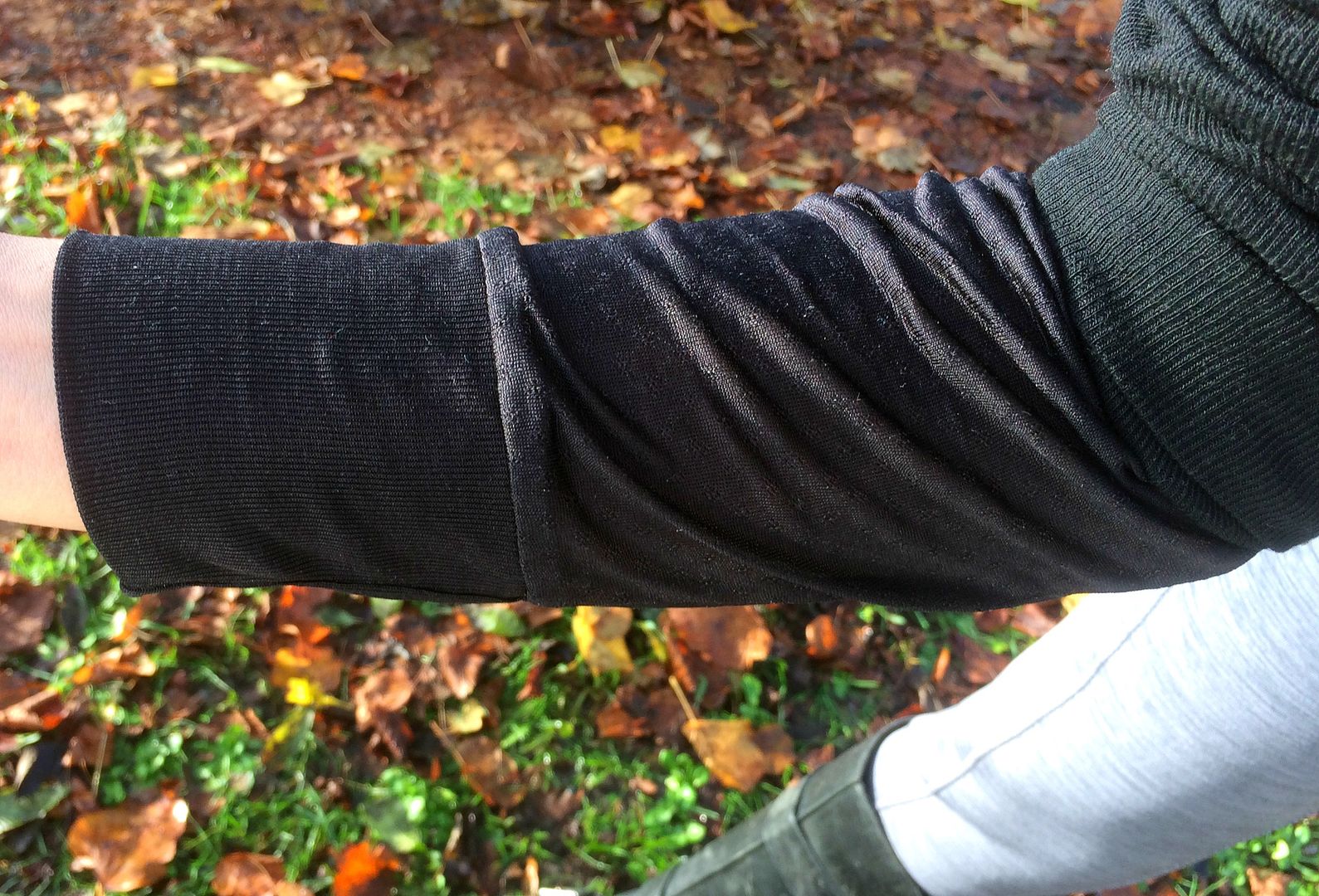 Layered correctly as I explain in this post it means you won't have to pack as many heavy or thick winter items – only the essentials: an awesome jacket plus thermals.
The key is to find thermals that are made out of either merino wool, synthetics, or silk – NOT cotton – for the reasons explained here. 
I've been dying to try ones made from silk and was super excited when I found them at Sierra Trading Post for a bargain!
Sportsilks Top / Sportsilks Bottom
I bought the Terramar Sportsilks Base Layers and they were incredible. I can't believe I'd waited so long to get them.
The best part is that they're ultra-thin which means I can wear them under my merinos if it's extra cold and they won't take up any suitcase space. Seriously, they are so compact.
You can even double up on warmth by layering UNDER merino wool thermals or fleece. Talk about packing light and staying warm in cold weather without any bulk!
Wearing these silk thermals underneath all my clothing has upgraded my winter experience in the most amazing way!
Watch the Facebook Live (above) where I feature all these products and show you the exact size of these thermals!
Savings Hack
After adding both the Timberland Down Jacket ($79.99) and Silk Thermals ($24.99 + $24.99) to my shopping cart, I had all the winter essentials I needed for under $130.
But I had one secret up my sleeve: the 20% discount Sierra Trading Post offers when you sign up to their newsletter!
With the discount, I knew I could squeeze in one more item to achieve my goal of getting completely geared up for under $150.

I decided to go for the one item I've been wanting since I got to England: fleece leggings.
➌

 Fleece Leggings
Avalanche Wear Aurora Fleece Leggings
Female travelers love wearing sweater dresses or long warm tunics for winter travel.
Why? Because not only do you get to feel ultra-fem but you can save space on having to pack heavy bottoms such as jeans.
My goal was to find the perfect pair of leggings I can wear all winter and layer over my silk thermals. My plan was to alternate them with one pair of jeans so I could save space while creating a diverse winter wardrobe.
Because I love wearing black jeans, I didn't want black leggings so I went with the Avalanche Wear Aurora Fleece Leggings in Silver Spacedye (grey).
Loved them!
Not only were they ideal to wear in the city, they were also versatile enough that I could wear them hiking too! And…they are sooo comfortable.
At $19.99, they were the final addition to my shopping cart. And that's where the extra savings kicked in.
Final Price Tag
The total for the four items was $149.96 NOT including tax ($11.99) or shipping ($13.50) which was an additional $25.49.
After I applied my 20% newsletter discount, my winter shopping total came to $143.51 – challenge achieved. LOVE IT.
Get free shipping with purchases over $75 using the code ACJDEC6!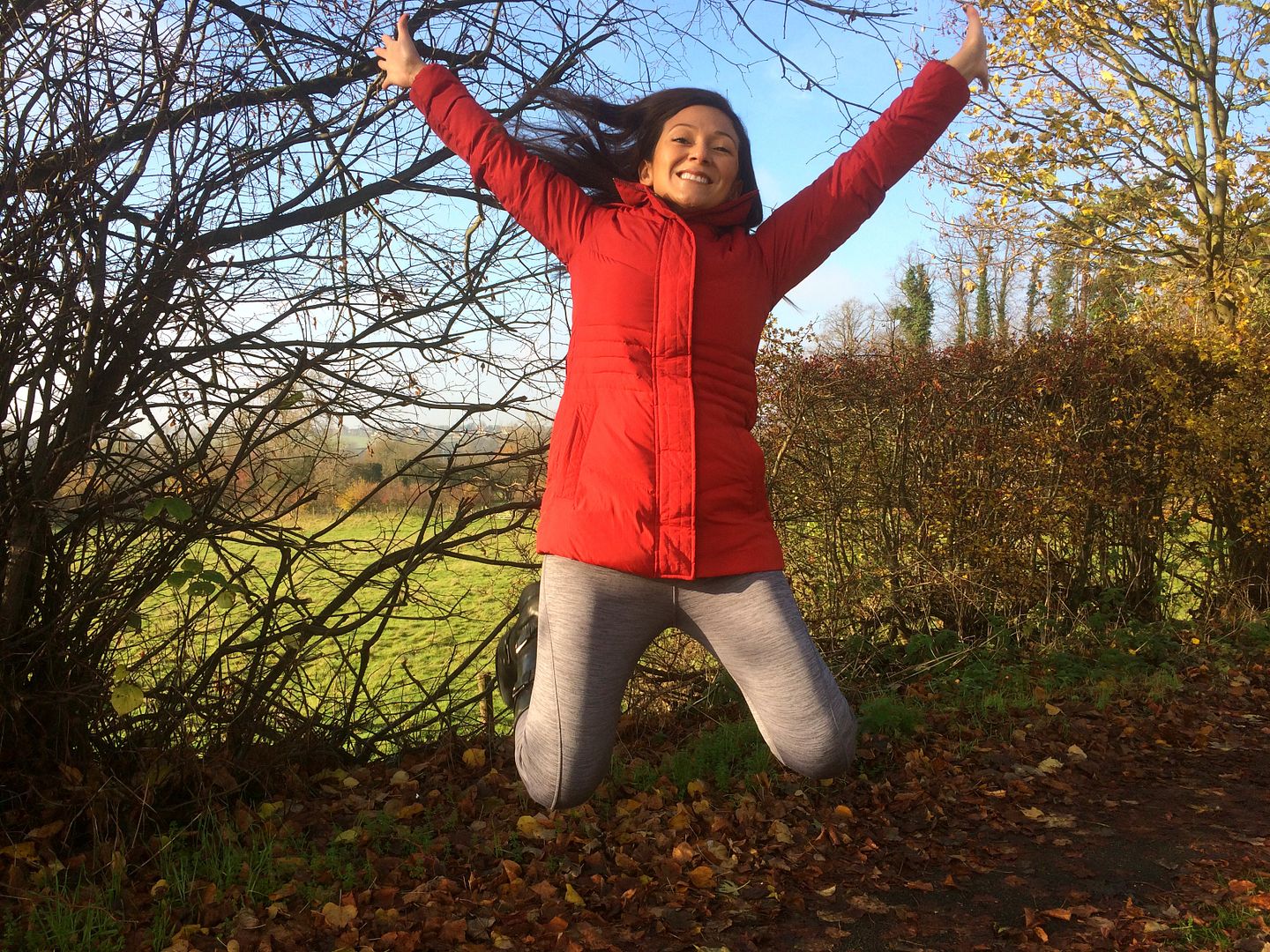 I'm very happy for the opportunity to have gotten to know Sierra Trading Post because now I know where to find the best savings for winter travel clothing.
Their motto is "Adventurous. Affordable. All Day, Everyday" and they truly have proven that to be true.
Ready to find your own budget-friendly winter wardrobe essentials? Shop now!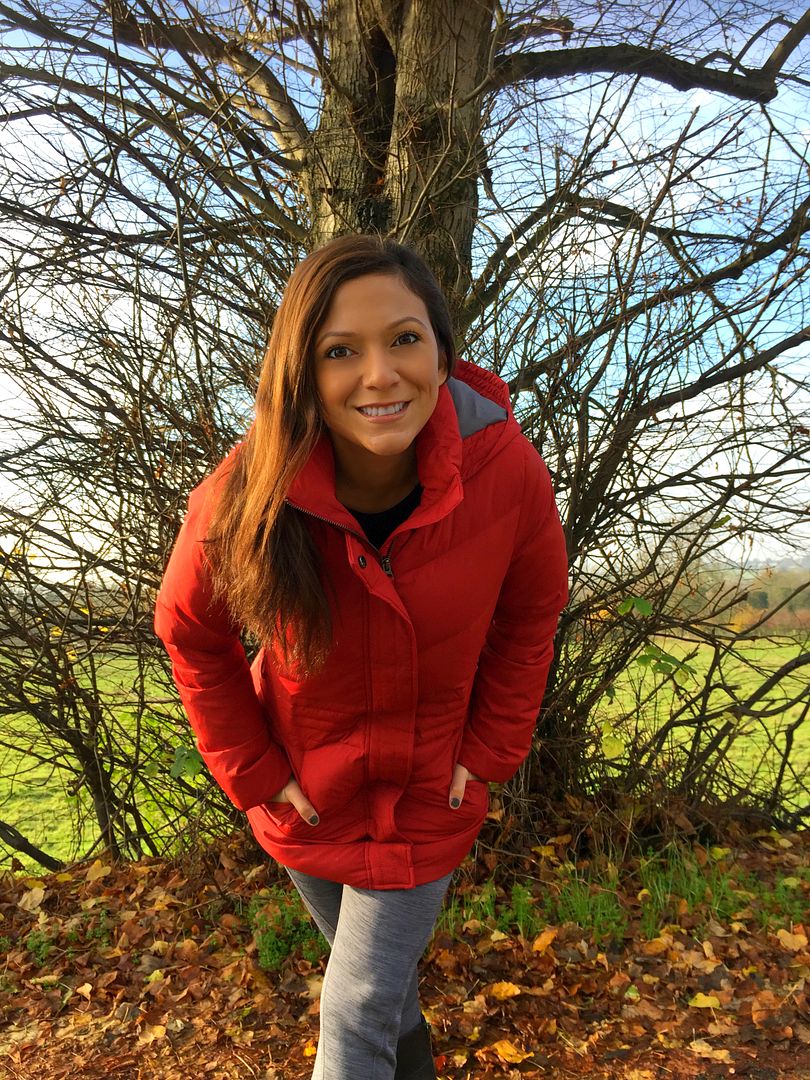 ---
Read more about my cold weather strategy and how to stay warm in winter here! What are your tips? Comment below!
---
LIKED THIS POST? PIN THIS PIC TO SAVE IT!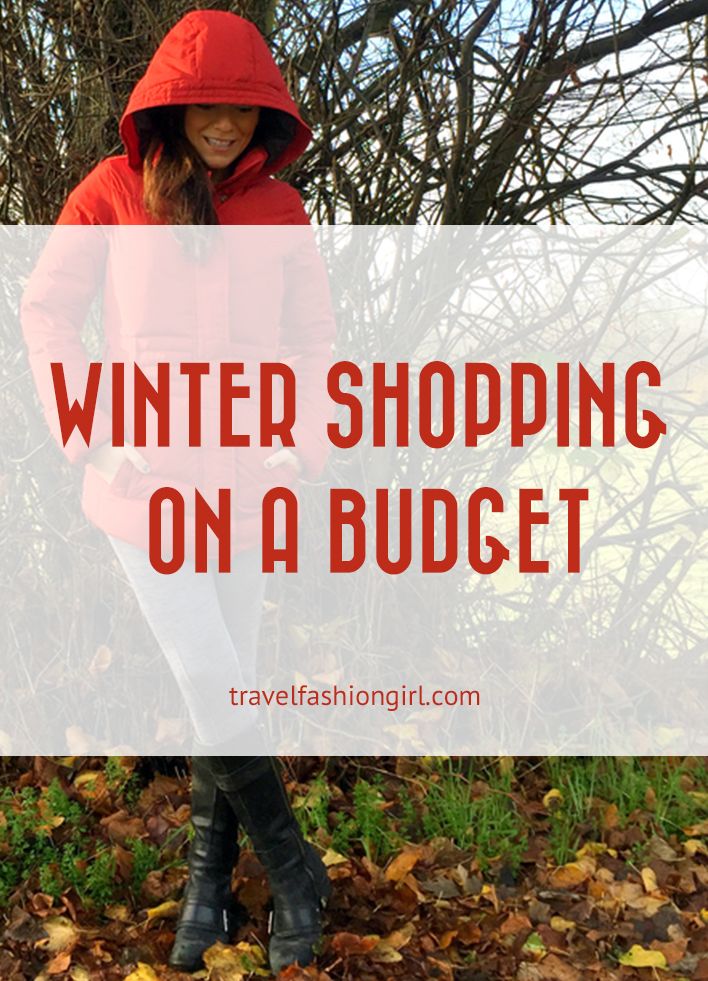 ---
For more winter shopping, please read:
---
I hope you enjoyed this post on winter shopping on a budget. Please share with your friends on Facebook, Twitter, and Pinterest! Thanks for reading!
---
Liked this article? Check out similar posts: