Support TFG by using the links in our articles to shop. We receive a small commission (at no extra cost to you) so we can continue to create helpful free content. We earn from qualifying purchases made to the featured retailers. Thank you, we appreciate your support!
If you're looking for unique holiday gift ideas for families that travel with small children, this list is for you! Check out what's on my list of unexpected travel toys and in-flight entertainment ideas!
---
Travel Gift Ideas for Families with Small Children
---
Table Of Contents
Although I'm an experienced traveler and specialize in packing a suitcase, I also admit that I pack at the last minute. Because of this, I rely heavily on Target's same day delivery to buy all of my last-minute purchases before a trip, including toys and activities to keep my toddler entertained on the plane. 
I feel like an expert on in-flight entertainment for babies and toddlers since my daughter has been on over 50 flights before the age of 2. As an avid traveler, flying is one of my favorite experiences, and a happy baby on a plane makes for a happy travel mom. 
I pack an assortment of toys and activities in my personal item, focusing on things that are small and compact. I choose things she's never seen before or toys I reserve only for flying, so each item is novel and retains her attention longer. The key is to hold out on giving all the toys or activities at once, prolonging the surprises that await throughout the journey.
These are my top tried and tested toy gifts for traveling families, plus a few of my top travel-themed toys for home, too. Some items are on sale for Black Friday, so make sure to shop now before they sell out!
Please note: mini toys may contain small parts and can be choking hazards. Toys for small children should be provided under supervision and based on the corresponding age.
Travel Inspired Toys for Play at Home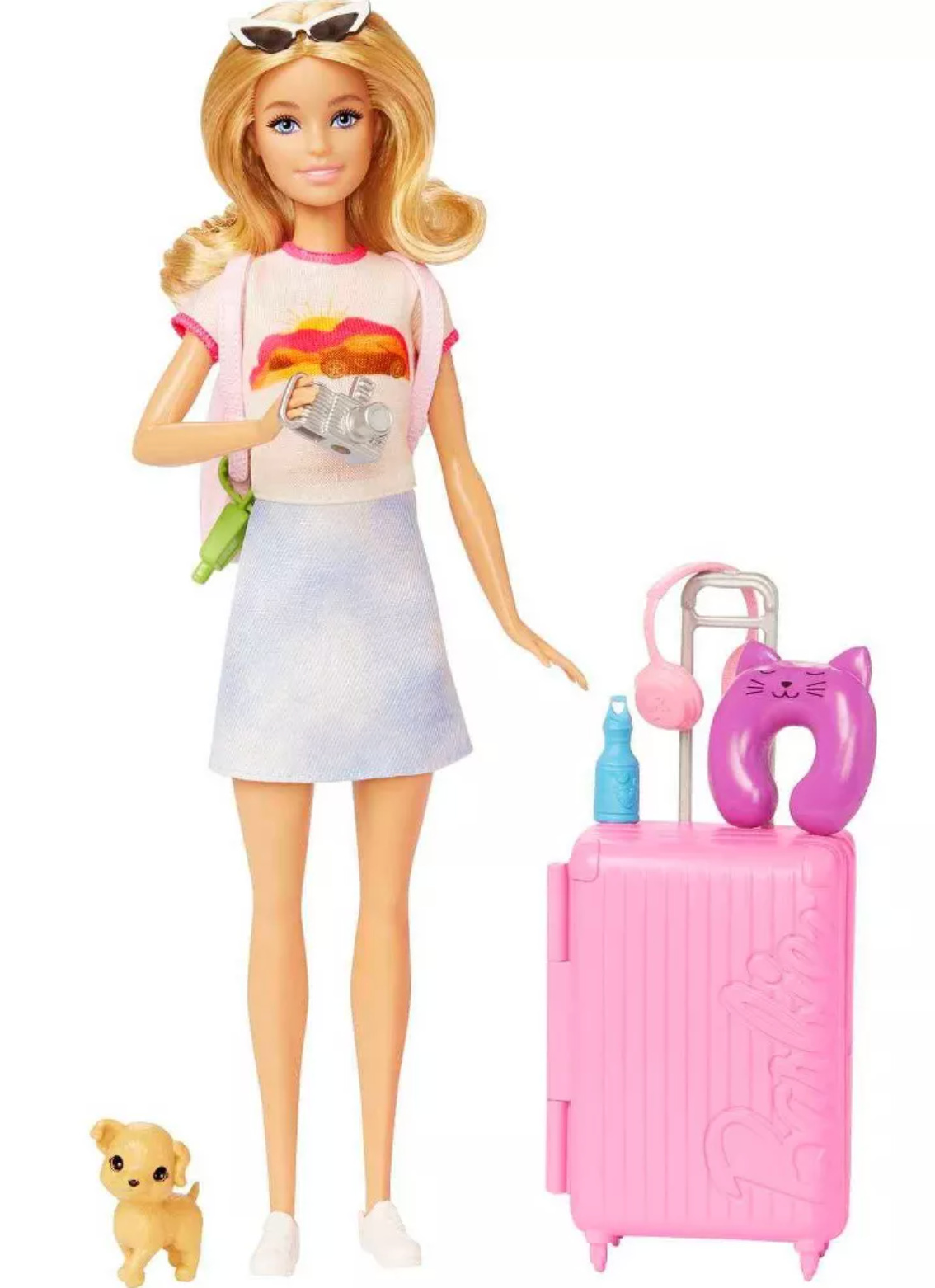 Barbie Travel Set with Puppy, On Sale $12.99 reg $22.99
Barbie Doll and Accessories Travel Set with Puppy
While I don't pack this toy for in-flight entertainment, I love travel-related toys for play at home, especially when it comes to Barbie. Some of my favorite travel Barbie items include the above travel-themed doll, the Barbie Airplane (of course), and the campervan, too! As someone who specializes in packing, watching my child play with a suitcase on a regular basis makes me proud.
Note: I remove any small pieces from sets like this in advance to avoid a choking hazard.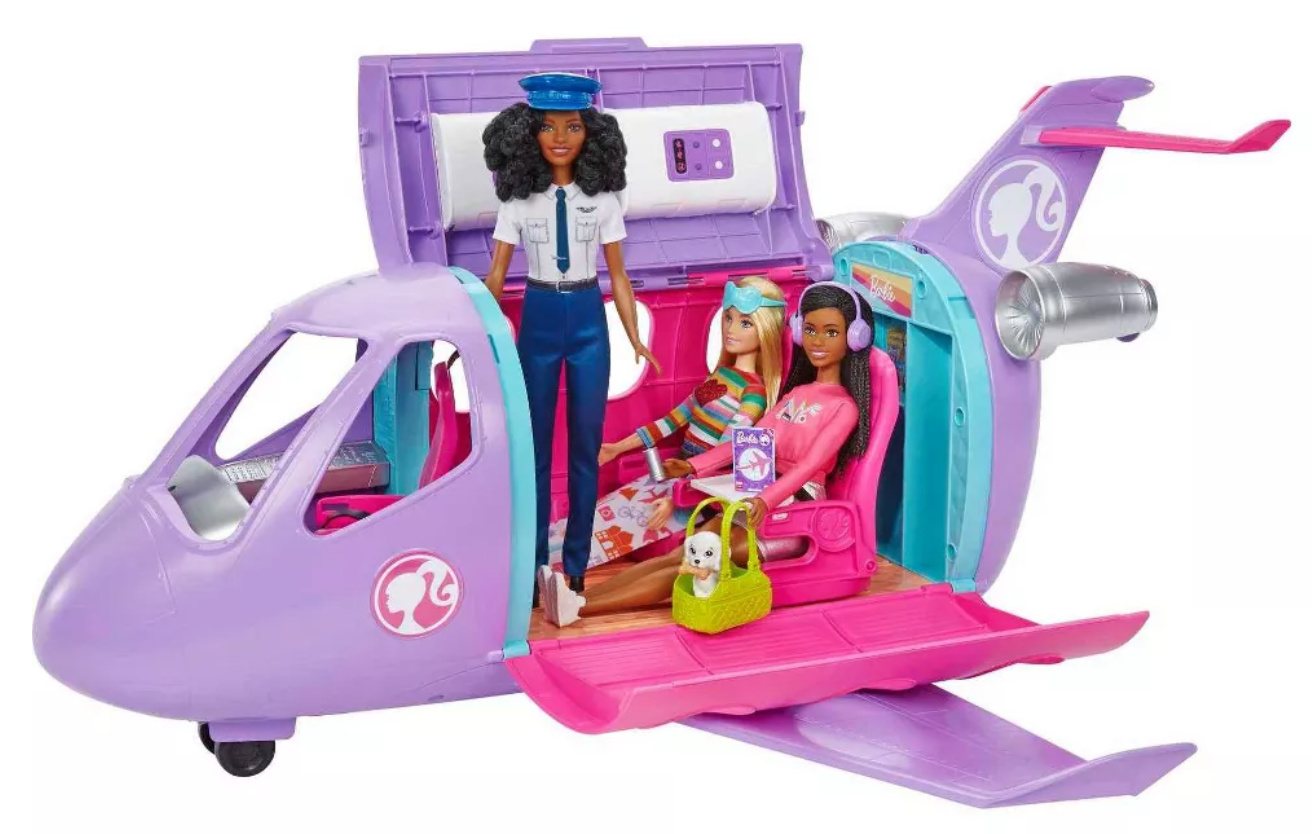 Barbie Airplane Adventures Playset, $84.99
Barbie Airplane Adventures Playset
As soon as my daughter was old enough to interact with Barbies, I started my her collection. The Barbie Airplane was one of her first Christmas presents, and even though she was only 16 months old at the time, she was fascinated by the toy and has been ever since. As an avid flier, it brings me joy to watch her pack clothing for the dolls in their suitcases and then place them all on the plane for a fun Barbie adventure. So cute!
Favorite In-Flight Activities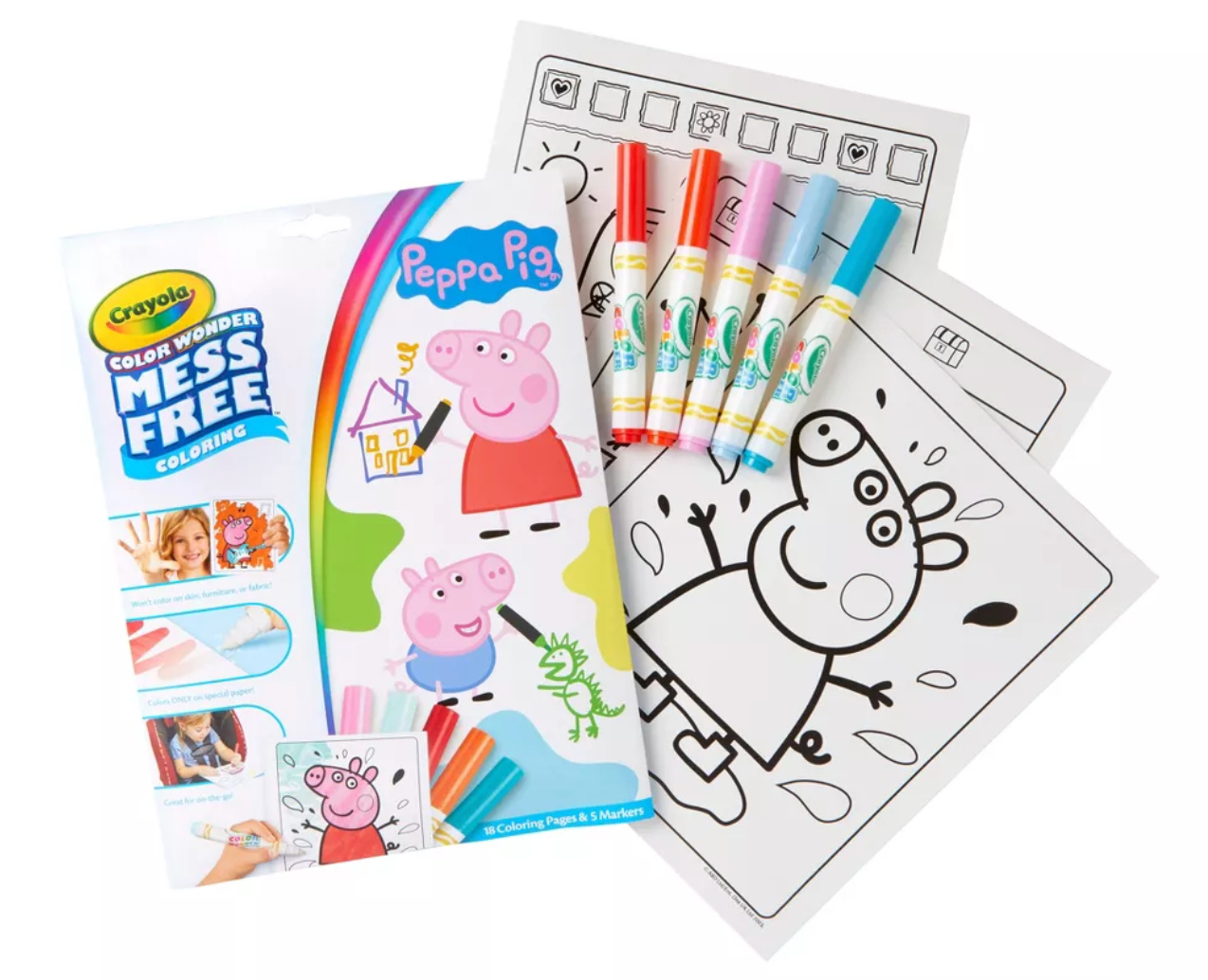 Crayola Peppa Pig Coloring Set, $8.99
No-Mess Markers and Coloring Book
I like to bring at least 2-3 different activities such as coloring books, toddler activity books, or colorless marker sets like the one shown above. This is perfect for travel because the pack is lightweight and thin, plus you don't have to worry about the plane tray getting damaged.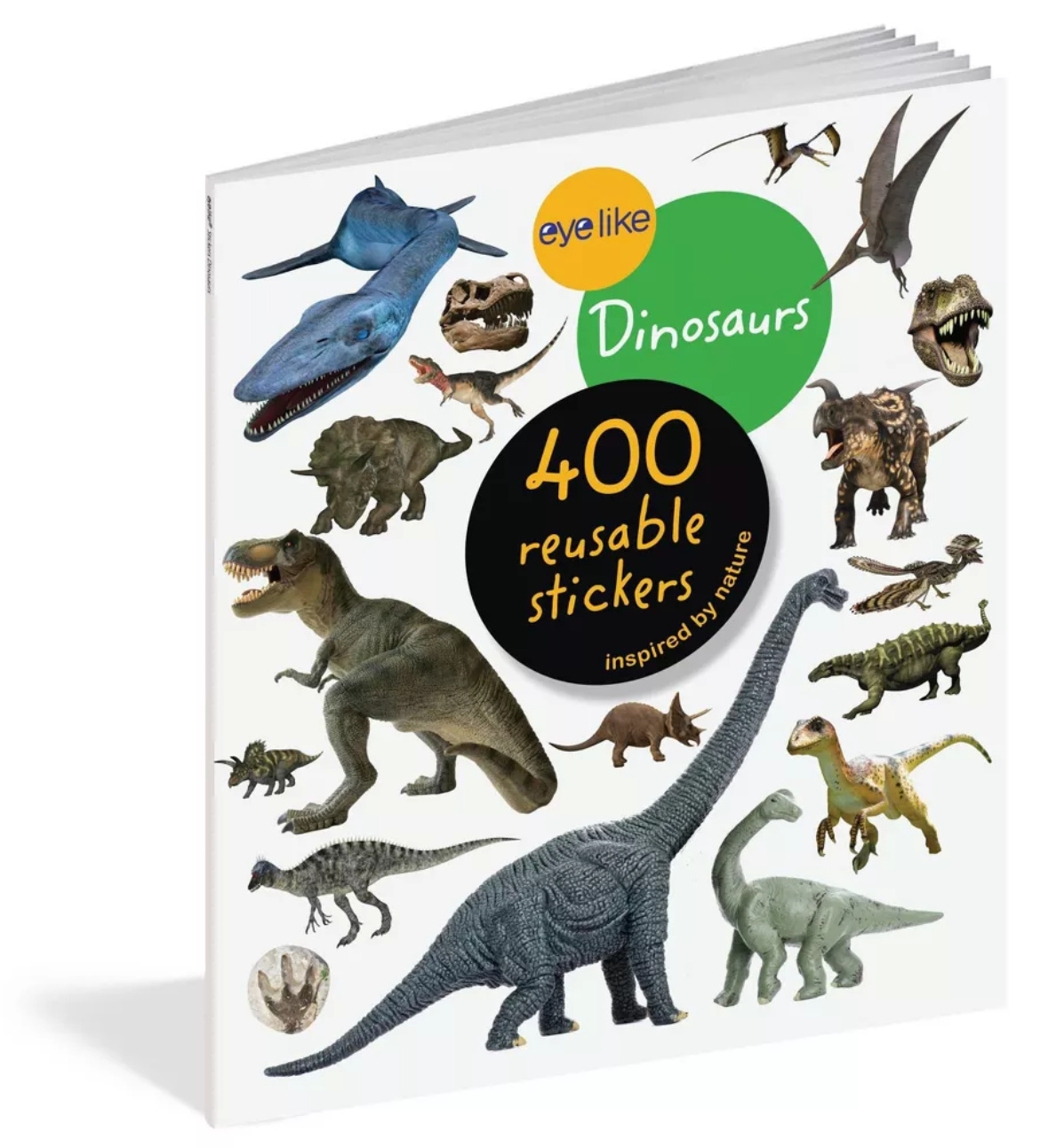 Workman Eyelike Stickers Dinosaurs, $6.59
Reusable or Removable Stickers
One of the best in-flight activities recommended to me was by a flight attendant who told me she gave her son reusable stickers when they flew. She was right! They were a big hit with my little one, too, and I didn't need to worry about damaging the plane. Small sticker books or a sheet of stickers can offer hours of entertainment.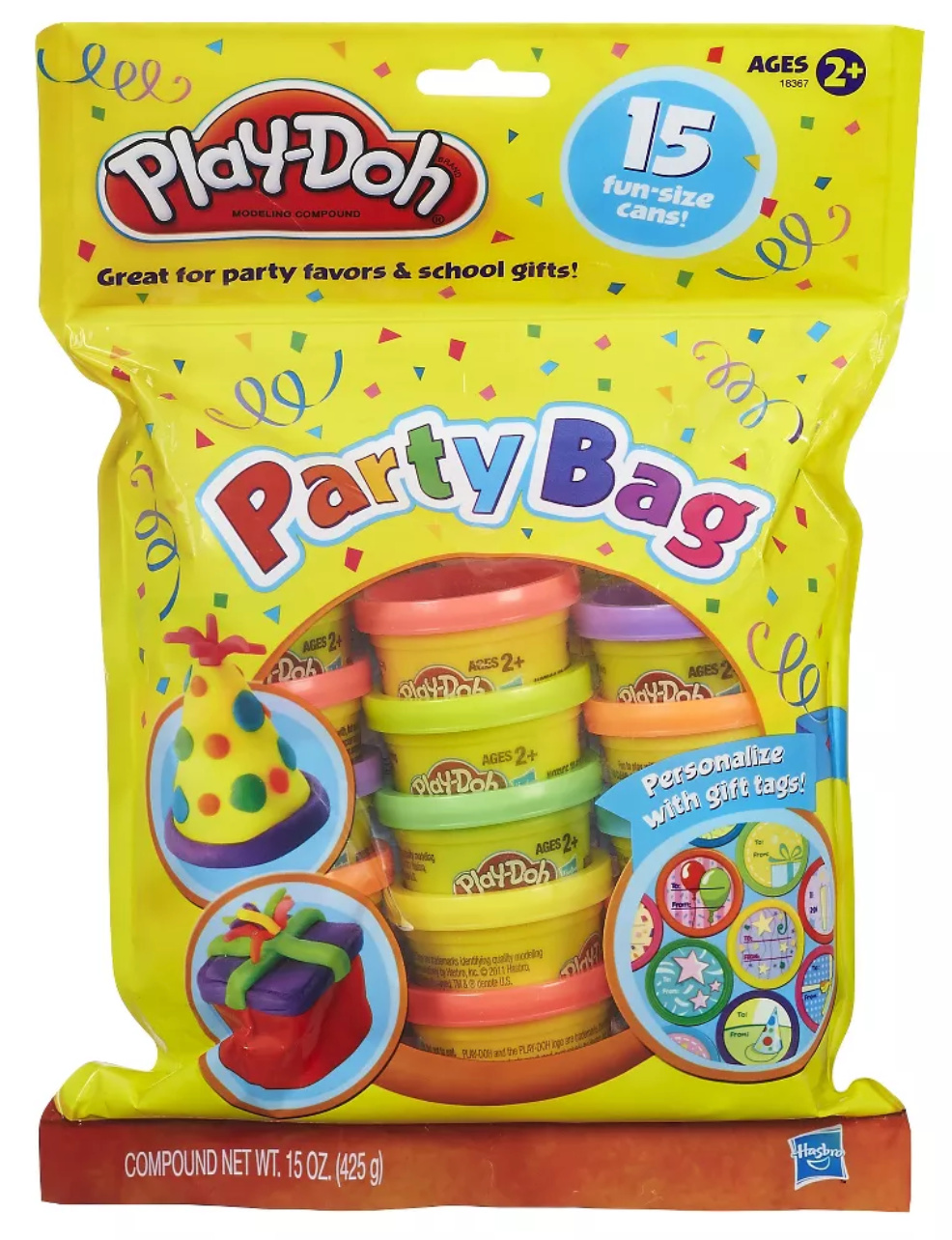 Play-Doh Party Bag, On Sale $4.99 reg $6.59
Play-Doh
Oh, Play-Doh how I love you for flying. This is hands down my FAVORITE item to pack for flights, and it makes the perfect stocking stuffer, too! I usually pack 2 mini tubs per trip and give my daughter half a tub at a time. I do dispose of the used Play-Doh after each trip.
Make sure to bring new Play-Doh for flights to ensure softness and avoid crumbling pieces of tiny doh all over the floor.
Tip: if you see another mom struggling with a bored little traveler, you may consider sharing one of your mini tubs – this can make all the difference in what can be a stressful situation for some travelers!
Mini Toys – the perfect stocking stuffers under $10!!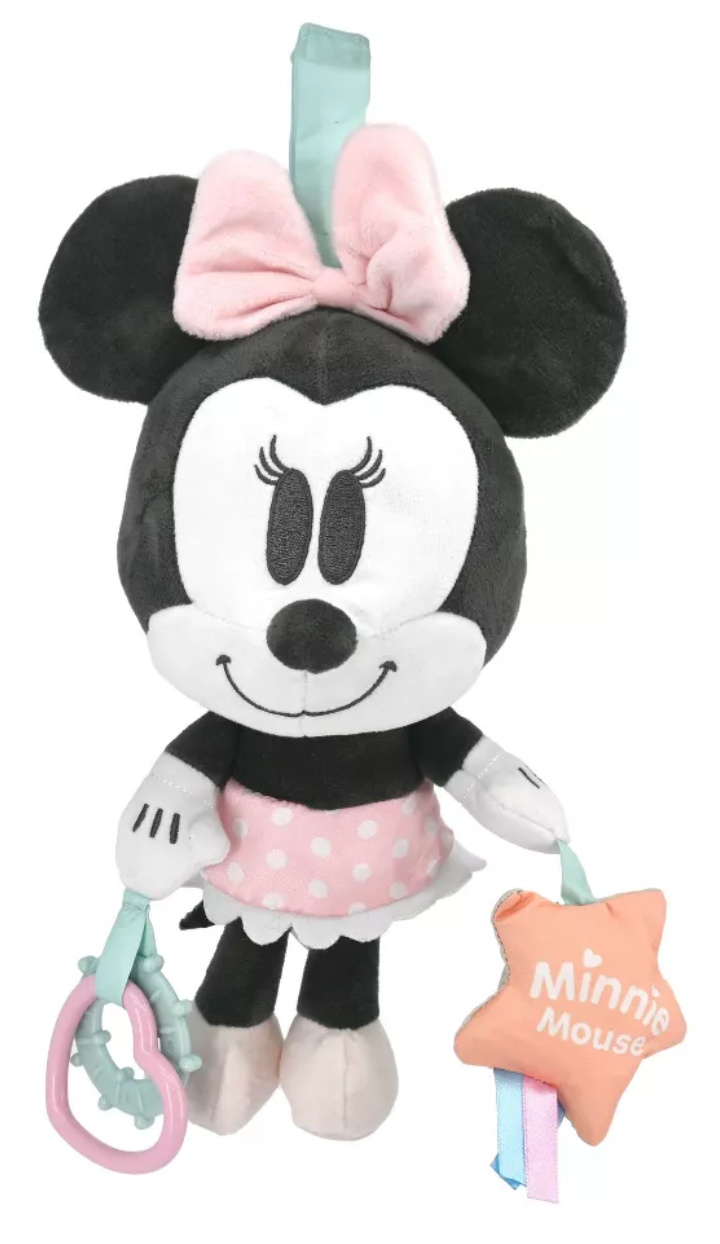 Disney Baby Minnie, $10.00
Mini Stuffed Animal
I usually pack one mini stuffed animal. No matter where we travel, nuzzling a little soft plush toy seems to offer a little extra comfort.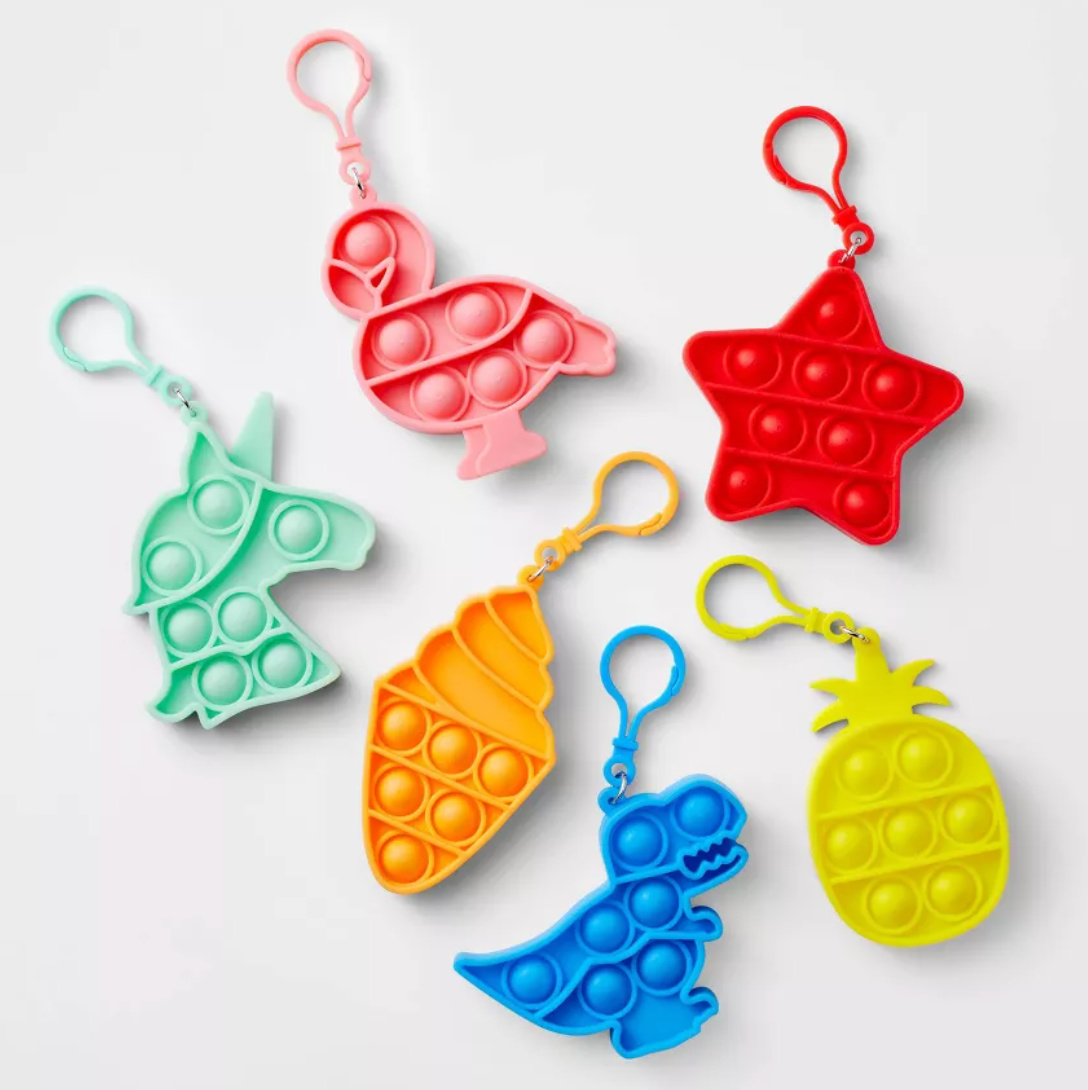 Spritz™ Bubble Pop Keychain Favors, $5.00
Mini Bubble Pop
Bubble pops can offer endless entertainment for small children, including mine. These minis are the ideal item when creating an assortment of in-flight surprises with limited luggage space.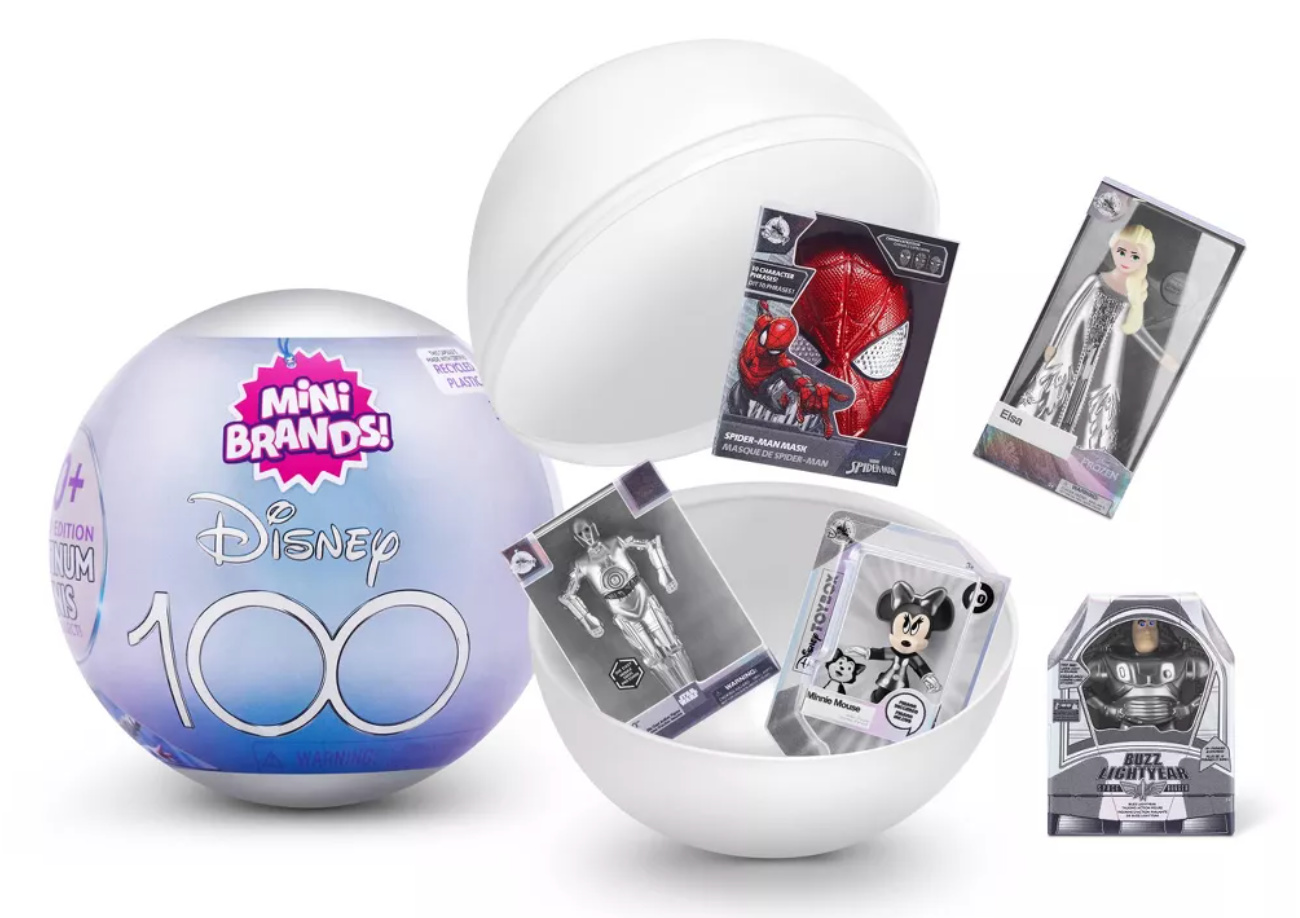 Mini Brands Platinum Capsule Collectible, $8.99
Mini Characters
I like to recreate a regular play experience as much as possible on a flight by using tiny versions of what she might be used to playing at home. With a set like this, I'd either bring one or two of the characters on board the flight and then save the other characters for a future trip to create novelty.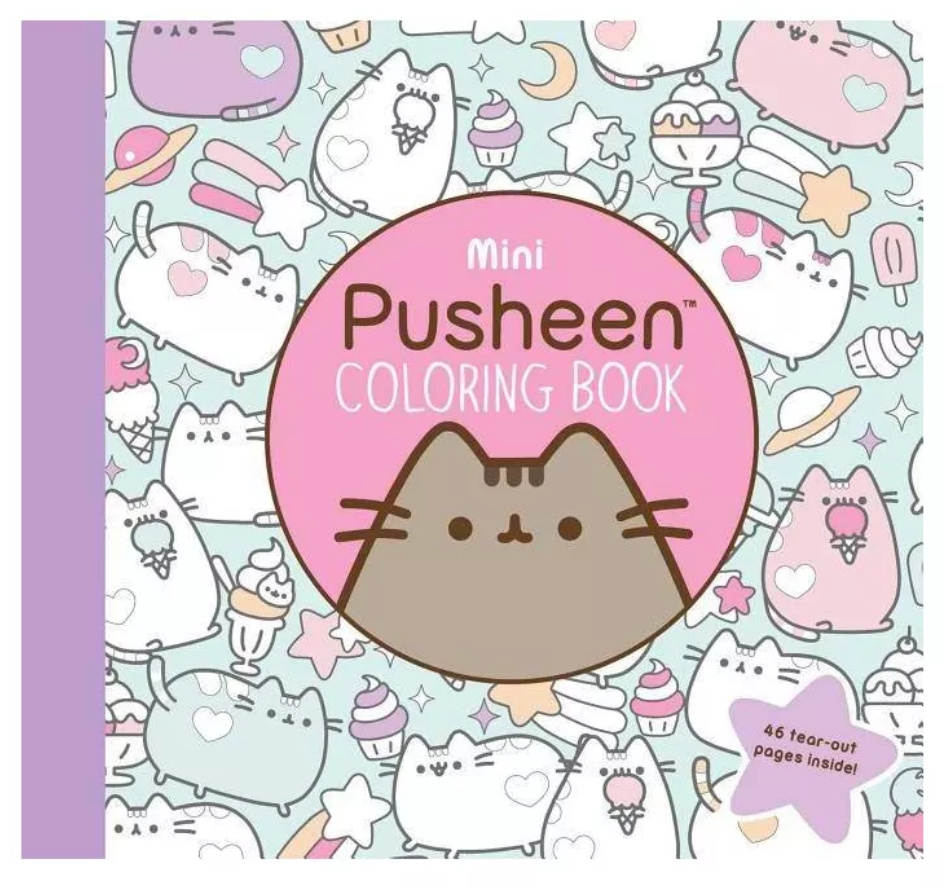 Mini Pusheen Coloring Book, $7.99
Mini Coloring Book
When shopping for holiday stocking stuffers for young travelers, try to find miniature versions of their favorite things. Small coloring books and a handful of crayons are ideal for children who can color on the pages to avoid marks on the plane tray table.
Unexpected Travel Toys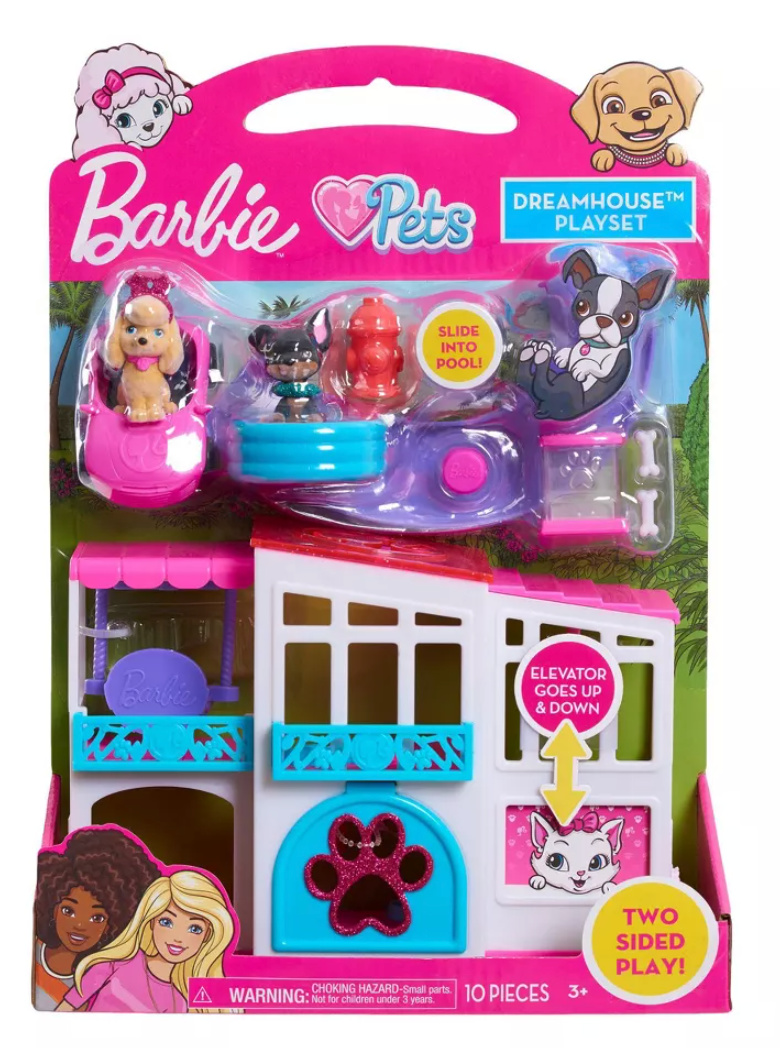 Barbie Pets Dreamhouse Playset, $19.99
Mini Dreamhouse
This is probably the most impractical yet surprisingly practical item I've ever traveled with. It's bulkier than all the travel toys featured in this gift guide, but the Barbie Pets Mini Dreamhouse fits inside my personal item along with everything else I need to bring, so it's well worth the effort. Yes, this toy may be a little over the top to bring on a flight, but I will do anything for a peaceful travel journey.
While I never actually brought this out for my daughter to play with on the plane (she was too enthralled with the previously mentioned items), this mini playset entertained her for hours at our accommodation. 
Note: I remove any small pieces from sets like this in advance to avoid a choking hazard.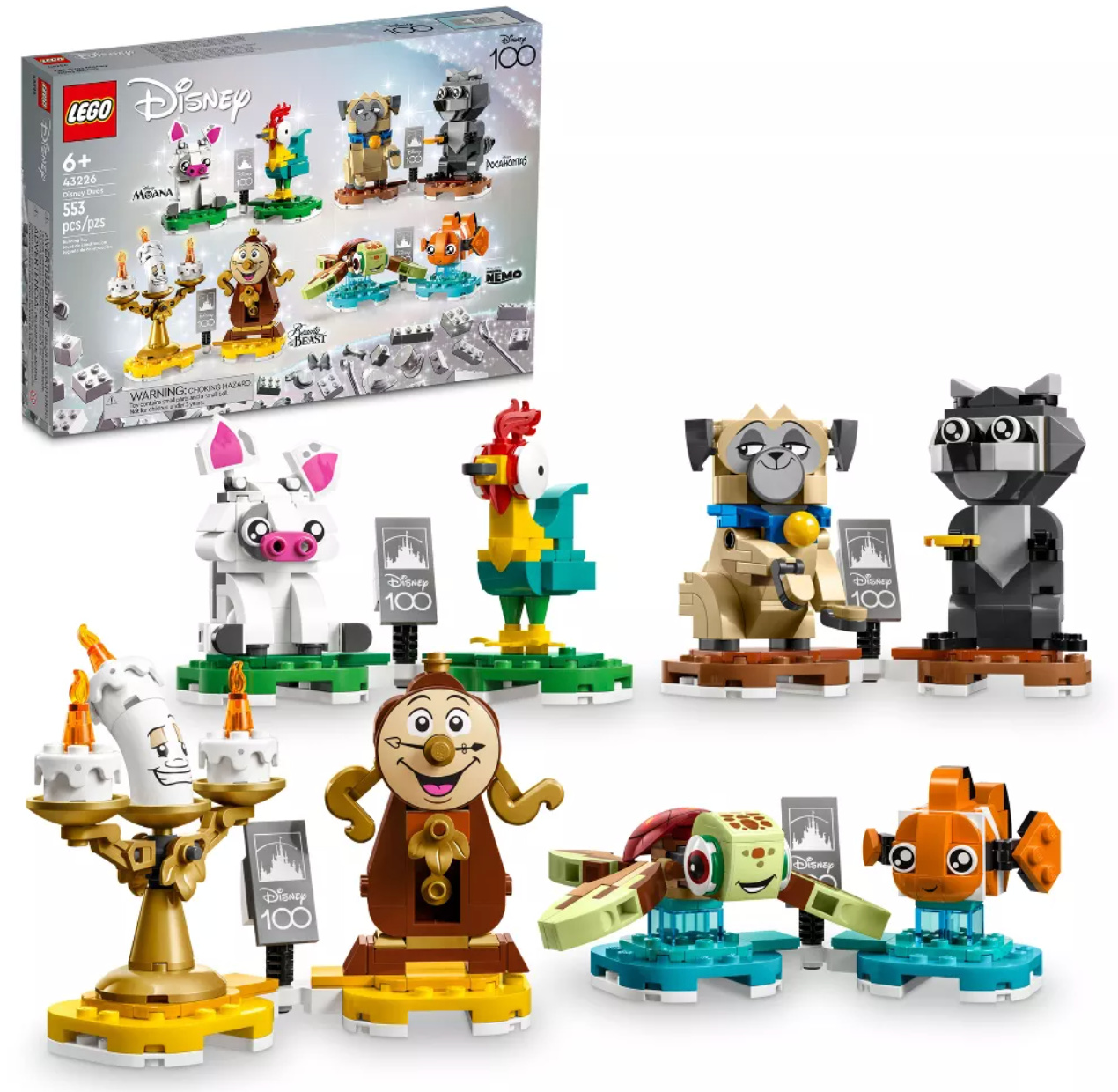 LEGO Disney: Disney Duos Collectible Figures, $44.99
Legos
When my daughter was a younger toddler, I'd bring a pouch of Legos on the plane, so this small set is the perfect option now that she's a little older. I can bring one or two of the characters so she can build them and then play with them together like dolls. I love this concept!! 
This is a new item I'll be packing on my next flight!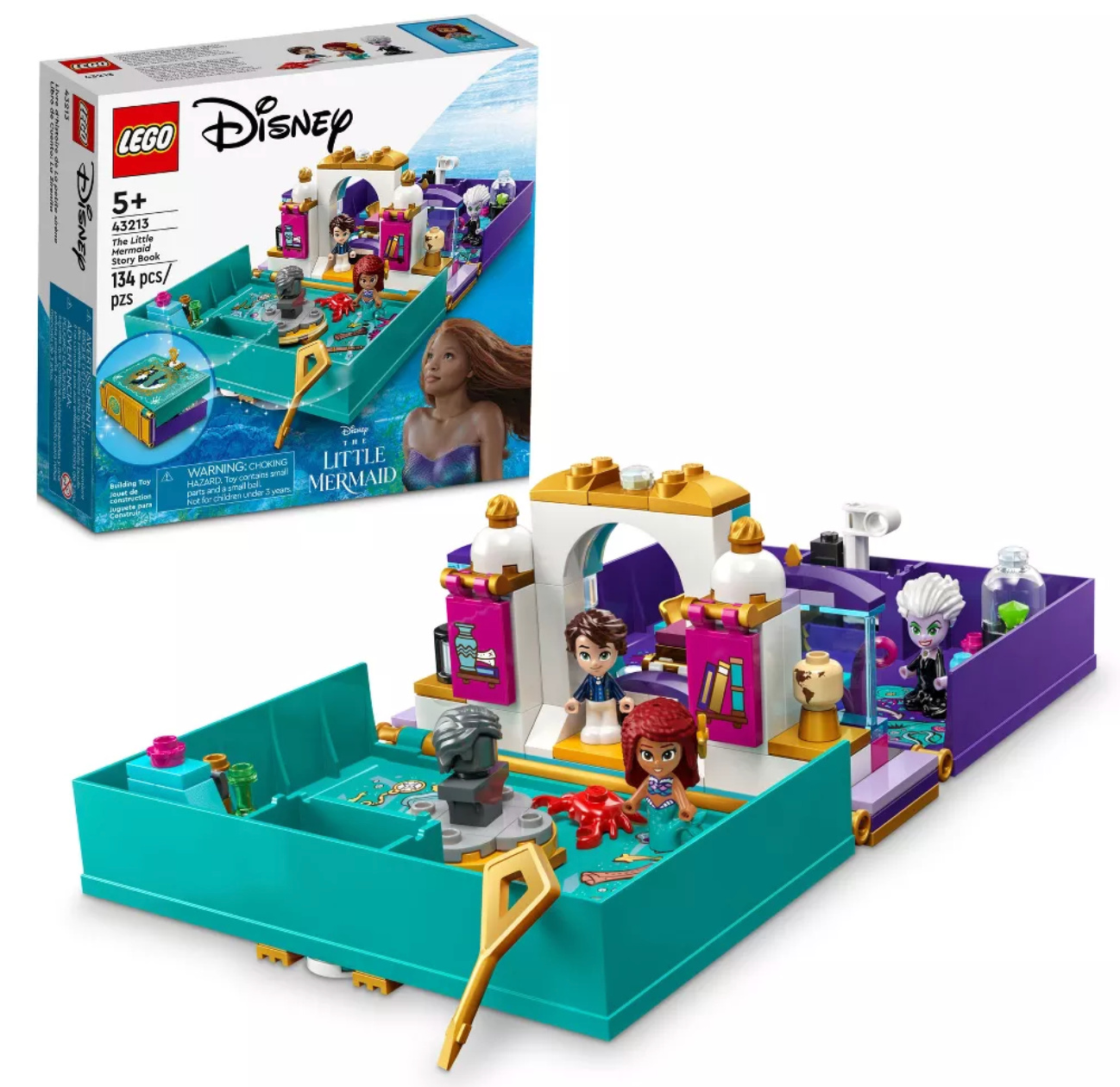 LEGO The Little Mermaid Story Book Building Toy, On Sale $15.99 reg $19.99
Mini Dolls
Similar to the aforementioned Barbie Pets Dreamhouse, this looks like a fun all-in-one entertainment set that has mini dolls and a little world for them to play in. 
Again, I'm a carry-on traveler, BUT I'm also a high-maintenance mom, so I love the idea of these slightly larger toys that are an unexpected surprise for a bored toddler on a long flight, and they're something she can play with at the destination, too. As a plus, the entire thing closes up into a little book for easy storage.
Note: I remove any small pieces from sets like this in advance to avoid a choking hazard. Since this has over 100 pieces, I bring just the essentials that won't get scattered all over the plane.
Tech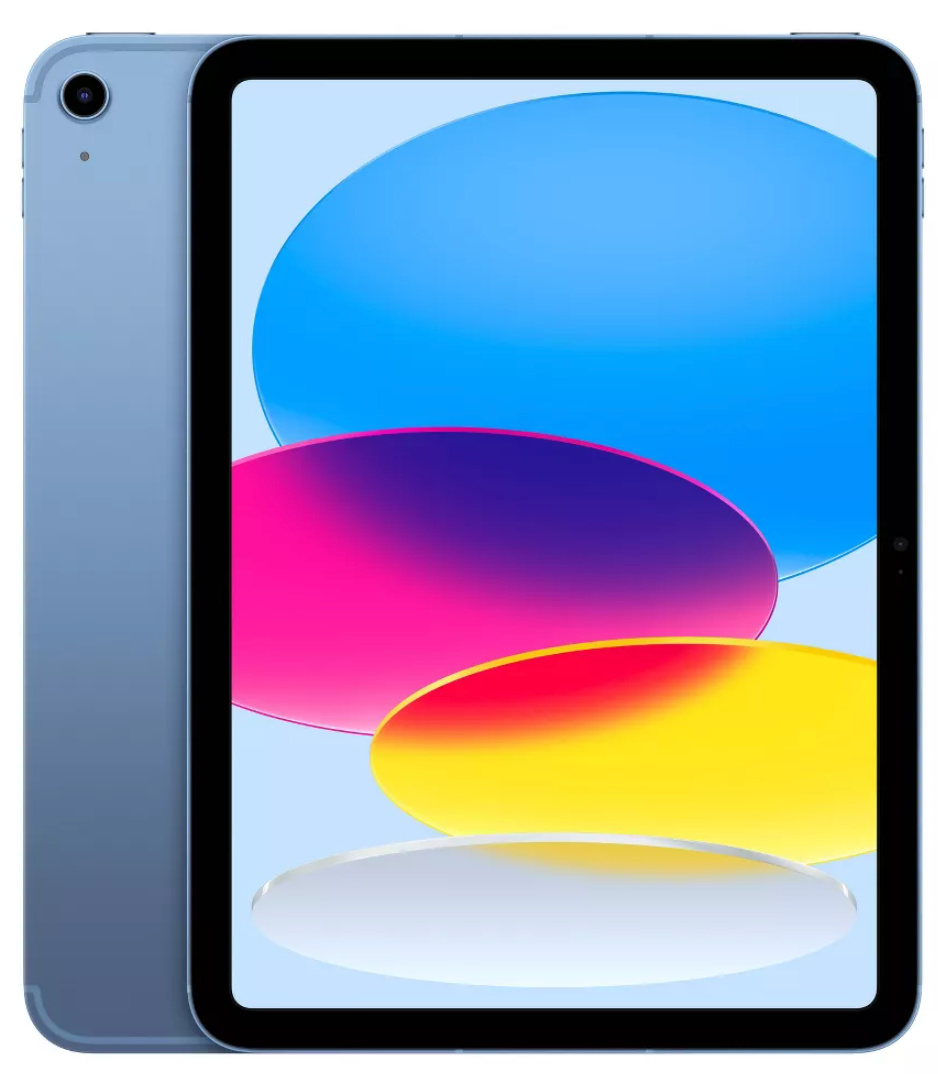 Apple iPad 10.9-inch Wi-Fi, $449.99 (64GB)
Device
My toddler never has access to any devices EXCEPT when we're traveling. Flights are the one instance when I do whatever it takes to encourage a tranquil toddler, which in turn allows me to enjoy what I love doing the most: flying.
As you've seen above, I bring a range of activities, BUT I don't offer the iPad until all activities and toy options have been exhausted. I load up the iPad with Netflix movies and shows, plus toddler learning games too. Because she doesn't use devices at home, this makes the iPad more novel on the go.
Tip: turn off the volume on the device while on the plane or use kid's headphones with your device.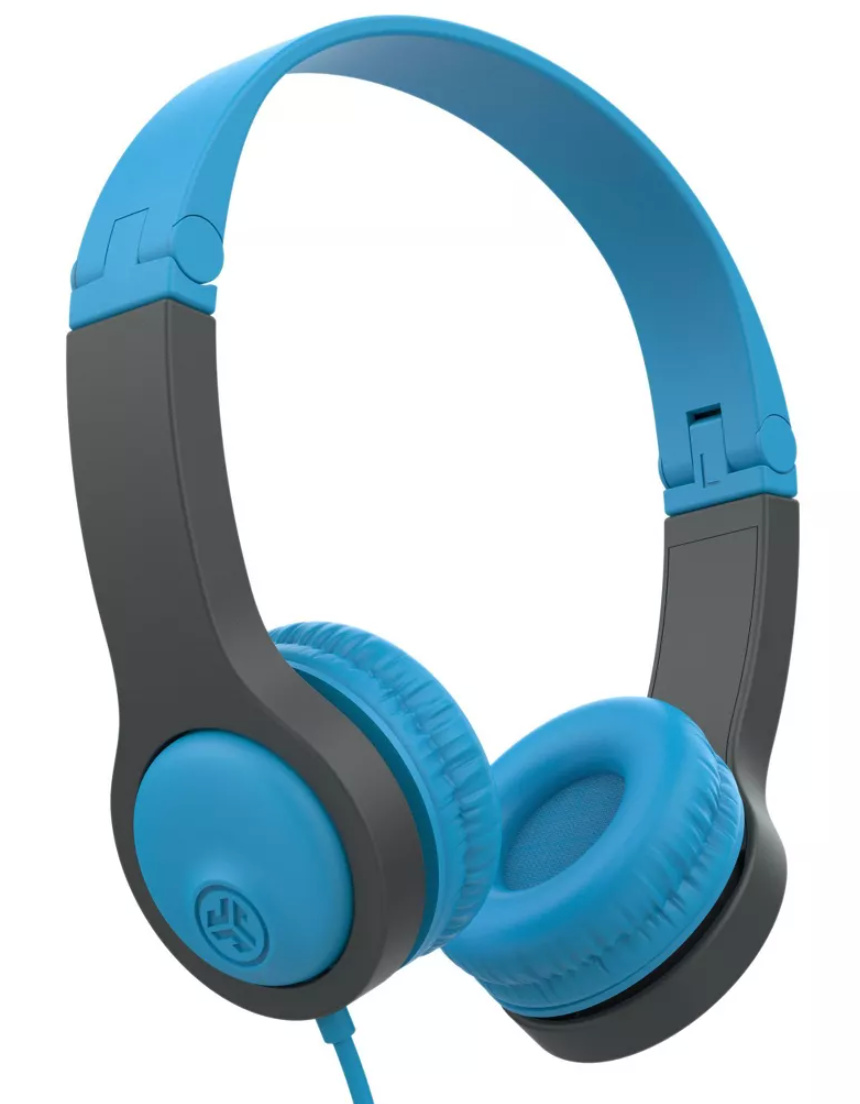 JBuddies Gen 2 Folding Kids Wired Headphones, $14.99
Headphones (for kids)
If your child will be enjoying entertainment via a device, a set of specialized headphones will fit better, and kid-designed listening accessories have a safe listening function built in so the volume doesn't go past 85db. This pair is cute and appropriate for ages 2 and up.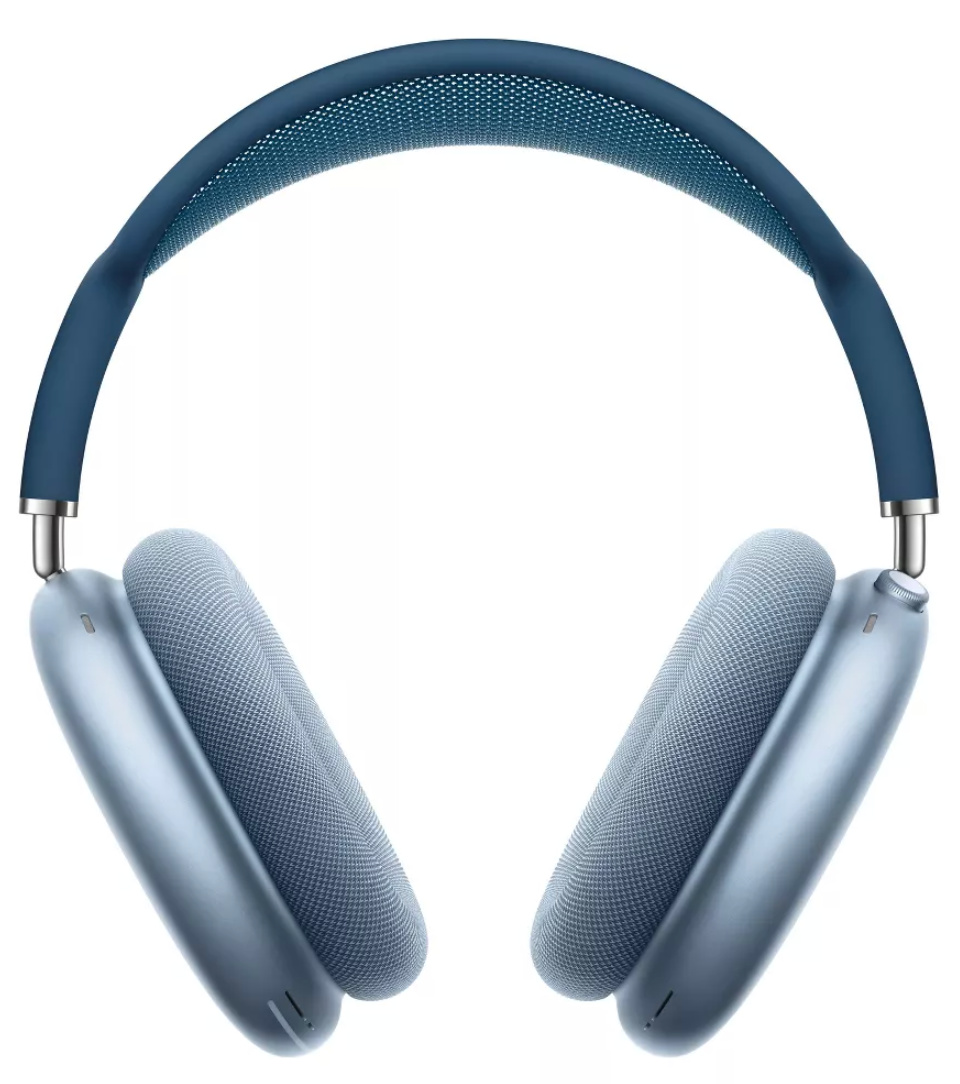 Apple AirPods Max, $549.00
Noise Canceling Headphones (for parents)
Speaking of a peaceful flight, every experienced traveler knows that noise canceling headphones such as the Apple AirPods Max or the Apple AirPods Pro are a MUST when you fly. Drown out exterior noise and relax even for a short moment.
How to Pack In-Flight Entertainment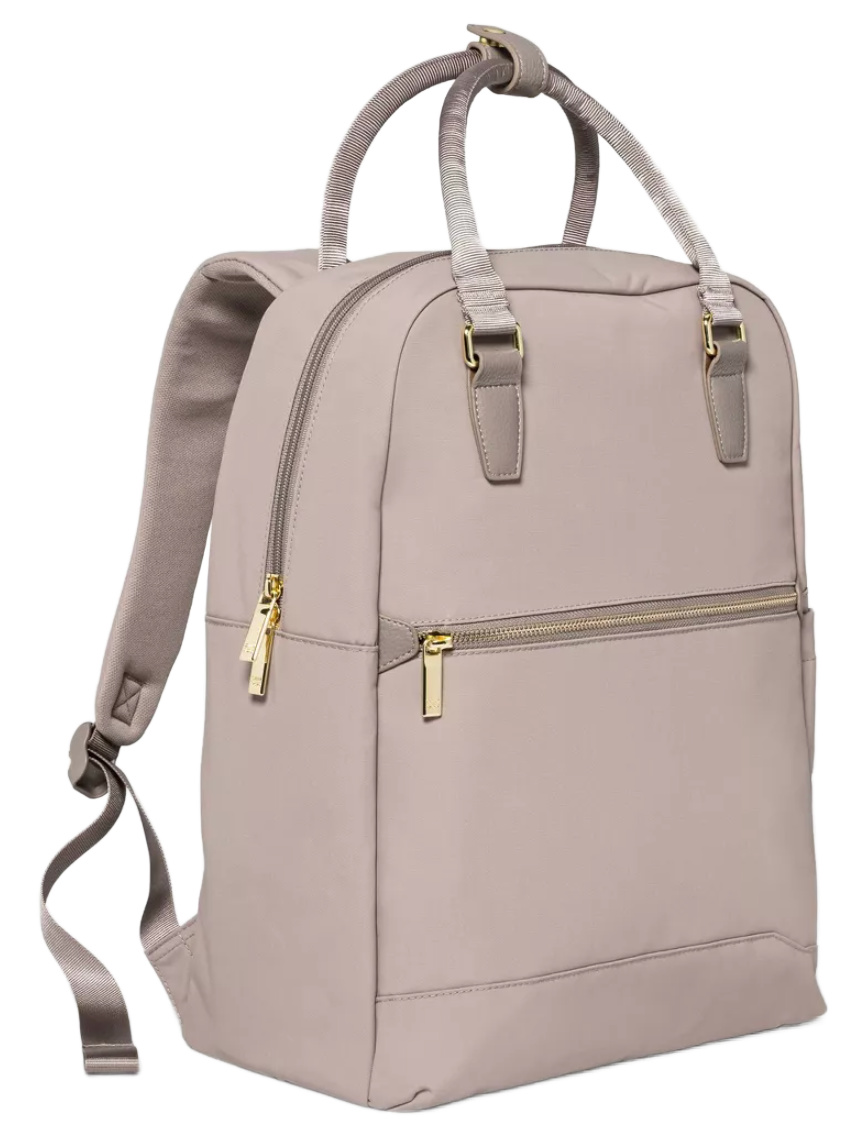 Open Story™ Signature Commuter Backpack, $49.99
In-Flight Under Seat Personal Item
With my arsenal of travel toys, you may think I pack a giant suitcase, but all of the entertainment I bring on the flight fits in my Signature Commuter Backpack, which is compact and fits under the seat in front of me. It makes an awesome holiday gift for an avid traveler!
The majority of our travels are to a single destination with only 1-3 accommodation changes during the trip. Due to our style of slow travels, I take one small backpack (like the one shown above) as my personal item and bring her travel stroller on board as my carry-on. I then check one 25" hard shell suitcase, which we share with room to spare!
For fast-moving trips to various destinations, such as our 6-week trip to Europe, I bring a larger backpack on board the flight as my carry-on with my crossbody purse as my personal item and check a carry-on suitcase with both of our belongings.
Note that I don't bring all of the listed toys at once. I choose a small range of options for each trip based on what fits inside my personal item.
---
I hope you've enjoyed my list of unexpected travel toys and in-flight entertainment ideas! What are some of your favorite in-flight activities to bring for your little one?
---
LIKED THIS POST? PIN THIS PIC TO SAVE IT!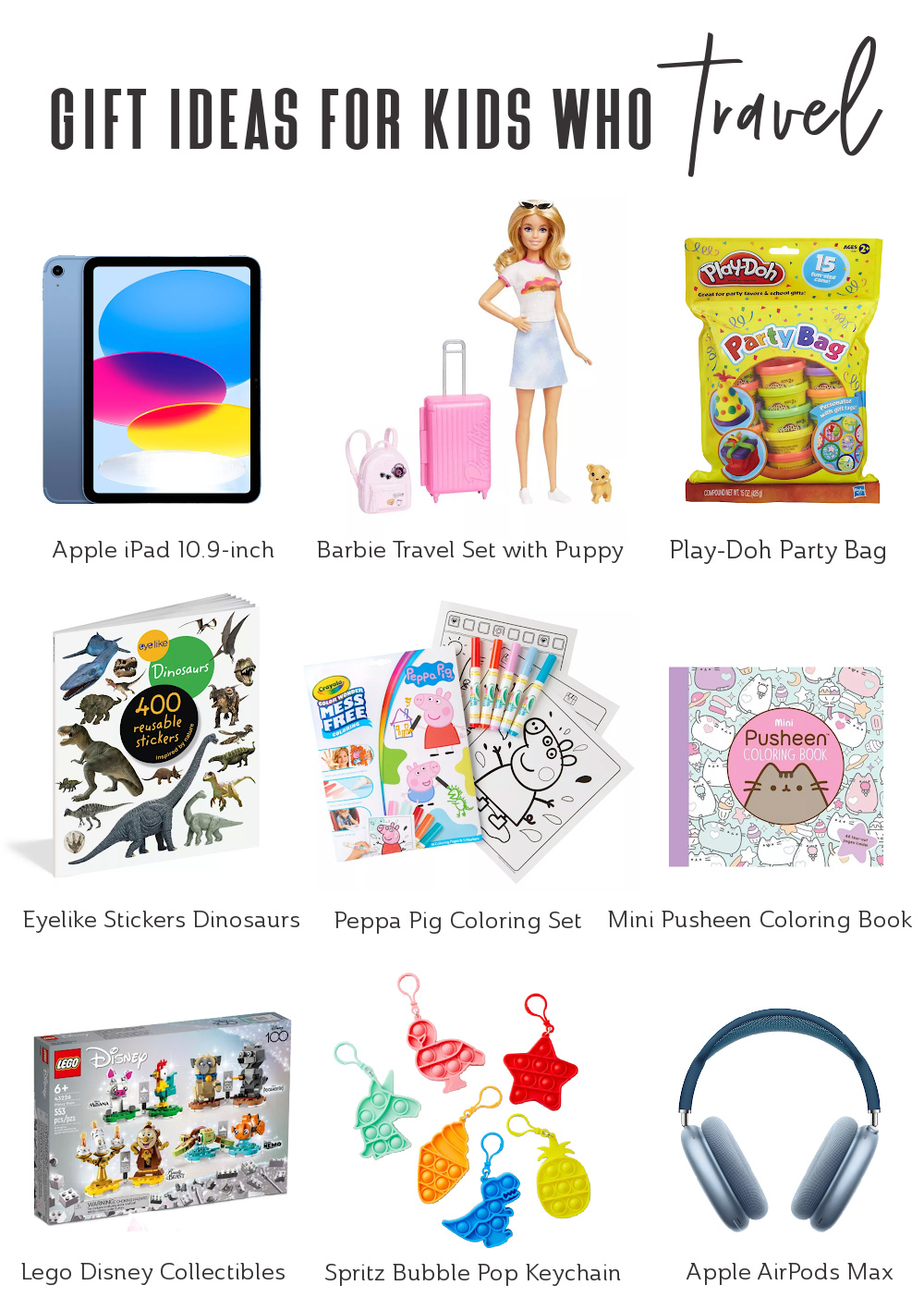 ---
Hope you enjoyed this list of travel gift ideas for families with small children. Please share with your friends on Facebook, Twitter, or Pinterest. Thanks for reading!
---