Support TFG by using the links in our articles to shop. We receive a small commission (at no extra cost to you) so we can continue to create helpful free content. Thank you, we appreciate it!
I'm a pretty brand loyal kinda gal and once I have a great experience with a company, I'll stay true forever. This is how I feel about the following travel companies. While Travel Fashion Girl covers Packing topics as related to Travel and Fashion, I also want to share a couple insider tips with my readers every once in a while.
Not one brand listed here has paid me to put them on here and to prove that I'm actually a happy customer, I've taken screenshots of my receipts and travel confirmations so you know that I'm only recommending services that I know, use, and love.
However, if you do decide to make a purchase and you click on one of my links, some of these guys will hook me up with a tiny commission. But just so you know that it's not just about the money, I even include those that don't offer me monetary incentives like American Airlines because that's how much I love them!
---
---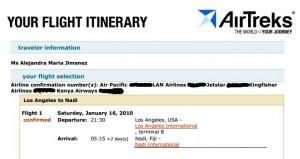 These are the guys that I used to book my Round-the-World trip in 2010. Their prices were awesome and their customer service even better. I got stuck in Nairobi on the last leg of my RTW ticket and the lovely Kenya Airlines team in Mumbai would not let me board my flight due to a system error on their part. Starting an overland safari in just 2 days, I panicked and by some miracle got in touch with Angelica from Airtreks who stayed on the phone with me until the finally let me board the flight (after they charged me a bogus fee of $50. Did I mention that was Kenya Airways?). I couldn't have been the easiest customer to deal with throughout my trip because I changed my flights a bunch of times, but they never treated me any less than professional and courteous. For these reasons and more, Airtreks is a super star in my book and I've recommended them to countless RTW hopefuls. You can get an easy quote with their cool itinerary builder at airtreks.com.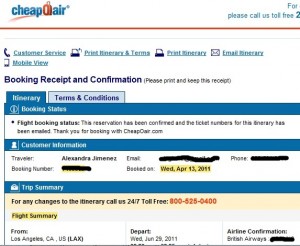 For round-trip flights, Harry and I both like using CheapOair because they have awesome flight deals. I booked a last minute round-trip flight from Lax to Lima for under $500 including taxes in February 2011 then my one way flight to London from LA for under $700 during peak season! It's rare that they don't have better deals than competitive sites.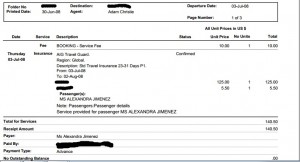 Travel insurance plans available through Travel Guard can provide you with coverage for unexpected medical expenses while on a trip.
 When I bought my RTW flight with Airtreks they offered me travel insurance at really good rate and it turned out to be with Travel Guard. I ended up getting two infections in South East Asia and had a bunch of hospital bills that ended up totalling almost $800 – more than 3x what the insurance cost me! Luckily, Travel Guard was super easy to work with and didn't give me a single problem with my claims. The process was easy and seamless but the pain of one of my infections wasn't. Read about my horrific story on SickontheRoad. Warning: it's GROSS!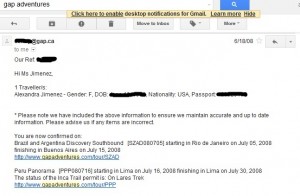 I'm probably one of the few travelers that will encourage you to take a tour. If it's the only way to get you comfortable with the idea about exploring the world on your own, then do it! Back in 2008 when I was scared to travel on my own I started traveling by taking tours with G Adventures (or GAP like they were called back then). I used their services to go to Egypt, Jordan, Brazil, Argentina, and Peru. Their tours are a great option for solo travelers because they don't charge you a single supplement fee and it's a perfect introduction to traveling. If I hadn't started out by taking tours, I would still be stuck behind a cubicle!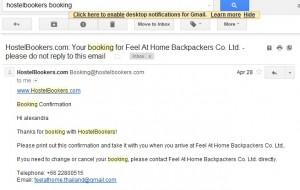 There's only a few main sites that offer an extensive hostel booking network and one of the top companies is HostelBookers. Harry likes them because they don't charge fees so we used them to book hostels in Mexico and Guatemala when we were traveling in Central America earlier this year. While I usually search for the budget options with the best ratings, they also feature luxury hostels if you're more of a flashpacker.  I've also written a pretty cool article for their blog so don't forget to check it out.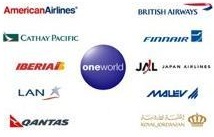 I'm part of the One World frequent flyer alliance because of American Airlines. They are the only major airline that allows you to use your frequent flyer miles for one way trips. The other ones make you pay a round-trip mileage fare even if you only want to go one way. What a rip off! In less than two years, I've had one free round-trip flight between Los Angeles and Central America with just 25,000 miles and Harry and I both got free one way flights from London to Cancun with just 40,000 miles for BOTH flights. I'm also a part of their shopping and dining programs. Especially now that I'm traveling without a set route, one way tickets allow me the flexibility to continent hop without the drama.
---
Need any specific recommendations or feedback about these travel companies? Just ask!
---