Support TFG by using the links in our articles to shop. We receive a small commission (at no extra cost to you) so we can continue to create helpful free content. We earn from qualifying purchases made to the featured retailers. Thank you, we appreciate your support!
Osprey is our go-to brand for the best travel backpacks and luggage for long-term travel. Find out about their Questa backpack and discover why Steph from the travel blog 'The Pink Backpack' finds this to be the perfect bag to travel carry-on only. Read her Osprey Questa review to learn more!
---
Osprey Questa Review
Written By: Stephanie Huff
---
I'm always on the hunt for a durable backpack I can take anywhere I go, from rugged terrains to more stylish destinations. I've been traveling with the Osprey Questa for some time now, and felt it was about time I reviewed this and shared my thoughts for fellow travelers.
TABLE OF CONTENTS:
Basics
Suitcase brand and style: Osprey QUESTA Backpack
Dimensions: 19" H x 12" W x 10D"
Weight: 1.63 lbs
Capacity: 27 L
Material: Nylon 420HD nylon
Opening Type: Top loading
Features: 3 zipped pouches (small, medium and large), 3 internal mesh pockets, side stretch mesh pockets, hip and chest belts, top grab handle, padded laptop sleeve and tablet sleeve, and ventilated mesh on back pad and straps
Security: Two internal zipped pockets for valuables
Travel type: hiking, carry-on, digital nomad
Find out how to choose the best travel backpack!
Durability
I have taken my Osprey Questa backpack as carry-on luggage to 9 countries now in the year that I've had it. I also use it almost daily in my day-to-day life, whether it's for school, going to the gym, hiking or packing for a weekend away.
The great part about investing in an Osprey backpack is that they offer a comprehensive lifetime warranty, ranging from a functional repair or parts replacement to a full product replacement! I haven't needed it, however, as it's held up pretty well.
Comfort and Mobility
The straps and backrest on this backpack are slightly padded with ventilated mesh for comfort, particularly with strenuous physical activity or in hot and humid climates.
I love that I am 'hands-free' when I wear this backpack, making international and long-haul travel a breeze! Plus, the side pockets can still be conveniently reached while wearing the backpack.
I carry around my laptop constantly, so I appreciate the chest and hip straps. They offer an ergonomic option to offload weight from my neck. I could easily wear this backpack all day without pain if it was not fully packed.
Spaciousness
The backpack is only 27L, making it a great carry-on option for travel. I put the Questa to the test recently and took it as my only piece of luggage for an entire month of travel.
I managed to fit my laptop and electronics, a week of clothes, a book, my journal, toiletries, some snacks, my water bottle, and my coffee mug.
Astonishingly, I still had some room leftover in the top of the large compartment! I was also under the maximum weight and size dimensions for a personal item for the airlines I traveled with (Wow Air and Ryan Air).
Style
This backpack definitely has a sporty appearance and would be well suited for active travelers or budget backpackers who prefer to pack light.
It's padded laptop and tablet storage and ample space for other gadgets would also make this backpack a good fit for digital nomads. The Osprey Questa's compact size and style would also align well for weekend getaways. I also love the pink color of mine!
Pros
One aspect I love about the Osprey Questa is its ample interior storage. It has 3 zipped compartments and multiple interior pockets, which are easily laid out, providing ease of item organization.
Furthermore, the padded laptop and tablet storage prevent damage of valuable electronic items during travel. The hip and chest straps add an ergonomic option and cater to the active traveler.
The Questa's dense nylon material is extremely durable and has stood up to the tests of rain and snow storms without items inside getting wet. It can also be cleaned easily in a standard washing machine without damage.
Cons
The only major con of this backpack is the limited options to secure its contents. Since it is not primarily marketed as a travel backpack due to its small size, it was not created with locking zippers (the zippers do not interface with one another).
If I were to suggest an additional improvement for this backpack, I would place a tiny zipped pouch along the hip strap for easy front access to store keys, a phone or coins while wearing the backpack. Travelers could easily compensate for this by opting to wear a money belt.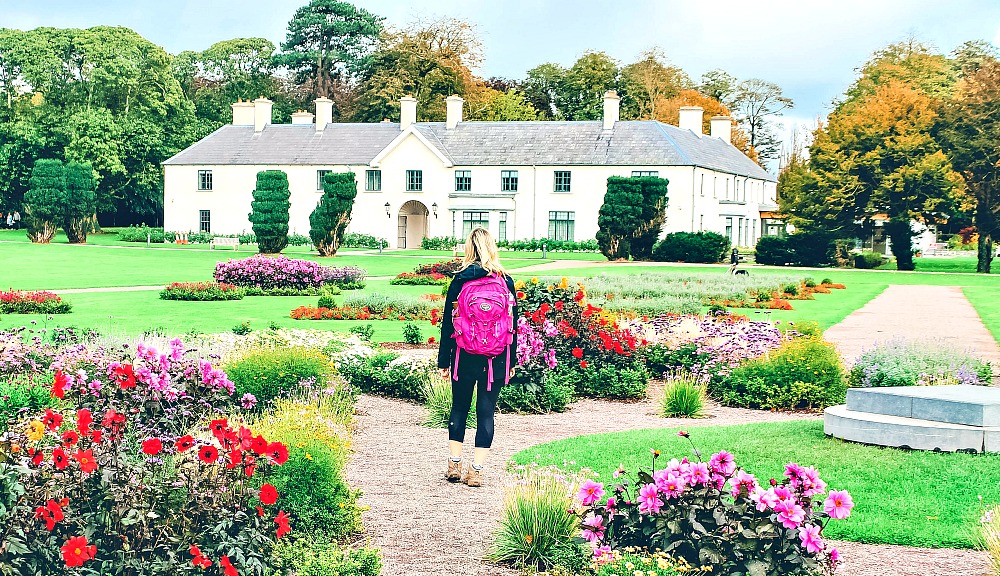 Verdict
Overall, this backpack is a slam dunk! I love the versatility of its use for school, hiking, active outings, and travel. Although it's only 27L, the storage feels endless due to the multiple mesh pouches, zipped compartments, and hidden pockets. The Osprey Questa is built to last with dense weather-proof material, sturdy straps, and a thick top handle.
Furthermore, the padded laptop and tablet sleeves ensure your fragile electronics will stay safe. Whether you're catching a flight, on a mountain trek or just heading to campus, you can rest assured that the Osprey Questa backpack will keep up with you!
---
Do you have anything to add to our Osprey Questa review? Share your feedback in the comments!
---
To learn more about Osprey packs, please read:
---
LIKED THIS POST? PIN THIS PIC TO SAVE IT!
---
I hope you've liked this Osprey Questa review. Please share it with your friends on Facebook, Twitter, or Pinterest. Thanks for reading!
---
Author Bio:  Steph is a Canadian freelance writer and blogger obsessed with travel, coffee and all things pink! When she's not adventuring around the world, Steph is working towards her PhD in global health. You can find her writing and photography 'The Pink Backpack' travel blog.
---