Support TFG by using the links in our articles to shop. We receive a small commission (at no extra cost to you) so we can continue to create helpful free content. As an Amazon Associate, we earn from qualifying purchases made on Amazon in addition to other retailers featured on the blog. Thank you, we appreciate your support!
You've been carefully planning your travel wardrobe for Paris, Buenos Aires, or Bali since the day you booked your flight. You even did the capsule travel wardrobe to ensure each piece was absolutely perfect and when you arrive at your destination you breathe a sigh of relief because your hard work has paid off.
You packed flawlessly.
You gaze joyfully at your significant other and you can't help but notice something terribly wrong. In fact, something disastrous. You forgot to think about mens travel style and how they choose their clothing. Somehow, you've gone abroad with bozo the clown.
Ladies, has this happened to you?
Well, that's exactly what happened to me a on my recent trip to India (sorry darling if you're reading this). My husband's favorite color turned into a mish mash of blue hues in contrasting patterns and prints that just left me asking…how?
---
Mens Travel Style: Explained
---
As I looked around at other male travelers I found that my husband wasn't the only one suffering from a bad case of overzealous print abuse. I told him my observations about mens travel style and asked him what was going on with these guys.
He didn't dress like this in England so what happened on our travels?
He explained his male thinking: he walked into the store and picked up random pieces he liked but never stopped to think about pairing them together. He liked certain tank tops in prints and colorful swim shorts in other prints.
As he stopped to assess his outfit on the beach he realized that he chose various items because they looked good individually but the store hadn't merchandised them together so he hadn't thought about the final outfit.
This seems to be the most common issue with beach side male travel fashion. Swimming shorts tend to have fun colors and prints so this causes a bit of an outfit disaster if he didn't consider the shirts he would be wearing with them.
Here are some packing tips to help him pack efficiently and stylishly:
➊
Remind him to pack some neutrals
Prints are wonderful but gently suggest adding a few neutral pieces to balance out his wardrobe. Perhaps he can have patterned shirts and solid shorts or pants or vice versa. Mixing and matching prints and patterns seems to be the biggest culprit for tragic mens travel style.
➋
Ask him if his shoes can be worn with all his bottoms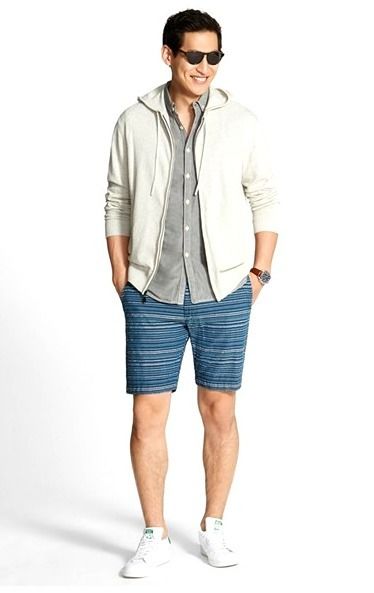 Colorful shoes for men can totally amp up an outfit…or create shocking results. Suggest he minimize his luggage weight by choosing pairs that can mix and match with all his clothing. He doesn't need six pairs of shoes, three versatile options are always a good amount.
➌
Suggest a packing organizer to help keep his shirts wrinkle-free
Packing folders are wonderful to help clothing remain wrinkle-free and this is especially important for men that may be traveling with several pairs of button shirts. Alternatively, to help keep them organized, tell them about the new Pack Gear organizer. My husband absolutely loves it and it makes packing and unpacking a no-brainer.
➍
Neutral layers are his best friend
Button shirts or basic long sleeves act as the perfect light layers when the weather cools. Suggest they choose a neutral color that matches all their tops so it can be worn with everything. This is especially important if you'll have limited access to laundry.
➎
How about packing a hat?
Hats are a great way to help hide lazy hair days and also avoid packing too much hair product. Instead of a baseball cap, why not suggest a newsboy cap or fedora. Simple mens travel style.
➏

 
Decant toiletries into smaller containers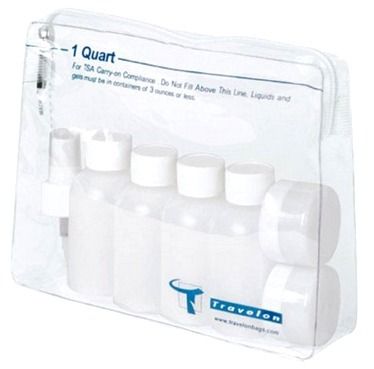 Travelon 1-Quart Zip Bag with Bottles
I've noticed that men are less likely to consider the amount of product they'll actually use on a trip and opt to pack their full size products. Share your insightful tips on the best travel containers and show them they can easily pack only what they need instead of the whole thing.
FYI: his doesn't work with shaving cream.
---
What are your best fashion tips for mens travel style? Please share and comment below!
---
For more packing tips for men, please read:
---
Hope you liked this post on mens travel style. Please share with your friends on Facebook, Twitter and Pinterest. Thanks for reading!
---