Support TFG by using the links in our articles to shop. We receive a small commission (at no extra cost to you) so we can continue to create helpful free content. As an Amazon Associate, we earn from qualifying purchases made on Amazon in addition to other retailers featured on the blog. Thank you, we appreciate your support!
Travel Fashion Girl readers are some of the most savvy globetrotters around and we all share one common goal: to pack light. Eliminate excess baggage and use luggage scales to weigh your bag before you go. In fact, check every item to ensure the cumulative weight of your belongings is absolutely minimal!
One of our favorite travel products to help us do just that is a digital luggage scale. Find out why this pocket-sized travel accessory is a must-have for anyone who wants to pack and travel light!
---
Best Digital Luggage Scale
---
Not many people are familiar with luggage scales, but they're incredibly helpful when you're a frequent traveler. Also known as a suitcase scale, you can use a luggage scale to weigh your bag or suitcase to make sure it isn't overweight. With a compact luggage scale in hand, you'll never have to worry about excess baggage fees!
Tarriss Jetsetter Digital Luggage Scale
Tarriss Jetsetter Digital Luggage Scale
We've used a few luggage scales and our favorite is the Tarriss Jetsetter. This small travel device is packed with features and we can't imagine traveling without it having used it. Buy it here!
Here's why we recommend it for frequent travelers. 
It Pays for Itself
The Jetsetter Digital Luggage Scale pays for itself the first time it saves you from overweight baggage fees. Today, airline baggage fees continue to increase.
Most airlines now charge for any checked bags, plus an extra fee if the bag is over 50 pounds. A bag over 50 pounds can cost upwards of $100 per flight!
At less than $15, this luggage scale easily pays for itself, helping you avoid packing too heavy of a suitcase.
Here' s the best lightweight luggage for travel!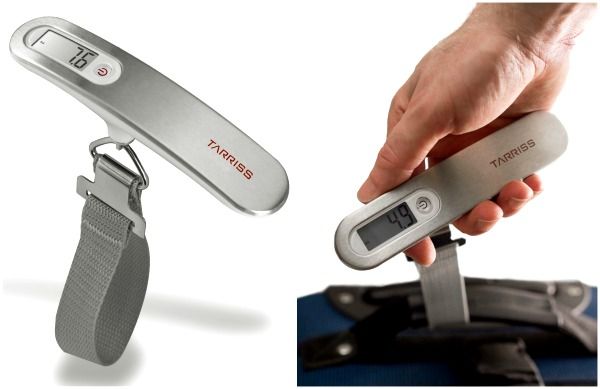 Highly Rated
The Tarriss is one of the highest rated and best selling luggage scales on Amazon, with more than 3,300 reviews and a 4.5-star rating.
One reviewer calls this a "traveler's must-have," while another says, "This is something everyone who enjoys traveling should have. The sleek, ergonomic design fits so comfortably in your hand. I'm very impressed with the quality of such an affordable piece of equipment. This thing is built to last."
Accurate and Compact
This luggage scale is everything you want in a travel accessory: it works, it will last for years, and it's easy to store in your bags. The Tarriss has a 110 lb / 50 kg capacity with a precision accuracy of 0.2 lb / 0.1 kg, which is incredible.
As for the scale itself, it's only 3.3 oz and less than 6 inches long, making it easy to pack in any bag.
Read this post to learn how to pack for a 7kg baggage allowance!
Easy to Use
With an Easy-to-Read LCD display, you don't have to strain to see the totals. While digital, there aren't any fancy features to this. You simply attach it to your luggage. Once the bag is stable, the display locks onto the weight for an easy reading. It takes just a few seconds to use!
The luggage scale has an auto shut-off after 30 seconds to preserve battery, and the low battery indicator gives you plenty of notice to ensure your scale is ready when you need it.
Durable
The brand is so confident in its durability that the scale comes with a lifetime warranty! Take this on your travels anywhere and everywhere without worrying about it breaking.
TFG Verdict
I love using this luggage scale for peace of mind when traveling. I've used it for several years now and it's been so handy. It's a great travel accessory to bring with you on every trip! Order yours on Amazon for less than $15!
---
How much does your luggage usually weigh? Tell us in the comments!
---
For more travel tips, please read:
---
LIKED THIS POST? PIN THIS PIC TO SAVE IT!
---
Hope you like this post on the best luggage scale! Please share it with your friends on Facebook, Twitter, or Pinterest. Thanks for reading!
---