Support TFG by using the links in our articles to shop. We receive a small commission (at no extra cost to you) so we can continue to create helpful free content. Thank you, we appreciate it!
Travel with kids and packing for family getaways may seem like a daunting task for some parents but not travel pro Jody with popular travel blog Family Rambling. Not only does her family take frequent local and international trips, they pack carry on only with two kids! Read on to find out travel packing tips for family getaways.
---
Travel Fashion Girl Interview: Family Rambling
---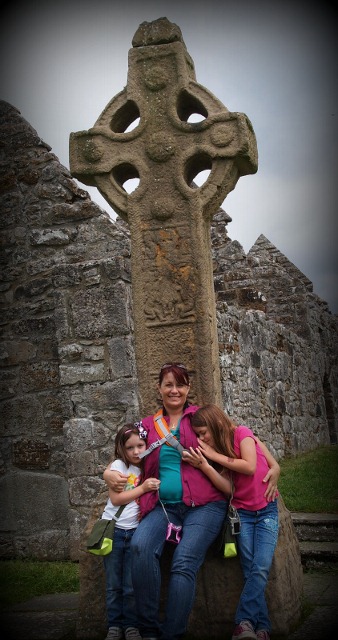 Q: How does your packing style differ on an international trip to Ireland from local US based trips?
When I travel in the US, it is easier to pack for the weather.  Also, as many of our US trips involve driving, I don't have to worry about packing light.
For our trips to Ireland, I pack items that will layer nicely, only 2 pair of shoes, and a water-resistant jacket.
Q: How do you manage to travel carry on only? What's your packing strategy?
Making sure all my clothing can mix & match is key.  I pack neutral items with only a few bright pieces and accessories.  I pack only 2 pair of shoes, making sure to wear the most bulky pair on the plane and utilizing the space inside the shoes I pack.  packing cubes
are a life saver, as is my Scottevest Molly jacket- it's like wearing a carry on bag!
Do you adjust your own belongings to accommodate your children's travel gear or have you down sized your own things?
My girls have toted their own luggage since they were walking.  Of course, their bags are small- but so are their clothes!  When they were very small, we shipped items we would need to arrive ahead of our trip.  We found that hotels and B&Bs are very accommodating if you request that in advance.
Q: Traveling with kids: suitcase or backpack? What's easier and do you recommend style/brand in particular?
My eldest daughter just got her first carry on suitcase- specifically designed for tweens, the TravelKool Chat by Trendy Kid. My youngest uses a Trunki, which she can pull or ride and fits in the overhead or under the seat.  We also have a Boost a Pak for each of our girls- a backpack/booster combo that we adore.
As to what is best?  Whatever your child will use!
Q: Do you consider your travel clothing to be more purpose driven and practical or is it every day wear that also works for travel?
We choose everyday wear that is also good for travel.  My husband has the Scottevest cargo pants, which he uses for work.  I prefer clothing that is low maintenance – jeans, dresses and tops that won't wrinkle.
Q: Do you travel with any clothing items or accessories that give you that touch of sophistication for special occasion or nicer outings? A little black dress or jewelry?
I have a favorite LBD that is simple, looks amazing on, can be dressed up or relaxed, and doesn't wrinkle.  Depending on the outing, I just add sparkle and heels, or a cardigan and flats.
Q: On girlfriend or romantic getaways, do you pack different clothing than you would when traveling with the family?
Of course!  I always dress up more when my husband and I plan a get away as we do more "adult" things like theatre shows or fine dining.  With girlfriends, it depends on the outing.  A few of my friends are very spa centric, while others are more adventurous.
Q: Do you have any favorite clothing brands or individual items that help make your packing choices more efficient?
Fresh Produce is a great clothing  line for women who love to travel.  They have fun clothes that can be dressed up or down and won't wrinkle.  And I love Crocs shoes.  People sneer at that, until they realize that the shoes they just complimented are Crocs (they make some really cute shoes– and so comfy!)
I just bought a new piece of luggage from IKEA.  It's a carry on size piece that can be a backpack or roll-aboard, with a detachable day pack that has a padded computer case.  It is very nice and organized, well made and under $100.
Q: Do you have any skincare or beauty essentials for travel? If so, how do you make them fit into your carry on?
My skincare/ beauty items are my largest bulk.  I buy loads of travel size bottles and utilize the fact that my girls don't fill their quart bags.  My makeup is Mary Kay, because they have terrific organizers you can fill with what you need.  I also hit up my dermatologist for samples before we travel.
Q: Finally, any family getaways travel packing tips for new travelers and/or new traveling moms?
Don't pack loads of diapers and wipes.  Either ship items ahead or plan to purchase when you arrive at your destination.
Be sure to pack a change of clothing for your child for the flight- and enough snacks to keep your child happy.  Do a little research on the airports you will be using- most have play areas or, at the very least, more quiet gates, where your kids can get rid of some energy.
Don't forget quiet activities for the flight- books, small toys, stickers, etc.
People on flights don't hate kids- despite what you've heard and read.  Just make sure your children know what is expected of them.  Play "taking a plane ride"  at home if you have to.  The majority of kids who behave badly on flights do so because they don't know how to behave.  (The same goes for adults.)
Thank you so much for sharing these valuable travel tips! Learn more about this family's inspirational travel stories on their travel blog Family Rambling.
---
If you are interested in sharing your packing tips on TFG, you can download the interview questions and submission guidelines here. 
---
For more traveler interviews, please read:
---
Hope you liked this interview with Jody. Please share this post with your friends on Facebook, Twitter and Pinterest. Thanks for reading!
---