This post contains affiliate links. Visit our Disclosure page for details.
This week's travel fashion girl is Chelsea Jones, an avant-garde footwear designer for women who want more from their shoes. Based on her sporty-lifestyle, she draws ideas from the athletic realm, and escorts them into the dress shoe department in the line Ciel Bleu. Learn more about her and her travel style!
---
Interview: Chelsea Jones
---
Q: How would you describe your travel style?
Minimalist business casual.
Q: Do you prefer to travel carry-on or with a regular suitcase bag?
A regular sized suitcase and backpack carry-on. So many people carry-on small rollers there's no room left, and I don't mind checking a bag. I use a Samsonite hard-shell case to protect things and it's lightweight, and a Belkin backpack for its compartments and sleek shape.
Take a look at our step by step guide for choosing luggage.
Q: Are you an overpacker or do you underpack?
Underpack, it makes me feel more resourceful!
Q: How do you stay stylish while traveling without access to an entire closet?
With fitted basics like t-shirts, a great skirt and jeans, plus some cool accessories like colorful scarves, necklaces and shoes.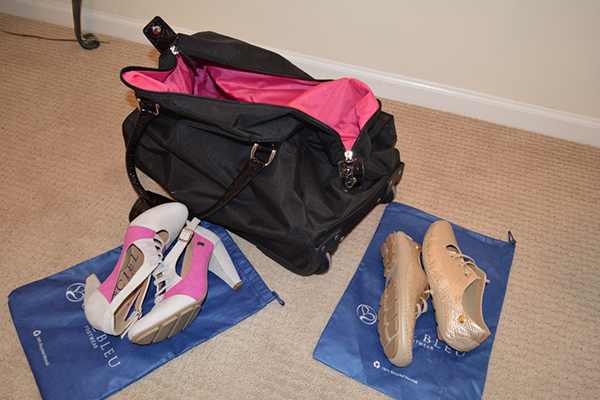 Q: What are your three must have travel essentials?
Gap Body t-shirts since they're fitted and stretchy, a pashmina style scarf to use for dressing up, the beach and for warmth, and Ciel Bleu Vibrant flats for slip-on comfort and they pack light.
Q: What destination was the most fun to dress for?
Spain. For the warmth, color, café lifestyle and dancing.
Q: What destination surprised you the most with the ways locals dressed or their type of clothing?
Colombia. They show so much skin! Tight dresses, and crop tops show their sensuality and openness. Made me feel pretty conservative…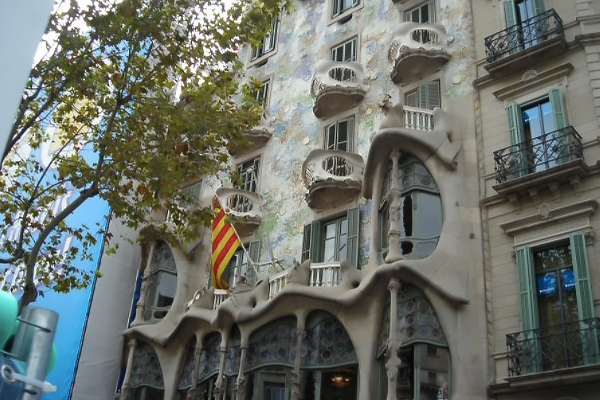 Q: What's your preferred travel outfit on a plane?
Jeans, t-shirt, scarf and shoes you can still put on after a long flight. I usually trade for cozy socks on the plane ride.
Check out some of our favorite airplane outfits.
Q: What are your favorite travel accessories?
Scarves, because they can be worn and used for so many things, like a towel on the beach and a wrap around your dress. Also, a long necklace is easy to pack and can dress up a simple look really fast.
Check out the lazy girl's guide to stylish travel accessories.
Q: What are your favorite travel beauty essentials?
A multi-finish compact so you don't need liquid foundation, you just use it as a light powder or add a touch of water for more coverage. A shimmery lip-gloss is quick to put on and add glamour. And a neutral eye pencil to give definition and still look natural.
Q: Do you have any specific hair or makeup products that work great for travel?
The Conair boar bristle cushion brush, the Lise Watier multi-fini compact and Victoria's Secret lip gloss. They all pack nicely in your carry-on to refresh yourself when you get off the plane. Oh and a splash of cold water on your face!
Q: How many pairs of shoes do you travel with and what styles?
I typically travel with 3-4 pairs: 1 flat, 1-2 mid/high heels and either a boot or sandal depending on the weather where I'm going.
Check out TFG's tips on choosing the best shoes for travel.
Q: Do you have any recommendation for cute and comfortable footwear?
Yes, Ciel Bleu VIBRANT flats were made for travel. They expand with your feet, have ultra cushioning inside and rubber grip soles outside, and are very lightweight and easy to pack. For business trips, we all need a perfect pump, and the Ciel Bleu SKIGH pump has a comfortable almond shaped toe that flexes as you walk, a 3.5" heel and ultra cushioning built-in. Both were designed with the active professional woman in mind.
Find out our top 10 cute and comfortable travel flats.

Q: What was your biggest travel fashion or packing mistake?
I always regret when I pack too quickly and don't lay everything out on the bed first, before putting it in my bag. This way, you can see how everything goes together and visualize the activities you'll be doing on your trip. I recently forgot to bring trail runners on a hiking trip!
Q: Finally, any travel packing tips for new travelers ?
Do some research about where you're going and how they dress there. It's best not to stand out as a tourist for safety and embracing the culture. Ensure everything you bring is multi-use – like clothing that can be dressed up or down, mixed and matched.
---
If you'd like to be interviewed on Travel Fashion Girl, please submit your details here.
---
For more traveler interviews, please read:
---
Hope you liked this interview with Chelsea Jones. Please share this post with your friends on Facebook, Twitter and Pinterest. Thanks for reading!
---
Liked this article? Check out similar posts: