This post contains affiliate links. Visit our Disclosure page for details.
 Kristina is from Orlando, Florida USA and recently married her college sweetheart, Josh. After they married in June 2013, the two departed on a year long honeymoon around the world!
Kristina and Josh have been "chasing summer" through Iceland, Europe, Australia, New Zealand, and currently Asia. Their year long summer has been enjoyed by eating local cuisine, beach trips, boating, fishing, snorkeling, diving, and hiking whenever possible! They will continue traveling through July 2014 when they plan to return to Florida. Check out their blog Newlywed Nomads to learn more about their adventures.
---
Interview: Newlywed Nomads
---

Q: How would you describe your travel style?
My style is very casual as we've been "chasing summer" for the past 7 months. I live in jean shorts, sundresses, and flip-flops!
Q: Do you prefer to travel carry-on or with a regular size suitcase or bag?
I check my bag when flying and have a tan purse that can be carried either across-the-body or off the shoulder.
Q: Do you recommend any particular bag or suitcase brand/model?
Q: Are you an overpacker or do you underpack?
Somehow my bag seems so always be stuffed, so I'll go with overpacker. I'd like to toss some stuff, but can never figure out what!
Q: How do you stay stylish while traveling when you can't have your entire closet with you?
I'm a bit of a minimalist in the accessories dept when traveling. I always have my Micheal Kors watch on and some costume chandelier earrings to feel a bit "fancy". Oh…and some pink lipgloss does wonders for feeling pretty.
Q: What are three of your must have travel essentials?
Flip-flops, "travel days" spent on a bus, boat, plane, or train will always have my purple pashmina scarf around my neck for use as a blanket, shawl, head scarf, or pillow and a little black sundress!
Q: What destination or trip was the most fun to dress for?
Oktoberfest! We splurged and bought real dirndl and lederhosen and wore the same amazing costume for 3 days straight! The dirndl is so flattering to wear and it was so fun dressing up in festive costume in Munich, Germany!
Q: What destination surprised you the most with the ways locals dressed or their type of clothing?
Australia! We spent 6 weeks in Eastern "Straya". The style is super relaxed: no shoes, young women with that "meant to be messy" hairstyle, hippie/retro kimonos, and cut-off jean shorts. The men have the coolest retro hairstyles and look totally throwback 1990's with the buttoned-up short sleeve shirts and tight shorts with Vans or Keds. It's a very unique and awesome style!
Q: What's your preferred travel outfit on a plane?
I will always pick stylish comfort! My favorite look is black leggings, black ballet flats, a T-shirt, and my purple pashmina scarf.
Q: What are your favorite travel accessories?
My black sundress can be dressed up with costume jewelry essentials: a long statement necklace and chandelier earrings. Both were bought during travels in markets!
Q: What are your favorite travel beauty essentials?
I love face moisturizer and eye cream. I religiously slather it on day and night. My make-up has transitioned from a full face of makeup to now I just use mascara, tinted sunscreen cream, and lipgloss. I use wet-wipes for feeling fresh after a long day of traveling where a shower isnt an option.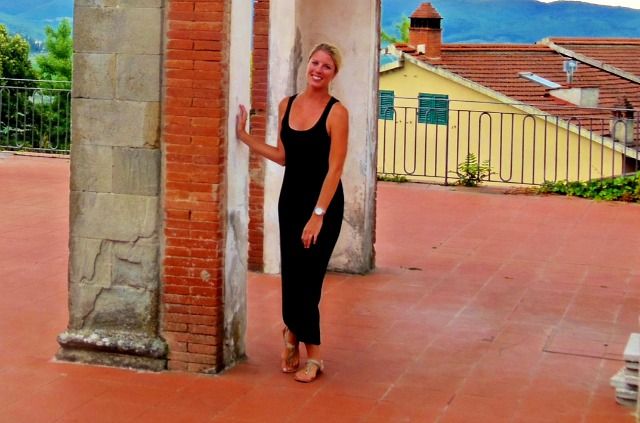 Q: Do you have any specific hair or makeup products that work great for travels?
My skincare routine includes Mario Badescu Hyaluronic Eye Cream every day and night (basically 24/7). I bought the 14ml jar before we left and havent even used half of it! I also really like Tom's of Maine natural deodorant – It's aluminum free with natural ingredients that works! I can't find it outside of the USA, so I asked Josh's mom to bring me more when they visited!
Q: How many pairs of shoes do you travel with and what styles?
I carry 5 styles: running sneakers – Adidas Bostons, black ballet flats from H&M, flip flops from a street vendor, Tom's slippers, and Solomon hiking boots. I can't believe I'll go a year without heels!
Q: Do you have any recommendation for cute and comfortable footwear?
Splurge on the good stuff. I have bought cheap shoes throughout Europe and had to throw them away because they would wither fall apart or cause awful blisters. Cheaper isn't always the better footwear option when you walk all day long.
Q: What was your biggest travel fashion or packing mistake?
I really wish I packed Dri-Fit running shorts with the built-in panties. Those shorts would have been perfect for running, hiking, beach trips, sleeping, and daily activities. The work-out shorts I brought take FOREVER to dry, which is important when drying your laundry in a hostel room (for example).
Q: Finally, any travel packing tips for new travelers?
Remember that your clothes should make you feel confident and comfortable. Bring a LBD and clothes that you feel really great it. It's hard packing for every situation in the World (literally), but having clothes that are basic colors in flattering shapes for your body will make you feel great anywhere!
---
If you are interested in sharing your packing tips on TFG, you can download the interview questions and submission guidelines here.
---
For more traveler interviews, please read:
---
Hope you liked this interview with Kristina. Don't forget to share this post with your friends on Facebook, Twitter and Pinterest. Thanks for reading!
---
Liked this article? Check out similar posts: