Support TFG by using the links in our articles to shop. We receive a small commission (at no extra cost to you) so we can continue to create helpful free content. Thank you, we appreciate it!
Camping is the sort of travel that definitely feels casual in every way, especially style-wise. Far too often though, campers seem to pack their worst clothes and go outside as if they're there for lumberjacking or gutter duty. This doesn't have to be you! Think about it: Most of the time when we're camping, we're also taking lots of photos with family and friends. Who wants to share photos that capture us in some of our shabbiest, least flattering clothing?
---
Clover's Cute Camping Tips
Written by: CLOVER
---
You can merge with nature, and look pretty darned cute doing it. Of course, there's a plethora of great adventure/tech clothing that we can get our hands on these days, and if you've the budget for it, go on and check that out. Much of it is pretty amazing.
Re-Consider Old Options
First, think about items you might already have—Remember that really cool top with the burn out pattern, which is maybe feeling just a bit tired or over-worn in your daily life? Instead of relegating it to the bottom of your drawer, or tossing it completely, why not let it become one of your camping pack staples? It will look much more pulled together than a big sloppy T shirt touting some fun run you didn't even participate in but somehow managed to acquire the shirt from, and it might work well with another older piece that still has life left in it.
Wear a Skirt
Similarly, if you have a fun, shorter skirt in a similar "kind of tired of it" situation, you can use it for camping as well. Short skirts are often more comfortable than shorts, and with girl boxers, bike shorts, or leggings underneath, provide you with just as much coverage as shorts, and with your boots or hiking sandals on the trail, can actually look quite spunky.
The Macabi convertible skirt is a wonder of wonders— it can be a long skirt, a short skirt, "harem" pants, and shorts, and it has amazing pockets! If you're on a smaller budget, you can probably make your first few (and more) outings with items you already own, and maybe with some charity shop finds too.
Since most of us hike with small day packs, the common lack of pockets in skirts isn't a huge deal. If you really can't live without a couple of pockets on your camping bottom, it's really pretty easy to add a couple of deep patch pockets to a skirt, and if you choose a complementary or contrasting fabric, it can really add some funkiness to your camping style.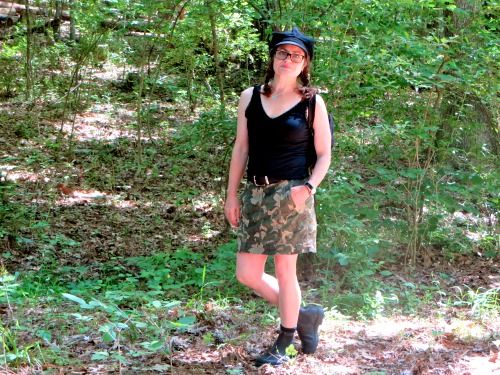 Thrift Shops
If you have a good thrift shop or a favorite consignment/resale shop nearby, check it out for some camping-friendly gems. Great quality, high end clothing can be found for ridiculously low prices.I've found Columbia, Patagonia, Athleta, and other good brands of active clothing for $2-$12 a pop. As well, in these shops you can often purchase more trendy, current clothing for next to nothing, so if you wind up playing rough out there, it won't be a big loss if your $4 skirt is stained or your $3.49 top gets a tear in the sleeve.
Accessories
As for accessories (yes, you can accessorize while camping!), think simple and maybe even multipurpose—a Buff can be a scarf, hand warmer, hat, kerchief, and more, and they come in a multitude of colors, fabrics, and patterns; a bungee cord or even a bit of rope can be a belt, and it doesn't look nearly as weird as it sounds; and cute hats (it's worth considering something other than baseball caps) can add a kick to your look, and help with "camping hair" as well.
Footwear
Footwear is another area that can go beyond utilitarian and venture into fun style. Depending on where you'll be and what you'll be doing, one pair of shoes might be enough, and absolutely max, two. Boots don't have to be specifically for hiking to work beautifully for long walks and hikes. There are loads of boots with sturdy, comfortable soles and great style. Blundstone boots (a.k.a. "Blunnies")  come in several models. They are funky-cool, are easily as comfortable (and even more so) as many hiking boots, and some are waterproof. Check them out for the lug bottoms and other details you might find handy while camping and hiking.
If your camping involves water time, you'll likely want water sandals/hybrids to protect your feet. Again, there are many, many fun types of sandals that are tough on the trail and easy in the water, drying quickly overnight. Teva and Keen make several kinds of these, and there are many other brands, too. If the trails are relatively sedated, you can, of course, wear your water shoes, yet something like a cool or edgy sneaker might be just what you need for okay comfort and good looks if your camping agenda involves less hiking and more hanging around. Chuck Taylors are a little of everything in one shoe, and they can look particularly cute with skirts.
Outerwear
Camping in some areas is synonymous with dealing with rain, so always, always take some sort of reliable rain gear. Most of us don't look our best while soggy and cold (or hot.) If you have a big enough budget, you can, of course, purchase really impressive rain gear from any of the outdoor gear specialists. One of the most high quality, yet reasonably priced rain jackets I've found is an L.L. Bean Trail Model Rain Jacket. While not the most stylish one out there, it's available in several colors, which can add some interest to your camping look, and in black, which is a great neutral.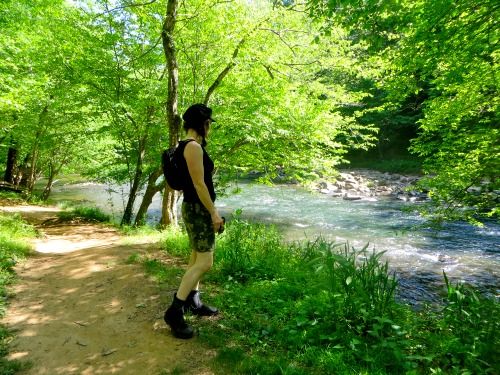 Another option for inexpensive, effective rain gear is a simple rain poncho. They're available everywhere, from the toiletries aisle at the grocers, to large outfitters. Some are ultra thin (though maybe not super durable) and can pack down to an envelope not much larger than a mint tin, and some are more substantial, though they do take up a bit more room. A bonus with ponchos is that if you're wearing a pack, you can keep yourself and the pack dry with the poncho, then pack it away easily once the rain stops.
Simple car camping, in a state park or other fairly tame area, can offer a bit more flexibility for your packing. You won't need to focus as much on lightweight items, since you won't be backpacking them in very far, if at all, and you can layer and mix several pieces to create unique, casual, and interesting outfits, while being just as comfortable as you would be in your sad sweats, T's, and ball caps. Your camping photos can be fun to share, rather than cringe-worthy!
An important note regarding the fabric content of your camping wardrobe:
Natural, or at least mostly natural, fibers might be preferable when you'll be singing 'round the campfire. Stray embers have melted many a hole in unaware folks' nylon/poly clothing.  Most of the higher quality outdoor tech wear is of a microfiber of some sort these days, which gives it many qualities we want, such as being lighter weight, quick to dry, and super easy to pack, but it doesn't offer natural flame retardancy. Sometimes the benefits of the tech stuff are too good to skip, so just keep yourself far enough away from the fire pit to not go up in flames should a gust of wind sweep by. No one looks good while stop, drop, and rolling.
---
Read these posts for more on adventure travel:
---
If you found these packing tips useful, please share them with your friends on Facebook, Twitter, and Pinterest. Thanks for reading!
---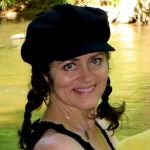 Author Bio: Clover's first big trip was in 1967 at the age of 4,  in the "back-back" of her family's VW Beetle, from Virginia to the 1967 World's Fair in Montreal. Since then she has traveled in the U.S. from the Appalachian Mountains to the Mojave Desert, and in Europe, India, and Mexico learning about the beauty of humanity & the innumerable ways we live and the wonders of nature, while fine tuning her travel and packing skills along the way.
---