Support TFG by using the links in our articles to shop. We receive a small commission (at no extra cost to you) so we can continue to create helpful free content. As an Amazon Associate, we earn from qualifying purchases made on Amazon in addition to other retailers featured on the blog. Thank you, we appreciate your support!
By now you're probably already familiar with my absolute favorite travel backpack, but I thought I'd share with you another popular choice for travelers: the Tom Bihn Convertible Backpack. They participated in TFG's big holiday giveaway last year and I had a chance to check them out.
The Tom Bihn's Aeronaut promises to be the ideal carry-on convertible backpack for travelers. 
Let's take a closer look!
---
Tom Bihn Travel Bag: Aeronaut Style
---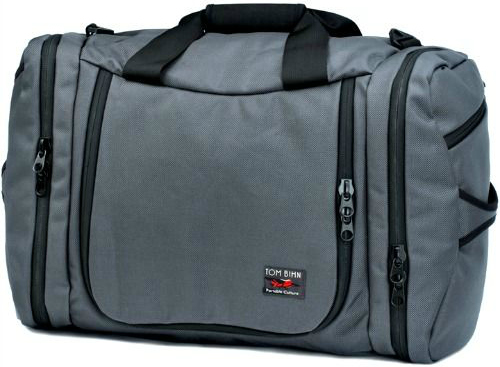 Created as a carry-on bag that fits the maximum size requirements by standard airlines, the Aeronaut bag is a three-way luggage that can be worn according to the user's preference.
It can be:
 a backpack, when worn with backpack straps that can be easily zipped away along with the bag
a traditional suitcase, carried with its padded handle
a shoulder bag, when attached with Tom Bihn's accessory, the Absolute Shoulder Strap (or as the store indicates, other shoulder straps)

Tom Bihn's Aeronaut
paves the way for travelers who wants a fuss-free luggage to travel around the crowd and into rougher areas.
It allows movement and mobility, giving off versatile options for the wearer to exploit different carrying methods whenever they want.
The Aeronaut bag
also solves the limits of common bag compartmentalization. The bag's main body is separated into three important compartments.
Its main compartment presents a significant space enough to carry a stack of folded clothing in the middle of the bag.
There are end-pockets which accommodates shoe-size items, allowing travelers to carry two different types of shoes in their luggage.
These end-pockets are essential for keeping everything flat and centered.
Lastly, there is a hatched opening that presents a mesh-designed pocked made to accommodate smaller objects.
When used as a backpack
the Aeronaut can be converted conveniently with its contoured shoulder straps and padded upper-area.
It presents a waist strap that secures the whole bag onto the wearer's body. This way, travelers don't need to check-in the Aeronaut as luggage.
Specifications:
Exterior: 1050 denier, high-tenacity ballistic Nylon Fabric
Lining: Japanese 200 denier Dyneema nylon
Zippers: #10 YKK Coil Aquaguard water repellent
Accessories: Cord Zipper Pulls, Duraflex and Nexus Buckles, Removable 1″ / 25 mm waist strap
22″ x 14″ x 9″ / 555 x 355 x 230 mm
Made in USA
---
 Check out TFG's helpful guide on how to choose the best travel backpack. 
Do you travel with a convertible travel backpack?
---
For more ideas on other safe travel essentials, please read the following:
---
Hope you liked this post on the Tom Bihn convertible backpack. Don't forget to share this post with your friends on Facebook, Twitter, and Pinterest. Thanks for reading!
---