Support TFG by using the links in our articles to shop. We receive a small commission (at no extra cost to you) so we can continue to create helpful free content. We earn from qualifying purchases made to the featured retailers. Thank you, we appreciate your support!
Your toothbrush will always be at the top of your toiletries packing list as it's an essential item you can't travel without. The last thing you want to do is pack a giant toothbrush and charger, so read on for our round up of the best electric toothbrushes!
---
Best Travel Electric Toothbrush
---
Travel Fashion Girl help! A reader asks:
I would love to be able to travel with an electric toothbrush as that's what I use at home and a manual just isn't the same (seriously I feel like I have to scrub my teeth with a manual….yuck). Has anyone got one they would recommend?
Dental hygiene is just as important when you're traveling as it is at home. Pack the perfect electric toothbrush for your vacation so you are always prepared with your sparking travel smile!
On a recent trip I made to Europe, I discovered an unexpected beauty hack when I upgraded my electric toothbrush. It can go two weeks without charging, so I don't have to pack a charger, saving me space and time because it's one less thing to worry about in my beauty routine while on the go. On trips that are under ten days, I leave the charger at home.
Here's what our readers say are their favorite electric toothbrush for travel!
Violife Slim Sonic Toothbrush
Perfect for any traveler, the Violife Slim Sonic Toothbrush is a sonic-powered, portable electric toothbrush with 22,000 brush strokes by minute. The slim, vented cap design is ideal for slipping it into your purse or suitcase. Also its available in a wide variety of colors to suit all personalities!
One reader bought this one and said, "I think it's great. Lightweight (2.6oz) and only 6.5 inches long." Another reader added, "I love mine! It is super convenient and the battery has lasted a long time and is still going."
Another reader shared, "I brought this slim toothbrush as gifts for all my travel buddies this past holiday season. Everyone loves them. They are compact and work great." What a fantastic idea for a gift!
Be sure to read our complete guide to packing toiletries here!
Oral-B Pro 5000 Smartseries Electric Toothbrush
Oral-B Pro 5000 SmartSeries Power Electric Toothbrush
The Oral-B Pro 5000 electric toothbrush comes with bluetooth communication between the brush and your smartphone providing real-time information on brushing habits, helping to keep your teeth white and clean.
I recently upgraded my electric toothbrush a few months back to an Oral-B Rechargeable Electric Toothbrush Pro 5000. After extensive research, I found an electric toothbrush that was more powerful than the one I had but not overpriced with all kind of features I didn't need. I'm unbelievably satisfied with my choice. It is more powerful and not overpriced charging me for features I don't need.   
You'll want to look your best when you travel! Read my travel tips to Pack Light Stylishly!
Oral-B White Pro 1000 Power Rechargeable Electric Toothbrush
Oral-B White Pro 1000 Power Rechargeable Electric Toothbrush
This electric toothbrush from Oral-B has been clinically proven to remove up to 300% more plaque than a manual toothbrush, so perfect for your dental hygiene. It has a helpful timer which buzzes every 30 seconds to let you know when it's time to start cleaning the next quadrant of your mouth.
One reader shared how when she goes traveling she takes this toothbrush with her and said it "was the best I have found." Another reader added, "I haven't traveled with a manual toothbrush since I spent a week in New Orleans and took this one with me."
Fairywill Rechargeable Sonic Toothbrush
Electric Toothbrush by Fairywill
The electric toothbrush from Fairywill offers powerful cleaning with 40,000 brush strokes by minute. The battery charge should last for a minimum of 30 days so you can bring it for your vacation without needing to pack a charger.
One reader shared how she has recently purchased the electric toothbrush by Fairywill and really likes it for travel because of its 30-day long charge.
Philips Sonicare DiamondClean Smart Electric Toothbrush
Philips Sonicare Essence Sonic Electric Toothbrush
The Philips Sonicare toothbrush is designed to clean between your teeth and along the gumline so great for delivering a sparkling smile. It comes with a deluxe travel case which acts a charger, just plug it into a USB port of a travel adapter. You get two weeks of regular use but for those longer vacations then it is good to know you can charge as you travel!
One reader shared, "I always pack my sonicare toothbrush, it's quite light and the battery is great". Another reader who recently purchased the Philips electric toothbrush said, "I love it."
Quip Electric Toothbrush
The Quip Electric toothbrush is designed to provide a through, non-damaging cleaning action and runs on a rechargeable or replaceable AAA battery. This battery operated toothbrush is perfect for saving space, you do not need to worry about having to drag a giant charger around with you.
One reader said, "I brought the quip toothbrush and I LOVE it. I travel carry-on backpacking. It's brilliant. The toothbrush has this travel case you can stick to the mirror and or any flat surface and it reattaches. Battery life is great. I used a sonicare before and I'd never go back."
Another reader shared, "I have one! I found the holder/lid to very convenient for travel and the toothbrush itself is very effective." One reader added, "I absolutely love it."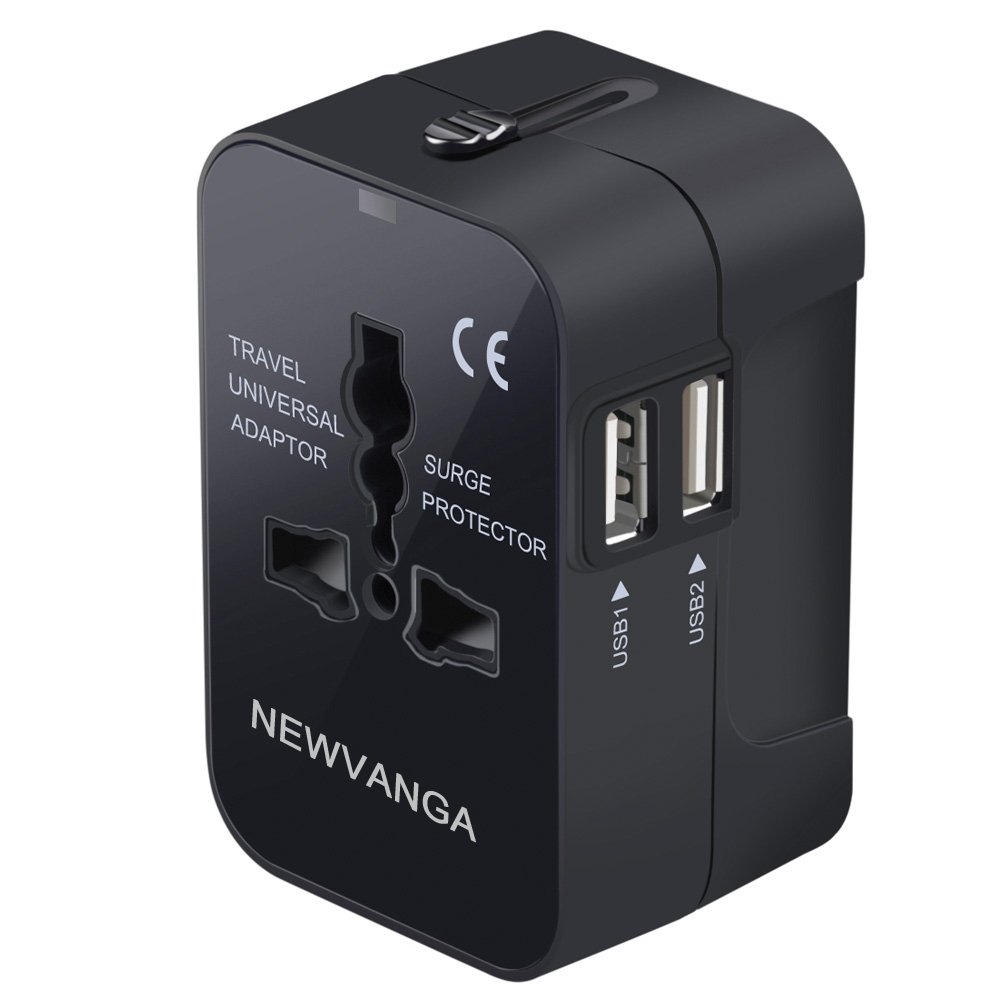 International Adapter for Multiple Countries
Universal Travel Adapter
Note: If you choose to travel with the charger for your travel electric toothbrush then you will need to pack a travel adapter.
A travel adapter enables you to plug your non dual-voltage electronics into international outlets. Not all countries use the same type of plug so I recommend you buy an international adapter like this.
---
What travel electric toothbrush would you recommend for travel? Share in the comments below!
---
For more tips on travel toiletries, please read:
---
LIKED THIS POST? PIN THIS PIC TO SAVE IT!
---
I hope you liked this post on the best electric toothbrush for travel. Please share with your friends on Facebook, Twitter, and Pinterest. Thanks for reading!
---