Support TFG by using the links in our articles to shop. We receive a small commission (at no extra cost to you) so we can continue to create helpful free content. As an Amazon Associate, we earn from qualifying purchases made on Amazon in addition to other retailers featured on the blog. Thank you, we appreciate your support!
Anatomie Andrea Contrast Panel Leggings have become some of my favorite pants for travel. In fact, I like them even MORE than the Anatomie Skyler!
This is one of the most versatile travel items a woman can own—they're comfy, easy to wear (elastic waistband), and stylish. Learn more in this review!
Special offer for Travel Fashion Girl readers: Save 15% off with the code: TFG15. 
---
Anatomie Andrea Contrast Panel Leggings Review
---
Table Of Contents
A while ago, I was shocked to discover an Anatomie product that I didn't know existed, and here I thought I owned them all—the Andrea Contrast Panel leggings! They're super comfortable, with an elastic waistband (so they pull up— no zipper!), and are highly versatile, pairing well with many types of looks.
These legging pants are absolutely amazing for travel and I can't wait to tell you why in this review!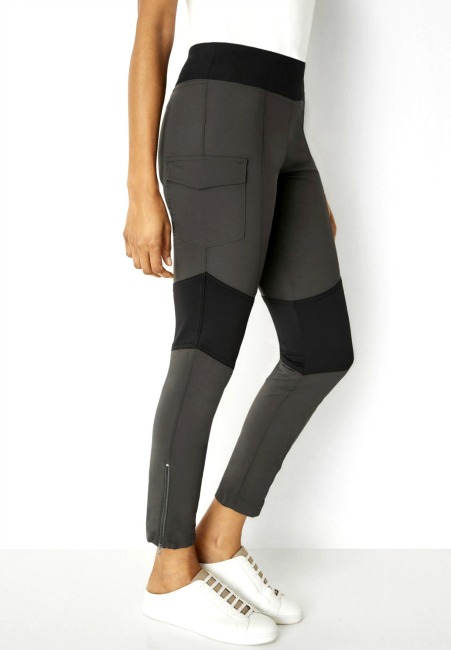 Anatomie Andrea Contrast Panel Leggings in Grey/Black
Anatomie Contrast Panel Leggings Specs 
Brand and Style: Anatomie Andrea Contrast Panel Leggings
Sizes: Available in sizes XS-XL
Fabric: The pant is 92% polyamide/8% elastane, and the knee and waistband panels are 96% nylon/4% Lycra
Features: Pull up (no zipper), mid-rise, ankle-length with an elastic waistband, one hidden pocket and two side pockets, versatile styling options, and a luxe, sporty edge
Colors: Navy with Black, Grey Black, and Black
Weather: You can pair them with a cozy sweater and ankle boots in chilly autumn, and in the warmer months, then look action-ready with flats or slip-ons and a tee or tank top
Travel Type: Great for nature outings to urban parks, city sightseeing, and business or event travel
Check out also our Anatomie Skyler pants review!
Andrea Contrast Panel Leggings Features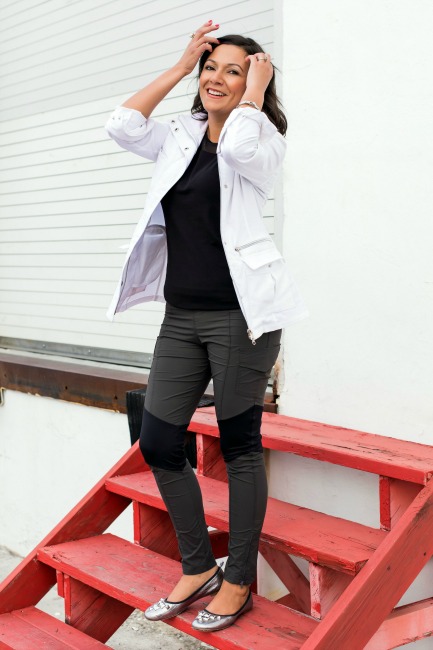 Comfortable 
I discovered these leggings from Anatomie and was shocked that I didn't know about them before! The Andrea Contrast Panel leggings are my latest obsession. 
You've heard me speak a million times about the Anatomie Skyler pants, so interestingly enough, these actually feel the same as the Skylar material, but have a legging shape due to the slim fit. This means they're super comfortable and lightweight; I can easily roll them into a packing cube and include them in my carry on suitcase. 
Confession: I actually like these more than the Skyler pants now after owning them for a couple of years!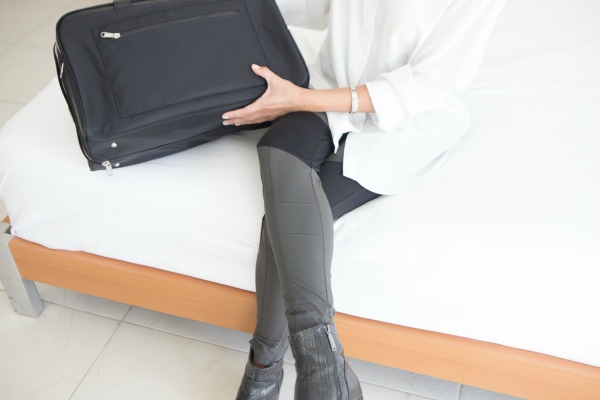 As usual, it's the details that Anatomie invests into their clothing, and the Lycra infused into the waistband and knee area means these never roll down on me, support my belly, and I can bend and move in them like a ninja (well, an aspirational one!). They pull up, so no zips or buttons to contend with. Frankly, they kind of feel like fancy PJs.
Travelers have described them as "light" and "breathable," and I couldn't agree more!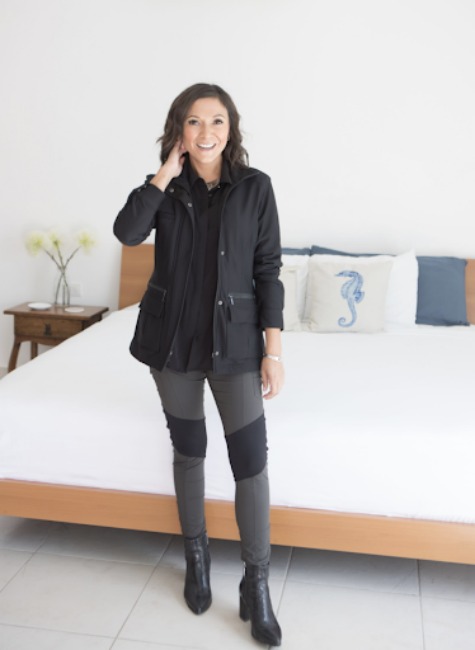 Paired with H&M Blouse, Kenya Fleece-Lined Jacket and Zara Ankle Boots
Styling
In short, Andrea leggings are really cute, super stylish. They have a slim silhouette, but that doesn't take away from that comfortable feeling. 
These literally can be dressed casual for some hiking, or amped up for a conference, and I can say with confidence I've done both! I also like to pair them with cute jackets, dress shirts, tees, my trusty merino wool sweaters, slip-ons, flats, or ankle boots.
Checkout our Anatomie Kenya Jacket review!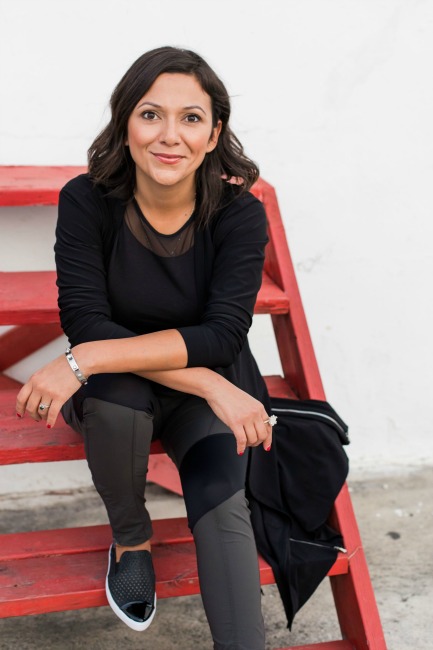 These seamlessly incorporate into my capsule wardrobe and I can squeeze several outfits in with just one pair of Anatomie leggings!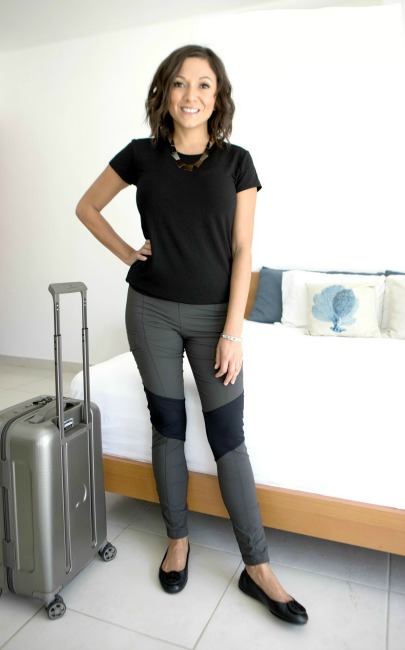 Paired with Tory Burch Minnie Flats and J.Crew T-Shirt
Versatile
As a traveler, having a versatile, fluid option is important. This is where the Contrast Panel leggings excel! They have these pockets where I can store travel essentials, one that's hidden and two on each side of the legs. The fabric is awesome for sightseeing, awesome for looking dressy enough to attend a conference or to also go hiking.  
I've actually used these for hiking in LA Jolla at Torrey Pines when I visit or hang there. When I'm traveling overseas, I can repeatedly wear them without having to wash them frequently.
Like thos cute flats? Check out the Tory Burch Minne Flats reveiw!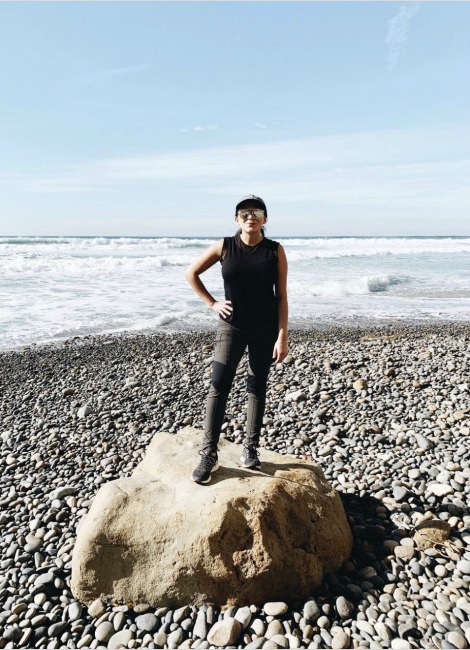 I know travelers who wear these in the summer and they're lightweight enough to probably wear in temperatures between 85-90°F. However, you may want to forgo them if temps get hotter than that. Ultimately, wearing them in the summertime is a personal preference.
Overall, bottoms are easier to rewear than tops, so you can maximize what you're wearing in general with these leggings and use them most anywhere! A reviewer calls these the "perfect pants for travel." Can't argue with that!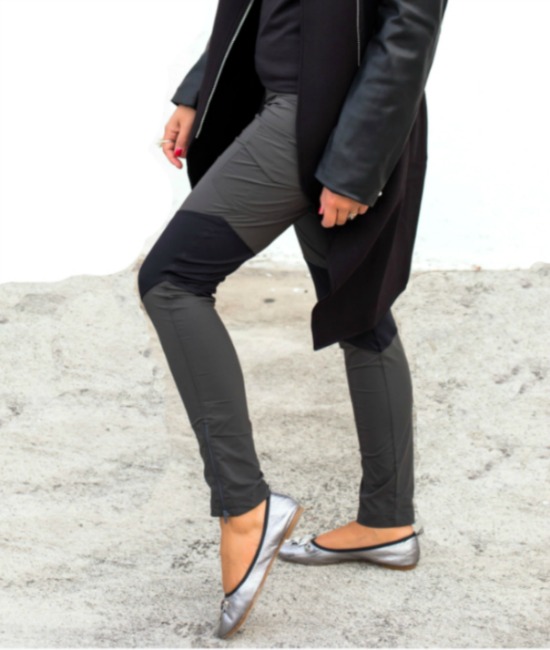 Fit
Anatomie Panel leggings tend to fit most wearers well; however, there are occasions when you may need to adjust. I actually had to go down in size to an x-small for the best fit. Because they have an elastic waistband, I was able to wear the same size despite my weight fluctuating 20 lb over a one year period.
As a major travel bonus, I can sit comfortably on a long flight without it cutting into my stomach. This pull up waist band is practical and comfortable!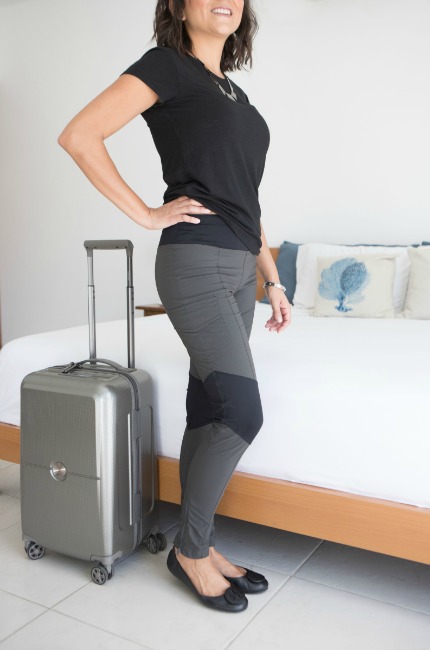 Some people feel these fit small. Anatomie operates an excellent customer service department and can return or exchange promptly, so you could try them on and see what works for you.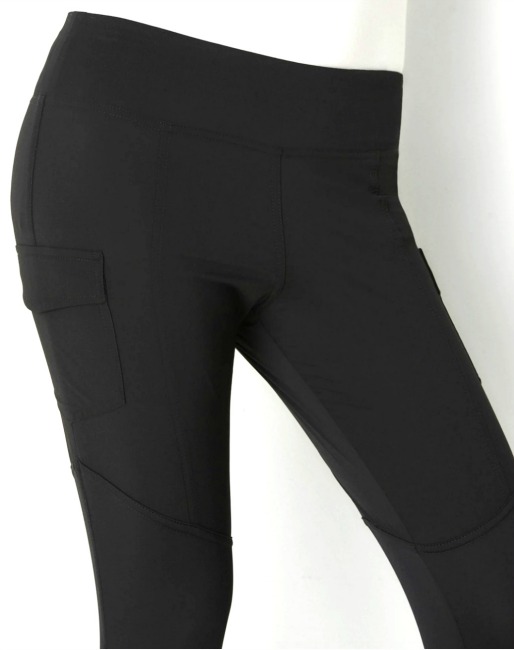 Anatomie Andrea Leggings in Black
Pros
Wearers describe Anatomie Andrea Panel leggings as amazing travel pants. They're lightweight, super comfortable, stretch in the right places, and are very versatile for a number of situations or activities. I find them stylish, active, and fun! Heck, you can even wear them to a yoga class and still get away with it.  
Overall, travelers are pleased with this high-quality piece that is used for not just travel, but everyday wear.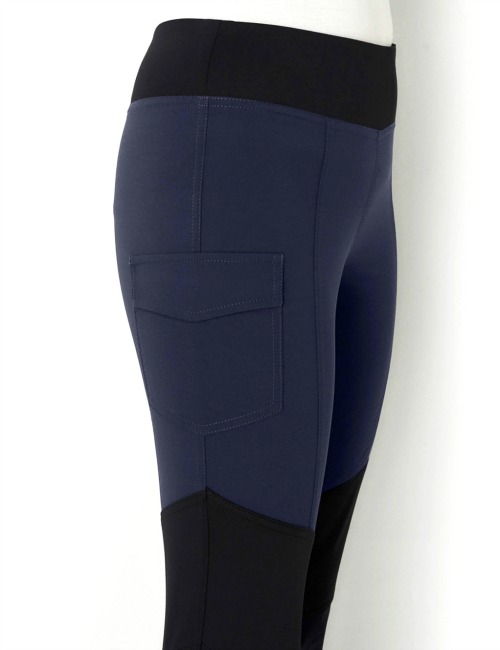 Anatomie Andrea Leggings in Navy With Black
Cons
Truthfully, Anatomie leggings do have a higher price tag than other leggings in the market. At $225, some travelers find that steep. 
However, I consider these an investment for the long term. A well made, quality item that will last me for years and hold up against the rigors of travel, along with multiple washings and repeated wearings. I feel these leggings meet those standards for me tenfold.
Another aspect is sizing. Some users say these fit smaller than they expected. Anatomie is customer-focused and can advise on sizing and you might even end up speaking to the owner directly! (It's been known to happen.)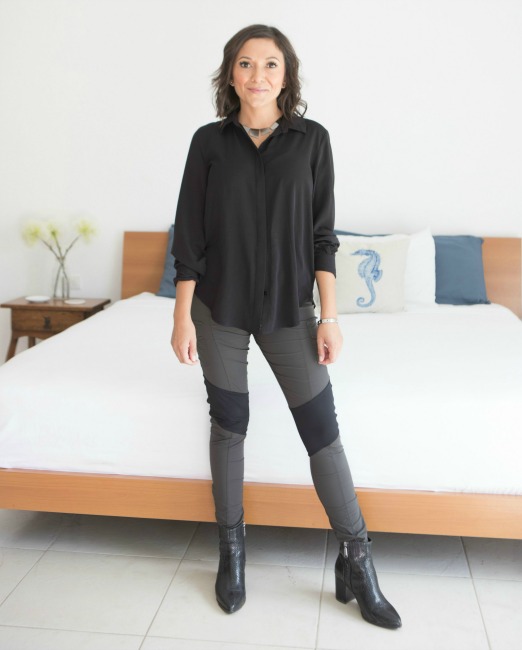 Verdict
Though Anatomie Andrea Contrast Panel leggings are higher priced, this has not deterred travelers from purchasing them and raving about them. 
Many feel the investment is worth it because they're quality-made pants that fit the travel lifestyle; comfortable, easy to wear (pull up), packable, and super stylish. They can be used for outdoor activities, urban sightseeing, an airplane outfit, or dressed up to speak at an event. 
I personally wear them all the time and am glad I decided to incorporate them into my travel wardrobe—no regrets here!
Watch this video for my full Anatome Andrea leggings review!
Video: Anatomie Contrast Panel Leggings Review
Catch my video review on these leggings and learn why they're a staple in my capsule wardrobe!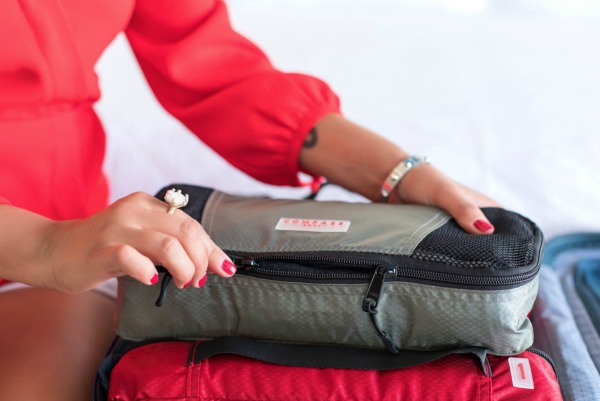 How to Pack Your Leggings
The Anatomie leggings have the ability to pack light, which is super easy to do with slim packing cubes, along with fitting in the other clothes you plan to bring. The video below demonstrates this.
Learn our hacks with packing cubes in this video!
We also put together a five-part YouTube series showing the different methods to use packing cubes for travel. If you use this specific packing strategy, packing cubes can also compress your belongings. This is the secret to traveling carry-on only!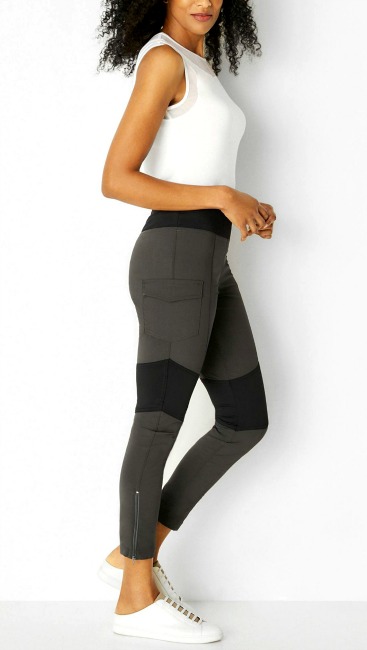 Where to Buy Anatomie Andrea Contrast Panel Leggings
You can find the Andrea Contrast Panel leggings at Anatomie.com. 
---
What's been your experience with Anatomie Contrast Panel leggings?  Share with us below!
---
For more travel pants, please read:
---
LIKE THIS POST? PIN THIS PIC TO SAVE IT!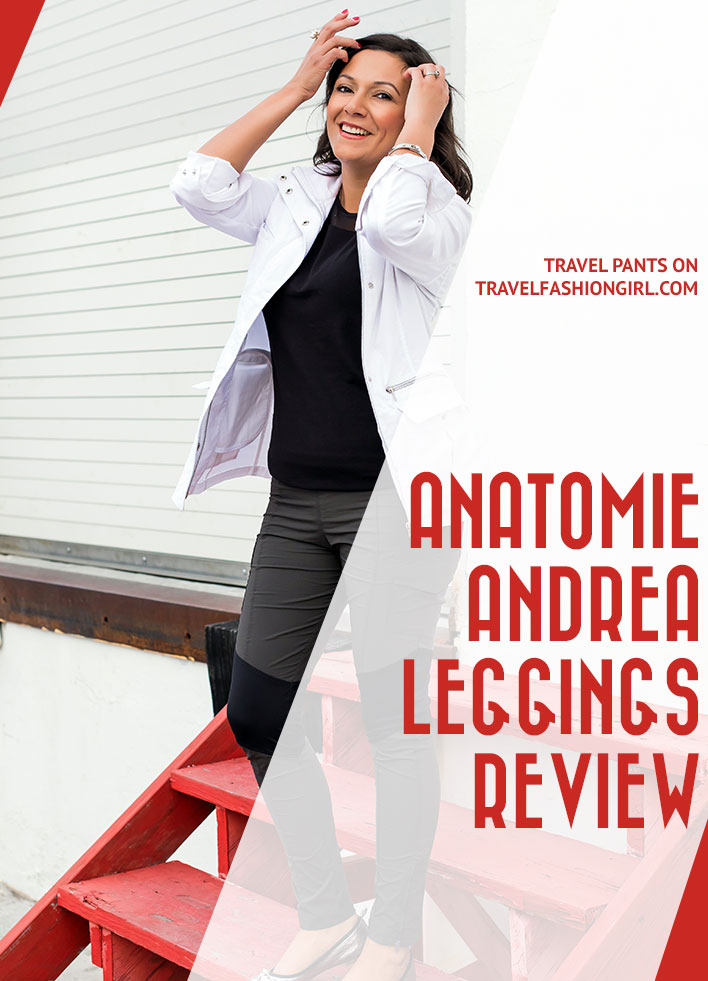 ---
We hope you found this Anatomie Andrea leggings review helpful. Please share with your friends on Facebook, Twitter, and Pinterest. Thanks for reading!
---