This post contains affiliate links. Visit our Disclosure page for details.
Looking for fashionable and functional accessories for your cold weather travels? Use one of these stylish winter scarves!
---
Stylish Winter Scarves
Written By: Niki Landry
---
Scarves are a traveler's best friend. No matter the season or destination a scarf can perform a multitude of tasks other than it's obvious function as a stylish accessory. Jetsetters particularly rave about the endless uses of circle scarves.
They become especially important on winter trips where an extra layer of warmth around your neck is essential. Using accessories such as scarves, hats, and gloves are essential to maintain your body heat.
Here are a few more tips on traveling in cold weather:
In addition having a functional purpose, winter scarves are an easy and fun way to infuse color into your travel outfits. Choose a bright color such as the red scarf shown above (similar) and it can really breathe life into dull all-black outfits!
With so many lovely styles to choose from this season, we've rounded up of the most stylish winter scarves for travelers:
➊

Oversized
Check Scarf / Nubby Blanket Scarf / Lightweight Square Scarf
The darling of fashion bloggers the world over, the blanket or oversized scarf is at the height of popularity. If you haven't tried this winter trend yet, now is the time. They are affordable and available in every conceivable pattern.
Plaid and check patterns are a favorite, but the solid purple scarf below is a interesting change if you are addicted to neutral clothes. It feels fresh paired with winter white.
This scarf is great because when not worn traditionally it can be used as a blanket or bundled as a pillow.
In addition to the blanket style, extra-long scarves have been added to the mix. These are a little less bulky around the neck, but give you the same exaggerated proportion.
Traveling to a hot destination but want a similar effect? Try a beach sarong wrap instead!
➋

 Square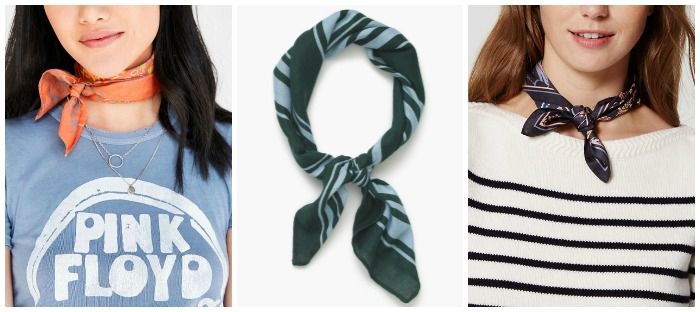 Silky Square / Snowbird Silk Square / Striped Bandana
If your destination calls for a little less warmth, the square scarf may be your neckwear of choice. This small and compact accessory makes it easy to pack, and looks great tied around your neck, wrist, or as a headband.
It's a simple flirty addition to your outfit, and can be an easy way to incorporate a pop of color. If your budget is a little larger and your tastes more refined, it's easy to find square scarves in silk.
While a beautiful addition to your wardrobe, I wouldn't recommend packing it on your next day hike.
For more ideas, take a look at the Lazy Girl's Guide to Stylish Travel Accessories!
➌

 Luxe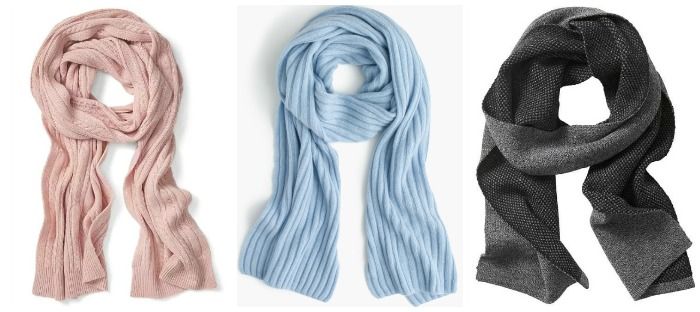 Italian Cashmere Blend / Ribbed Cashmere / Merino Double Face
If you are looking to invest in a quality and luxurious scarf, then cashmere and merino winter scarves are our top choices. Usually more expensive then their acrylic or polyester counterparts, the great qualities of these natural fabrics make them good options for travel.
They are lightweight, warm, and extra soft, and these types of scarves are typically offered in classic and simple shapes. Cashmere and merino accessories are a smart choice to add to your winter wardrobe.
If a luxe scarf is out of your budget for a cold weather trip, make the splurge on merino wool thermals. They're the secret to packing light in winter!
➍

 Fur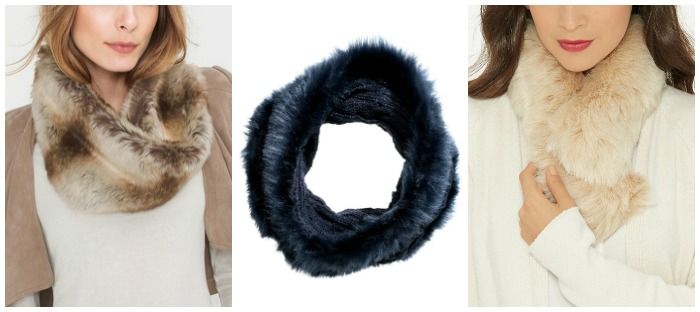 Plush Fur Collar  / Cable-knit Tube Scarf / Faux Fur Collar
The ultimate cozy texture, faux fur can be a soft and practical addition to your winter travel outfits. It's not just to achieve a luxe look, it's also a functional source for warmth, too.
While lovely paired with a dressy outfit for a night out, a faux fur stole paired with more casual clothes makes for an interesting contrast. It's also an inexpensive, easy update to your current coat.
Since these scarves are all about texture, it's best to keep the shape of the scarf simple. Look for collars and stoles for an easy addition to your existing capsule wardrobe.
Struggling to make a capsule travel wardrobe? Learn how!
➎

 Fringe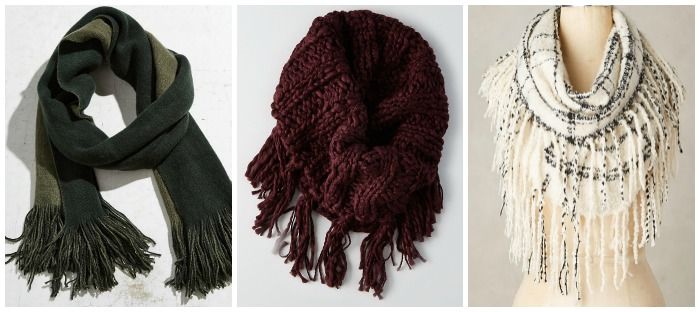 Extra Large Cozy Fringe Scarf / Fringe Snood / Fringed Infinity Scarf
Unlike other seasons that focus more on pattern and prints, texture seems to be at the forefront of winter. Cable knits, tweed, fur, and fringe are all up for grabs to add interest to a season that can sometimes focus more on functionality than style.
In addition to adding warmth to your outfit, the three scarf styles above add some stylish texture with their fringe details. Pair the saturated scarves with a dark neutral coat for a bit of color and fringe near your face.
Read these tips on how to choose the best travel coats!
➏

 Cape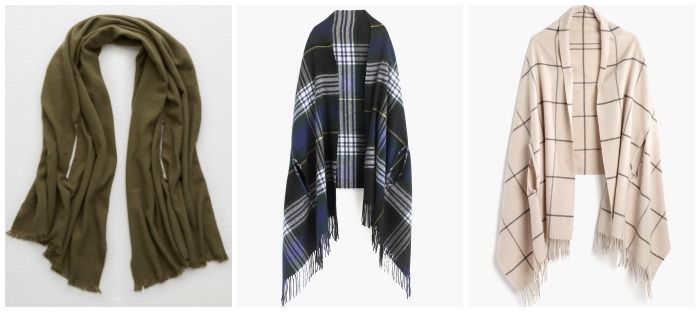 Cape Scarf / Plaid Cape Scarf / Cape Scarf in Windowpane
One part poncho and one part blanket this versatile cape scarf is the best of both worlds. This unstructured cape with armholes allows for draping over your shoulders on mild winter trips or you can layer and wrap it for colder destinations.
It's also a great piece for lounging around indoors. Not all places will have the heater blasting throughout the day so these layers could act as a savior if you're not used to cold weather!
The windowpane pattern above is a simple, easy to mix layer that looks good paired with denim and booties.
For more ideas, find out how to wear ankle boots!
---
What design do you think has the best stylish winter scarves? Share and comment below!
---
LIKED THIS POST? PIN THIS PIC TO SAVE IT!
---
For more women's travel accessories, please read:
---
Hope you liked this post on stylish winter scarves. Please share with your friends on Facebook, Twitter, or Pinterest. Thanks for reading!
---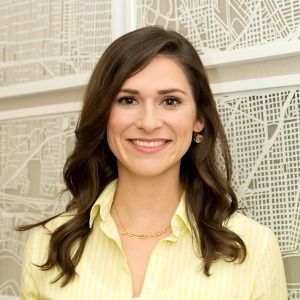 Author Bio: Niki is an interior designer and artist from Louisiana. In addition to her design work, she writes for local and online publications sharing her experiences and passion for travel. Niki is currently adding stamps to her passport while building her design practice, Niki Landry Designs.
---
Liked this article? Check out similar posts: