This post contains affiliate links. Visit our Disclosure page for details.
Earlier this year at the Women in Travel Summit in Chicago I was honored to sit on the same social media panel as Evelyn Hannon.  I was absolutely out of my mind at the fact that I was sitting next to a living legend in the women's travel industry.
---
Meet the Pioneer of Women's Solo Travel – Journey Woman
---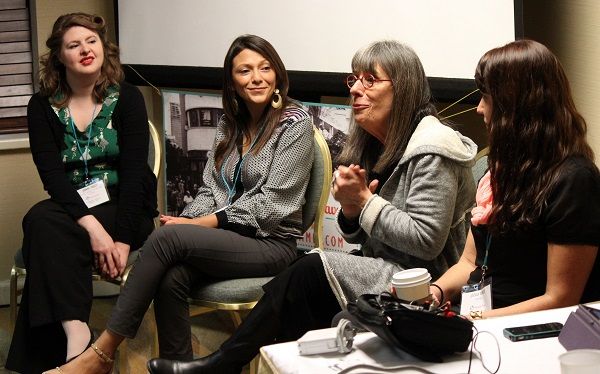 For those of you who are not familiar with Evelyn Hannon, she is the editor of the first and the largest women's travel resource: Journey Woman. She is also the pioneer of women's solo travel.
She has been blogging since 1997 but her journey helping other female travelers started a decade before. PEOPLE magazine has recognized her work and TIME Magazine named Evelyn one of '100 Innovative Thinkers of this Century' for her dedication to the needs of female travelers. Please read on to get an inside peak at Evelyn Hannon's personal packing tips!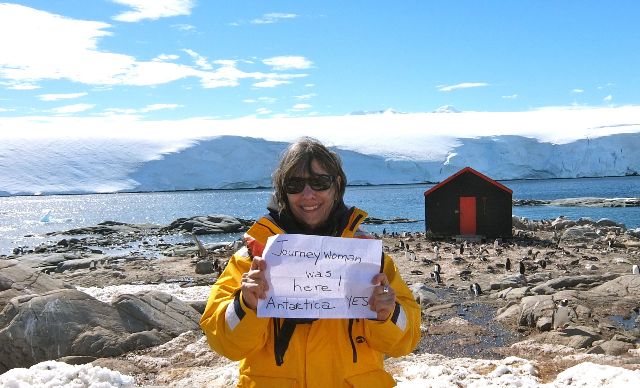 Q: How often do you travel per year?
Since I am a one-woman operation I have to divide my time between office and 'the world.' Ideally, I try to keep my overseas travel to once every three months.
Q: Do you still navigate the globe as a solo traveler?
Yes, of course. I find travelling the world totally on my own magical and I still do plenty of it. However, now that I am enjoying my seventh decade I've been testing tour companies like Trafalgar to France, Quark Expeditions to the Antarctic and Grand Circle Travel to Russia. And prior to each I wondered how I would feel exploring as part of a group.
The truth is I enjoyed each adventure immensely. I sat back while all the hard planning and baggage lifting was done for me. Yet, there was always free time to go off, meet the people and explore completely on my own.
Q: How have your packing choices changed since you first began traveling?
It's not so much that my packing choices are different now. It's the products that have changed and we now all have our choice of comfortable, fashionable travel clothes that can be washed in a sink and hung to dry overnight.
Suitcases are lighter. We can pack less and avoid extra baggage fees by taking only regulation carry-on bags.
Q: Do you use different suitcases per trip or do you have one go-to bag that you love?
I am a great fan of Eagle Creek luggage. I took the larger model to the Antarctic when I needed to bring along my expedition clothes.
For most others, though, I rely on their smaller carry-on models. I love that these bags come with a life-time warranty. When my bag was torn in transit last year they repaired it at no cost and made it look good as new.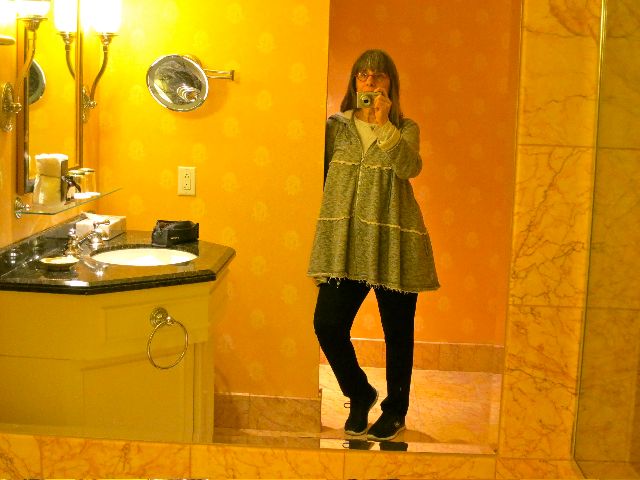 Q: I get questions from frustrated women that find it difficult to find stylish clothing choices past the age of 50. Do you have any specific clothing brands that you like to travel with?
What a good question! Since I travel solo I have a strong safety motto. That is, 'Travel to observe not to be observed".
In other words I dress very practically but in ways that don't attract extra attention. I enjoy wearing Cut-Loose clothing or Flax designs.
I choose natural cotton or linen in tones of beige, gray or black. These look smart during the day but for an evening out they can be accessorized to look WOW! Yes, linen creases but I think it adds character to the garments.
Q: How many pairs of shoes do you travel with?
I generally travel with two pairs of shoes. My sturdy laced walking shoes are a muted metallic color. They are Naot brand and are equally good for walking tours by day or evenings out paired with pants. My second pair are Ecco rubber-soled, red sandals that go from beach to a movie.
Each trip I also buy a pair of new slippers at the Dollar Store. I wear them on the plane and in my hotel room but throw them out when I return. This way I never bring the germs from airplane toilets (for example) back into my home.
Q: Every female traveler wants to know – what are the must have travel essentials that Evelyn Hannon always packs on her trips?
(1) My multi-colored light wool shawl (2) thin wool, three quarter black sweater that acts as a jacket over a tank top and will take you anywhere (3)
There's an article on my website that has 40 uses for a bandana including as a placemat on the airplane, camera lens cleaner or a sporty scarf.
Q: What was your biggest packing mistake?
Over 20 years ago when I was setting off on a four-month backpacking journey I had a sweater knitted for me in bright red with a big yellow sun on it. Silly me! I thought it would help me make friends. All it did was attract every social deviant who had a plan to 'do me harm.'
Q: Lastly, do you have any words of wisdom to share with new travelers? 
Pack light. Forget white. Think before you put any one item in your bag. Every item should go with at least three things.
Your job as a creative traveller is to look as stylish as you can with the fewest different pieces of clothing. Two scarves, a shawl, one shiny clip for your hair and one long silver chain will be your best accessorizing friends.
Safe journeys, everybody.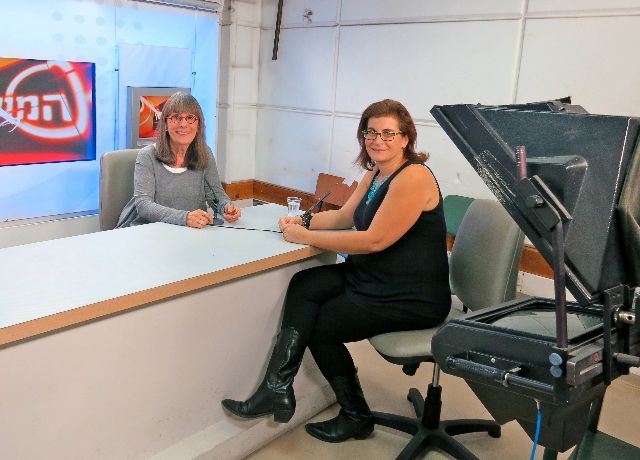 Thank you Evelyn for sharing your travel fashion secrets with us! To read more of her incredible travel tips, please visit JourneyWoman.com and follow her on Facebook and Twitter.
---
If you'd like to be interviewed on Travel Fashion Girl, please submit your details here.
---
For more traveler interviews, please read:
---
Hope you liked this interview with Evelyn Hannon. Don't forget to share this post with your friends on Facebook, Twitter and Pinterest. Thanks for reading!
---
Liked this article? Check out similar posts: