This post contains affiliate links. Visit our Disclosure page for details.
Jackie has been a backpacker in Central America, a student in the French Riviera, an intern in Scotland, a tour guide in Ireland, and a road tripper in the US. Currently she works in social media in New York City and blogs about travel and donuts at Jackie Travels. Follow her on Facebook, Twitter and Pinterest.
---
Interview: Jackie Travels The World
---
Q: How would you describe your travel style?
A: Relaxed but stylish. I'm a huge fan of dresses and tights (it's easier to bring 10 pairs of tights than it is to bring 10 pairs of pants).
Check out TFG's lazy girl's guide to style.
Q: Do you prefer to travel carry-on or with a regular size suitcase or bag? Do you recommend any particular bag or suitcase?
A: I try to travel carry-on whenever possible. Very recently I have switched over from a backpack to a small rolling suitcase, because no matter how hard I try I always seem to make the backpack heavier than it should be. I don't use a specific brand at the moment – luggage will be my next big travel investment.
Find out TFG's secret to packing into a carry-on size bag!
Q: Are you an overpacker or do you underpack?

A: Overpack. But I tend to leave items behind as I travel to make my suitcase lighter as I go along  — I always bring pajamas that I don't mind throwing away halfway through the trip, and I start the trip off with 2-3 paperback books but leave them in hostels or hotels when I finish reading them.
Q: How do you stay stylish while traveling without access to an entire closet?

A: I will mix and match pretty much any color or print, so I can always find a way to wear everything I pack at least three times. And I don't mind doing laundry on the road. Plus, a scarf automatically makes anything look more stylish.
 Learn how to master a capsule travel wardrobe.
Q:What destination was the most fun to dress for?

A: Recently I was in Ireland for three weeks, and I was there for several different reasons: a wedding, a trip with friends, and then for work (which was a photography tour). So I had to bring very different items of clothing for those different purposes. Plus, when you factor in the ever-changing weather in Ireland, it was even more of a challenge. I really enjoyed it though – it certainly made things interesting.
Q: What are your three must have travel essentials?
A: A book to read, a scarf (which can be used for almost anything), and duct tape (also can be used for almost anything)
Check out TFG's My 5 Must Have Travel Essentials.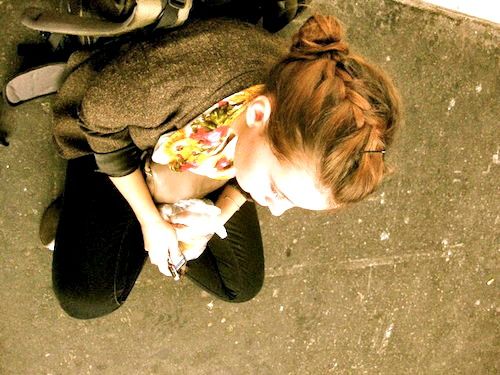 Q:  What's your preferred travel outfit on a plane?

A: My heaviest items. I'm always cold, so I wear pants, usually my cowboy boots, and whichever jacket I've brought for the trip.
Learn TFG's top 5 international flight essentials.
Q: What destination surprised you the most with the ways locals dressed or their type of clothing?

A: Before I went to Israel I was worried about dressing conservatively enough, but to my surprise it actually seemed more laid-back than I had anticipated. Of course we still had to cover knees and shoulders at holy sites, but otherwise there were way more girls walking around in tank tops than I had expected.
Q: What are your favorite travel accessories?
A: Scarves definitely and I wear earrings everyday. I also love cute/patterned flats. But then usually I like to pick up other pieces of jewelry or small accessories from the region I'm traveling through.
More travel accessories here.
Q: What are your favorite travel beauty essentials?

A: Chopstick (for everything, not just lips), hand soap (I prefer this to hand sanitizer), and solid shampoo (LUSH has great ones).
More travel beauty essentials here.
Q:  Do you have any specific hair or makeup products that work great for travel?

A: It's not exactly an object, but I've found that knowing how to French-braid my own hair has been such a relief on many trips and so that's probably my main beauty essential. It's stylish, it hides the dirt after a few days without washing, and it keeps the hair off your face.
Q:  How many pairs of shoes do you travel with and what styles?

A: Usually I try to stick to two – a pair of black or patterned flats and my cowboy boots. I only bring tennis shoes/sneakers if I know for sure I'll be doing some sort of outdoor activity, otherwise I hate them.
For tips on choosing travel shoes, check out this 10 step guide!
Q:  Do you have any recommendation for cute and comfortable footwear?

A: Cute yes; comfortable no. I always choose cute over comfort and I have the blister scars to prove it. I like cheap black flats from H&M or wherever else – this way if they are banged up at the end of the trip I can just throw them out.
These are TFG readers top pics for cute and comfortable travel shoes for sightseeing.
Q:  What was your biggest travel fashion or packing mistake?

A: My first solo trip when I was 20, I packed my suitcase so heavy that I got blisters on my HANDS from trying to drag it behind me. I had to ship home some of my clothes halfway through the trip. Never again.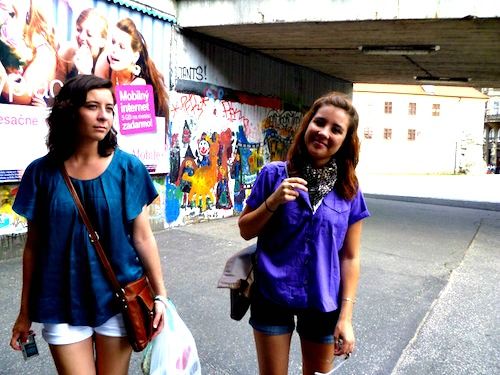 Q:  Finally, any travel packing tips for new travelers?
A: What everyone else says is true – pack less clothing than you want to take, because you'll definitely regret it if you pack too much. Doing laundry on the road isn't that bad. And I always recommend bringing the things you'd want to wear when walking around your hometown or going out for a night in your own city – I think some people feel like they have to have an entirely separate travel wardrobe (like those pants that zip off into shorts), but I've never seen the point in that. I feel more comfortable in an unfamiliar place when the clothes I'm wearing and the purse I'm carrying are things that I wear on a daily basis at home.
---
If you'd like to be interviewed on Travel Fashion Girl, please submit your details here.
---
For more traveler interviews, please read:
---
Hope you liked this interview with Jackie. Don't forget to share this post with your friends on Facebook, Twitter and Pinterest. Thanks for reading!
---
Liked this article? Check out similar posts: