This post contains affiliate links. Visit our Disclosure page for details.
Now that summer's just about over, it's time for an autumn update to your travel wardrobe. Take inspiration from these fall fashion trends and update your look with one or two new pieces. Keep reading to find out some of our favorite styles!
---
Fall Fashion
Written By: Niki Landry
---
We are now transitioning into my favorite season for fashion and travel: fall. It's the season of stylish boots, rich colors, crisp jackets, and best of all…layering.
Here are a few articles to help you get started into your fall travels:
If you are looking to supplement your travel wardrobe this season, keep reading for trends, styles, and looks from fall fashion this season.
➊

 Bell Sleeves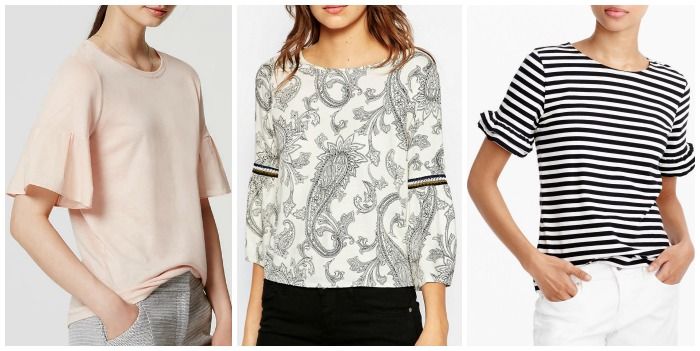 Blush Bell Blouse / Paisley Bell Sleeve Top / Ruffle Sleeve Stripe Tee
Ruffles at the hemline and peplum tops have been popular for a few years now, but the flare has moved up to the sleeve for fall fashion this year. T-shirts, blouses, and jackets are all getting the bell sleeve treatment.
For someone who swears by t-shirts for travel, it's a great feminine upgrade to the basic tee. I recently purchased this blush top, and I look forward to getting a lot of use out of it this season.
Pair the bell sleeve trend with ballet flats at the first sign of fall, and then move onto boots as the weather grows colder.
Here are the most comfortable ballet flats for travel (they're cute too)!
➋

 Pointed Loafer
Leather Pointed Toe Flat / Kimi Loafer / Feather Casual
Looking for stylish flats for your next trip? The pointed toe loafer is a sleek alternative to the traditional flat, and is a perfect fall replacement for your favorite black ballet flats.
Like most shoes, especially those worn without socks, this style will probably need some break-in time before you tackle a full day of walking in them.
The gold version of the loafer would be a great companion to the traveler who packs mostly neutral clothes–a shiny addition to bring interest to your basic travel outfits.
Try these neutral colors to easily mix and match with your travel wardrobe!
➌

 Suede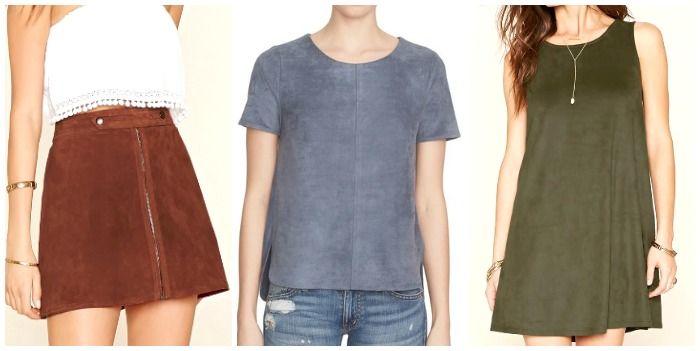 Suede Mini Skirt / Faux Suede Top / Faux Suede Mini Dress
Suede is back again this season with mini skirts, boxy tops, and shift dresses. Harking back to the 70s, this soft material will bring a laid-back vibe to your fall travel wardrobe.
In cooler weather, it provides a nice texture layered under jackets, over tights, and paired with boots. As a plus, it doesn't wrinkle as easily and one piece can add nice texture to basic all-black outfits.
For a modern take on suede, look for structured, shaped pieces and updated colors. Blush, pale blue, and burgundy are all fun alternatives to the typical camel-colored suede.
➍

Jumper Dress
Denim Mini Dress / Corduroy Mini Jumper Dress / Woven Maxi Dress
If you loved the overall trend of the last year, then the jumper dress is the next logical step for fall fashion. Youthful and fresh, these dresses give you a look that suits more body types than its pant/short counterpart.
It's the perfect layer to transition your summer crop and off-the-shoulder tops into fall. I particularly love the corduroy mini interpretation of this fun trend.
Add a pair of tights with ankle booties like these on a brisk autumn day for the perfect look!
➎

 Velvet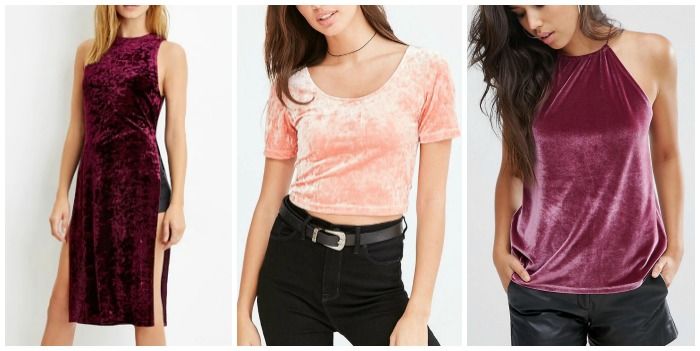 Crushed Velvet Slit Tunic / Crushed Velvet Cropped Tee / Velvet Cami
90s fashion trends are back, and nothing shows it more than the (re)introduction of velvet, velveteen, and crushed velvet in clothing stores. I wouldn't invest a ton of money into this probably fleeting trend, but a new top or even a choker may be a fun addition to your travel wardrobe.
I prefer this look for nighttime, but have no doubt that there are girls who can pull it off during the day as well with casual pieces to complement the look. This is another fabric that doesn't wrinkle easily and can also keep you slightly warmer, too!
Take a look at the best fabrics for travel!
➏

 Pencil Scarf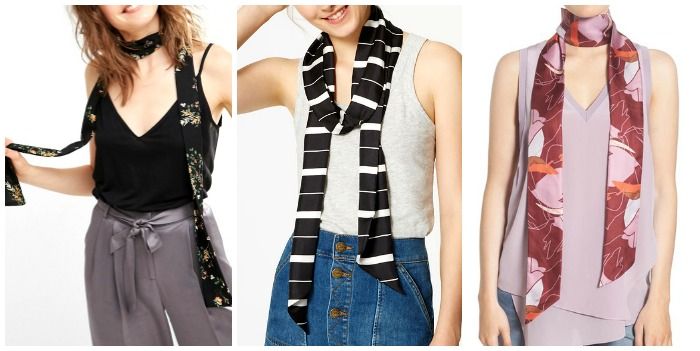 Floral Print Scarf / Striped Silk Scarf / Floral Silk Scarf
Before we pull out the chunky and warm scarves of winter, try your hand at the skinny pencil scarf this season. It looks great paired with sleeveless or scoop neck tops, to add a dose of color and pattern to a neutral outfit.
This is one of the most travel-friendly items from current fall fashion trends. Plus, this scarf is lightweight and packs up easily. There's no reason not to pack one for your next vacation!
---
What fall fashion trends pieces are on your shopping list? Please share below!
---
For more ideas on fall travel essentials, please read:
---
LIKED THIS POST? PIN THIS PIC TO SAVE IT!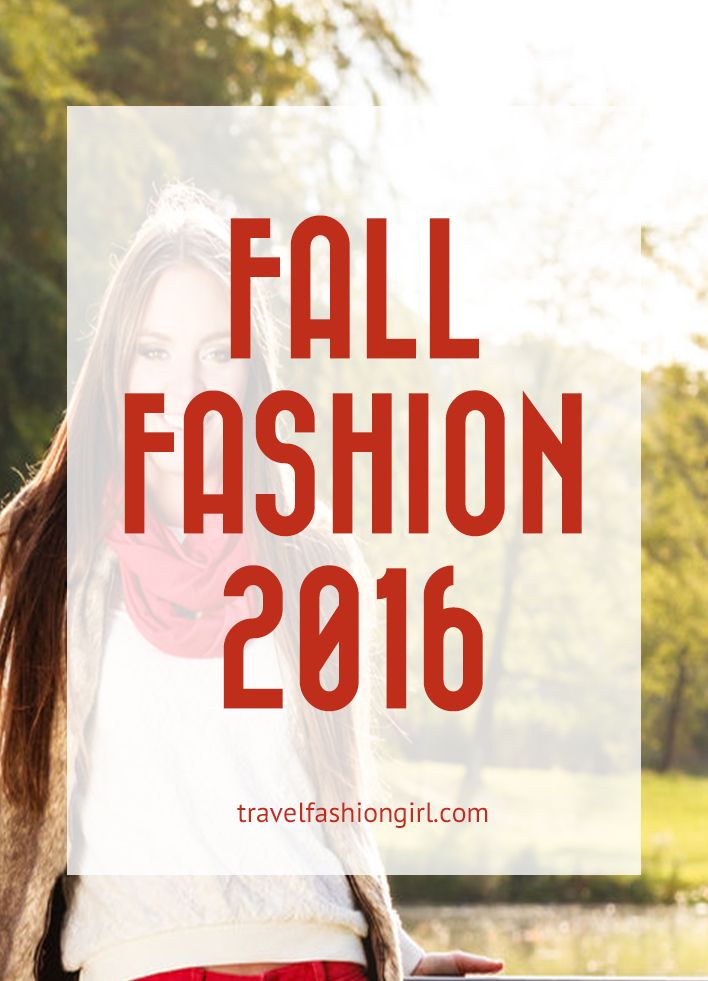 ---
I hope you liked this post on fall fashion trends you can add to enhance your travel wardrobe. Please share with your friends on Facebook, Twitter, and Pinterest. Thanks for reading!
---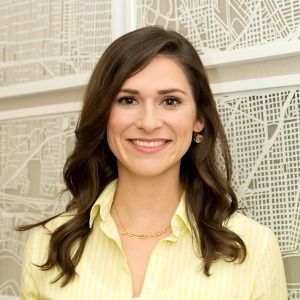 Author Bio: Niki is an interior designer and artist from Louisiana. In addition to her design work, she writes for local and online publications sharing her experiences and passion for travel. Niki is currently adding stamps to her passport while building her design practice, Niki Landry Designs.
---
Liked this article? Check out similar posts: