This post contains affiliate links. Visit our Disclosure page for details.
Unless you're a color pro, most of us tend to gravitate towards neutral (and dull) capsule wardrobes for the sake of packing light.
One thing that you have to remember, is that your clothing may not be in the majority of your travel pictures (and neither will be the essential thermals you should be wearing underneath), but your winter coat will.
The best part is, when it's cold outside, you don't have to worry about packing it inside your luggage. Here is our round-up of the boldest and the best winter coats this season!
---
The Boldest and The Best Winter Coats 
Written By: Niki Landry
---
When it comes to buying clothing I tend to be practical. For the most part, I try to stick with classic shapes, neutral colors, and timeless pieces. It's a good rule to shop by, especially for travel, but occasionally it needs to be broken.
Sometimes, it's important to top your neutral wardrobe with a piece that shows your bolder side, style, and personality. Below I've amassed a roundup of statement coats to inspire you to be bold and beautiful this winter.
When it comes to buying the best winter coats to work with a mostly neutral travel wardrobe, I like the outerwear to stick to one of these categories: interesting texture, fun pattern, bright color, or cool shape. Of course you can find a coat that combines all of these items, but for me it doesn't really fit into my everyday life.
I think the styles below would be easy to incorporate into drab normal wardrobes, and give you a little something extra! Which style will you choose?
➊

 Houndstooth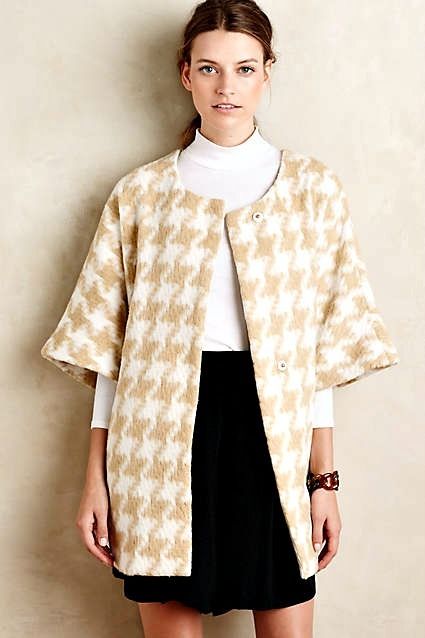 When it comes to patterns, I live and die by a simple geometric pattern. I have more polka dot items in my closet then I care to admit. So when I came across this houndstooth coat, I new it had to be included. A little subtler than the other coats, I like the combo of the large scale pattern, subdued color, and unstructured shape.
This style is definitely more fashion than function so we would classify this as the best winter coats to make a statement in a moderate winter environment.
➋

Faux Fur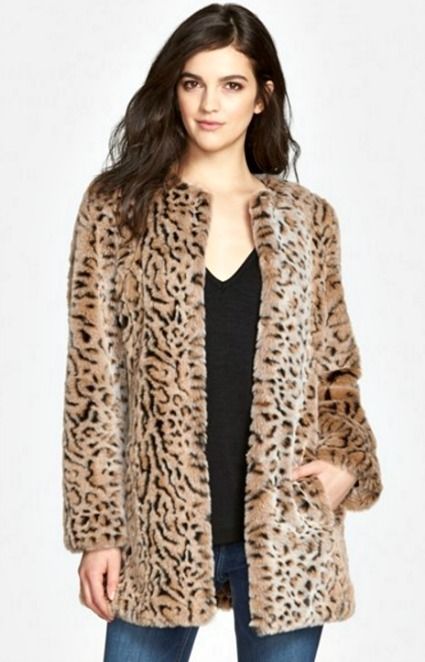 A leopard faux fur coat isn't the easiest of looks to pull off, but I like the simple shape of this one. Update the look by pairing it with easy and casual clothes underneath so the rest of your outfit doesn't compete with the coat. Definitely don't wear them with your leopard shoes.
It seems this is a crowd favorite for going out in England!
➌

 Cape
Capes have been very popular as outerwear the last few years. I especially like the pale pink color of the one above to help ease the gray skies of winter (and makes for amazing pictures in front of the Eiffel Tower or Buckingham Palace when paired with neutral clothing). The sash also helps to give the coat a more fitted shape. Since capes create volume on top, be sure to wear slim bottoms to balance the coat.
We've seen pink everywhere this autumn and winter and the color makes a great pairing with travel wardrobes consisting of white and grey neutrals.
➍

 Plaid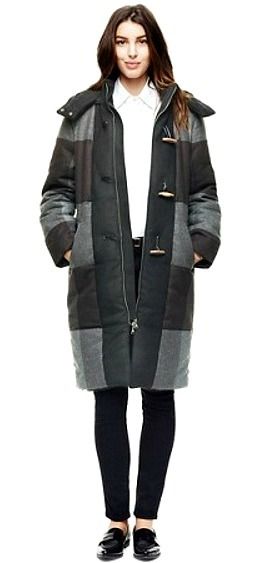 Plaid is the pattern of choice when it comes to outerwear. It's easy to find lots of colors in any style you choose. I picked the style above because I thought the oversized check pattern felt like an updated take on a classic. Add the long length, toggle closure, and hood and you are set for a stylish winter.
Now these are definitely the best winter coats for cold temperatures and can work for various capsule wardrobe color stories!
➎

 Investment
JCrew is known for making stylish and structured winter coats, and this cocoon style is no exception. The shape is modern and it comes in so many great colors. My pick is the soft mint, because it just feels like winter to me, and I think it's the safer choice compared to some of the other colors. If I'm spending a good amount of money on a coat, I want to make sure it will get a lot of use.
Remember, the best winter coats are something you would want to wear at home, too, not just on your travels! (This applies to all clothing you buy for a trip. Read: the number one rule of packing.)
➏

 Southwestern
All things southwestern and 70's throwback are very popular right now in fashion. It seems like every store has a poncho with a Native American pattern for sale. This style has the feel and look of the poncho, but with some shape and sleeves. It's a nice topper to keep you trendy, modern, and warm.
Styles with neutral color patterns such as the above make the best winter coats if you prefer a more subdued color story for your wardrobe.
---
What are your tips on finding the best winter coats? Please share in the comments below!
---
 For more winter fashion tips, please read:
---
---
 Hope you liked this post on the boldest and best winter coats. Please share with your friends on Facebook, Twitter and Pinterest. Thanks for reading!
---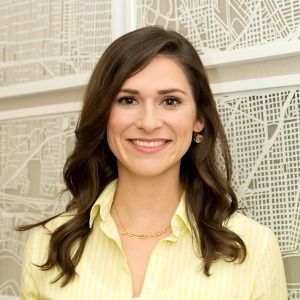 Author Bio: Niki is an interior designer and artist from Louisiana. In addition to her design work, she writes for local and online publications sharing her experiences and passion for travel. Niki is currently adding stamps to her passport while building her design practice, Niki Landry Designs. nikilandry.com  nikilandrydesigns  niki-landry-designs-llc
---
Liked this article? Check out similar posts: