This post contains affiliate links. Visit our Disclosure page for details.
Packing your makeup bag for that big trip just got a easier with these multitasking face kits. Pack light and find out our 5 best makeup palettes for travel!
---
Travel Friendly Makeup Palettes and Face Kits
---
Lorac
Pro To Go is LORAC's travel-friendly palette inspired by their coveted Pro palettes, with a few added extras to ensure makeup application on the go is easy done.
All you need to add is your favorite foundation, mascara and lipstick, and you're set. You can use the eyeshadows wet or dry to create a variety of different looks,  and you can double up their uses – use the 'Pearl' eyeshadow shade as a base eyeshadow shade as well as brow bone highlight, and the 'Black' eyeshadow shade becomes an eyeliner when used with a wet angle brush.
Buxom
Buxom Passport Collection the Day Tripper Edition
This lightweight and compact face kit is housed in a chic gold pouch with a handy mirror, and has been designed to create a sun-kissed look with splashes of bright colour.
Create vibrant eye looks with the pale gold and peacock blue eyeshadow shades, warm up your complexion with the shimmering nude cheek colour and bronzer, and plump up your lips with the cherry red lip cream. This kit also includes Buxom's best selling mascara, perfect for creating long and voluminous lashes.
e.l.f Studio 27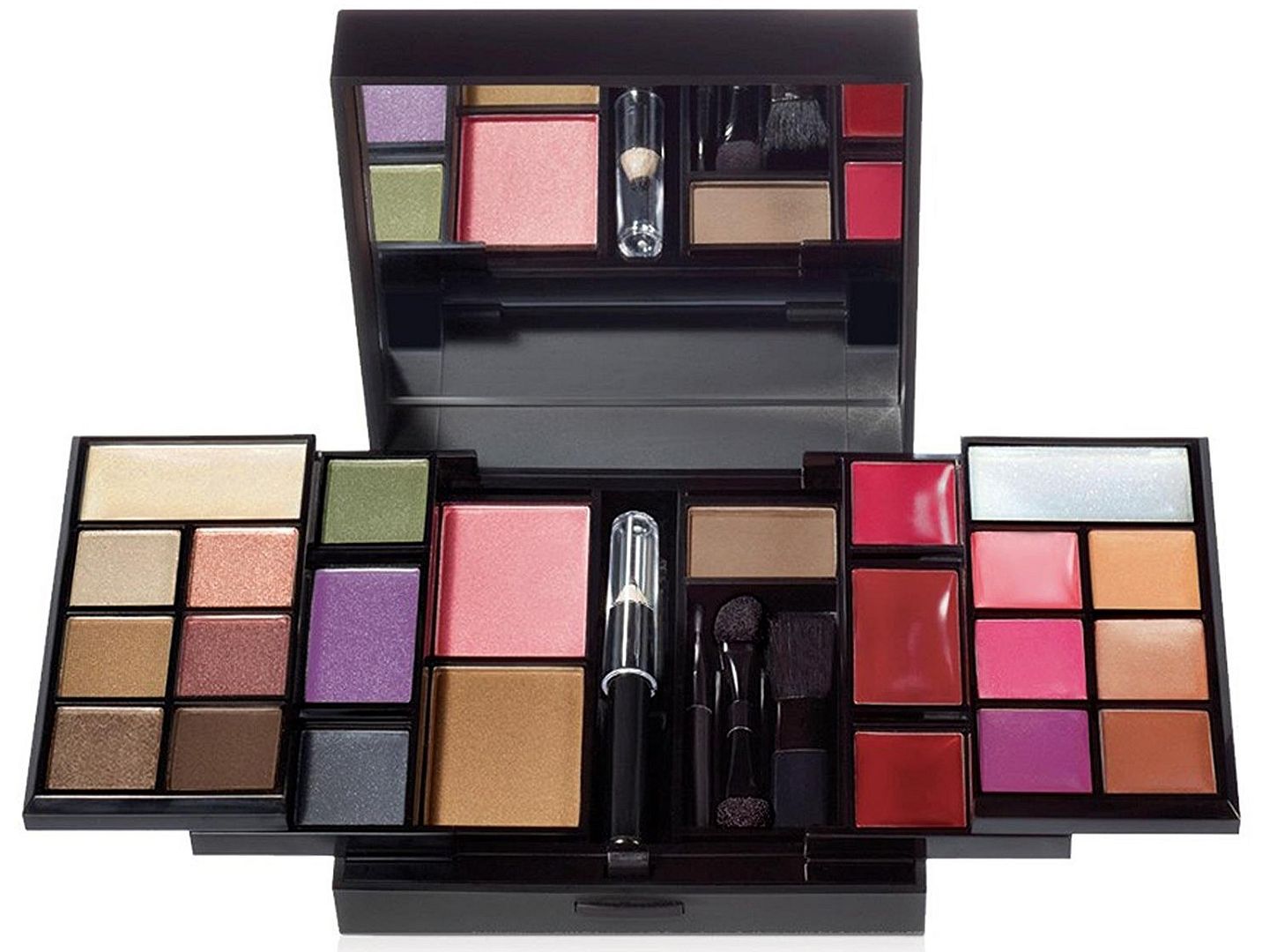 This is one of the best makeup palettes for the most dedicated beauty maven on the move, this sleek all-in-one kit contains everything you need to create any desired look.
Including 10 eyeshadow and lipstick shades, a brow powder, blush, bronzer, eyeliner, and a slew of application brushes, this kit combines the bulk of your makeup collection in one compact package. It's also a steal at $15USD….
Urban Decay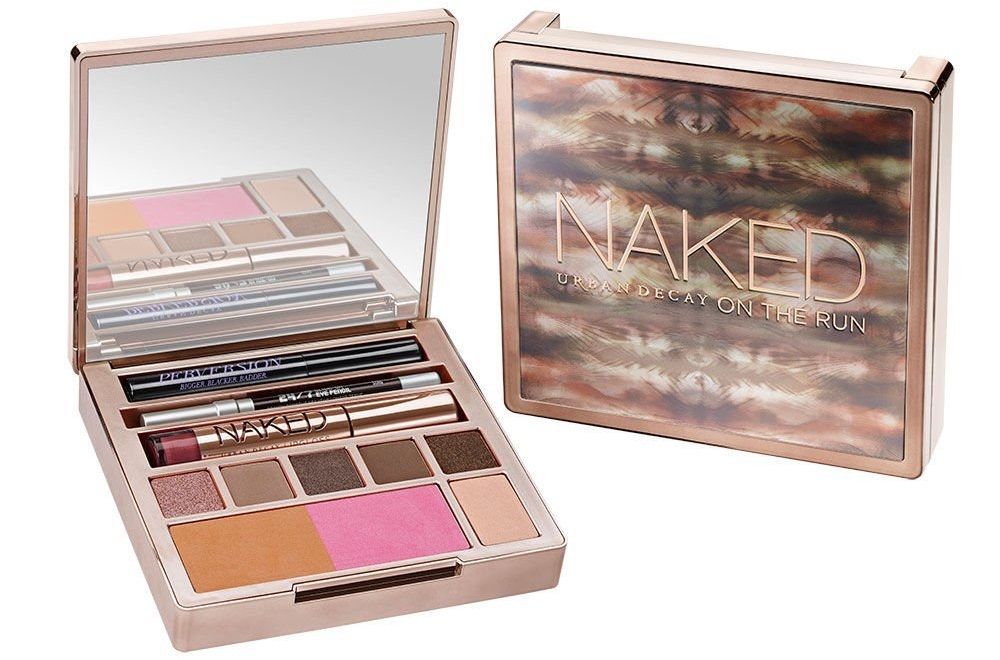 The beauty of this kit is its versatility, with the ability to easily transition your makeup from a soft day look to a smokey night look.
Featuring all-new shades from Urban Decay, this is a face kit that packs a lot of punch into one compact. You'll find six neutral eyeshadow shades, a matte bronze and lightly shimmering pink blush, a full size Ultra Nourishing Lipgloss in Sesso (rose), plus a travel sized eye pencil in Stag (deep brown satin) and mascara in Blackest Black. This takes one of the best makeup palettes for eyes and makes it perfectly complete!
Mac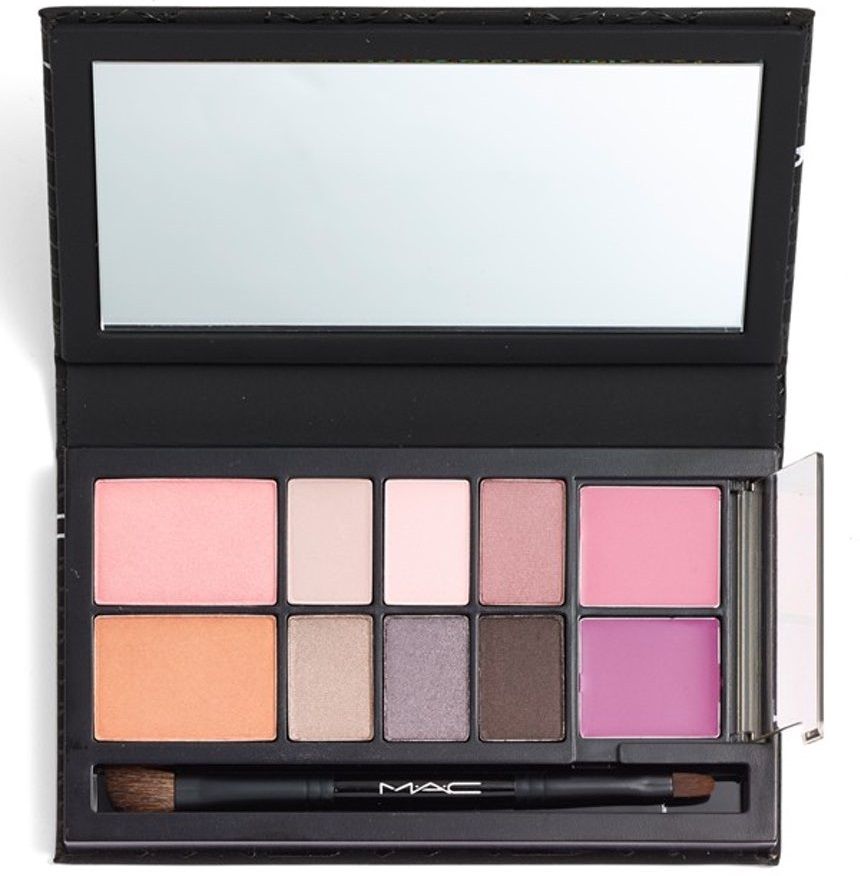 The eyeshadows in these palettes are always buttery, pigmented and versatile, blushes are soft and flattering across a variety of skintones, and the lipsticks are protected from powder kick-up by a hinged plastic covering.
I have a soft spot for MAC's face kits, given I pack my own every time I travel. The inclusion of the dual ended brush means you can expertly blend eyeshadow and apply lip color with ease. This gets TFG's top marks as one of the best makeup palettes available!
---
 What are the best makeup palettes for travel? Let us know in the comments!
---
For more travel-friendly beauty suggestions, please read:
---
Hope you enjoyed this post on our 5 best makeup palettes. Please share it with your friends on Facebook, Twitter and Pinterest. Thanks for reading!
---
Liked this article? Check out similar posts: