This post contains affiliate links. Visit our Disclosure page for details.
---
Join our community of 500,000 stylish female travelers! Sign up for Travel Fashion Girl's newsletter and never miss a thing!
---
Embarking on a marathon-worthy plane ride doesn't mean you have to feel worse for wear when you arrive at your destination. Here are a few simple airplane beauty tips and carry-on suggestions which will have you feeling fresh and ready to start your adventure as soon as you touch down. Learn how to look good after a long haul flight!
---
How to Look Good After a Long Haul Flight
---
Tinted Lip Balm | Original Mascara
Go minimal with makeup
Set the tone for your airplane beauty routine with this first step: prior to leaving for the airport, use a hydrating and nourishing cleanser and moisturizer, and then limit your makeup to concealer, tinted lip balm and a swipe of mascara.
Minimal makeup means you still look polished but your skin will feel for fresher for longer onboard.
Wear warm and comfortable clothing
Wearing restrictive clothing will affect your circulation and make for a rather uncomfortable journey. Part of how to look good after a long haul flight is to feel comfortable during the journey. Keeps things loose but stylish by opting for printed cotton slacks (even better with a waistband that is elasticated at the back), a soft cotton top and a warm cardigan or jumper.
Don't forget a pair of socks to keep your feet warm and an eye mask to help you get some all-important rest.
Flexible Water Bottle | Healthy Human Water Bottle
Keep up the water intake
Not only does a regular intake of water keep your skin hydrated, your system flushed and even help with the affects of jet lag, but it also gives you an opportunity to stretch your legs during bathroom breaks.
Just make sure you pick a seat on the aisle!
Grab And Go Variety Pack | Superfood Power Snacks
Choose  your onboard meals carefully
When I'm mid-way through a long haul flight and feeling tired, I'm more likely to opt for the richer or heavier meal on offer, which inevitably makes me feel sluggish and bloated.
Most airlines will now publish their onboard menus on their website so you can check out the options before you travel. Prepare accordingly by perhaps ordering the vegetarian meal or bringing healthy snacks on board if permitted.
Prevent dry, cracked lips
My lips are always one of the first places show signs of dehydration when I'm travelling long haul.
Packing a nourishing lip treatment in your carry-on will save you the pain of chapped, cracked lips when you arrive at your destination. Paw Paw ointment or the Korres Lip Butters are great options.
Lubricant Eye Drops | Dry Eye Therapy
Soothe tired eyes
Lack of sleep combined with watching in-flight entertainment or reading a book in a temperature controlled cabin will often create red, dry and irritated eyes – a common airplane beauty issue.
I avoid wearing contact lenses while flying long distance, and regularly use moisturising drops to keep dryness at bay.
Hydration Spray | Travel Size Facial Spray
Pack a Hydrating Facial Spray
Regularly spritzing your face with an anti-oxidant rich facial spray on hand during the hours leading up to your arrival is a great way to revive tired and sallow skin, and replace nutrients lost during travel.
Concealer Brush | Eye Concealer and Highlighter
Brighten up using a Highlighting Concealer
Congratulations! You've made it through the bulk of your flight and you will be arriving at your destination shortly. The final part of planning how to look good after a long haul flight is to replicate your original minimalist makeup look.
At this stage of the flight, I like to use a gentle facial wipe and light moisturiser to cleanse and freshen up my skin, and then apply a highlighting concealer such as By Terry's Touche Veloutee under my eyes and anywhere on my face that's showing redness or uneven skintone.
You'll be disembarking your flight with a fresh, well-rested looking complexion.
Urban Decay | Volumizing Mascara
Easy Eye Makeup
If you have to hit the ground running when you arrive, packing a compact eye makeup kit that you can apply while you are still airborne will come in very handy.
Benefit's Smokin' Eyes kit has all you need to brighten and define your eyes, including three eyeshadows, a pencil eyeliner and a brow shaping kit.
Dr. Fresh Travel Kit Crest | Dental Travel Kit
And
 

Finally, keep that fresh, minty breath

One of the smallest but most valuable items I can bring with me on a 14 hour flight is a travel-size toothbrush and toothpaste kit.
Fresh, minty breath does wonders for making you feel a little bit more human as you step off your flight.
---
 What are your best airplane beauty tips for how to look good after a long haul flight? Share and comment!
---
For more tips on how to travel long-haul like a pro, please read: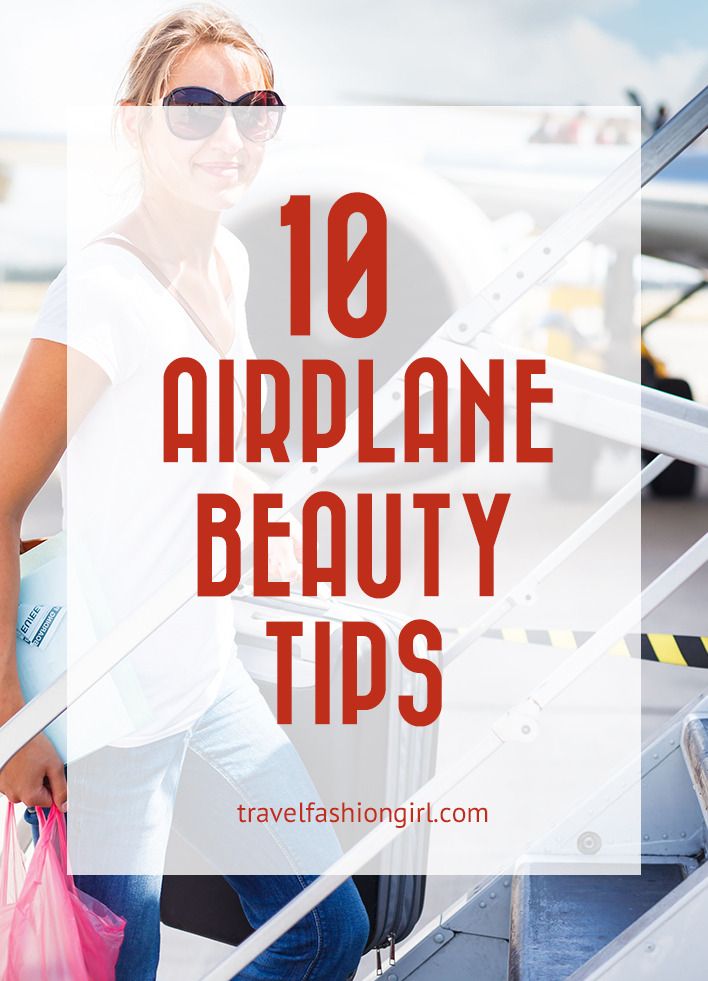 ---
Hope you like this airplane beauty tips post about how to look good after a long haul flight. Please share it with your friends on Facebook, Twitter, or Pinterest. Thanks for reading!
---
Liked this article? Check out similar posts: