10 Step Guide to Packing for Work or Study Abroad
Going to Live Abroad and Don't Know How to Pack?
FOLLOW THESE 10 STEPS TO LEARN HOW
---
This is a common packing question and we can help you by breaking it down in the following steps. Click on each of the below items to learn more about each one.
Step 1
The key to packing your belongings for a permanent, temporary, or long time abroad is to pack as you were for an extended trip. Read these tips on packing for long term travel.

You'll use the most important concept to help you determine what you do and don't need: a capsule wardrobe. If you feel extremely overwhelmed at the idea of moving abroad, review this packing course which shows you specific techniques to plan around limited clothing choices, varying climates, and other unexpected life situations.
Step 2
Use one of these international packing lists to find clothing ideas to dress appropriately for your destination. If you don't see your destination listed, post a question on TFG's Facebook Page. If you can, allocate some money to purchase clothing upon arrival. This helps you dress accurately for the environment, weather, and the local style.
This guide shows you what to pack when moving to England – it offers resources useful for other parts of Europe, too.
Step 3
Do bring some of your favorite clothing items! Pack your favorite pair of jeans, jacket, and shoes. Of course, make sure they will be practical in your setting but it's always nice to wear things that make you feel "at home". While you probably don't need to pack 25 pairs of jeans, do bring the essentials such a pair of black and dark blue.
Take a look at TFG's Signature Packing Lists which feature several travel wardrobe ideas you can customize!
Step 4
Similar to clothing, don't pack all your clothing. Read this guide on choosing travel shoes and browse our top travel shoe suggestions. Use those guidelines to select versatile shoes that can be paired with the majority of your clothes.
And if you've never worn it at home, chances are you still won't wear it there so don't pack it unless you know you love wearing it. This goes for all travel scenarios.
Step 5
Learn how to choose the best travel backpack or suitcase. If you haven't already purchased your luggage, take a look at the top recommendations for:
If you plan on making local trips bring a carry-on that will meet the requirements of regional airlines.
Step 6
One of the most important aspects about packing efficiently is using travel organizers. This is especially important because you want to make the most of your suitcase space. You're moving abroad! It's okay if you don't travel carry-on only. (However, this does not apply to long term travelers living in various places for an indefinite amount of time. Read this guide if you're a digital nomad or are traveling for extended periods.)
Watch this packing video to learn how to use packing cubes to maximize space and never check a bag again. These are the top 12 reasons why I prefer packing cubes to other organizers.
Step 7
Learn how to downsize your toiletries and try not to bring a lifetime supply of any product. You can buy basics like shampoo, toothpaste, moisturizer, deodorant, makeup, etc pretty much anywhere in the world. If you're attached to one or two specific items, research the company's website to see if local retailers carry your product. Drug store brands like Nivea, Oil of Olay, Loreal, Maybelline seem to be the most widely available internationally.
For items like blow dryers, curling irons, and straighteners – it might be easiest to buy abroad if there will be a difference in voltage.
For useful tips such as downsizing toiletries and choosing the best travel makeup, visit our Travel Beauty section.
Step 8
Do your homework and research the weather as well as local customs. Use your school or employer as a resource and ask them questions on items they might suggest.
The main thing to remember is to bring along the essentials – don't bring everything you own. It's okay to pack some comforts from home but don't ship boxes of old high school memories; things you can buy there like housewares; or valuables that you'd rather keep stored at home.
Step 10
Sign up for Travel Fashion Girl's monthly newsletter and get instant access to free packing templates, downloadable checklists, ebooks, and more!
For more help, read our getting started page and…
►  Join our Facebook group to ask packing questions.
►  Also, read our Facebook page to find answers to similar questions. Don't forget to "like" the page!
►  Lastly, for additional visual inspiration, check out our Pinterest page and various clothing ideas.
►  For ideas on where to shop, check out our best online shopping sites.
Happy travels!
Alex
Editor of Travel Fashion Girl
LIKE THIS POST? PIN IT TO SAVE IT!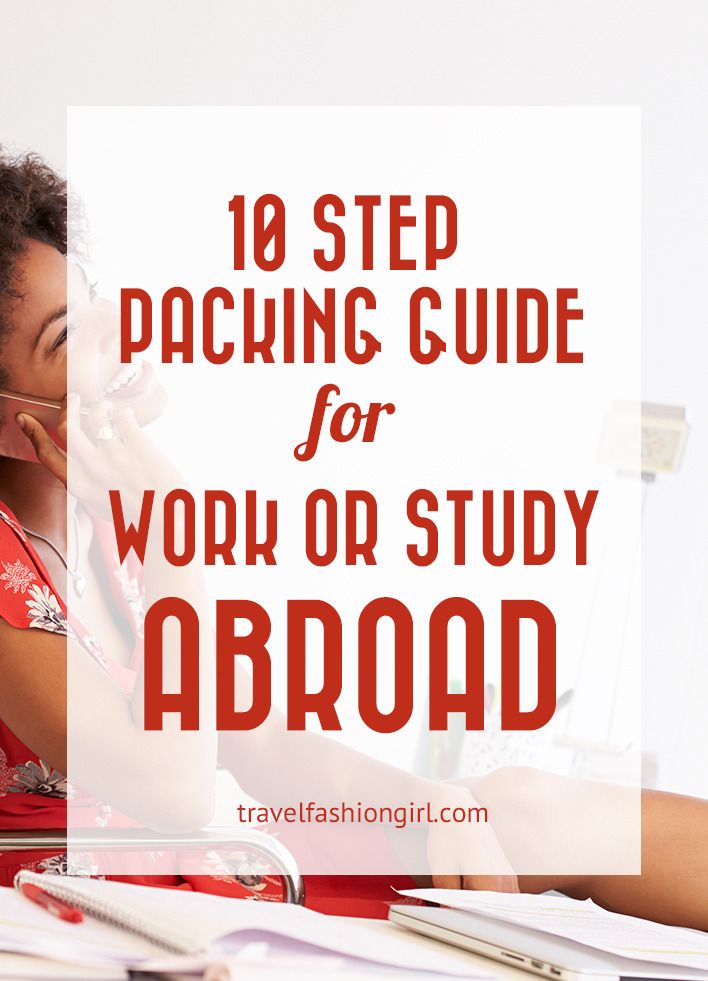 Did you find this article helpful? Please share your own tips or feedback in the comments below!
Don't forget to share this guide with your friends on Facebook, Twitter, or Pinterest. Thanks for reading!